Wisconsin, while not the smallest state, certainly holds a lot of charm and strength in its landscapes. Whether it's the serene allure of camping amidst the rolling Kettle Moraine or indulging in the summer delights of Door County along Lake Michigan, camping in Wisconsin caters to every adventurer's heart. When planning your outdoor journey, you'll find that The Badger State teems with distinctive campgrounds and glampgrounds, varying terrains, a wealth of flora and fauna, and countless spots to relish in the open air. Before embarking on your next excursion, be sure to explore our ultimate guide to the best camping in Wisconsin.
Best Time of The Year for Camping in Wisconsin
Wisconsin's camping season arguably reaches the pinnacle of perfection during the breathtaking embrace of autumn. As the summer heat mellows into a comfortable coolness, the landscape transforms into a captivating canvas of fiery reds, glowing oranges, and golden yellows. The crisp air carries a hint of woodsmoke, inviting campers to gather around crackling campfires. With the hustle and bustle of summer crowds fading away, autumn in Wisconsin provides a serene retreat where campers can immerse themselves in the tranquility of nature and savor the sensory feast of colors, aromas, and gentle breezes. 
Wisconsin's abundant array of camping and RV parks rivals the boundless expanse of the state's natural wonders. From hidden gem campsites nestled among towering pines to well-appointed glampgrounds that redefine outdoor luxury, the options are incredibly diverse. Embark on a journey of discovery as we unveil the myriad of camping experiences that await, each one promising to create lasting memories amidst Wisconsin's breathtaking landscapes.
Best RV Parks in Wisconsin
Unleash the full potential of your RV as you embark on an unforgettable journey through Wisconsin's finest RV parks. Traverse the remarkable landscapes and soak in the scenic vistas that span this majestic state, where every turn reveals a new adventure. Despite its modest size, Wisconsin offers a multitude of captivating destinations that can be effortlessly explored within a few hours' drive. Bask in the sun-kissed beaches for a couple of nights, then find yourself amidst the idyllic Appalachian Mountains, all within a convenient two-hour radius.
When it comes to RV parks in Wisconsin, there is a diverse selection catering to both public and private preferences. Public campgrounds, nestled within state and national parks, offer the essentials: spacious parking, full hookups, convenient dump stations, and reliable electricity. Meanwhile, private RV parks and resorts elevate the camping experience with an array of amenities to suit your desires. Dive into the refreshing waters of swimming pools, let your furry companions roam freely in dedicated dog parks, enjoy the convenience of on-site laundry facilities, stay connected with wifi access, and relish in the culinary delights of on-site restaurants and well-stocked convenience stores.
The following are amongst the best RV parks in Wisconsin: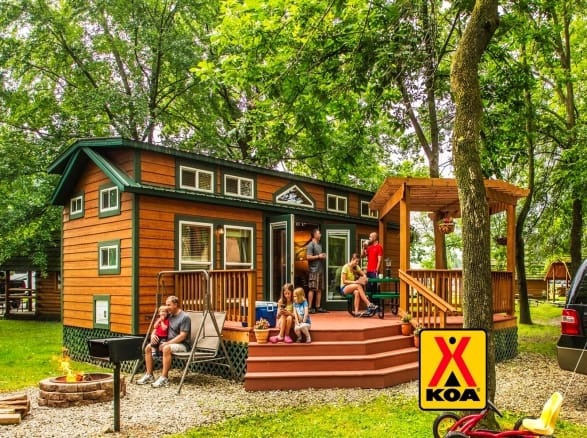 Stay at Wisconsin Dells KOA Holiday whenever you want to go camping near Wisconsin Dells. The campground features a country setting, but it is just one mile from downtown. That makes our campground perfect for individuals and families who wish to escape the city for a couple of days and become more in tune with nature. Come to our Wisconsin Dells campground for a fun vacation full of exploring and relaxing.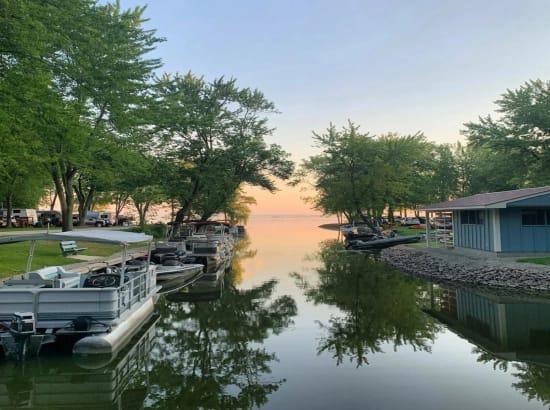 Enjoy the peaceful surroundings offered at Blue Top Resort located in Fremont, Wisconsin. Known for the historic Wolf River walleye and white bass run, the area boasts wonderful golf courses, hiking trails, gift shops, cheese stores, antique shops, water-ski shows, and plenty of festivals and other entertainment for the whole family! Come to Blue Top Resort and enjoy our beautiful campground with many waterfront spots and picturesque vistas and surroundings. We also offer five waterfront cabins, a newly remodeled & fully furnished cottage, fishing boat, pontoon, kayak, and paddleboard rentals.
Stoney Creek RV Resort is located in Osseo, Wisconsin. We are a family run campground with amenities and activities for everyone! We have over 160 overnight sites including, big rig-friendly RV sites, cabin rentals, and tent sites. Unique, exciting amenities such as one-acre swimming pond with wrap-around beach, laser tag, jumping pillow, mini golf, and themed summer weeks are all a part of what makes Stoney Creek special. Combine these fantastic activities with a perfect Good Sam rating, and you can be sure that you'll be staying at one of the best RV parks in all of Wisconsin!
Best Tent Camping in Wisconsin
Embark on an extraordinary tent camping escapade in the heart of Wisconsin, where a multitude of unique options awaits to satisfy your outdoor cravings. Whether you prefer the tranquility of public campgrounds or the allure of private camping havens, Wisconsin's diverse offerings cater to every camper's whims. Discover the wonders of dispersed or developed camping areas, each inviting you to embrace the serenity of nature.
Immerse yourself in the simplicity of tent camping at public campgrounds, where basic sites adorned with firepits, picnic tables, tent pads, and convenient community bathhouses await your arrival.
For those seeking a touch of extravagance or unique experiences, private campgrounds in Wisconsin are another excellent option.
While planning your tent camping adventure in Wisconsin, be prepared for the whims of Mother Nature, especially outside the summer months. Unpredictable weather patterns and the Atlantic hurricane season, spanning from May through November, may present challenges to even the most seasoned campers.
Ensure you equip yourself with ample clothing for layering, an abundance of firewood for warmth, bug repellent, sunscreen, and extra provisions for food and water.
Most public campgrounds welcome your furry companions, but it's advisable to check the guidelines of private campgrounds to ensure a seamless experience for both you and your four-legged friends.
Glamping in Wisconsin
If traditional tent camping or RVing doesn't align with your desires, fear not, for glamping Wisconsin offers a unique avenue to immerse yourself in the embrace of nature without sacrificing comfort.
The allure of glamping has swept across the globe in recent years, capturing the hearts of adventure-seekers and luxury enthusiasts alike. Prepare to discover Wisconsin's finest glamping sites, each offering spacious tents, secluded locations, and sumptuous beds that cocoon you in a world of indulgence.
From captivating beachside boardwalk locations that let you soak in the gentle ocean breeze to quaint countryside towns that invite you to unwind amidst pastoral beauty, there is a glamping Wisconsin experience for every discerning traveler.
Venture beyond the ordinary and explore unconventional glamping opportunities, such as luxury barns, cozy tiny homes, beachside yurts, and even wineries that offer a one-of-a-kind fusion of glamour and nature. No matter your style or inclination, Wisconsin stands ready to unveil the perfect glampsite that will exceed your wildest expectations.
State and National Parks in Wisconsin
Apostle Islands National Lakeshore
At Apostle Islands National Lakeshore, you can traverse stunning sea caves by kayak or embark on scenic hiking trails that wind through dense forests and pristine beaches.
Marvel at the picturesque lighthouses that dot the landscape, witnessing the intersection of human history and nature's grandeur.
Isle Royale National Park
Accessible only by boat or seaplane, Isle Royale National Park invites you to disconnect from the modern world and immerse yourself in untouched natural beauty. Visit pristine trails, encounter moose and wolves, and discover hidden gems like the pristine Houghton Falls and the remarkable Rock Harbor Lighthouse.
Devil's Lake State Park
With its majestic rock formations and the crystal-clear waters of its namesake lake, Devil's Lake State Park is nestled amidst a sprawling 9,217-acre wilderness. Embark on hiking trails that wind through dense forests, rewarding you with breathtaking vistas from the park's towering bluffs. Find solace in the tranquility of the ancient Ice Age landscapes, and witness the vibrant hues of fall foliage that paint a mesmerizing portrait during autumn.
Cave Point County Park
Located along the stunning shores of Lake Michigan, Cave Point County Park is a mesmerizing world of wave-carved limestone cliffs, sea caves, and underwater caves. Immerse yourself in the ethereal beauty as waves crash against the cliffs, sending plumes of mist dancing into the air. Discover hidden trails that lead to secluded spots, where you can witness the enchantment of a Lake Michigan sunrise or sunset.
Pro Tips for Camping in Wisconsin
Let's dive into some pro camping tips to ensure an unforgettable outdoor experience in the Badger State.
Embrace the art of overpacking when camping in Wisconsin. The state's diverse weather patterns call for extra layers of clothing to adapt to changing conditions. Be prepared for unexpected rain showers or sudden temperature drops by packing additional clothing options. Additionally, surplus food and water supplies will ensure a comfortable camping trip, allowing you to savor every moment without worrying about running out of provisions.

Before booking your campsite in Wisconsin, be sure to check with the campground for any specific policies or regulations. This includes verifying the pet policy, burn ban restrictions, and quiet hours if you plan on using a generator. Being aware of these guidelines in advance will help you have a smooth and enjoyable camping experience without any surprises.

For those planning to bring their horses and explore the scenic trails of Wisconsin, take advantage of the state's various horse campgrounds. However, remember to plan accordingly by obtaining a recent negative Coggins test for your equine companions, which is typically required during check-in at horse campgrounds.

If you're embarking on a winter camping adventure in Wisconsin, it's crucial to take the proper precautions. This includes ensuring you have suitable cold-weather camping gear, such as insulated tents, sleeping bags, and clothing, to stay warm and comfortable throughout your trip. Additionally, be aware of any winter-specific regulations or park closures that may be in effect during your planned stay.

When searching for the best camping options in Wisconsin, kickstart your quest by exploring BookOutdoors.com. This invaluable resource offers a wealth of information and a wide selection of camping opportunities, helping you discover the perfect campsite that aligns with your preferences and desired experiences.
Plan Your Next Wisconsin Camping Trip With BookOutdoors
Unleash the grandeur of Wisconsin's outdoor wonders as you embark on your next unforgettable camping trip. Known as a state of boundless beauty and hidden treasures, Wisconsin beckons adventurers from near and far to explore its captivating landscapes. To kickstart your journey into the heart of the Badger State's natural wonders, look no further than BookOutdoors.com, your trusted companion in discovering the best camping in Wisconsin with ease and convenience.
Say goodbye to membership fees and booking hassles and hello to a seamless and stress-free reservation process. With our 'book now, pay later' option, you can secure your favorite campsite without any upfront payment, guaranteeing that you never miss out on your desired spot.
Immerse yourself in the splendor of Wisconsin's breathtaking wilderness by venturing to BookOutdoors.com and unveiling a world of possibilities for your next great adventure.