Your first RV trip – how exciting! Are you excited? And maybe just a bit nervous? Understandable. You've almost certainly been on a road trip before, maybe done some tent camping. But until you've embarked on your first real-life RV adventure, there's no way to anticipate the pleasures and inevitable surprises that go with this unique style of traveling. About those surprises… It hasn't been scientifically proven (yet), but it's safe to say that RV trips tend to come with more of them than any other kind of vacation. Make sure those surprises are happy ones – for example, your camper is surprisingly easy to drive – by planning your first RV trip thoroughly. From the type of RV you rent to your choice of campsite, preparation is key to keeping those pre-first-time RV trip jitters at bay.
Choosing Your RV
While anticipating your first RV trip, you probably started seeing RVs everywhere and checking them out with a new level of interest. You already know, then, that there are a lot of different types of RVs. Motorhomes (drivable RVs) range from Class A, the largest, to Class B, or campervans made famous by the #vanlife crowd. In the middle are Class C RVs, popular with families for their balance of space, amenities, and driveability. Towable RVs (requiring a second vehicle) range from compact pop-up campers and mid-sized travel trailers to huge fifth-wheel campers pulled by a heavy-duty truck. Eliminate any RV types you won't feel comfortable driving as beginners (this means Class A and fifth-wheels, for most). Also, rule out any that won't adequately accommodate your camping party. RV rentals are available through national and local rental companies, which you can visit in person. Another great option is peer-to-peer rental sites, which connect renters with RV owners. Keep your options open, explore them all, and read the small print in the rental agreement. You're sure to find a great RV rental that suits your needs and budget.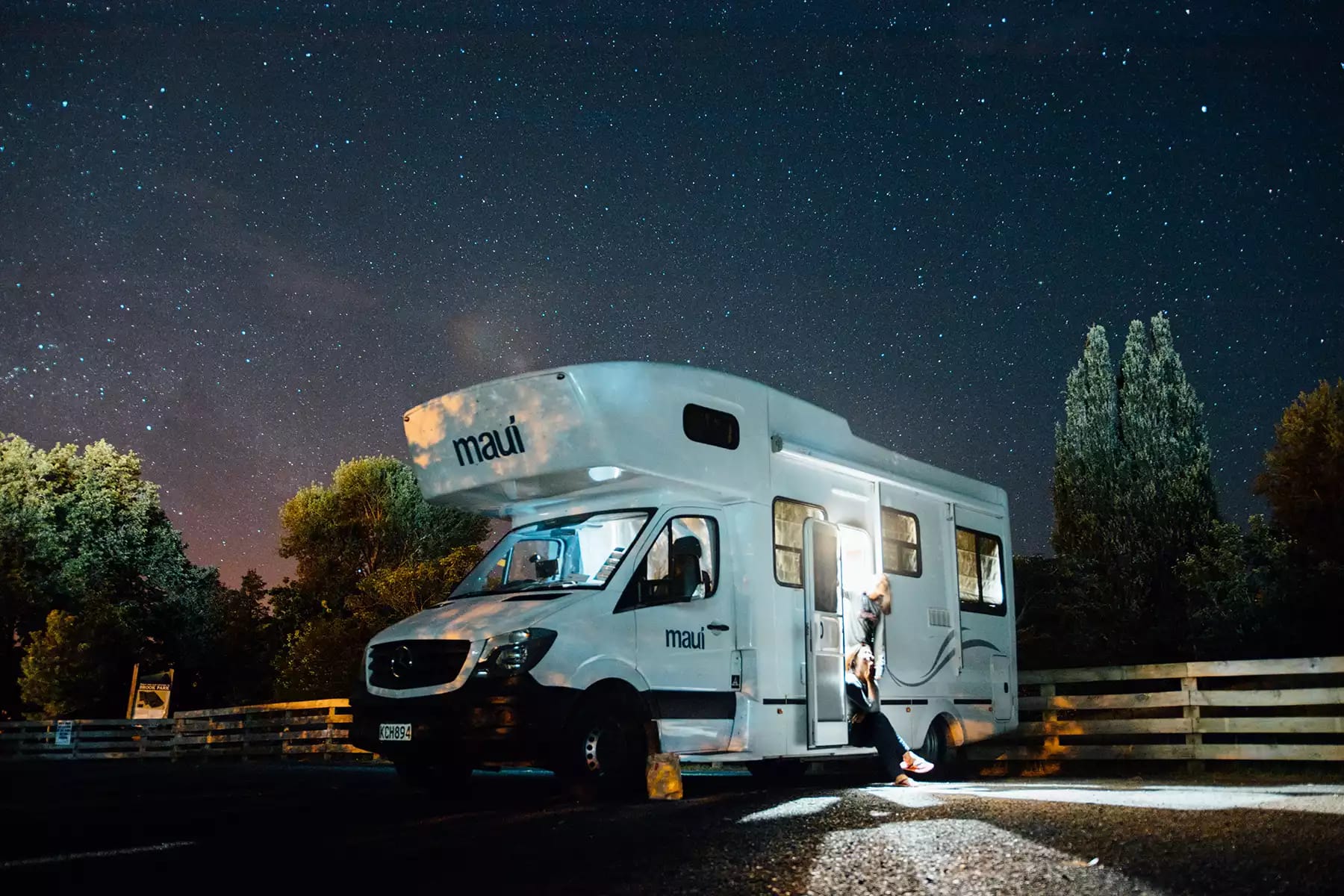 Choosing a Road Trip Destination
The sense of freedom on an RV road trip is palpable – you can go anywhere with roads! And places to camp, of course. Popular RVing destinations include
national parks
, state parks, national forests, and BLM-managed public lands. Plus, countless private campgrounds range in style from rustic to luxurious. Beaches, forests, deserts, and mountains all beckon RV campers. You might be drawn to a destination for specific attractions, such as amazing hiking trails, fishing spots, or the
darkest of skies
.
Take it Easy, First Timers
It's tempting to curate an epic adventure, but for your first RV trip, consider a modest itinerary. A shorter, closer-to-home road trip with just one or two camping destinations is a great way to get used to the vehicle. It's also helpful for figuring out the types of campsites you prefer and all the little things you do and do not need to pack. Plus, it's better to make those inevitable first-timer mistakes on a three-day trip rather than a three-week one.
Choosing a Campsite
Finding and booking campsites for RVers is a bit more involved than for tent campers. You need to know the size of your RV and look into the different types of sites available. Some RV parks only accommodate smaller RVs and campers or have a limited number of sites for big rigs. Do you want a site with full hookups? Does the campground have a dump station and freshwater supply? Look into back-in or drive-through sites. All these factors vary considerably. Also, consider the campground amenities you desire, such as a swimming pool, hot showers, laundry room, and convenience store. For some, the more on-site fun, the better, while other campers prefer a serene, rustic vibe.
How About Boondocking?
Boondocking means RV camping outside a developed campground, also known as
dispersed camping
. It's generally free of charge (save money, woohoo!) and done on public lands such as national forests and BLM-managed lands. This is very appealing to many RV campers, even for a first-time RV trip. After all, an RV should already contain everything you need for at least a night or two, even without hookups. If solitude and self-sufficiency define your approach to camping, look into boondocking.
Know Your RV
The final stage of planning a first-time RV trip is being sure you know how to handle your vehicle before you hit the road. Any rental procedure should include a thorough orientation. Pay attention! Make a checklist – seriously, get yourself a clipboard and be that person; you won't regret it. Look up RVing videos featuring similar models for additional tips. At a minimum, you need to know where and how to dump the tanks, handle the hookups and propane, and how to operate appliances. Know how all the cool doodads, like pop-outs, canopies, and fold-down beds work. This applies to both the setup and breakdown of your camp. Parking and leveling are key. If possible, do a test drive in a big, empty parking lot and practice turning, braking, and reversing. Keep a note of the RV's dimensions in the cab, and plan your RV routes to avoid narrow roads and low tunnels (and include gas stations).
Start Planning Your Second RV Trip
Assuming you thoroughly enjoyed your first RV road trip, you're probably already planning your next one. Go big this time! Consider anything you coulda/shoulda/woulda done better. No regrets – it's all part of the fun when you go RVing and live the RV lifestyle.