Ohio is such a beautiful state, located at the center of the Midwest and full of unique places to go camping. Whether you are searching for scenic rolling hills or a camping spot at Cantwell Cliffs for majestic mountain views, camping in Ohio has everything you're looking for. There are numerous state parks and national forests, which provide ample opportunities for camping adventures. Before you start mapping out your next adventure, check out our ultimate guide to the best camping in Ohio.
Best Time of the Year for Camping in Ohio
The weather in Ohio is relatively stable compared to other states. This is due to its location in the midwestern region of the United States and its lack of extreme geographical features. All this gives Ohio a more moderated and predictable climate. Outdoor enthusiasts are, therefore, more likely to enjoy favorable camping conditions throughout the year. Even though there might be occasional fluctuations, the stable climate still provides an excellent experience for campers exploring the state's natural beauty.
August and September often provide the best conditions for camping. Swimming and outdoor activities are more enjoyable during this period since the days are still warm. The evenings are cool and fresh, making them perfect for campfires at night. Now that you know the best time for camping in this state, it's time to dive in and explore the best RV parks and campgrounds in Ohio.
Best Camping and RV Parks in Ohio
Ohio boasts exceptional camping and RV parks that cater to outdoor enthusiasts seeking memorable experiences. Whether you prefer pitching a tent, parking your RV, or indulging in the luxury of glamping, Ohio's diverse parks offer a range of options to suit every camping style. Let's explore the various RV parks in Ohio.
Best RV Parks in Ohio
The RV lifestyle is suited to anyone who loves unpredictable adventures and exploration. Rving is also great for remote workers, as it provides opportunities to work in serene and beautiful locations. This newfound flexibility enhances personal happiness and expands the horizons for job opportunities, offering a world of possibilities for remote work in stunning settings. 
After choosing the perfect RV that meets all your needs, check out these great RV parks in Ohio!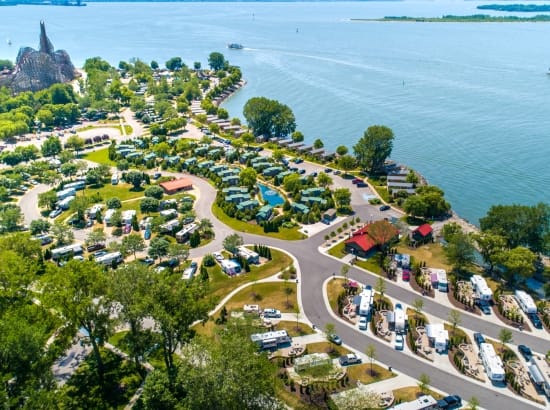 Located just steps away from dedicated entrances for Cedar Point and Cedar Point Shores. Lighthouse Point was voted one of the 9 Most Beautiful Campgrounds in the U.S. by Travel and Leisure Magazine. Situated along the shores of Lake Erie, Lighthouse Point features 156 Cottages and Cabin rentals along with 145 RV Campsites all thoughtfully laid out and designed for families to come together, relax and create new memories.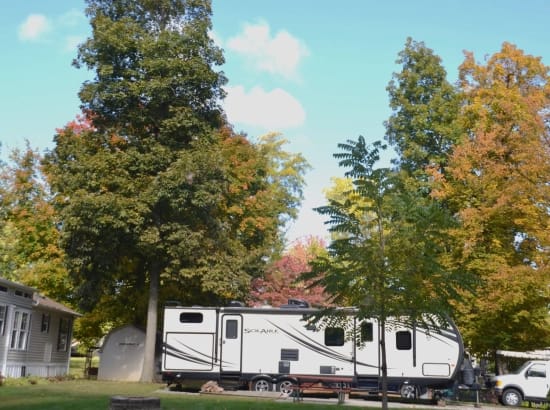 Cross Creek Camping Resort is the premier camping destination in Ohio! We are a family oriented camping resort offering beautiful surroundings, activities, and themed weekends! Come visit us this season, and start making lasting memories around the campfire! Our goal is to provide families with a fun-filled camping experience.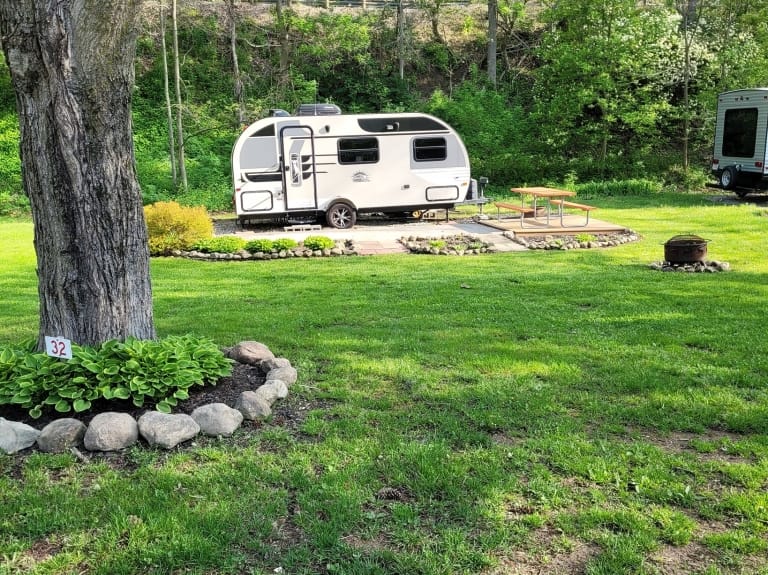 Lazy River at Granville is a top 100 rated park. Located near Columbus, Ohio in the beautiful Welsh Hills, this highly-rated, quiet and scenic park, is away from freeway and railroad noise, yet easily accessible from all of the main routes. We are just 25 miles east of Columbus, so you will be able to participate in all of the fun and then return to Lazy River at Granville for some quiet time, too!
Best Tent Camping in Ohio
Tent camping in Ohio provides an abundance of outdoor recreation activities for campers. From dense forests to serene lakeshores, the state boasts an impressive array of camping destinations catering to all outdoor enthusiasts. But first, you'll need to know about Ohio's different types of camping grounds. Public camping grounds are a popular option for campers. Government entities such as state parks, national forests, and county parks typically operate them. These campgrounds provide an opportunity to connect with nature and offer various amenities and facilities, which may include designated campsites, showers, and electrical hookups.
Private campgrounds in Ohio are also popular and provide a unique camping experience, often with additional amenities and services. They are usually owned and operated by individuals, companies, or organizations that can provide a more personalized and tailored experience.
They do this by providing exclusive amenities, attentive customer service, and curated activities tailored to individual preferences. Activities could include guided nature hikes led by knowledgeable local experts. This allows visitors to explore the surrounding wildlife and learn about the area's ecology. Activities like this aid in creating a sense of community and providing an opportunity to connect with fellow campers. However, some private parks have rules you won't see enforced in public parks. Some of them have stricter noise regulations and more stringent pet policies. Always check a campground's policies before you book.
Glamping in Ohio
If you enjoy camping with a touch of extra luxury, consider glamping. Recently, it has gained popularity as a more lavish and comfortable alternative to traditional camping. Ohio has terrific options if you love luxurious tents, glamping domes, or yurts. 
Before you book, you'll need to know the numerous options glamping in Ohio offers. With its expansive plains dominating the landscape, Ohio offers unique and ideal choices for indulging in the luxury camping experience. These include fully furnished safari tents, cozy cabins, and special accommodations like treehouses or vintage trailers. Glamping sites often provide comfortable beds, private bathrooms, electricity, and sometimes hot tubs or fire pits. Glampers can enjoy the serenity of Ohio's natural landscapes without sacrificing home comforts. No matter your taste, Ohio has various glamping sites you're bound to enjoy.
State and National Parks in Ohio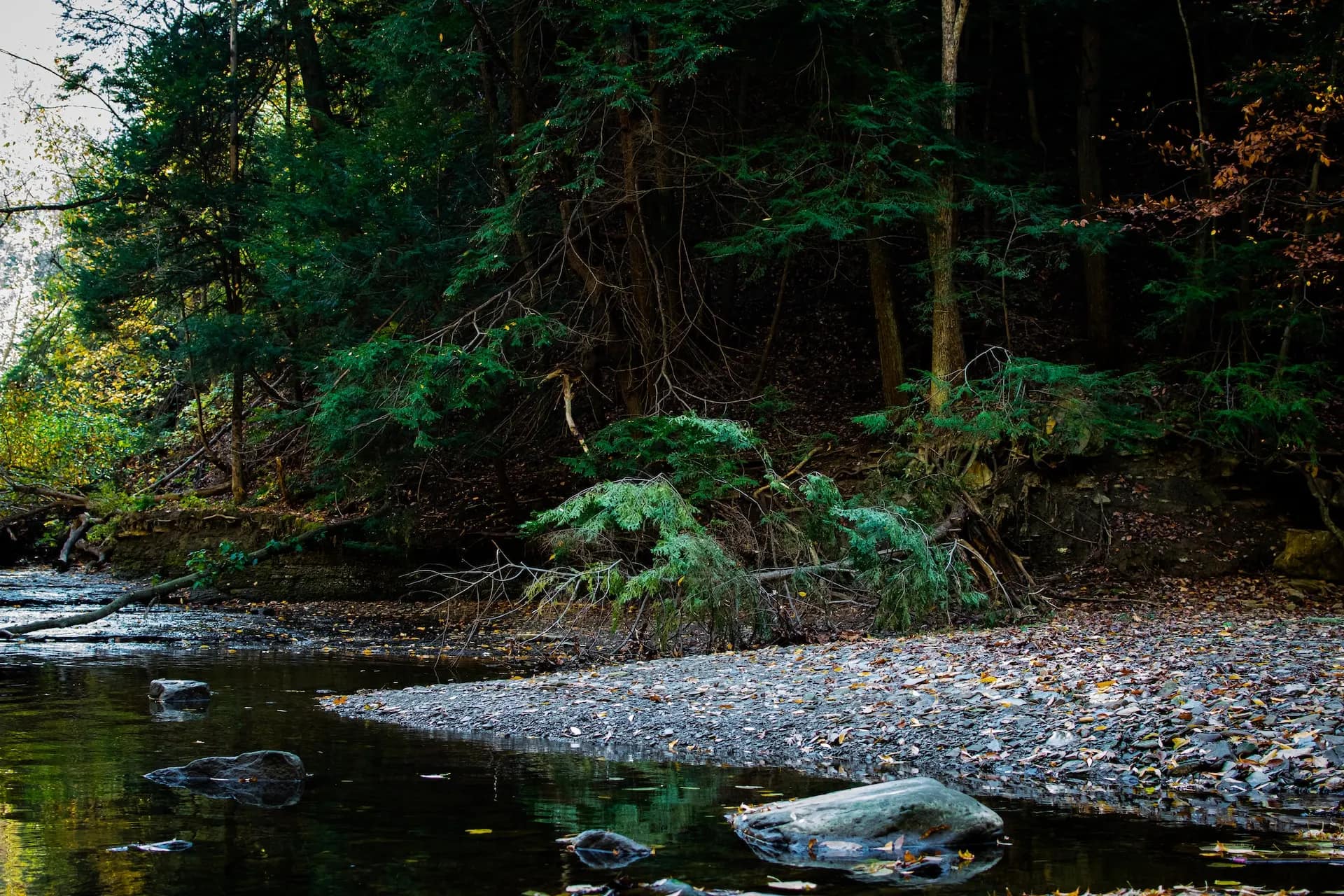 Ohio has over 75 state parks and national parks with natural landscapes and rugged trails. All these help you reconnect with nature, rediscovering the tranquility of the great outdoors and the beauty of Earth's diverse ecosystems. Here are some of the major state and national parks for campers.
East Harbor State Park
Located on the shore of Lake Eries, the East State Park offers numerous opportunities for lovers of outdoor activities. Campers who visit this park can engage in boating, swimming, fishing, and picnicking activities. With over 150 non-electric sites, 300 electric sites, and 50 full hookups, campers can enjoy a comfortable stay. Moreover, pets are allowed on all sites in this park. Winter explorers are also included, as the park has several skiing trails.
Cuyahoga Valley National Park
The Cuyahoga Valley Park spans over 33,000 acres of picturesque landscapes and serene forests. This ensures plenty of exploration options for campers and RV enthusiasts to explore. The park offers traditional campgrounds where visitors can set up tents and enjoy the tranquillity. If you are an RV lover, the park also provides RV-friendly areas, allowing convenient exploration of the park's scenic beauty.
Before setting out for an adventure to these parks, you'll need to know the tips to consider when camping in Ohio.
Pro Tips for Camping in Ohio
Now that you know where to camp or RV and the times of the year favoring these activities, it's time to explore some valuable camping tips to enhance your outdoor adventure.
Pack clothing layers that you can easily add or remove to adapt to temperature fluctuations. Bring rain gear, including a waterproof jacket and pants, to stay dry during sudden showers.

Make reservations in advance, as popular camping spots in Ohio can fill up quickly, especially during peak seasons.

Insects, particularly mosquitoes, can be prevalent in Ohio's outdoor areas, especially during warmer months. Pack insect repellent, and consider using citronella candles or mosquito nets around your camping area.

Check for any fire restrictions or burn bans that may be in place. Ohio's parks and forests occasionally implement fire restrictions during dry periods to prevent wildfires.
Plan your Next Ohio Camping Adventure with BookOutdoors
If you are planning an outdoor adventure to Ohio, then you're in the right place. BookOutdoors.com eases the whole booking process, making your camping trip to Ohio a memorable experience. We don't charge for booking or membership fees if you book your trip through BookOutdoors. We also offer perks such as reward programs for regular campers.
Embark on an exhilarating journey with BookOutdoors and begin crafting your next extraordinary adventure.