If you're looking for a new adventure, look no further than the heartland of Indiana. Indiana is a great place for camping because it has beautiful natural scenery, a wide range of animals, and a lot of campgrounds. Whether you're a seasoned camper or new to the camping scene, Indiana offers a variety of options for your next outdoor adventure. So get ready to learn all about the best camping in Indiana in our ultimate guide to camping in the Hoosier State. Whether you're looking to camp under the stars or for a luxurious getaway, you'll find everything you need to make your next trip camping in Indiana, unforgettable.
Because the landscape and climate between the northern and southern ends of the Hoosier State are so different, the time for the best camping in Indiana will depend heavily on your location. Generally, however, the best time to camp in Indiana is in June and July if you're looking for warm weather or May and August if you're looking for a little cooler weather. Winters are long and freezing, not optimal weather for outdoor activities, especially tent camping.
Best Camping and RV Parks in Indiana
You might think that there's not much that Indiana has to offer when it comes to camping and outdoor activities because of the lack of diverse terrain. However, the Hoosier State features many amazing RV and tent campgrounds close to national forests, waterfalls, horseback riding, wildlife, hiking, historical landmarks, swimming, fishing, and more. There are even some truly unique glamping options for the perfect getaway. So let's dive in and discover the different ways to get close to nature while camping in Indiana.
Best RV Parks in Indiana
An RV road trip through the Hoosier State is a great way to explore the nation's heartland. With seven scenic byways, Indiana has no shortage of amazing views. Fortunately, finding the best RV parks in Indiana is easy when so many are spread throughout the state. Most basic RV parks have water and electricity hookups, centrally located dump stations, on-site activities like playgrounds, amphitheaters, sports courts, and nearby natural areas. 
Higher-end RV parks usually feature better amenities, which is great if you're traveling with a group or kids. You can find top RV campgrounds in Indiana with full hookups, including Wi-Fi, laundry facilities, indoor and outdoor swimming pools, mini golf, on-site convenience stores, and restaurants. Before heading out in your RV, be sure to complete routine maintenance on your rig. This will prevent any surprises along the way.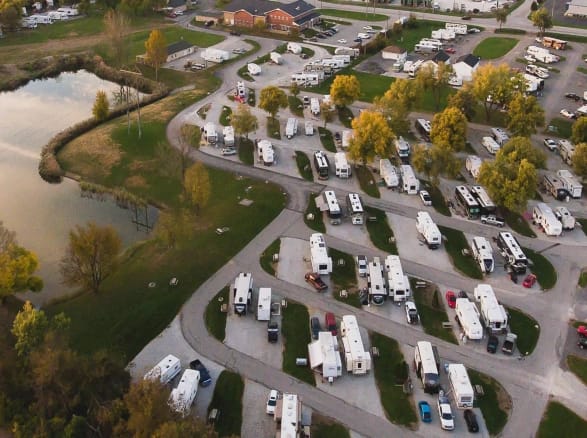 Indys' Premier RV Park. Lake Haven Retreat is conveniently located on the south/southwest side of Indianapolis, just two miles south of the I-465 loop, on State Road 37 (also known as I-69 South). Within a 10-13 mile drive, you will find the airport, downtown Indy, Indianapolis Motor Speedway, major shopping malls, and more. Due to our full range of services and convenient location, many RV'ers choose to stay with us while in town for local events, conventions, working or visiting family.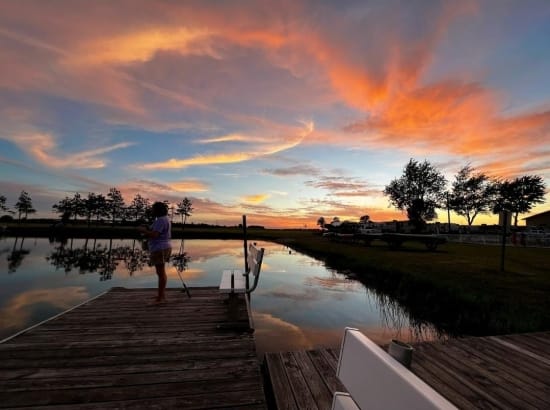 As an Eastern Indiana retreat, we are a family-friendly facility, located 30 miles from Indianapolis with quick and easy access to I-70. Our campground offers a number of spacious campsites and a beautiful brick retreat house for large groups and event hosting. From primitive camping to Big Rig Sites, our RV park has the facility to meet your needs.
Heartland Resort is located in Central Indiana, just 20 minutes east of Indianapolis. We offer a quiet, tranquil campground with full hook-ups for rigs of all sizes. Stay for the night or the weekend, extend your stay for a week or a month, and if you want to stay for the camping season you can do that too! We invite you to enjoy Heartland RV Resort and will do what we can to accommodate your needs.
Amazing Tent Camping in Indiana
Some camping enthusiasts would argue that tent camping is the true way to camp. Although RVing and glamping are pretty fun, there's something about tent camping that tends to connect you so closely with nature that it's exhilarating. Fortunately, there is plenty of good weather and some of the best camping in Indiana to choose from. 
There are many different types of tent campgrounds available for your next outdoor adventure. Some campgrounds have basic features such as fire rings, charcoal grills, and centrally located bathhouses and showers. More modern private campgrounds you can find throughout the state offer amenities like swimming pools, equipment rentals, on-site convenience facilities, and social events. Other campgrounds feature no amenities at all and allow you to fully immerse yourself in the surrounding nature. 
Glamping in Indiana
If you're looking for a unique way to connect with nature, all while enjoying luxurious amenities when it comes to the best camping in Indiana, you might be interested in glamping on your next outdoor adventure to the heartland. There are many glamping options in the Hoosier State, some with unique features. You can find glampsites on herb farms, in riverfront yurts, on equestrian farms, and in quaint vintage campers, just to name a few. 
Most glamping spots provide many amenities that you won't find at traditional tent and RV campgrounds. For example, most glamping experiences feature full-sized beds, private outdoor spaces, Wi-Fi, electricity, kitchens or grills, and bathrooms. Some glampsites also have on-site dining, air conditioning, and access to equipment for water sports, fishing, and other outdoor games.
State and National Parks and Forests
Indiana has a lot of beautiful natural places, and its public lands, like the Indiana Dunes and the Hoosier National Forest, offer some of the best camping in Indiana. Hugging Lake Michigan, the Indiana Dunes National Park offers stunning blue waters, 50 miles of hiking trails, prime bird-watching locations, and tons of water sports and boating options.
Hoosier National Forest is over 200,000 acres and offers a variety of outdoor activities like hiking, hunting, fishing, and camping. Two developed campgrounds offer sites for both tents and RVs, with one featuring rustic cabin rentals. In addition, campers can enjoy paved sites with electrical hookups, community restrooms and bathhouses, and tours of nearby historical sites.
Clifty Falls State Park is another great Indiana state park that offers a plethora of activities, including hiking, stunning waterfall attractions, bird-watching locations, and over 150 developed campsites. The star of Clifty Falls State Park, however, is the ancient limestone canyon bed that features an abundance of 450 million-year-old marine fossils. You must have reservations to camp at Clifty Falls.
Pro Tips for Camping in Indiana
Although Indiana is relatively flat with a moderate climate, there are a few pro tips you should know before you traverse the landscape of the Hoosier State. Check out these helpful tips below to keep in mind while planning your trip camping in Indiana.
While the climate of Indiana is mild, during the winter season, many campgrounds close, as well as lakes, pools, and river access. Check with your host about accessibility before you plan your trip.

Winter camping is fun

but can be brutal under layers of snow and ice. If you're planning a winter camping trip, bring extra supplies and an emergency weather radio to stay informed.

Dogs are allowed in all Indiana state and national parks but must be kept on a leash shorter than six feet in length. Private campgrounds will have different rules for pets, so ask for their restrictions before booking your site.

If your camping trip includes hunting or fishing, you must purchase a license with the

Indiana Department of Natural Resources

. You can purchase permits for short-term visits or for the season. 

During the summer, local lakes and reservoirs experience

algae blooms

. Do not swim, wade, or otherwise come in contact with this, as it is highly toxic. Additionally, do not let pets near it as they can pass it to humans through their fur.
Plan Your Next Indiana Camping Trip with BookOutdoors
Are you planning your dream trip to Indiana? Begin with BookOutdoors. BookOutdoors gives you access to the best camping in Indiana, so you can plan a camping trip you'll never forget. BookOutdoors makes it simple to select and book your ideal camping holiday, whether you're glamping, pitching a tent, or RV camping. When you use BookOutdoors, there are no membership or booking fees. Use the "book now, pay later" tool to keep your favorite site close at hand. For your Indiana vacation, go to BookOutdoors.com, and remember, leave no trace!