If you're looking for an outdoor adventure littered with history, look no further than camping in Illinois. The Prairie State, as it's so aptly named, features mile after mile of rolling hills, historic trails and monuments, winding rivers, and over 280,000 acres of natural forest, making for an epic outdoor playground in the Midwest.
Camping in Illinois has so many options regarding where to stay and what to do. Whether you're looking for a weekend glamping getaway or a road trip at one of the best RV parks in Illinois, there's something for everyone there. Let's dive in and discover when and how to camp throughout Illinois. 
Best Time for Camping in Illinois
Illinois is a northern state and tends to experience mild to moderate summers with bitterly cold and often unforgiving winters, especially in northern Illinois. May to September are the optimal months for camping in Illinois if you want to enjoy warm weather on your trip. May and September are the perfect two months to enjoy pleasantly warm days and chilly nights. 
Winter camping in Illinois is not advised for inexperienced campers or those camping in a tent. With winter highs averaging in the teens and twenties, one miscalculation can spell disaster quickly. However, if you are prepared for winter camping, you'll likely find fewer crowds at the more popular campground in Illinois.
Best Camping and RV Parks in Illinois
So far, you've decided when to schedule your camping trip; now, let's look at where to stay! Luckily, there are so many great campgrounds throughout the state. You can find various scenic spots, amenities, and accommodations for any type of camping you're looking for. Whether camping under the stars in a tent or glamping under the stars in luxury, there is a perfect campsite waiting for you in the Prairie State! 
Best Tent Camping in Illinois
Illinois is filled with so many private and public campgrounds for tent campers that you won't have much trouble finding a great spot if you're packing light. Public campgrounds tend to feature only basic amenities for tent campers. You can find fire rings, picnic tables, tent pads, and lantern poles at most state parks. These campgrounds are inexpensive to reserve and usually feature hiking and biking trails, bodies of water, historical monuments, or geological formations nearby.
Private tent campgrounds in Illinois frequently offer the experience of sleeping under the stars with a few more luxuries included. Dog parks, swimming pools, boat rentals, and social events are just a few of the more common things you'll find at private campgrounds around the Prairie State. 
Check out these great campgrounds in Illinois!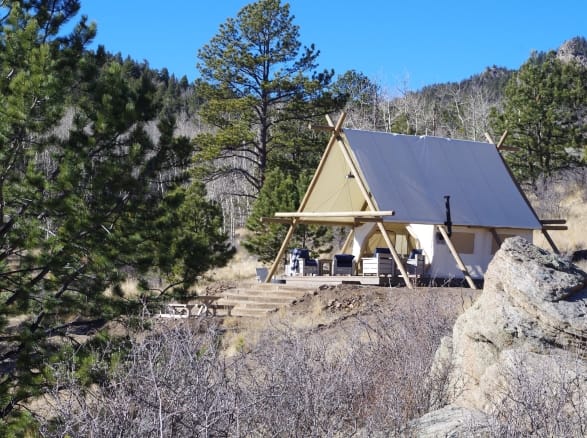 Black Tree Resort is a luxury camping resort that crafts comfortable and customized adventures for active families, groups and couples who want to reconnect with what's most important. The resort also offers a wide range of activities, including boating, fishing, or rent a golf cart to enjoy the grounds.
Welcome to Lake George, CO! In Lake George, you'll get to sleep under the most incredible stars, breathe fresh mountain air, and explore. There is so much to do here in the Pike National "Forest": world class fishing, beautiful hikes and trails for off roading, rock hounding, tubing, and more.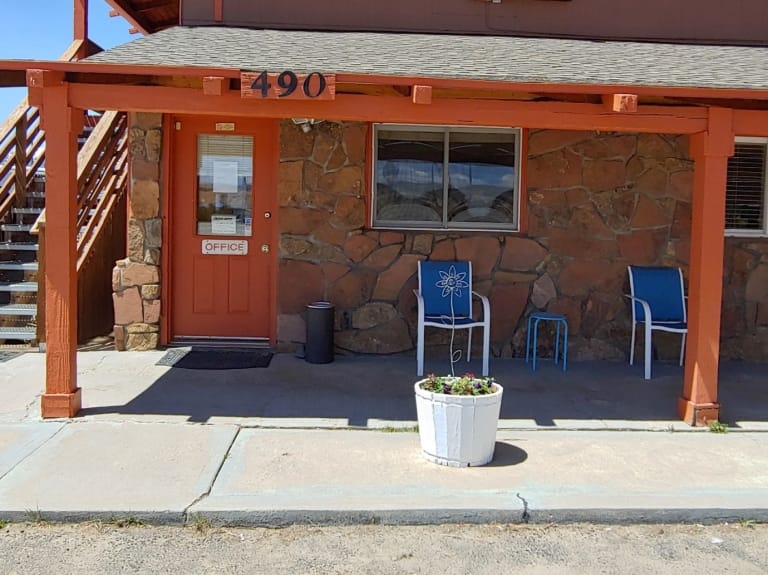 Located near Breckenridge ski area, Fairplay is a beautiful small quaint town surrounded by fourteen thousand-foot peaks.. Staying at the Western Inn Motel and RV Park also saves on lodging costs compared to what you would pay in a nearby ski town.
RV Parks in Illinois
Whether you're road-tripping through the state in a campervan or cruising first class in a motorcoach, there are eight scenic byways, including the historic Route 66, to explore in Illinois. The Spoon River Valley Scenic Drive is a great trip if you're traveling with kids. There are lots of stops along the way to keep everyone entertained. Adults can enjoy the Shawnee Hills Wine Trail, which features over 11 family-owned wineries. Many of the scenic drives throughout the state feature ample opportunities to stop in overnight and enjoy some of the best RV parks in Illinois.
Before you step on the gas for your RV trip, being prepared is a good idea. Whether you own it or have a rental, checking your RV and performing routine maintenance is crucial. Next, planning your itinerary can save a lot of time and headaches during an RV road trip, especially when traveling with small children. Note your stopping points along the way and plan extra time for any surprises. 
Illinois has many great RV parks, and many feature basic amenities like large parking spaces, full hookup sites, centrally located dump stations, electricity, and a picnic table. Larger RV parks may provide wifi, laundry facilities, sports courts, and dog parks. Luxury RV resorts have amenities for campers beyond those at basic and intermediate campgrounds. Swimming pools, restaurants, convenience stores, golf courses, movie theaters, and spas are frequently found at these RV parks. 
Luxury Glamping in Illinois
If you enjoy tent camping but want something more comfortable, glamping is the perfect option for camping in Illinois. Who says you have to sacrifice a good night's sleep when you're outside? Glampgrounds provide unique stays that are a step up from tent camping while still allowing you to connect with nature. 
Many places offering glamping in Illinois provide upgraded sleeping arrangements in large canvas tents or yurts. Fire pits, mini-fridges, and air conditioning are frequently found in most glampsites. Other glamping options include unique stays at flower farms, treehouses, and rustic cabins. 
Illinois State and National Parks
While Illinois has no national parks, it has a national forest and 95,000 acres of wildlife refuge. Shawnee National Forest spans over 280,000 acres in southern Illinois. It's nestled between the Mississippi and Ohio Rivers and features some of the most beautiful scenery in the state. Camping in the Shawnee National Forest is open on a first-come, first served basis; they do not accept reservations. You can find both developed and dispersed camping for groups, tent campers, and RVers. 
What Illinois lacks in national parks, it makes up for when it comes to state parks and recreation areas. With over 100 state areas to visit and explore, there's something close by no matter which part of the state you're in! Some of the most popular state parks are Matthiessen Park, Ferne Clyffe State Park, and Starved Rock State Park. The Illinois Department of Natural Resources doesn't charge entrance fees to any park, and camping fees range from $6 to $35 per night. Pets are allowed at Illinois state parks, except for in the cabin rentals.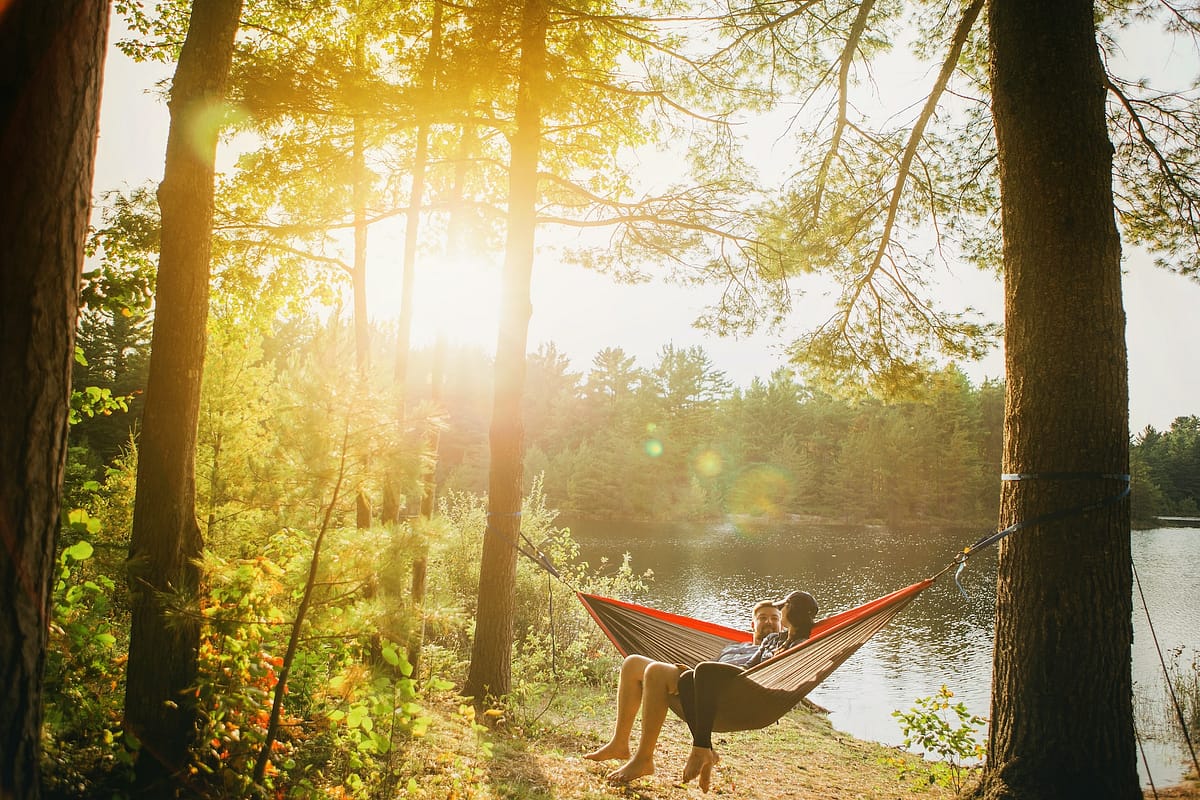 Pro Tips for Camping in Illinois
You've learned when to go and where to stay on your Illinois camping trip; now read up on some pro tips to help you have the perfect outdoor adventure you can have. With a few tips and tricks, you'll be ready to plan and book your epic vacation to the Prairie State and experience the great Midwest!
Ensure you arrive at your campsite while it's still daylight. Setting up in the dark and you can't see can be unsafe. Save yourself the headache, and arrive with plenty of time to pitch your tent if you have one.

Do not leave food unattended outside, especially at night. Coyotes, raccoons, skunks, and wolves are native to Illinois and are always looking for an easy meal. Likewise, be sure to bring a bear-proof storage box if you're in an area that's frequented by black bears.

Always check with your campground host for any questions before booking your campsite. Pet policy, quiet hours, and parking questions are the most common you might have when planning your camping trip.

If you're planning on winter camping in Illinois, it is crucial to come prepared. Winter camping can be dangerous without taking the proper precautions.

Complete a check

of lines, fluids, and hoses on your RV if you're camping on the road.

Always pack in and pack out of your campsite and leave it better than you found it.
Ready to Book Your Illinois Camping Trip?
Are you planning a dream vacation to Illinois? Start with BookOutdoors. BookOutdoors gives you access to a large number of campsites, allowing you to plan an unforgettable camping experience. BookOutdoors makes choosing and booking your ideal camping vacation simple, whether you prefer glamping, tent camping, or RV camping. There are no membership or booking fees when you use BookOutdoors. Use the "book now, pay later" feature to keep your favorite site close at hand. 
Visit BookOutdoors.com for your Illinois vacation, and remember to leave no trace!