You're driving down the highway and changing lanes to pass by a big RV that's trundling along at a leisurely pace. You ask your other half in the passenger seat, half-jokingly, "Would you ever want to rent one of those?" They answer, "Maybe… it could be fun, right?" Yes, it could be fun, very fun indeed. And so begins the process of planning your first RV trip. For total newbies, it can seem overwhelming to plan a road trip in a large, unfamiliar vehicle that also serves as your sleeping, living and dining space. Common concerns include how difficult or easy an RV will be to drive, whether or not you need a special license (you don't!) and how and where to book campsites and RV spots. Those easily solved issues are quickly forgotten when you start to think about all the fun elements of planning your first RV trip. Where will you go? (Anywhere with roads!) What will you do? (Anything you want!) Who's going to handle the sewer hookup? (TBD.) Yes, there are countless considerations, but making decisions as a couple, group, family or solo traveler can be almost as fun as finally hitting the road.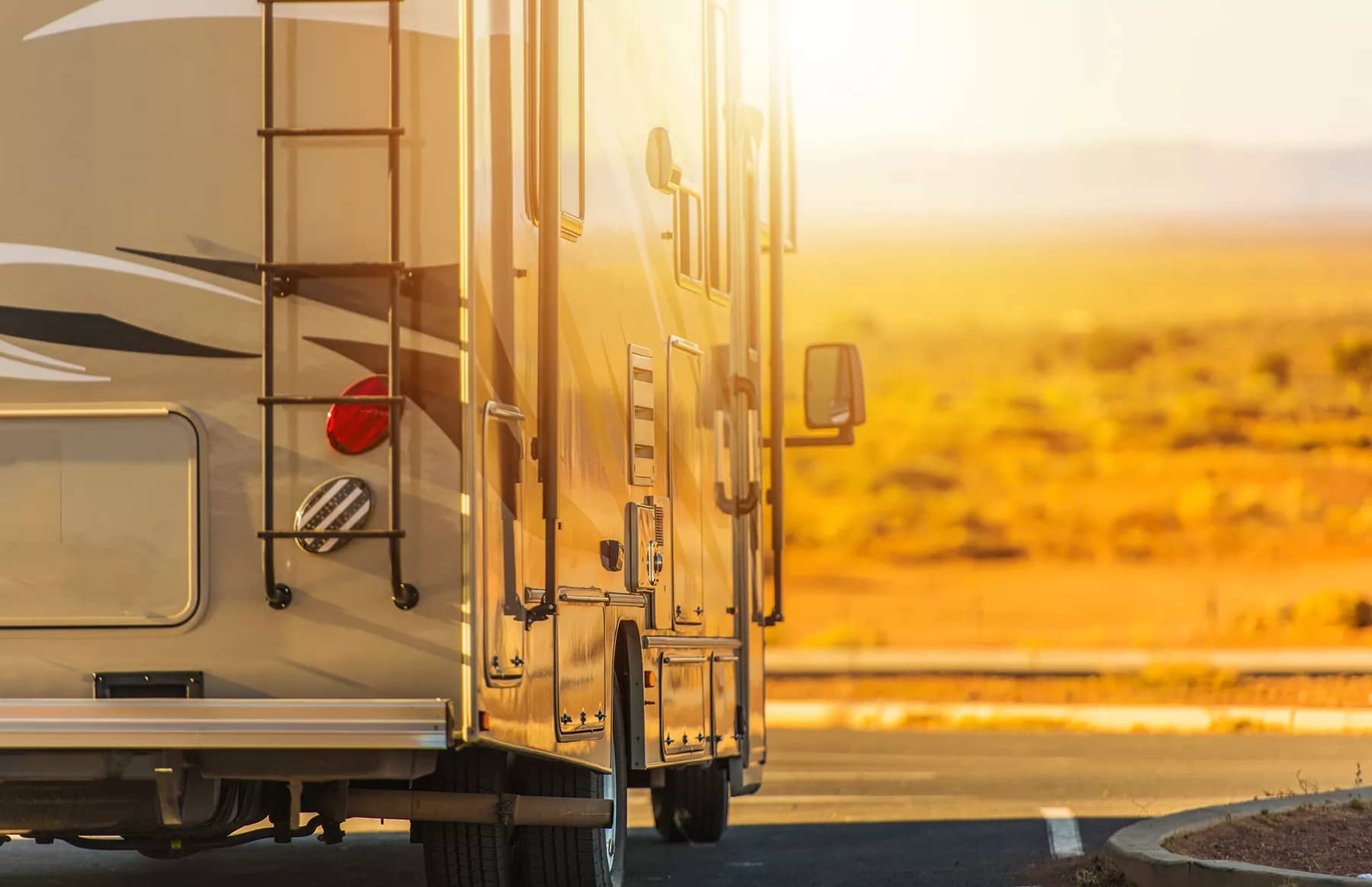 Is an RV Vacation Right for You?
RV vacations are typically incredible experiences that create lifelong memories. There's no other way to combine the free-roaming vibe of a road trip with immersion in nature. It's reminiscent of camping but balanced by the comfort of your own secure, home-like space. RV trips are
increasingly popular
, as more and more travelers discover the joys of this unique way to see the world. However, RV vacations aren't for everyone and that's OK. We all have preferences and plenty of people see zero appeal in #VanLife. Others are all-in and planning their first RV trip is the fulfillment of a long-time dream. Most first-timers fall somewhere in the middle of that spectrum. If that's you, then embrace the newness, accept that there will be a bit of a learning curve and be sure to plan thoroughly, starting far in advance of your trip.
Common Misconceptions
RV vacations are a lot more flexible than many people imagine and there are endless ways to design a trip to fit your desires. Common misconceptions might be holding you back when it comes to agreeing to an RV trip. Here are a few lesser-known facts to influence that decision:
It's not all wilderness and beaches. It's possible to plan an itinerary that includes day trips to city destinations and fancier locales.
RVs range from basic and bare-bones to downright luxurious, with decent bathrooms and kitchens, ample living space and high-tech amenities.
So do campgrounds and RV resorts. Rustic properties are common, but so are sprawling family resorts and luxury destinations for "glamping."
Not all RVs are hard to drive. There's always a compromise between drivability and living space, but some smaller options are as easy as driving a large SUV or truck.
Potential RV Vacation Destinations
Pondering all the potential destinations for your first RV trip is probably the most fun part of the initial planning process. Start by listing all the places you'd love to go, without worrying about the logistics and then narrow it down to a shortlist of realistic options. In the United States, national parks, state parks and national forests are all popular RV destinations. So are coastal routes, beach towns and all manner of tourist towns nationwide. Big cities are generally not suited to RV travel, but it is possible to take day trips into cities from campgrounds and RV resorts located nearby. There are also special-interest RV destinations, such as Colorado's dude ranches and
mountain-biking meccas
like Moab, Utah. Perhaps you want to go kayaking in the Great Lakes or take the family to Walt Disney World in Orlando, where there are ample RV camping options.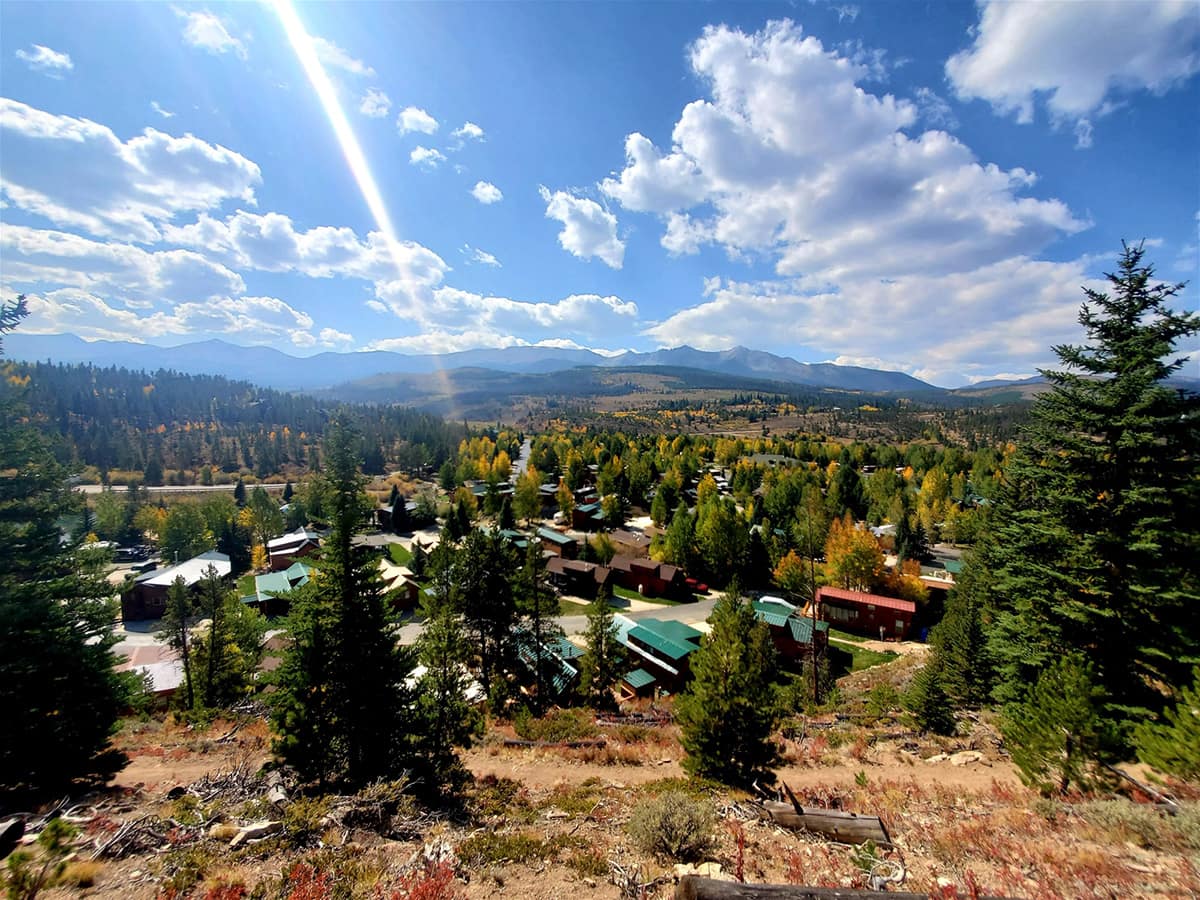 Developing a Destination Shortlist
Key questions to discuss with your travel companions as you develop a destination shortlist include:
How far do you want to go from home? Will you fly or drive to a destination and start your RV trip there or start and end in your hometown?
Does the destination offer the kinds of activities that you all desire?
Will the potential destination be crowded during the time you want to visit? Will this be a problem for you? Have you allowed enough time to score high-season reservations?
Does the destination offer enough options for campgrounds and RV sites to suit your desires? For example, there might only be family resorts when you'd prefer a quieter atmosphere or only rustic sites when you have your heart set on glamping.
Is the route good for a first-time RV driver? Major highways are much easier to navigate in an unfamiliar vehicle than winding mountain roads or narrow backcountry ones.
Your shortlist will help you reach a conclusion about the best destination for your first RV trip. Expect to make some compromises, if you're not traveling solo. The ultimate decision comes down to a combination of personal preferences and logistics and should make you feel excited to move on to the next stages of planning.
A First-Timer Test Run
One of the most appealing aspects of an RV vacation is the joy of driving to multiple destinations in one trip. However, it can also be really fun and much less stressful for newbies to drive to a single destination and then home again. For your first-ever RV trip, consider starting small with a local destination for just a few nights. Doing so will help you figure out the technicalities of the RV, learn what you do and do not need to bring and ease yourself into the reality of RV travel. After this initial test run, you should be comfortable in embarking upon a more epic adventure to your dream RV destination. Of course, if you have an adventurous attitude and believe you can handle any unexpected situations on the road or at the campsite, then go for it, Wild Child. Book that epic trip of a lifetime and be ready for anything. (Disclaimer: You should still be sensible and do plenty of research.)
The Earlier, the Better
When it comes to planning your first RV trip, the earlier, the better. There are a lot of decisions involved in planning an RV vacation and beginners need to learn the essential elements of RV driving, operation and camping. You might be a quick learner and eager to get going, but there's also the issue of making reservations. Popular RV sites can book up many months in advance, especially at busier national parks. If you want to stay during the high season, on a weekend or especially a holiday weekend, you need to make reservations even earlier. The same goes for RV rentals. In the early stages of planning your first RV trip, look frequently at the availability of RV rentals and campgrounds and keep an eye on how quickly they're getting booked up. Remember that you can't just book any site for any RV – it needs to fit the vehicle length and also offer the amenities you desire. Even when you're not yet ready to make any final decisions, this will give you an idea of the timeframe needed to secure your first choices of RV model and campsite.
All About RVs
Related Article:
Types of RVs and Choosing the Right RV Type for You
. The type of RV you choose for your first trip is a major decision. The main factors are how comfortable you will be with driving the vehicle, how much living, sleeping and storage space you need and what amenities you desire. These all vary widely across the different RV types. Regarding budget, naturally the bigger, nicer and newer the vehicle, the higher the rental cost. Ideally, you will go to an RV rental location in person and take a guided tour of the different vehicles. You can read about the options and look at pictures online, but there's no substitute for seeing RVs in person. RVs fall into two major categories: drivable RVs, also known as motorhomes; and towable RVs or travel trailers, which you hitch to a separate vehicle, typically a pick-up truck. There are multiple types of RV in each category. Assess all these options and discuss them with your travel companions to figure out which one best suits your needs.
Drivable RVs/Motorhomes
These types of RVs will comprise your entire driving and living spaces while you're on the road.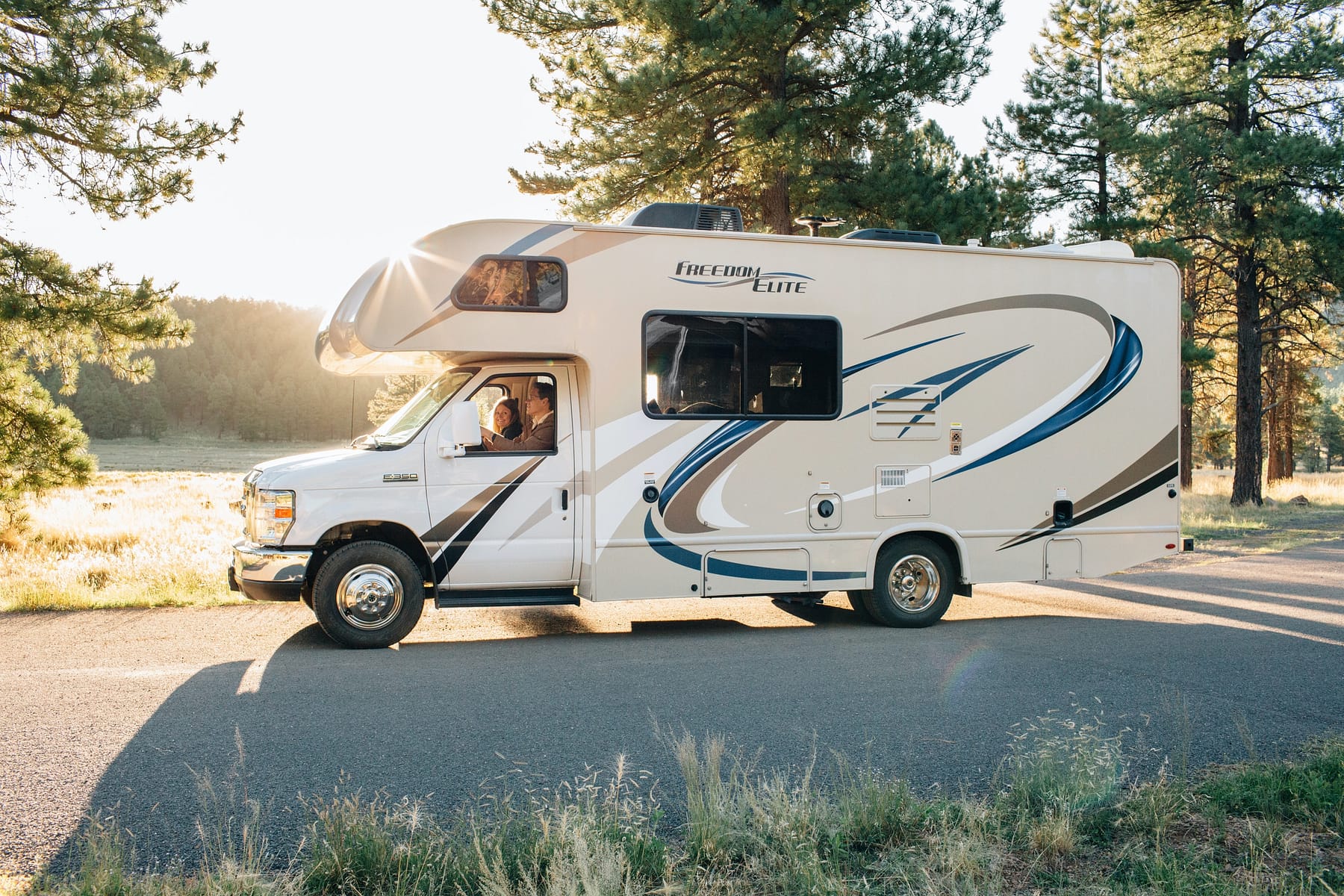 Class A Motorhomes:
These are the largest motorhomes you typically see on the road, resembling a small bus and ranging from 21 to 41 feet in length. Some larger models sleep up to 10. They usually feature showers, toilets and full kitchens and are the roomiest of all RV options. They're also the most difficult RVs to drive. As a first-timer, only consider renting a Class A motorhome if you have experience and feel fully confident in driving, parking and maneuvering a vehicle of that size and weight.
Class B Motorhome/Camper Van
: If you follow Van Life accounts on social media, these are the types of vans that feature in those aspirational photos. They usually sleep up to two people, max, in close quarters and might have a kitchenette but not a full kitchen. Some models feature a bucket toilet and outdoor shower, but camping in this type of RV usually means relying on the facilities at campgrounds. A major bonus is that they're easy to drive and more efficient on gas than larger RVs.
Class C Motorhome
: These RVs range from about 20 to 38 feet in length and offer a happy medium between the roominess of Class A and the drivability of Class B vehicles. Most have a bathroom, shower and full kitchen and sleep up to six. Class C RVs are as easy to drive as a large truck and ideal for first-timers and small families, according to
Travel and Leisure
.
Towable RVs
Towable RVs need to be hitched to a second vehicle. A major bonus is the option to unhitch at a campsite and have the other vehicle available for day trips and errands.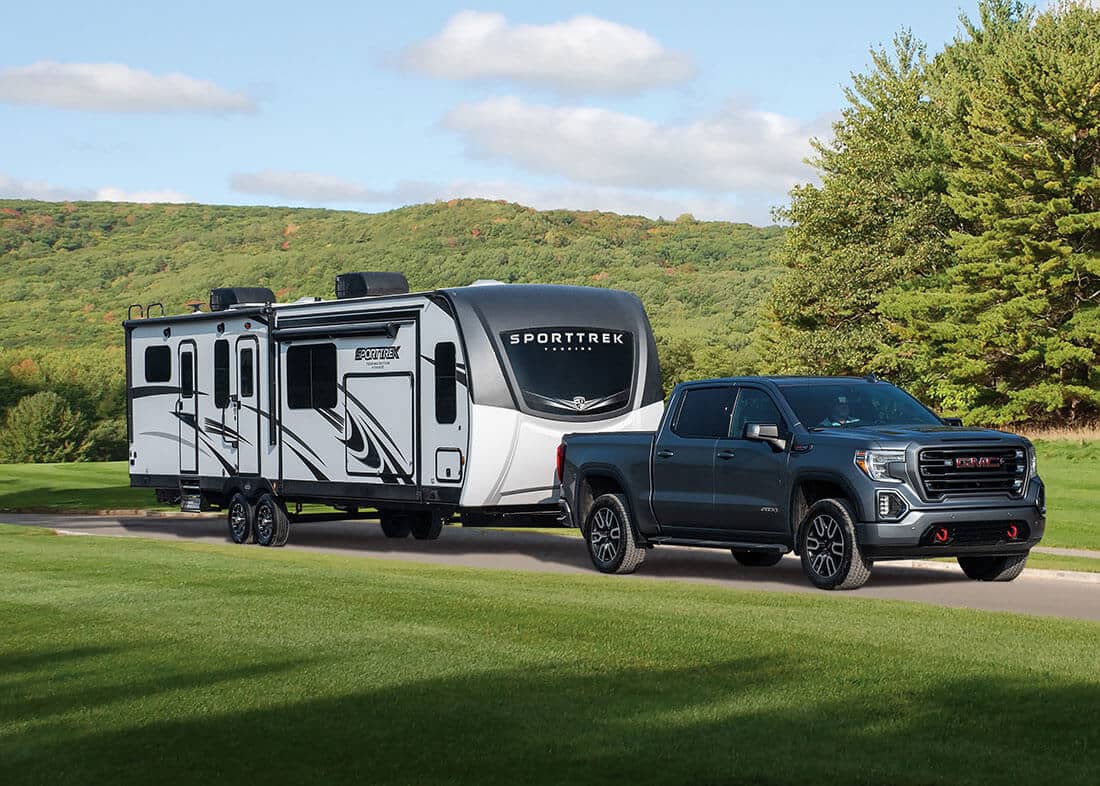 Travel trailers
: These vary from compact Airstream-style pods to larger trailers that sleep up to six. You can usually hitch travel trailers to any minivan, SUV or truck.
Fifth wheel camper:
The largest of the towable RVs, they have a special hitch that requires a heavy-duty pickup. Newbies might not be comfortable towing a vehicle of this length and weight. However, their roominess and amenities are comparable to Class A motorhomes, making them great for families and larger groups.
Pop-up or Folding Trailer
: These small, lightweight RVs can be towed behind some cars as well as minivans, SUVs and trucks. They're compact when traveling, but at camp, they expand with extra tented space on the top and sides. With partially canvas walls, these RVs have more of a traditional camping feel, but with added security and amenities. Some have showers and toilets inside.
Truck Camper
: These fit into the bed of a truck and extend over the top of the cab. The living space is limited and compact, with amenities typically limited to a kitchenette. However, driving is a cinch and the no-frills space can be sufficient for solo travelers and couples.
Learning the Basics of RV Operation
When you rent an RV, you will get a walk-through and orientation from a professional, which should cover driving tips and the operation of all the vehicle's hookups and amenities. You will need to know how to hook up and disconnect the electrical, water and sewer connections; how to operate any appliances; how to run the heat, A/C and propane; and how to fold out beds and any pop-out spaces. The length and details of this orientation vary from vehicle to vehicle. Take a video of the demonstrations on your phone, in case you need to review them later.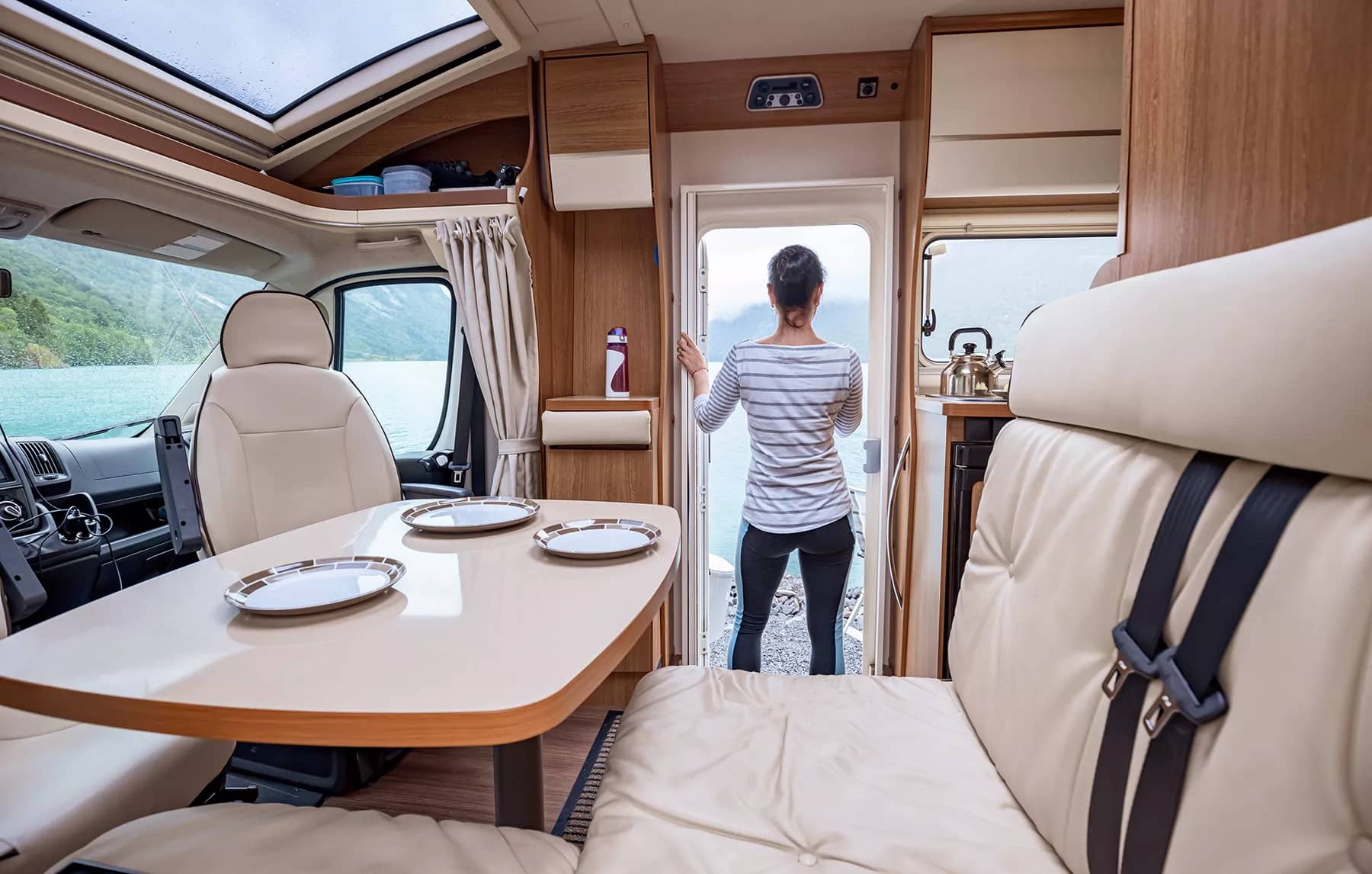 Before you rent an RV, it's a very good idea to read and watch videos online about operating the model or a similar model of RV to the one you intend to rent. Doing so can also help you decide on the best type of RV for you. Long-time RV vacationers and Van Lifers can offer lots of insider tips that might not be covered in your orientation or operating manual. Make sure you and any other drivers are confident in the
basics of operating an RV
before hitting the road. Type up and print a checklist to keep alongside the operating manual. Also, make a notecard listing these important details:
The height of the RV, in case you need to judge clearance
The length of the RV, to make sure you booked an appropriate campsite
The step-by-step procedures for hookups and sewer dumping
Whether the electrical system is 30 or 50 AMP or compatible with both.
The correct tire pressure. Check this at every fuel stop.
All About RV Resorts and Campsites
RV resorts and campsites vary as much as the vehicles do and choosing the right place to stay can make a huge difference in your enjoyment of your first RV trip. Location, amenities and site availability are all easy to look up online. You should also browse the reviews of any resort or campsite you're considering to get a more accurate impression of its general vibe.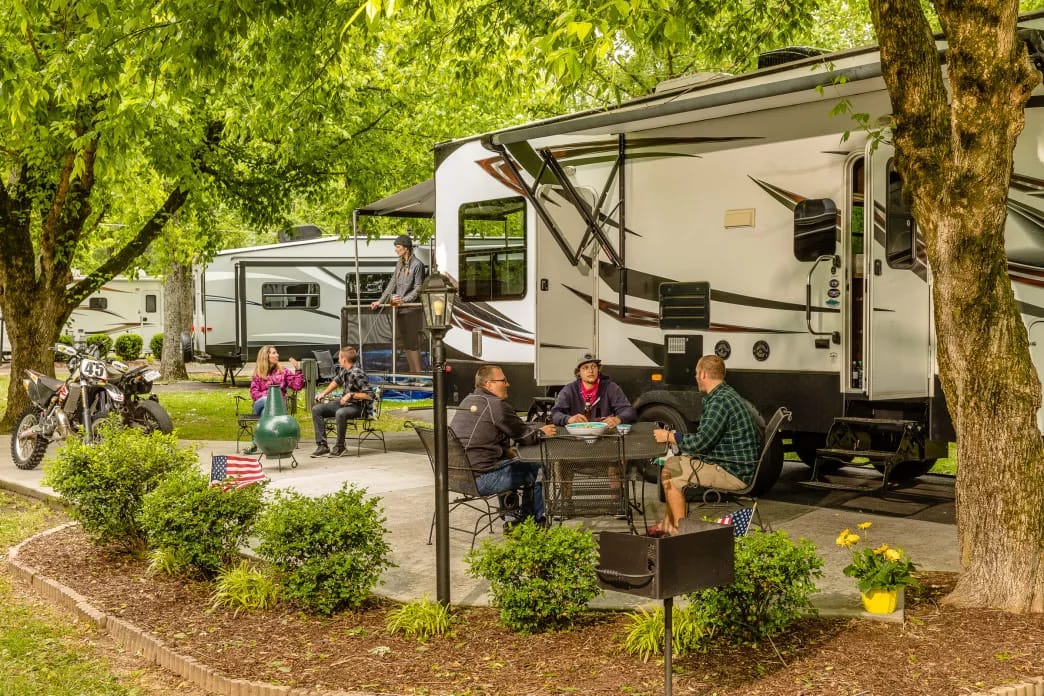 Along with the overall property, look at the details of individual RV sites. Key features to consider include:
Length: It's essential to know the length of your RV to make sure you select an appropriate site. If you're bringing a towable RV, add on the length of the towing vehicle, too.
Type of pad: Gravel, concrete or dirt. Shaded or open.
Pull-through or back-in site: Pull-through is easier for beginners.
Full or select hookups: Electrical (30 or 50 AMP), water, cable.
Private picnic bench, fire pit or BBQ grill with the site
Wi-Fi
Here are some amenities that an RV resort or campsite might offer to all guests. Consider which ones you most desire before booking a site.
Shower and toilet blocks
Swimming pools
Sports facilities
Children's playground
Dog park
Gas station
Convenience store
Communal kitchen
Restaurant or cafe
Clubhouse with scheduled activities
Laundry room
Hiking trails
Bike rentals
Mini-golf or full-size golf course
Budget Considerations
The budget needed for a first-time RV trip depends on location, season, the type of RV you're renting and the campgrounds you choose. Add on all the other potential travel expenses and you should be able to draw up a rough budget guideline. This will look different for everyone. RV trips can be budget-friendly or they can cost more than a comparable flight-and-hotel vacation, with most falling somewhere in between. Here are the major costs to factor into your vacation budget:
RV rental: Ranges from around $50 to $300 per night. Read the small print and look at different rental plans, which might include limited miles, per-mile charges or unlimited miles. Insurance is generally included in the rental price, but you might want additional coverage that comes with 24/7 roadside assistance. Some rental companies offer add-ons like propane, linens, generators and kitchenware. There's often a cleaning fee, too. Remember to factor in the temporary cost of the deposit.
Gas: A major cost with a gas-guzzling RV. The larger and heavier the RV, the more gas it will need. Ask the rental company about average M.P.Gs and look at gas prices in the places you'll travel to get a rough estimate of this budget item.
Camping fees: These can range from $10 to over $100 per night. Add-ons include pet fees for some on-site amenities.
Food and drink costs: You can save considerably by stocking up your RV with groceries and preparing your own meals. Expect higher food and drink prices at RV resort convenience stores and any remote or tourist-driven locations.
Activities and excursions, including national park entrance fees.
Miscellaneous expenses and souvenirs: There are always unexpected expenses on any kind of vacation. Allow some wiggle room in your budget and have a backup fund available for emergencies.
More Tips for Your First RV Trip
You could spend a lifetime reading tips about planning your first RV trip and still not feel ready to hit the road. Whether you're usually a spontaneous traveler or the thorough, create-a-trip-binder type, the plan must ultimately be put into action for you to enjoy an amazing vacation. Before you finally click that "Book Now" button, here are a few final top tips for planning your first, fantastic RV vacation:
Don't trust Google Maps or your usual maps app without verifying that the route is suitable for RVs. Steep grades, low-clearance tunnels and narrow roads are to be avoided. Ideally, get an RV-specific GPS; otherwise, research routes carefully before hitting the road.
Plan to arrive at your destination during daylight hours so it's easier to set up camp.
Download or print maps before driving. Cell service can be unreliable on the road.
Start with a practice drive in a big empty parking lot, if possible.
Look up roadside attractions, rest stops and big-box stores with large parking lots along the route for your driving breaks.
Don't let the gas gauge drop below a quarter-tank and pinpoint truck stops on the map instead of regular gas stations for an easier experience.
Don't overpack! An RV might seem like it has tons of storage space, but it's also your living space and you don't want to be tripping over or constantly rearranging your possessions.
Only use RV-safe toilet paper.
Bring bungee cords to secure items and prevent them from flying around the RV while you drive.
You can find plenty of comprehensive packing listsonline, but take them as suggestions to customize for your own needs.
Bring a tool kit, emergency road kit and fire extinguisher and discuss potential emergency plans, just in case.
Buy some inexpensive leveling blocks. You stack these under the RV if the pad isn't flat.