From fir-scented mountain breezes to scenic hikes culminating in spectacular waterfalls — what's not to love about Wyoming lake camping? As the home of two of America's most renowned national parks, Yellowstone and Grand Teton, Wyoming is a must-see destination. Even the most die-hard campers who think they've already seen it all will stop in their tracks, shake their heads, and admit that Wyoming has a thing or two that they've never dreamed of. If this makes you eager to get out your gear, we're here to help, with a list of the best camping spots (including freebies!), plus tips for packing and planning.
Where to Go Wyoming Lake Camping
The best fishing and
camping spots in Wyoming
are located near abundant state and national parks, where you'll be close to some of the world's greatest natural wonders. These campgrounds feature a multitude of sites where you can spend the day or camp for a few nights but check ahead for stay limitations so you don't risk getting kicked out before you're ready to go. Here's where to look:
Privately Owned Campgrounds
These offer the best Wyoming lake camping experience if you'd prefer "living it up" to "roughing it." You'll still have a Great Outdoors adventure near Wyoming's most iconic natural landmarks, but you'll have it in style. Privately owned campgrounds typically offer conveniences such as hot showers, restrooms, full electric hookups, Wi-Fi, plus supply stores for snack attacks, dog parks for the pupsters, and playgrounds for the kiddies.
State and National Parks
Wyoming's seven national parks and 12 state parks provide spectacular camping smack dab in the middle of Mother Nature's wonderland. They accommodate tent campers as well as
RVers
but be prepared for bare-minimum amenities that might only include seasonal potable water, toilets, fire rings, and picnic tables. Wyoming's camping reservation season is May 1 through September 30. However, you can book a national park site six months in advance or a state park site 120 days (or 133 days for non-Wyoming residents) in advance.
Public Lands
Love stillness, solitude, and a real Wilderness Experience? Thanks to
18.4 million acres
of public land in Wyoming, the good news is that there are plenty of spots for boondocking and wild camping here. While some sites charge a nominal fee, others are free of charge. You won't find any amenities (which means don't expect to find any toilets here), but you will find a wide-open sky and the magnificent silence of the Wyoming wilderness. Looking for the perfect place for Wyoming lake camping?
Best Sites for Wyoming Lake Camping
Here are several top spots for the best Wyoming lake and river camping each season:
Buffalo Bill State Park
This
Cody landmark
is home to two campgrounds, including gorgeous Lake Shore Bay, which boasts 9,000 acres for your favorite water sports. It has 37 sites that are ideal for day or night camping, plus a convenient boat ramp so you can sail into the sunrise (or sunset) whenever you like.
Sinks Canyon State Park
Located south of Lander,
Sinks Canyon
features 14 campsites set along famous fishing areas where you can catch 12-pound trout (or just pretend you did — we promise we won't tell). It's also a popular destination for hiking, biking, and world-class rock climbing (or rock collecting, if climbing's not your bag).
Grant Village Campground (Yellowstone)
Located at the south end of Yellowstone Lake,
Grant Village Campground
is a favorite for campers. However, don't expect too much of an "alone with nature" experience here because, during peak season, you might be surrounded by 429 full campsites. If you can stand being around lots of other campers (and who knows, you might even make a few friends!), the good news is there's easy access to scenic trails, boating, and top-notch lake fishing.
Gros Ventre Campground (Grand Teton)
As the largest campground in Grand Teton National Park,
Gros Ventre
is a destination for campers passionate about river fishing. Just a quick stroll from the Gros Ventre River, this popular campground offers 279 sites with 39 electric hookups (an absolute rarity in national parks, so make the most of them). It's a haven for viewing bison, moose, mule deer, and other critters who enjoy being there as much as you do. However, they're not going to be too thrilled about sharing their space with you, so keep your distance. If you don't, your surroundings might quickly change from tents and friendly campers to hospital beds and friendly nurses.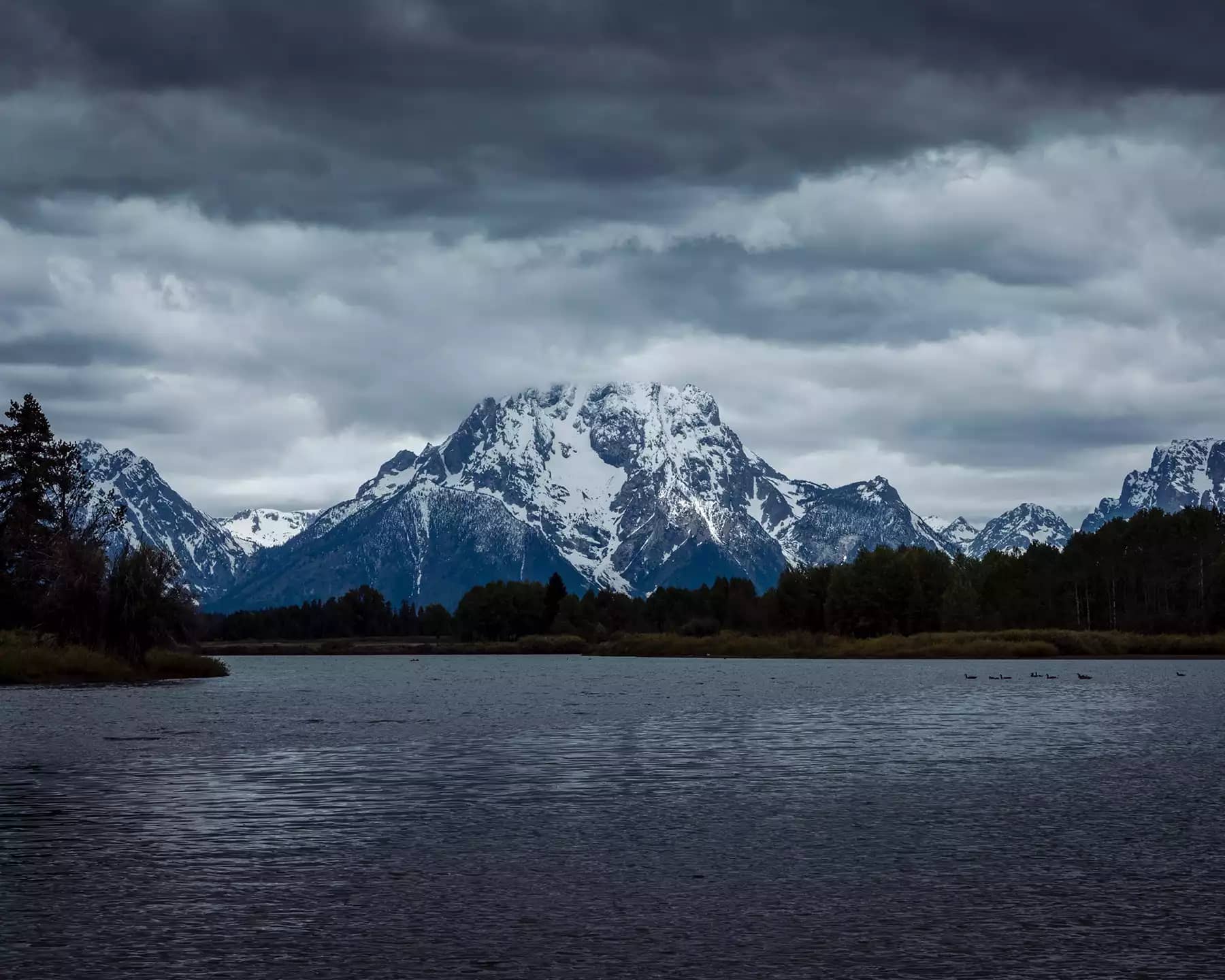 Best Time of Year for Wyoming Lake Camping
Wyoming is high-elevation country, so many of its highest (and most beautiful) mountain passes are closed from early autumn to late spring due to snow. For this reason, the vast majority of campers take advantage of Wyoming's warm summer months, when nature literally comes alive. This is especially true for lake camping and fishing (unless you're particularly fond of ice fishing). However, springtime and early autumn can be magical times as well, with spectacular views of wildflowers and color changes. Just be sure to keep an eye out for rapid shifts in weather and sudden road closures.
Packing Tips for Wyoming Lake Camping
Wyoming weather can change on a dime, especially if you're camping at high elevations or near lakes, so pack for chilly (and sometimes downright cold) nights. Bring lots of insulating layers you can pull on or off as needed without frightening the other campers.
The sun is especially bright at high elevations, so equip yourself with sun hats, sunglasses, and plenty of sunscreen. Otherwise, the biggest souvenir of your trip will be a major sunburn.
Wyoming gets lots of afternoon showers year-round, so bring rain gear.
The air can be extremely dry at higher elevations, so stay hydrated — and bring lots of extra water and food because convenience stores are going to be few and far between.
Don't forget your fishing tackle! Fishing supply stores may not be available where you're going, and you don't want to miss the big ones when they're biting.
Four Essential Tips for Wyoming Lake Camping
You'll need a permit to fish in Wyoming, so check here for more information.
High elevations can quickly lead to altitude sickness. If you start feeling dizzy or have headaches or nausea, get to a lower place. If symptoms persist, get medical help. Altitude sickness is extremely common in these parts, but by tackling it right away, you'll be able to enjoy the rest of your trip. Also, you can combat altitude sickness with plenty of water, so always stay hydrated.
Potable water may only be available on a seasonal basis at some campsites, so bring extra water just in case.
Wherever you choose to camp, you'll be in some animal's home environment. This is especially true if you camp near a lake because, after all, it's their drinking source. (Just imagine if someone put up a camping tent near your bathtub, and you'll get the picture). Remember, you're trespassing on their property, so it bears repeating: Stay at a safe distance, and leave them alone. And speaking of bears, Wyoming is bear country, so don't forget the bear spray!
Whether you're a tent camper, an
RVer
, or a van lifer, you'll find that Wyoming lake camping offers an unforgettable outdoor experience.