Planning on going camping in Wyoming? If you are, you're not alone. Nearly
five million people
visited Wyoming's state parks during 2020, and overall state tourism numbers were
even higher
for 2021. Of course, this isn't surprising, considering that Wyoming boasts two of America's most magnificent national parks, Yellowstone and Grand Teton. When you're out there living your best life and surrounded by splendor, the last thing you want to worry about is logistics and planning. To optimize your trip, we've put together this convenient one-stop guide containing all the information you need to
make your camping trip memorable
. In addition, we've compiled a list of Pro Tips with several crucial factors you should know about camping in Wyoming, including wildlife advisories (Yogi is a bear, but not all bears are Yogi!), as well as campsite and weather-related issues. So sit back, take a sip of something cool and refreshing (or warm and comforting), and start making plans for the camping trip of your life.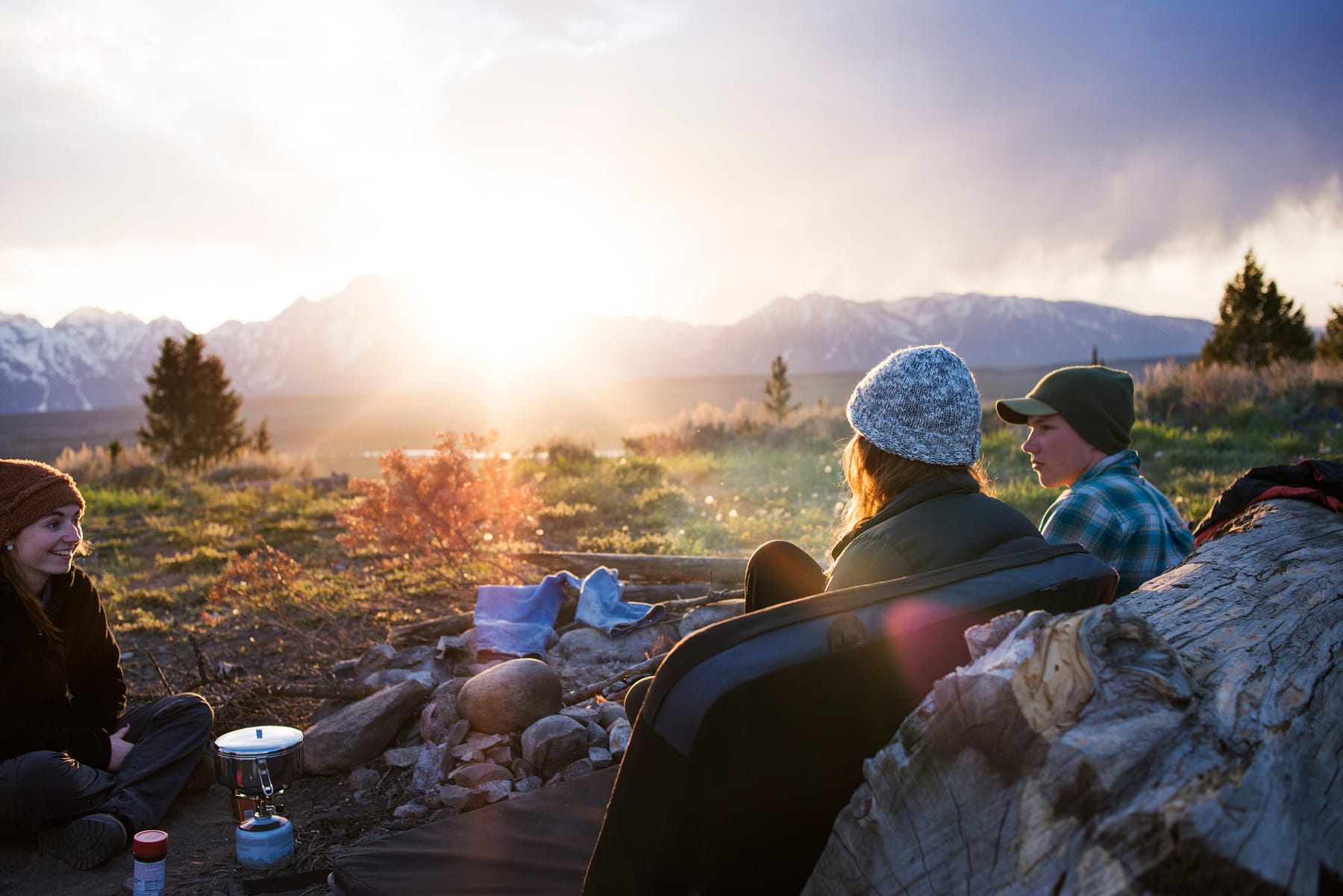 About Camping in Wyoming
Whether you plan to stay in an RV, a van or a tent, you'll be part of a long history of dedicated trekkers who return time and again to Wyoming. Enthusiastic RVers have been
camping in Wyoming
since the 1920s, when early RVs, (called "caravans" by America's automobile industry) became a popular mode of travel for camping buffs. Today, RV and van life is more popular than ever, and Wyoming is accommodating these enthusiasts with a multitude of campsites where you can park, live on your own resources and enjoy the view. Likewise, for those who want to simply drive to a site and pitch a tent for the night, Wyoming's got you covered. You'll be glad to hear that most campsites also have a large number of tent sites available for those who aren't hauling a home on wheels.
Where Can You Go Camping in Wyoming?
Whether you're an RVer, a vanlifer or an enthusiastic tent camper, you'll find a wide range of exciting campsite destinations located throughout Wyoming. Here are some of the best places to camp in Wyoming.
Privately Owned Campgrounds
Privately owned campgrounds in Wyoming offer a fantastic option, whether you're camping by yourself, as a couple, or with family and friends. Wyoming's privately owned campsites are clean and well-run, and provide a wide range of comforts and conveniences that you typically won't find in state and national park campsites. These include restrooms with flush toilets, hot shower facilities, full electrical hookups, Wi-Fi and convenience stores where you can stock up on goodies for the rest of your stay. And if you're camping with your family, some campgrounds even offer playgrounds and ice cream stands for the kids. Overall, privately owned campgrounds can provide you with many home comforts to make your trip more enjoyable, at a much lower price than you'd pay at a cabin or motel.
National Parks
Managed by the U.S. Forestry Service, these parks provide a stunning setting for any camping trip. Each national park has dedicated campsite areas (including some with extra amenities) designed to accommodate RVers, van campers and tent campers. As an example, Yellowstone National Park offers 12 campgrounds with
more than 2,000 sites
, all of which can be reserved in advance. Five of the 12 are managed by
Yellowstone National Park Lodges
, and you can contact them for reservations. The other seven are managed through the National Park Service. Sites can fill up fast, so be sure to book well in advance for reservations, especially during the summer months.
State Parks
Like national parks, these state-owned nature havens provide scenic views with plenty of wildlife. Each park typically provides multiple campsites with basic amenities such as bathroom facilities and potable water.
Federal Forests
Many of Wyoming's federally owned forests offer free camping sites to visitors. As with Wyoming's national parks, these can provide a spectacular backdrop for your camping adventure.
How to Find Campsites in Wyoming
To find the perfect campsite for your trip, be sure to visit
BookOutdoors
and join the waiting list to discover some of the best places to camp in Wyoming. You'll be able to pull up a wide range of available campsites, each with its own roster of features. Many of these sites are also located next to famous landmarks and tourist destinations, so you can plan a few fun side trips during your stay.
Best Campsites in Wyoming
When campers find the perfect spot, they tend to come back year after year. After checking out reviews and hearing lots of feedback, we've put together a list of some of Wyoming's
top-rated campsites
. Most of these are designed to accommodate both RVs and tent campers, and typically offer basic bathroom facilities, potable water, picnic tables, metal fire grates and — an important necessity for Wyoming campers — metal bear boxes. However, many of these sites don't offer electric hookups, so if you need electricity, be sure to ask about availability before you book. Be aware that most of these campgrounds operate on a reservation-only basis, so you'll need to reserve your spot in advance. Likewise, some campsites don't allow tent campers, while others might not have the space for a large RV, so check to make sure the site can accommodate your mode of camping. And before you leave, be sure to visit
BookOutdoors
, where you can join the waitlist to book your ideal campsite.
Norris Campground
One of Yellowstone's most popular campsites,
Norris Campground
, is centrally located in the park so you'll be close to some of its biggest attractions, including the Norris Geyser Basin and the Museum of the National Park Ranger. Norris Campground accommodates small RVs, tents and trailers, with 100 sites (non-electric) that you can reserve on a first-come, first-served basis.
Fishing Bridge RV Park
As the only campground in Yellowstone that offers sewer/water services and electrical hookups,
Fishing Bridge RV Park
is extremely popular among RVers. However, thanks to the prevalence of grizzly bears (no shaming them, they were there first!), tent camping is prohibited.
Jenny Lake Campground
Check any top-10 list of Wyoming tent-only campgrounds, and
Jenny Lake Campground
is always at the top. Located in the stunning heart of the Grand Tetons (just seven miles from the entrance of Grand Teton National Park), this magnificent campsite is highlighted by shimmering Lake Jenny, so there's plenty of opportunities for fishing and boating. It features 49 tent-only and 10 biker/hiker campsites, each furnished with a fire ring and picnic table, plus shared access to potable water and flushing toilets. Be aware, this campground fills up fast — and campers, trailers, RVs and generators are not allowed.
Firehole Canyon Campground
Located 29 miles from Rock Springs,
Firehole Canyon Campground
is famous for its high-desert environment, highlighted by classic western sagebrush, Russian olive trees and red rock formations, plus a lovely lake and beach area for water recreation. Amenities include showers, flush toilets, and trash collection.
Mammoth Hot Springs Campground
Another Yellowstone gem,
Mammoth Hot Springs Campground
is located just five miles from the park's North Entrance, and is the only campground in Yellowstone National Park that's open year-round. Set among the area's signature juniper and Douglas fir trees, Mammoth Hot Springs is in close proximity to fishing and hiking areas, as well as the renowned Mammoth Hot Springs Terraces. It's also the ideal spot for taking photos (long distance, of course!) of our furry neighbors, as the area is home to abundant native wildlife, including elk and bison.
Horseshoe Bend Campground
Surrounded by sagebrush and juniper,
Horseshoe Bend Campground
is a camper's dream of the rugged Wild West, with its splendid views of red sandstone cliffs along the Sykes Mountain range. Located in the Bighorn Canyon National Recreation Area near Lovell, Horseshoe Bend features 28 large-size RV/boat campsites with water and electrical hookups, including eight improved sites with wind fences. Unlike many other campgrounds, Horseshoe Bend offers 18 campsites on a no-reserve, first-come, first-served basis (the other 10 can be reserved).
Medicine Lodge Archeological Site
This Hyattville campground is especially popular for history buffs who come here to gaze in wonder at the famous 700-foot red sandstone cliff, which features hundreds of Native American pictographs and petroglyphs, many created as long as 2,000 years ago.
Medicine Lodge
offers 28 campsites, all of which can accommodate RVers as well as tent campers.
Vedauwoo Campground
Nestled among weathered rock formations along the Medicine Bow-Routt National Forest,
Vedauwoo Campground
offers 28 campsites complete with fire rings, vault toilets, tables and trash pickup, plus potable water via pump. This area is considered a prime destination for hikers who love rugged locales, as well as adventurous rock climbers.
Beartooth Lake Campground
Boasting incredibly picturesque views amid a multitude of scenic lakes,
Beartooth Lake Campground
is conveniently located about 38 miles from Cody, so it's just a quick ride from Yellowstone. It offers 21 sites, as well as a convenient store where you can shop for supplies. However, be warned that there's no cell phone service in the area.
Boysen State Park
If you enjoy viewing wildlife, you'll love watching the deer, bighorn sheep and pronghorn antelope living the good life in this spectacular setting. Boating and fishing are also available in
this popular campsite
, thanks to the 19,000-acre reservoir lake. Plus, this site is open year-round, making it ideal for off-season campers.
Bridge Bay Campground
Located near Yellowstone Lake, one of North America's largest high-elevation freshwater lakes,
Bridge Bay Campground
features a fantastic view of Absaroka Range just beyond the lake's eastern shore. Plus, Bridge Bay is a favorite for campers who enjoy amenities such as a coin-operated laundry, flush toilets, pay showers and even dishwashing stations.
Glamping in Wyoming
Love the outdoors but don't like roughing it? Then
glamping
is definitely for you. Glamorous camping (hence the name) has become one of the fastest-growing trends in the hospitality industry. Fortunately, Wyoming offers a wide range of specialty glamping spots where you can enjoy deluxe cabins, safari-style tents and even fine dining. With luxury comes cost, so be warned that most of these places are pretty expensive, but you'll also get a unique and unforgettable experience. Consider these top-rated glamping locales scattered across the state.
The Lodge and Spa at Brush Creek Ranch
Located in Saratoga, Wyoming, this
all-inclusive glamping resort
is set in some of Wyoming's most stunning wilderness. You can also enjoy your choice of a cabin, luxury lodge or yurt, plus amenities such as an overlook deck, an amphitheater, rock gardens and an on-site restaurant.
Fireside Resort
Located in the heart of Jackson Hole, this
beautifully wooded campground
offers comfortable luxury cabins (each with a private campfire), plus Jeep rentals so you can enjoy a leisurely trek through the Tetons.
The Hideout Lodge and Guest Ranch
Located on a 300,000-acre cattle ranch near Cody and Yellowstone National Park,
The Hideout Lodge and Guest Ranch
offers luxurious guest cabins and cottages, plus an on-site restaurant with a nightly cocktail hour.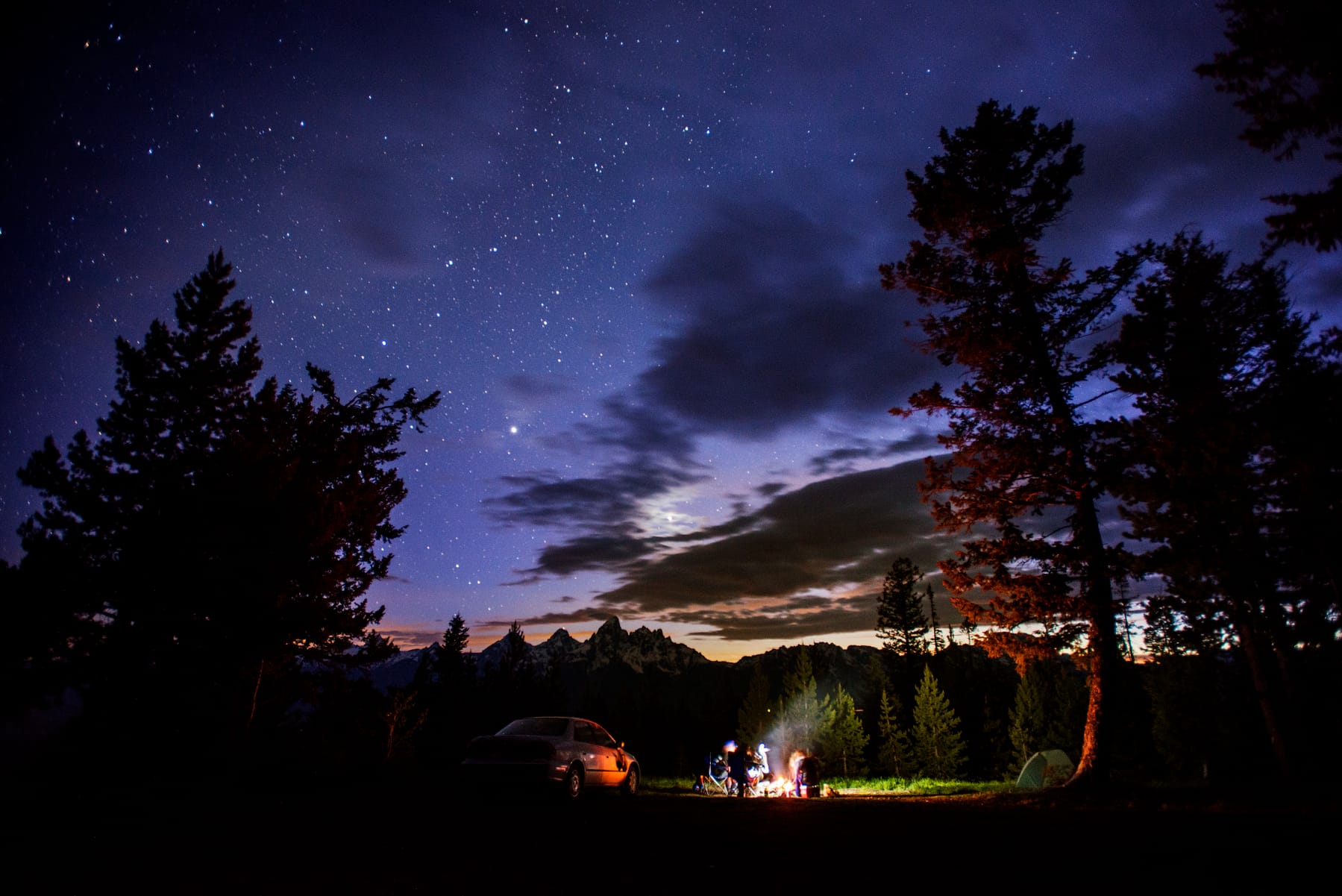 What to Pack for Camping in Wyoming
As in many high-elevation Western states, Wyoming weather can turn on a dime, so it's best to be prepared. Nights can be cold even in summer, so bring along warm clothes, cozy pajamas and winter hats (they help hold the heat in). And for unexpected rain showers, extra tarp coverings can be a lifesaver if you're camping in a tent. Also, the higher you are, the closer you are to the sun, so sunscreen is a must here in the high elevations of Wyoming. Long sleeves and pants, plus a sunhat, offer added protection as well. Even when it's cold, you can get a bad sunburn up in these parts. Outside of these weather-related issues, you should pack for a Wyoming camping trip about the same as you would for a camping trip anywhere else. Be sure to bring a supply of tasty, nutritious foods, as well as plenty of water. In some areas, convenience stores are few and far between. And no matter where you're camping in Wyoming, bear repellent is an absolute must. You'll be glad you brought bug spray, too, and be sure to wear socks and sturdy walking or hiking shoes or boots. And even if it's the height of summer, bring a light rain jacket that's wind-repellent. You'll also want the usual first-aid supplies (bandages, antiseptics and disinfectants, at least), plus supplies related to your planned activities, such as beach towels or swimming gear. And no matter what you do, don't forget your camera, because you'll see wildlife and scenic sights in Wyoming that you'll never see anywhere else in the world. Here are a few more
packing tips
to help get you started:
Don't forget to bring extra batteries!
Be sure to bring flashlights and lanterns, as well as extra matches (in case any get damp)
Waterproof shoes are a must, especially if you're camping around lakes or rivers.
High-quality socks are an essential to protect your feet against blisters. Choose warm, sturdy ones made of wicking material to keep your feet dry.
Web belts are especially handy for holding up your pants when you're fording streams. Plus, they'll also hold a can of bear mace or a handy tool kit.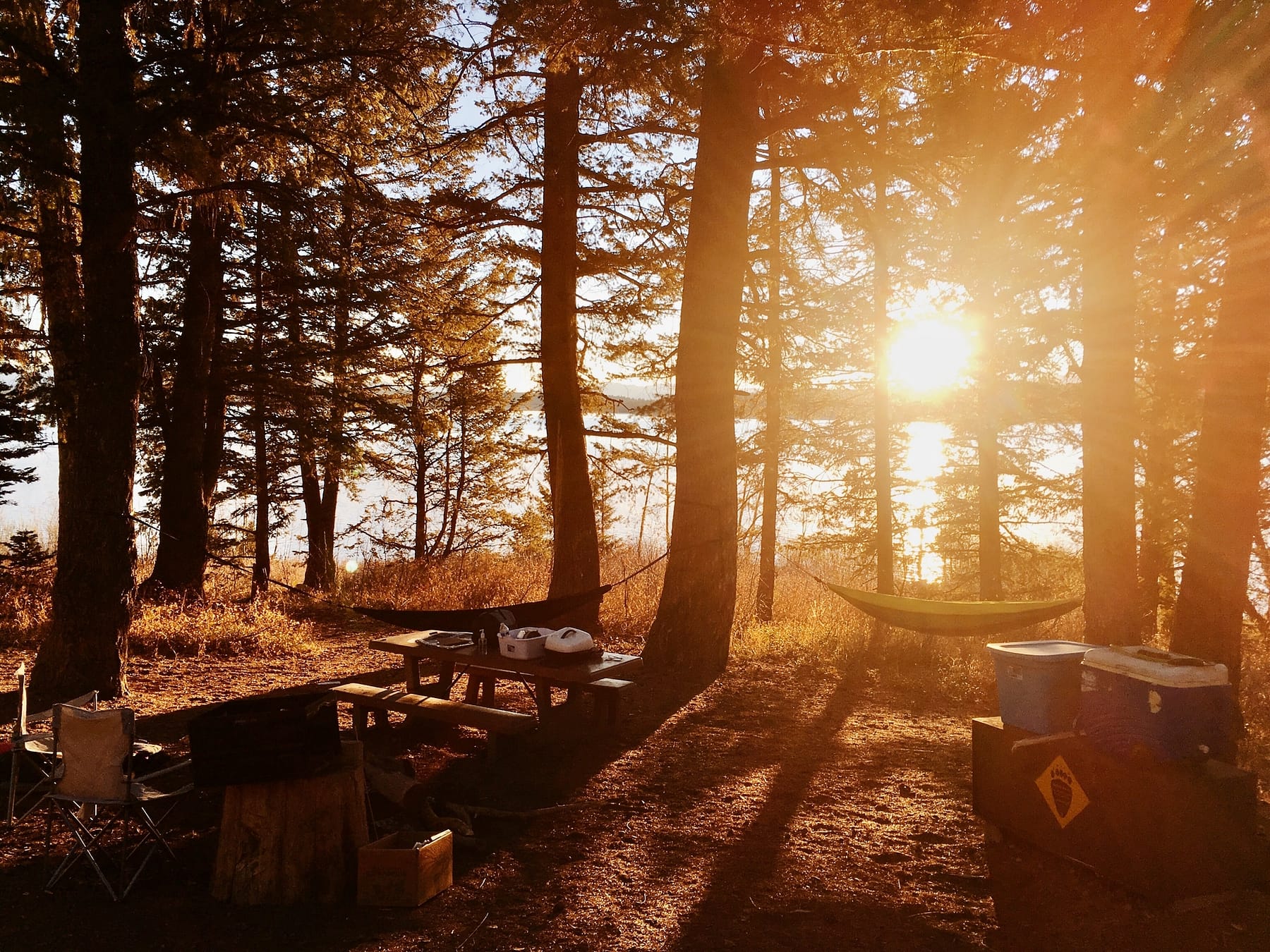 When is the Best Time to Go Camping in Wyoming?
In some areas of Wyoming, spring, summer and early autumn are the
only
months you can plan on camping because, during the winter, many of the state's highest, most beautiful mountain passes are closed due to snow. Not surprisingly, summer is the most popular time to camp in Wyoming, when the weather is at its most reliable. If you have a passion for wildflowers and cooler temperatures, however, you can also opt for spring. Just be sure to check ahead of time to find out whether roads have been cleared of snow and are open for the season. Early autumn is also an ideal time to go, because the crowds have dwindled and the temperatures are cooler. But starting in autumn, the weather can change quickly in some areas of Wyoming (particularly at higher elevations). You'll need to plan your trip carefully, and keep an eye on local weather forecasts and conditions along the way. A day that starts out sunny and warm can suddenly end up in blizzard conditions with the mountains wrapped in snow, so proceed with caution.
Wyoming Weather Tips
Wyoming weather can reach extreme levels of cold or heat, so be prepared for the unexpected.
Dressing in layers provides the best protection against cold, starting with a quality layer of insulating material. Fleece is a prime choice for many campers, because it keeps insulating even when it's wet.
Afternoon showers are fairly common in many areas of Wyoming, so always prepare for rain.
The air in higher elevations can be extremely dry, so stay hydrated.
If you're going into higher elevations, take it easy and travel slowly. If you experience any signs of altitude sickness (such as headaches, nausea, dizziness or vomiting), get back down to a lower level as soon as possible. If symptoms persist, get medical attention. Altitude sickness is a common complaint among campers and tourists, so Wyoming doctors and nurses know how to handle it. Also, before starting your trip, ask your doctor if high altitudes can have a negative affect on any of your health conditions or medications.
Pro Tips for Camping in Wyoming
These
pro tips
for
camping in Wyoming
can keep you safer, healthier, and happier during your trip:
Make your reservations in advance. Fortunately, many campsites allow you to reserve a spot as much as six months ahead.
If you plan on boating or fishing, be sure to check about permits and regulations before you go. Otherwise, your camping expenses could include a hefty fine.
Ask about available amenities before you make your reservation. If you absolutely must have Wi-Fi, for instance, you'll need to find a spot where there's a reliable signal.
When you arrive, make sure camping is allowed in the area you choose. In some sites, camping isn't allowed in certain places, such as in parking locations, picnic areas or along roadsides.
If you're bringing friends or a large family, ask about occupancy limitations. Some National Park sites don't allow more than six people per site.
If this applies to you, be sure to ask about senior passes. All national parks in Wyoming offer them (except for Fishing Bridge RV Park).National Park campgrounds typically don't offer electrical hookups, so if you need one, ask about this ahead of time.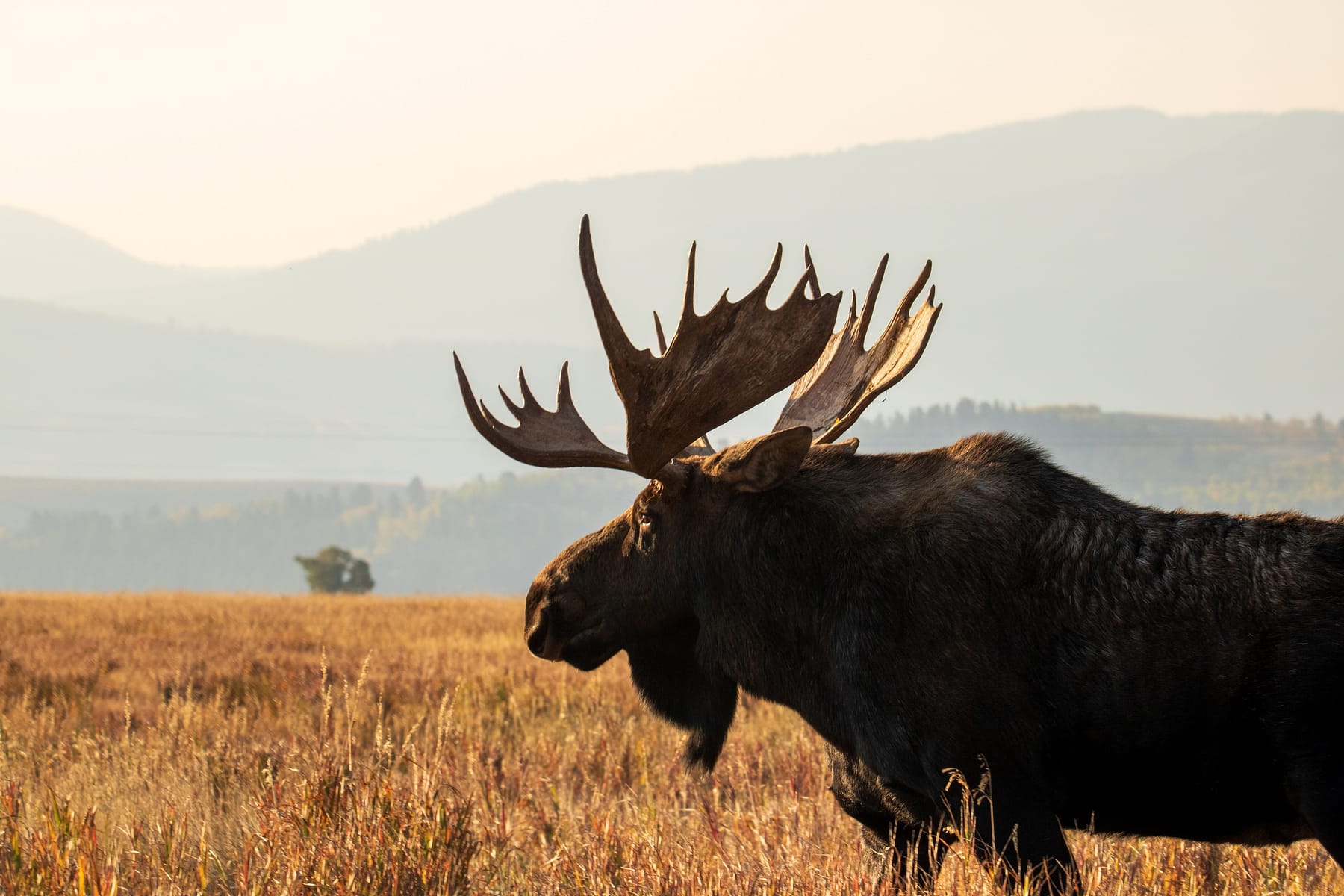 A Word about Animal Safety
Here's a tip on how to stay out of one of Wyoming's many excellent hospitals: Avoid interaction with all wild animals, no matter how cute, tame or cuddly they might seem. And when you're hiking, if you happen to come upon something that looks like a bear cave, assume that it is one and get out of there as fast as possible, even if you don't see any bears in the area. Bears don't do home decoration, and caves that are inhabited look identical to the abandoned ones, so you won't be able to tell the difference. That being said, here are several more animal safety tips to consider:
Wyoming is home to many types of poisonous snakes, including rattlesnakes, so always watch where you're stepping. If you have to walk in the dark, always use a flashlight or lantern.
As we've mentioned, Wyoming is bear country. Don't leave trash or food out where bears can smell it. If the area doesn't have a bear box for trash, keep disposables sealed and in your car or RV until you can get to a secure, bear-proof trash disposal unit. Otherwise, you might end up hosting some uninvited guests at your campsite.
Only take wildlife photos from a safe distance.
Don't drink unfiltered water from rivers, creeks or streams. No matter how clear it looks, the water can carry diseases left by animals drinking there.
Never forget, the animals live there, and you're actually trespassing on their home territory. In most cases, they'll let you alone if you let them alone. But just know that they're not thrilled to see you, they're not amused by your imitations of them, and quite frankly, you're probably frightening them by your very presence in their backyard, so behave accordingly and respectfully.
About Fire Prevention
Smoky the Bear got it right: You really can prevent forest fires with a few simple precautions, such as these:
Wyoming's dry climate can transform a forest into a tinderbox in seconds, so build campfires only in places that are properly prepared and approved for them, and keep them small and containable.
Follow the U.S. Forest Service's tips for building a safe campfire, and always have a large container of water and a shovel nearby.
Always make sure to put your campfire out when you leave, and be absolutely certain the duff (the decomposing material that looks like dirt) under and near the campfire is completely stamped out, because it can smolder unnoticed for days and eventually flare into flames.
For more than a century, Wyoming's world-famous national parks and vast protected wildernesses have made it the go-to destination for millions of camping enthusiasts. And thanks to its huge network of
campground facilities
, today's campers can enjoy their Great Outdoors experience exactly the way they want to, whether they prefer roughing it or enjoying the comfort of a soft mattress and a bottle of champagne. However you like to travel, it's all there in Wyoming, just waiting for you.