If you're hankering for a Great Outdoors adventure, nothing beats RV camping in Wyoming. From its majestic Rocky Mountains to its scintillating sandstone cliffs, Wyoming has it all, surrounded by vast expanses of sagebrush and Western wilderness under a wide, star-studded sky.
Where To Go RV Camping in Wyoming
Privately Owned Campgrounds
When it comes to
RV camping in Wyoming
, privately owned campgrounds are the way to go if you're looking for the ultimate in enjoyment. You'll still enjoy a truly rustic, Great Outdoors adventure, but you'll also be able to access amenities like electric hookups, shower stalls and other comforts to make your trip more pleasurable. Some privately owned campgrounds also offer family-friendly perks such as Wi-Fi, swimming pools and playgrounds, and many are located near recreational activities like miniature golf and horseback riding.
State and National Parks
Wyoming is home to 12 state parks and six national parks, all featuring numerous RV-friendly campsites. You'll find basic amenities such as potable water and toilets, but you typically won't find electrical hookups, so ask before you book. Also:
Some parks don't allow generators
Parks usually have stay length limitations
Parks sometimes have a length limit for RVs
Public Lands
Wyoming boasts
18.4 million acres
of public lands, including lots of areas where free RV camping is permitted. You won't find any amenities, but you'll be able to enjoy the wilderness on its own terms. Otherwise, you don't need a permit for RV camping in Wyoming, but just be aware that some residential/urban areas have restrictions about RV street parking. To find out more about RV camping in Wyoming, visit
BookOutdoors
so you can book your trip at one of Wyoming's best RV campgrounds.
Best RV Camping Sites in Wyoming
Yellowstone National Park
With so much stunning natural beauty, it's no surprise that Yellowstone hosted
4.5 million visitors
in 2021. Here are two Yellowstone favorites with RV campers:
Canyon Campground
has 273 sites in a lush, densely forested area that's just minutes from the breathtaking Grand Canyon on the Yellowstone River.
Especially popular with RV campers,
Fishing Bridge RV Park
is the only campground in Yellowstone with sewer/water services and electrical hookups.
Gros Ventre Campground
Nestled at the southern tip of Grand Teton National Park,
Gros Ventre Campground
boasts around 300 campsites, including 39 with electrical hookups. Surrounded by cottonwood trees in a scenic forest area, this site is especially popular with RV campers, and spots can fill up quickly.
Western Hills Campground
Located in Rawlins, this
family-friendly campground/ RV park
offers amenities such as full electric hookups with cable TV, free Wi-Fi, laundry facilities, restrooms, heated showers, miniature golf and even pet playpens and a gift shop. It's also close to a vast hiking area where you can trek along the iconic Oregon Trail. For more RV camping locations in Wyoming, visit
BookOutdoors
, where you can discover stunning campgrounds in some of Wyoming's most popular destination locations.
RV Camping in Wyoming: What to Pack
Wyoming's weather can be summed up in one word: temperamental. At these high elevations, temperatures and conditions can change within minutes, so you might wake up to a lovely warm day and end up battling a snowstorm.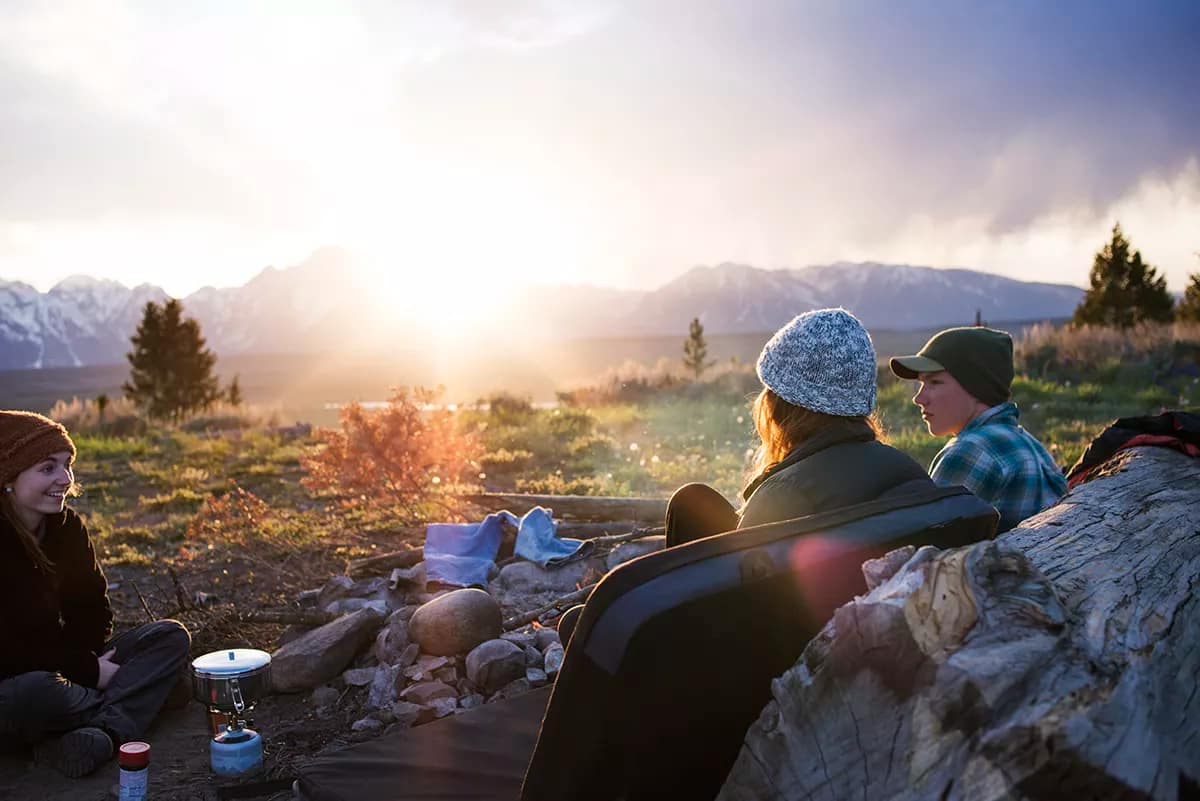 With this in mind, here are some packing tips:
Wyoming is high country, which means that you're closer to the sun. This translates into year-round opportunities for plenty of sunburns, so bring sun hats, sunglasses and lots of sunscreen.
Because of its high elevations and dry, desert-like climate, nights can be cold, so bring warm winter gear and cozy pajamas for sleeping, plus wool or knitted caps to help you retain body heat. Choose apparel with insulating material, and dress in layers. That way, if it gets warmer, you can shed a layer or two without getting cited for public indecency.
Convenience stores may be few and far between in certain areas, so bring enough food and water to last your trip. And bring extra water, because you'll need to drink more so you can stave off dehydration and altitude sickness.
Bring extra batteries and matches, plus plenty of light sources such as lanterns and flashlights (it gets dark in those mountains).
Don't forget to bring a secure bear box for trash, as well as bear spray and insect repellent.
Otherwise, bring what you'd ordinarily bring for a camping trip, including first aid supplies and adequate tools, camping and kitchen gear. And a word to the wise: It's better to bring something you don't need, then need it and not have it.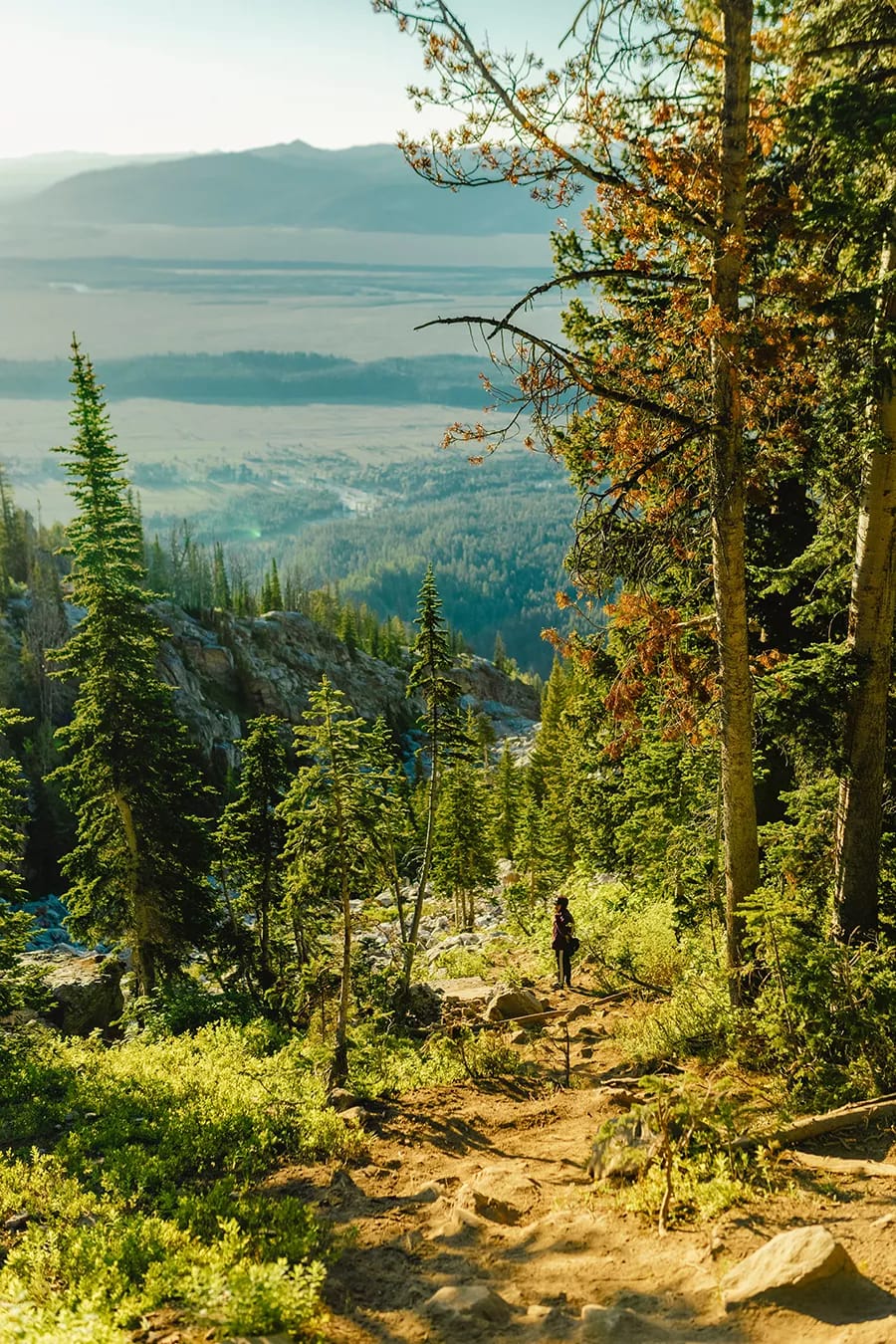 Tips for RV Camping in Wyoming
Camping in sub-freezing temperatures? Here's a tip to prevent your RV pipes from freezing. First, keep your heat on, and open your cabinet doors (this enables the heat to get to the pipes). Heat tape can help, too. When temperatures soar, you can cool down your RV by cleaning your A/C filters, closing your windows every morning and using shade coverings and roof vent covers.
Keep your door closed! Otherwise, hungry critters can smell food in your vehicle and might invite themselves to lunch.
Although fires are generally permitted in Wyoming's campsites, be sure to ask about local fire restrictions, which can change from day to day.
If you plan to do any fishing, you will need to apply for a fishing permit.
Wyoming is grizzly country. Don't try to interact with them, because they won't be amused. Take photos from a distance (the same goes for all wildlife). And if you see a bear cave, always assume it's occupied and get away from the area quickly, because bears don't like visitors. Keep supplies and trash in a locked bear box, or keep them secured in your RV until you can get to a safe trash dump.
RV camping in Wyoming gives you the best of both worlds — the opportunity to experience some of the world's most breathtaking wilderness first-hand while enjoying it with modern comforts and conveniences. To find out more about RV camping in Wyoming, visit
BookOutdoors
  to book your ideal campsite, so you can enjoy the camping adventure of a lifetime!