Your dog is your best friend. But are they also your best camping buddy? A canine can be a most excellent companion on a camping trip, but this isn't true of every dog, nor every destination. Your dog is well-behaved and leash trained, right? Good, because Wyoming's top dog-friendly camping destinations enforce strict leash policies. Is Fido perhaps a yappy breed on high alert over a rustling leaf? Maaayyybe don't bring them along to the wilds of Wyoming. (Also, your neighbors will hate you.) If your pooch is well behaved, follows every command, and once rescued a child from a well — excellent. They deserve a vacation. Unless you're planning long hikes in Wyoming's national parks, that is. Plan again, as national park trails are off-limits to four-legged friends. If you're bringing your best bud along on a camping trip, you need to thoroughly research dog-friendly campgrounds, plus all local pet rules and regulations. You also need to keep your dog safe in the scenic and wild landscapes of Wyoming, while
leaving no trace
except paw prints.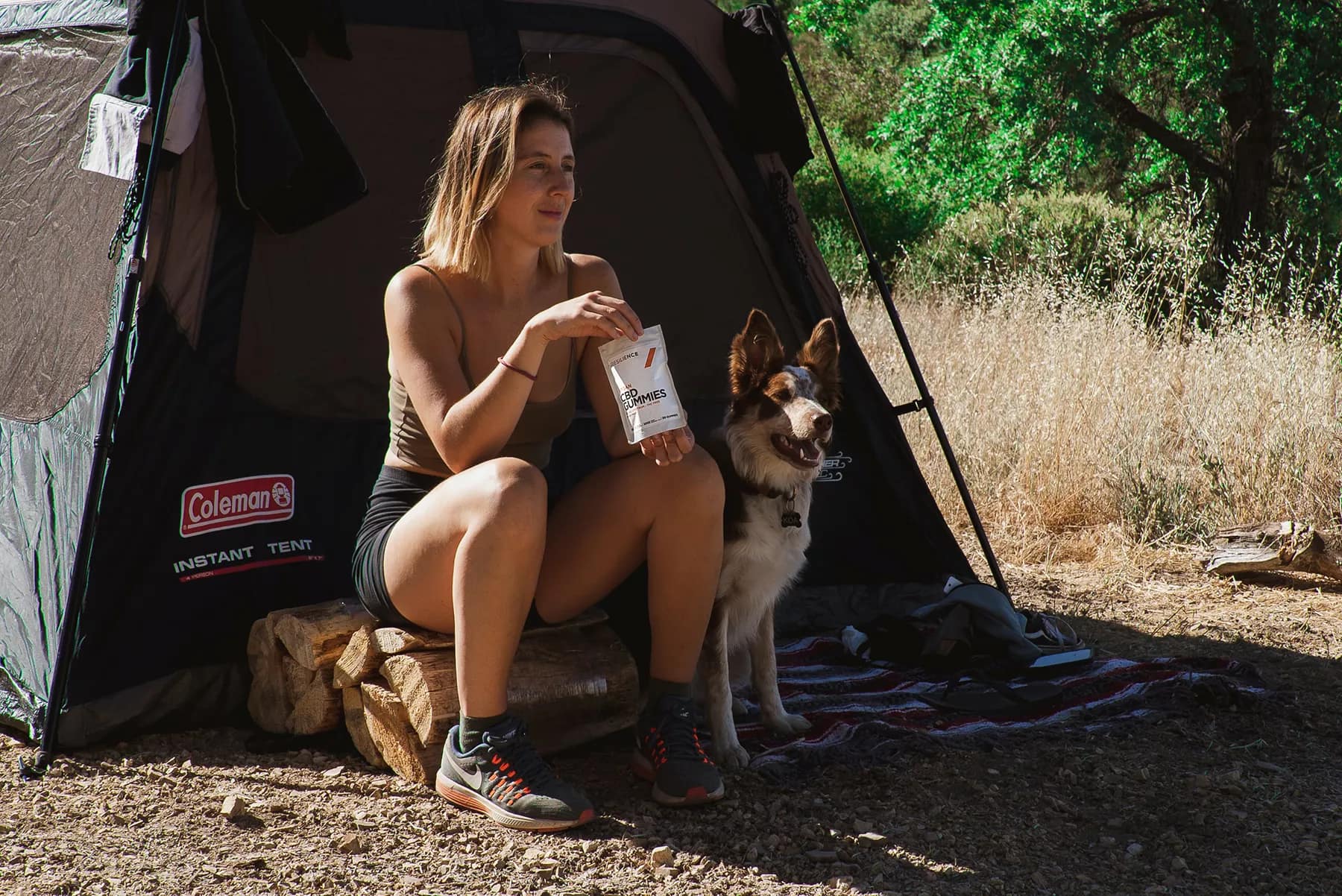 Pet Policies at Private Campgrounds
If you plan to stay at private campgrounds, inquire about pet policies well in advance. Many happily welcome pets, but they charge an additional fee. They might also require advance notice if they restrict the number of dogs (or large breeds) allowed per campsite. If pet policies are unclear on campground websites, always call to ask before booking a site. Make it easy to research campgrounds, including dog-friendly campgrounds in Wyoming, at
BookOutdoors
.
Pet Policies at Wyoming's National Parks
Almost all
national parks allow dogs to visit along with their humans, including Wyoming's Yellowstone and Grand Teton parks. Dogs are also welcome to stay in park-run campgrounds, as long as you follow the rules and regulations. These vary somewhat from park to park, but at a minimum ask your dog to be a
B.A.R.K. Ranger
(adorable!) and obey the following:
B
ag your pet's waste;
A
lways leash your pet;
R
espect wildlife; and
K
now where you can go. Here are the doggy details for Wyoming's most popular national parks:
Yellowstone National Park
Dogs are welcome at Yellowstone National Park, but only in developed areas such as campgrounds, parking areas, and within 100 feet of roads. Dogs are not allowed on hiking trails, boardwalks, in thermal areas, or the backcountry. Among other
regulations
, your dog must be on a leash no more than 6 feet long. Go ahead and measure your leash, we'll wait. Furthermore, dogs are not to be left unattended or tied to any objects. When not on a leash, dogs must be inside a vehicle or crate. This gives RV and car campers the option to leave a (quiet) dog in a safe spot, but only for a short time.
Grand Teton National Park
Due to its protected habitats, Grand Teton National Park has strict pet
regulations
. Dogs are not allowed on trails, pathways, inside visitor centers, in the backcountry, or in any park waters. Dogs must be restrained at all times on a leash 6 feet or shorter, and may not be left unattended. Dogs can go wherever cars can go, i.e., roads, campgrounds, picnic areas, and parking lots, plus areas within 30 feet of roadways. "Unreasonable noise" is prohibited — interpret that using your own common sense. Is your dog's nickname Barky? Perhaps camping with Barky at Grand Teton isn't a good idea. Winter visitors with pets in tow enjoy access to a designated pet walking lane along Teton Park Road, which is closed to traffic for the season. What a great opportunity to buy your dog some cute winter booties!
Bighorn Canyon National Recreation Area
Pets are allowed in Bighorn Canyon National Recreation Area, with
restrictions
, making it a potential choice for dog-friendly camping in Wyoming. Dogs are not allowed at the swim beach and must be on a leash while in the park.
A Quick Tip
If missing the trails of Wyoming's national parks during a dog-inclusive camping trip is too much to bear, look into local kennels or boarding facilities in Jackson or another nearby town.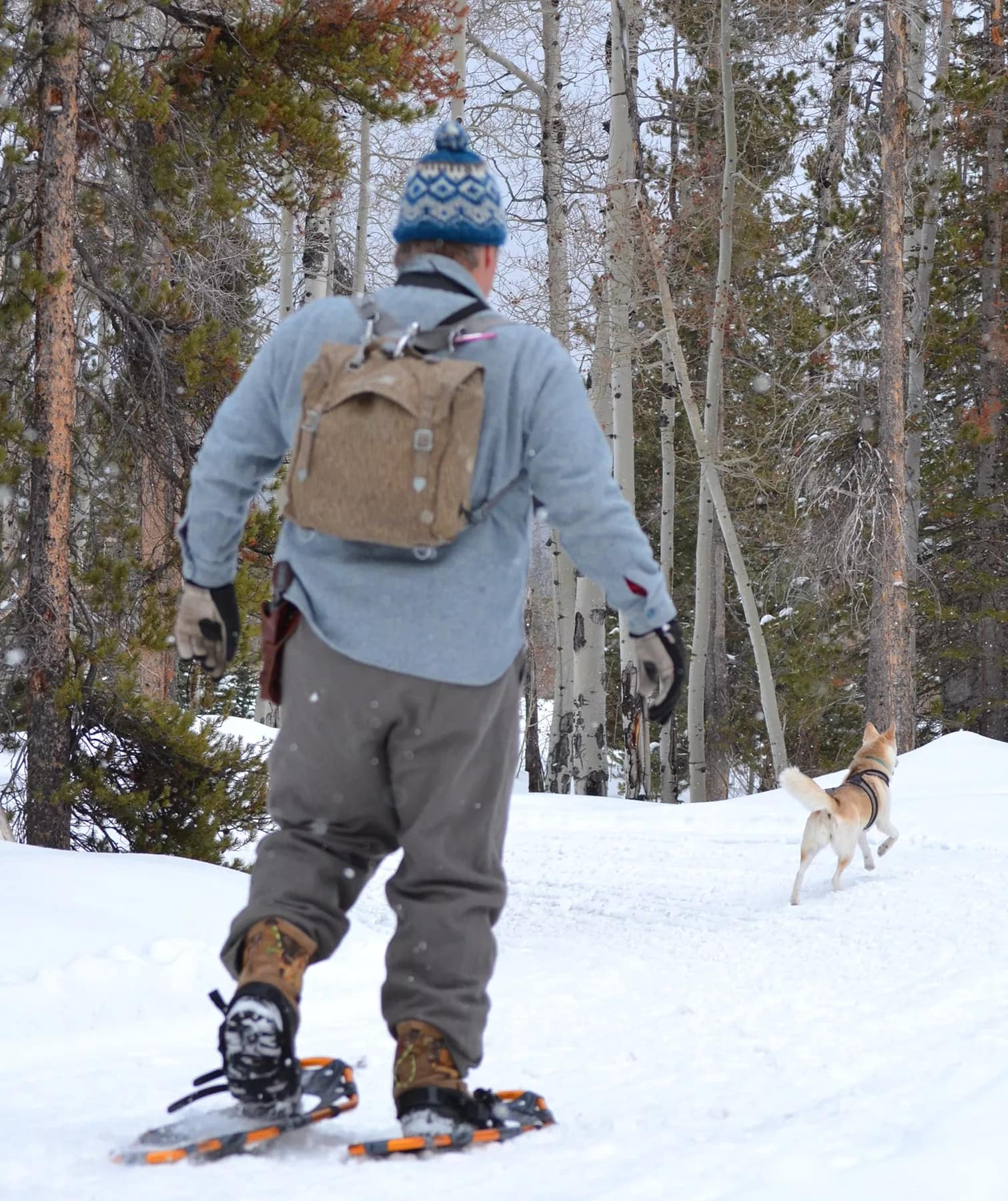 Walkies in Wyoming's National Forests
Dogs are allowed in
all national forests
, including the
eight
national forests in Wyoming. Given the many options for dog-friendly developed campgrounds and dispersed camping in national forests, these destinations are ideal for pet-inclusive camping trips. Dogs must be on a leash no longer than 6 feet when you're in developed recreation areas, which include developed campgrounds and interpretive areas. Otherwise, you can let your best bud off the leash to run freely — within reason. Your dog must be under control at all times. It's a good idea to check up-to-date pet policies with the appropriate national forest ranger station. At Bridger-Teton National Forests, for example, rangers
recommend
no more than two dogs per group.
BLM Public Land Pet Policies
Bureau of Land Management (BLM) areas are open to everyone for camping, including dogs. In general, leashes are not required, but you must keep your dog under control.
Hikers
with dogs must yield to other trail users. For local leash policies and other dog-related advice, check with the local BLM field office.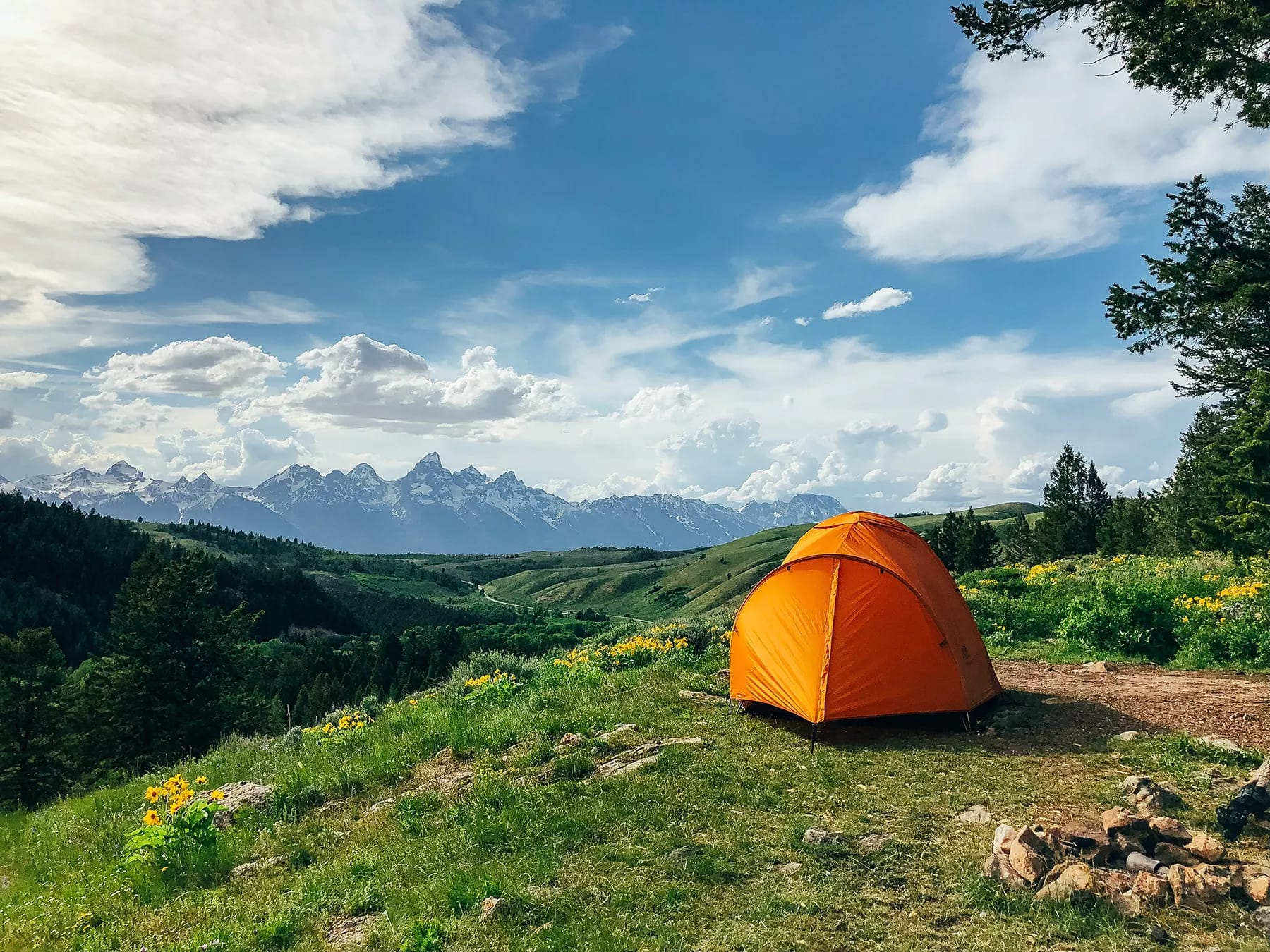 Bringing Pooches to Wyoming's State Parks
Eleven of Wyoming's state parks have RV campgrounds, and eight welcome
tent campers
. Dogs are welcome too, as long as you follow the rules. These include keeping dogs on a leash no longer than 10 feet and under control at all times. Otherwise, pets must be inside a vehicle, but may not be unattended for more than one hour. Dogs are not allowed in public buildings, public eating places, or food stores. And rule out a beach day with your bud, as all designated beach areas in Wyoming state parks are off-limits for dogs. Download a copy of Wyoming state parks
rules
and regulations for more doggy details.
Tips for Dog-Friendly Camping in Wyoming
Wyoming has some seriously wild animals that pose hazards to your domesticated beast — and vice versa. Bears, bison and other wildlife roam freely, so consider safety and how your dog would react during a potential encounter.
Off-leash dogs are vulnerable to predators, but so is native wildlife under threat from dogs. Further, dog owners are responsible for their pets' actions. In Wyoming, you face legal penalties, including prison time and a hefty fine, if your dog is seen harassing, chasing, or injuring animals such as deer, according to the Wyoming Game & Fish Department.
Encountering traps during Wyoming's October-to-March trapping season is possible. Keep your pets off private property, and preferably on a leash at all times.
Planning a camping trip with your dog is more complicated than with only human companions. Make it easier by booking with
BookOutdoors.