From pizza toppings to operating systems, declaring anything to be "THE BEST" is a sure way to start a heated debate. You know how that goes. It starts out mildly amusing ("pineapple – no way!") and quickly becomes pointless. Of course it does, because – here's a valuable life lesson, kids – we all have personal preferences, and that's OK.
And yet, here we are with a fascinating list of THE BEST RV parks in Utah. So let's remember that caveat about personal preferences. Every RV camper has a different ideal experience in mind. It might be luxury touches like a heated swimming pool with red-rock views. Perhaps you prefer mountain-high solitude under dazzling starry skies. For some, the best RV parks in Utah feature super-easy parking.
That's why the following top-notch RV parks in Utah span the entire spectrum of camping styles. Some offer nothing but solid ground, reminding you that the beauty of RV camping is already having everything you need with you on wheels. Others promise every provision you desire, plus a location amid Utah's most stunning landscapes.
There are more than 300 public campgrounds and hundreds of private ones in Utah, so RV campers really are spoiled for choice. Along with our recommendations for the best RV campgrounds in Utah, browse sites to suit your desires with BookOutdoors.
Watchman Campground: The Best Camping in Utah National Parks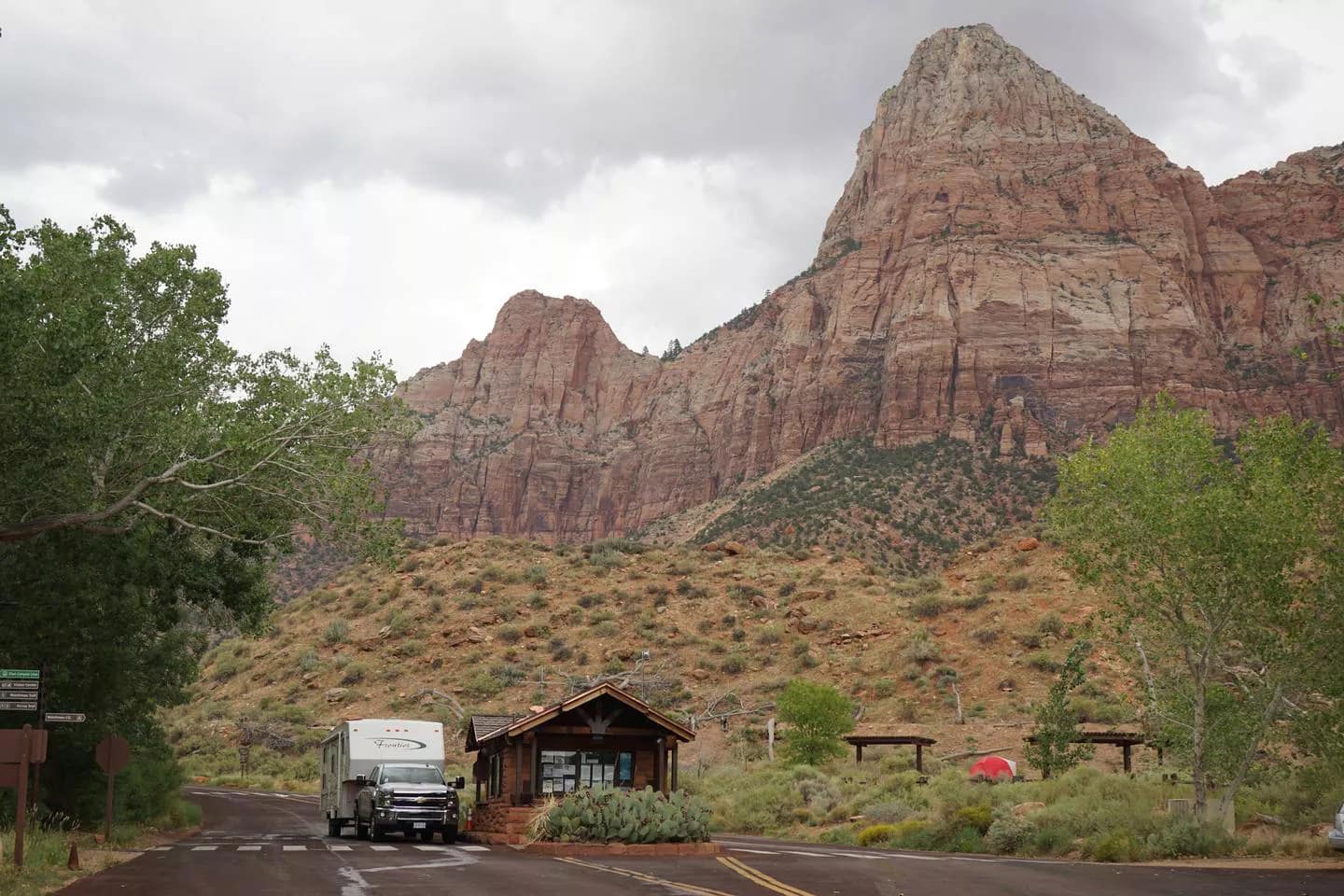 Utah's five national parks are its best-known camping destinations, and all five welcome RVs to at least one of their campgrounds. National park-run campgrounds tend to be on the rustic side with few amenities. The major draw is an unmatched location amid world-class scenery and recreational opportunities. They all book up quickly, so plan ahead to stay in one of the best RV parks in Utah's national parks.
Watchman Campground in Zion National Park has 65 sites exclusively for RVs up to 40 feet, and it's open year-round. All sites have a picnic table and fire ring, and campers have close access to comfort stations with flush toilets. There's a dump station available, plus potable water.
OK, OK, the amenities at the campground might leave a lot to be desired, if you appreciate hot showers and electricity. But hear us out… the location is truly unmatched. Watchman Campground is steps from the park's visitor center and free shuttle route, giving you easy access to all of Zion.
It's also within a short walk or shuttle ride of Springdale, a cute little town just outside the park entrance. This means you can eat at a sit-down restaurant, do some souvenir shopping, watch a barista make your fancy coffee or stock up on forgotten supplies, all before returning to your campsite for the night.
Bridger Bay Campground: The Best RV Park on the Great Salt Lake
Utah boasts 34 state parks with RV campsites, between them spanning a vast range of landscapes. One of the most popular is Bridger Bay Campground at Antelope Island State Park, one of three state parks set around the shores of the Great Salt Lake. Camping next to one of Utah's most unusual natural treasures – the largest saltwater lake in the Western Hemisphere – is a huge draw in itself.
Do you love animals? Camping at Antelope Island State Park puts you inside your own imaginary wildlife documentary! It's home to one of the nation's largest free-roaming bison herds, along with significant populations of pronghorn antelope, mule deer and bighorn sheep. The birdlife is remarkable too. Start working on your best David Attenborough impression.
Bridger Bay Campground is a winner in terms of amenities, too. Some sites have water and electrical hookups for RVs. A dump station, drinking water, showers and flush toilets are available as well.
Strawberry Bay Campground: The Best Rustic RV Park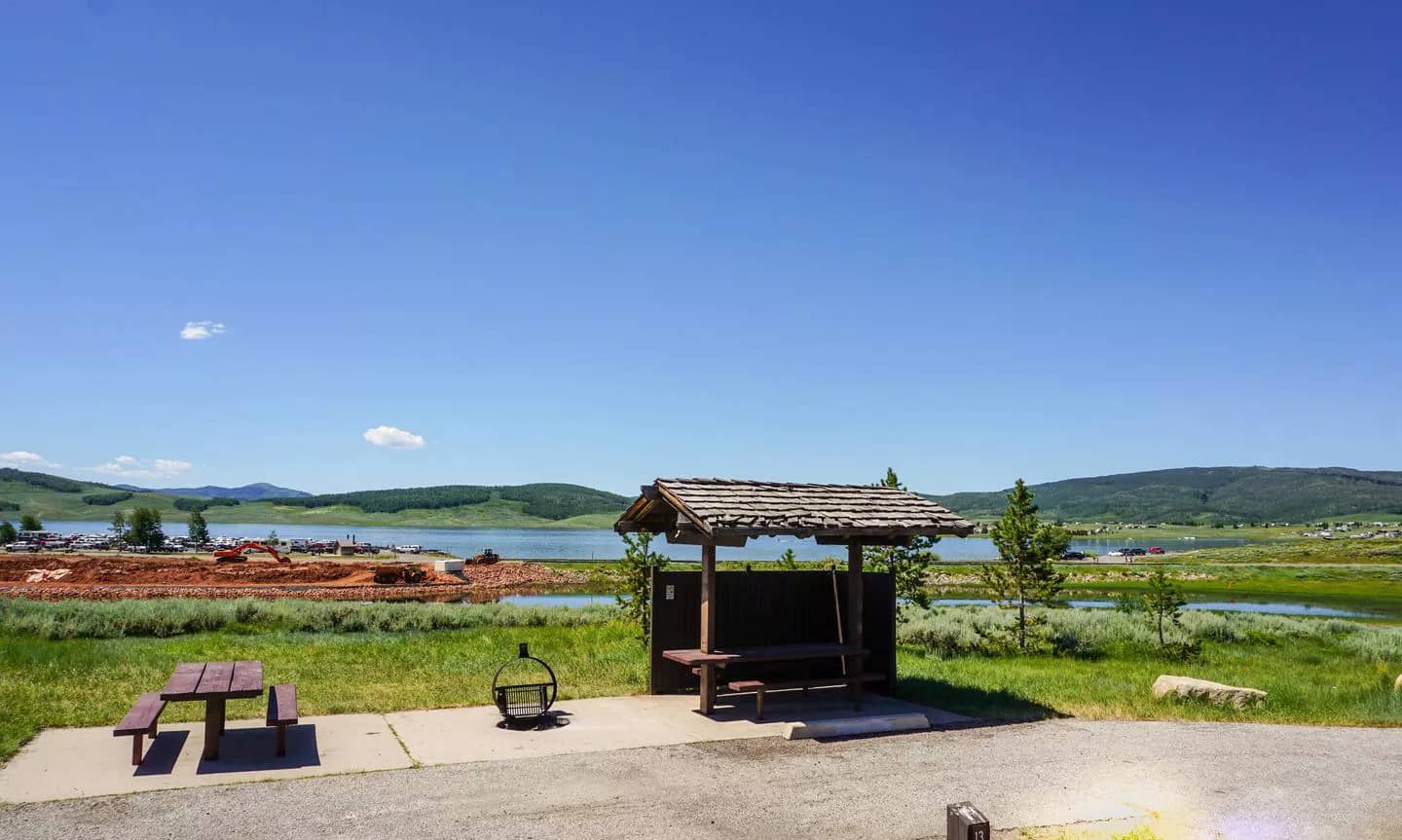 Utah's national forests offer close to 200 campgrounds along with extensive dispersed camping areas, so it's quite a challenge to pick the best. If you disagree, how about you camp at all 200 and then give us some feedback? We're pretty sure Strawberry Bay Campground in Uinta-Wasatch-Cache National Forest would come out near the top.
It's a rare national forest campground that offers full RV hookups along with a dump station and flush toilets. Another great feature is close access to the Strawberry Marina where you can rent boats and fishing gear to take out on Strawberry Reservoir. There's beach access and a 75-mile trail system nearby, too. You'll never forget the sweeping views from your campsite of the sun setting over the reservoir.
Glen Canyon and Lake Powell: The Best Park for Boondocking
Glen Canyon National Recreation Area in southern Utah encompasses Lake Powell, a miles-long serpentine reservoir flanked by stunning red rock formations. It's a top destination for water sports as well as camping, and offers several developed campgrounds.
What makes it the best RV park for boondocking is a super-chill no-fee, no-permit policy for primitive camping all along the shoreline. If you love saving money while still camping in incredible locations, Lake Powell is for you!
Lagoon RV Park: The Best for Family Fun
Do you like the idea of a family RV camping trip in Utah focused on nostalgic fun? Consider staying at Lagoon RV Park. The campground is attached to the historic Lagoon theme park in Farmington, Utah. It features a whole lineup of thrill rides along with the Lagoon-a-Beach water park. You don't even have to have kids with you! Yep, adults are allowed to have all the gleeful fun they can muster as well.
The campground is open from late April to late October, weather permitting. A variety of shaded RV sites with hookups are available, including back-in and pull-through sites. There are restrooms, showers, laundry facilities and a store at the campground. Campers get a discount on park entrance.
Zion Ponderosa Ranch Resort: Best for Glamping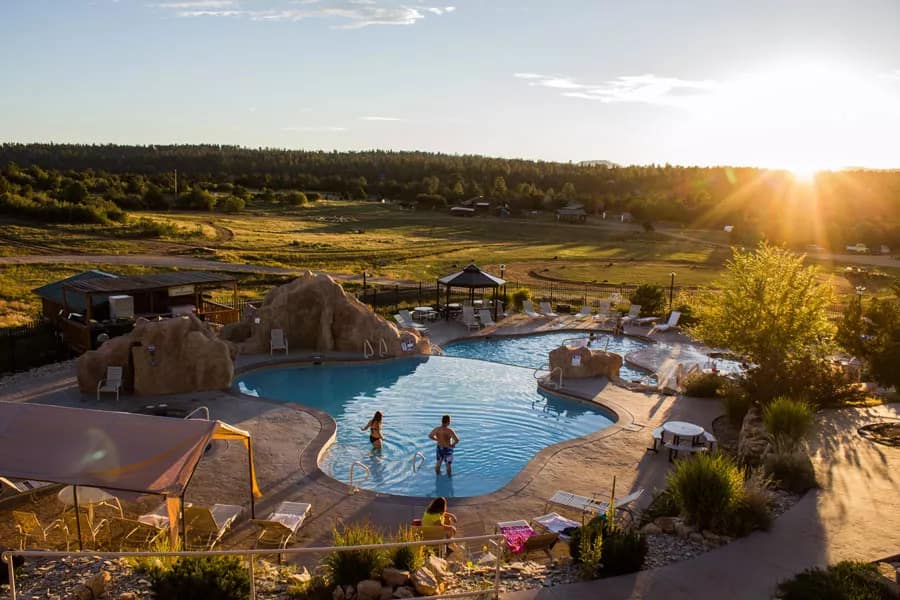 The word "glamping" might sum up your ideal version of RV camping in Utah, or it might make you cringe. If it's the former, you will love driving your RV into the relatively luxe surroundings of Zion Ponderosa Ranch Resort. The campground covers thousands of serene acres dotted by juniper and pinion pines. It's notable as the closest RV site to Zion with full hookups, earning it a spot on many lists of the best RV parks in Utah.
The resort is close to Zion National Park, but you'll probably be tempted to sacrifice a little bit of park time to enjoy its onsite amenities. These include a pool and hot tub, extensive sports facilities, hiking trails and horseshoes. A whole menu of paid tours and adventures can be arranged as well.
Looking for the Best RV Park in Utah?
One of the great things about planning a camping trip in Utah is being spoiled for choice when it comes to campsites. It's hard to pick out the best RV parks in Utah, but you can make it easier with BookOutdoors.