Glamping, or glamorous camping, has become a popular trend in recent years. It offers the perfect blend of luxury and nature, allowing people to experience the great outdoors without sacrificing comfort. From cozy yurts nestled in the mountains to luxurious tents on the beach, glamping offers a unique and unforgettable experience. In this article, we will explore the top 5 reasons why you should consider glamping in Texas for your next vacation. Glamping is not just about the accommodation, it's about the entire experience. It's about immersing yourself in the natural world, reconnecting with nature, and enjoying the simple pleasures of life, all while enjoying the comforts of a luxury hotel.
Texas is renowned for its diverse landscapes, from rolling hill country and vast deserts to lush forests and picturesque coastlines. Glamping, short for "glamorous camping," invites travelers to immerse themselves in these stunning settings while enjoying the comforts of well-appointed accommodations. Whether it's a safari tent nestled in the heart of Hill Country, a cozy cabin in the piney woods of East Texas, or a stylish yurt under the starry West Texas sky, glamping in the Lone Star State promises an unforgettable adventure where nature and luxury coexist harmoniously. In this introduction, we'll explore some of the most exquisite glamping destinations and experiences that Texas has to offer, appealing to those seeking a taste of the great outdoors without compromising on indulgence.
Convenience and Comfort
One of the main reasons people choose glamping over traditional camping is the convenience and comfort it offers. Unlike traditional camping, where you have to set up your own tent and sleep on the ground, glamping provides you with a pre-set accommodation that is already equipped with all the necessary amenities. This means you don't have to worry about packing and setting up a tent, or bringing along bulky camping gear. Glamping tents are often equipped with comfortable beds, electricity, and even heating or air conditioning, depending on the location and season. This allows you to enjoy the beauty of nature without sacrificing the comforts of home.
Moreover, glamping sites often offer additional services and amenities that make your stay even more comfortable and convenient. These may include on-site restaurants or food delivery services, spa treatments, guided tours, and a variety of outdoor activities. This means you can enjoy a delicious meal, relax with a massage, or explore the surrounding area without having to leave the comfort of your glamping site.
Unique Accommodations
Glamping offers a wide range of unique accommodations that you won't find in traditional camping. From treehouses and safari tents to Airstream trailers and geodesic domes, there is something for everyone. These unique accommodations not only provide a one-of-a-kind experience, but they also offer stunning views and a closer connection to nature. Imagine waking up to the sound of birds chirping in a treehouse or falling asleep under the stars in a transparent dome. Glamping allows you to choose from a variety of accommodations that suit your preferences and make your vacation truly unforgettable.
Glamping Tents
One of the most popular glamping accommodations is the glamping tent. These tents are much larger and more luxurious than traditional camping tents, often equipped with comfortable beds, furniture, and even a private bathroom. Glamping tents come in various sizes and styles, from safari-style tents to bell tents and tipis. They offer a unique and comfortable way to experience the great outdoors.
In addition to their size and luxury, glamping tents also offer a sense of nostalgia and romance. With their canvas walls and wooden poles, they evoke images of old-fashioned camping trips, but with all the modern comforts. Whether you're listening to the rain on the canvas roof, or watching the sunset through the tent flap, a glamping tent offers a unique and romantic way to connect with nature.
Check out these other popular Glamping tent and accommodation types:
Access to Nature
Exploring nature in Texas while glamping offers a sublime fusion of adventure and relaxation. The state's vast and varied landscapes provide an incredible canvas for outdoor enthusiasts to immerse themselves in the beauty of the natural world. Whether it's hiking through the enchanting Big Bend National Park, embarking on a kayaking adventure down the pristine waters of the Guadalupe River, or stargazing under the expansive Texas night sky, glamping brings you close to the heart of the wilderness. Wake up to the serenade of birds, savor your morning coffee with stunning sunrise views, and then set out on a day of exploration, all while knowing that a luxurious retreat awaits you at the end of your outdoor escapades.
Ideal for All Seasons
Glamping in Texas offers a year-round escape, with each season bringing its own unique charm. In the spring, wildflowers carpet the landscapes, making it ideal for outdoor adventures and nature exploration. Summer brings the opportunity to cool off in Texas' refreshing rivers, and evenings are perfect for stargazing around a campfire. Fall ushers in pleasant weather, creating a cozy atmosphere for glamping in the piney woods or the Hill Country. Winter glamping in Texas is a tranquil experience, with fewer crowds and the chance to enjoy a warm and snug retreat while taking in the state's natural beauty. Regardless of the season, glamping in Texas provides a luxurious way to connect with the state's diverse ecosystems and ever-changing landscapes.
Check out these glamping properties across Texas: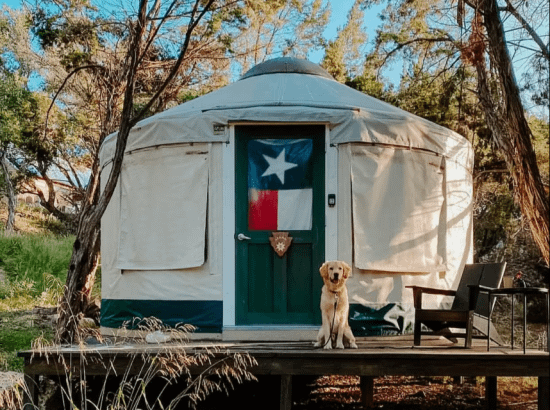 Lucky Arrow Retreat is the premier glamping resort in Dripping Springs – offering luxury cabin rentals and yurts – designed with the perfect combination of rustic charm & modern aesthetics.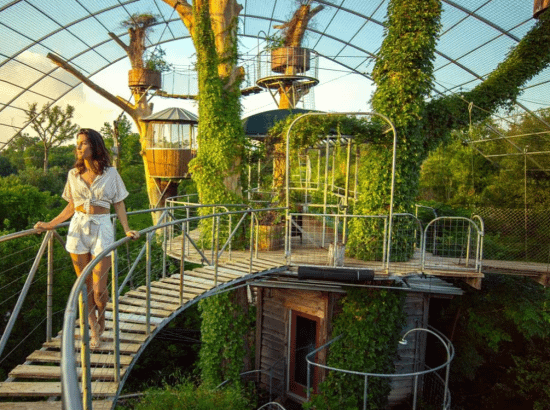 Re-member the playfulness of childhood while retaining the creature comforts you've come to enjoy as an adult. At Cypress Valley rekindle your spirit of adventure and experience the luxury of resting in nature.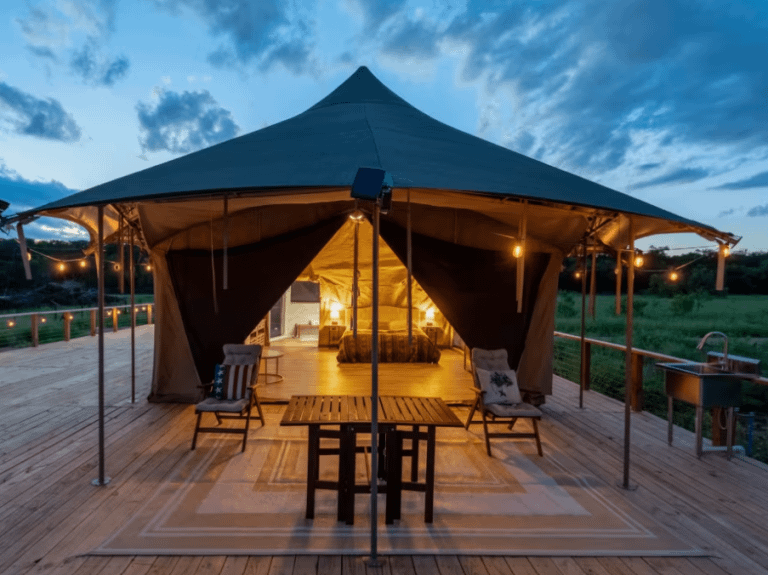 Immerse yourself in nature and bond as you explore the beauty and calm of the natural world. Feel the joy of being in each other's arms and build a stronger relationship at Loving Heart Retreats.
Perfect for Special Occasions

Glamping is not just for vacations; it is also a great option for special occasions. Whether you're celebrating a birthday, anniversary, or even a wedding, glamping offers a unique and memorable way to mark the occasion. Many glamping sites offer special packages for events, including romantic dinners, couples massages, and even private concerts. Glamping allows you to celebrate in a beautiful and unique setting, creating unforgettable memories.
Moreover, the unique and luxurious nature of glamping makes it a perfect choice for a romantic getaway or a honeymoon. Imagine celebrating your love in a cozy yurt under the stars, or in a luxurious tent on the beach. With its combination of luxury and nature, glamping offers a unique and romantic setting for any special occasion.

Book your glamping trip today!

Glamping offers a perfect blend of luxury and nature, making it an ideal vacation option for those looking for a unique and comfortable experience. From the convenience and comfort of pre-set accommodations to the variety of unique options and access to nature, there are many reasons to consider glamping for your next vacation. So why not step out of your comfort zone and try glamping for your next adventure? Search BookOutdoors today to find the perfect glamping getaway.