RV camping in Texas is an adventure that should be on every traveler's bucket list. The Lone Star State is home to some of the most beautiful landscapes, cultural attractions, and outdoor adventures in the country. From the bustling city of Austin to the rugged natural beauty of the Texas Hill Country, there is no shortage of things to explore. With its warm climate, friendly locals, and top-notch RV parks and campgrounds, RV camping in Texas is an experience you won't forget. In this article, we'll take a closer look at RV camping in the heart of Texas, including Austin and beyond, and give you tips on how to make the most of your trip.
Introduction to RV Camping in Texas
Texas is a vast state with many hidden gems waiting to be explored. RV camping is an excellent way to get up close and personal with the Lone Star State's unique natural beauty and diverse culture. With so much to offer, it can be challenging to know where to start. In this article, we'll explore the RV camping scene in and around Austin, Texas. Whether you're a family looking for an adventure or a couple seeking a romantic getaway, we've got you covered.
Why RV camping is a great way to explore Texas
RV camping allows you to experience the beauty of Texas while enjoying the comforts of home. With your RV, you can travel at your own pace and stop wherever you want to explore. You'll also save money on accommodation and have the freedom to cook your meals, making it an affordable option compared to traditional vacationing.
The benefits of camping in an RV
Camping in an RV offers many benefits, such as having all the comforts of home while enjoying the great outdoors. You don't need to worry about pitching a tent or sleeping on the ground, as RVs come equipped with comfortable beds, air conditioning, heating, and even showers. You can also bring along your favorite games and cook your meals on your terms.
Exploring Austin's RV Parks and Campgrounds
Austin has some fantastic RV parks that offer a perfect blend of amenities and natural beauty. Check out these properties.
Top RV parks in Austin
Located in Kerrville, Texas, HTR TX Hill Country retains a peaceful and quiet atmosphere across 65 acres of nature trails, campgrounds, RV sites, vacation rental tiny homes for glampers, and picnic areas all along the calming waters of the Guadalupe River. Experience the quiet serene nature in the Texas Hill Country.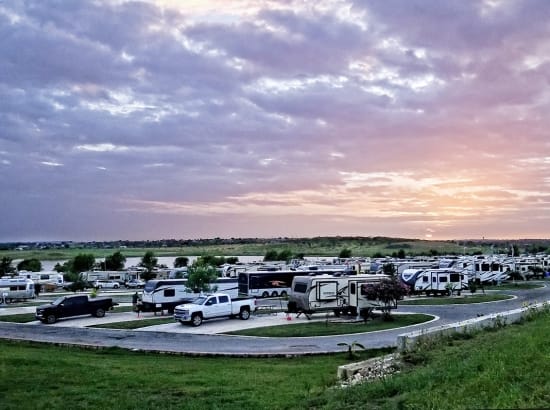 You don't have to be in the middle of nowhere to find that reprieve from the hustle and bustle of a busy life. Longhorn RV Resort is located just 15 minutes from San Marcos, where you'll find live music, exquisite Texas Hill Country wine, dancing, rodeos and everything that makes central Texas great.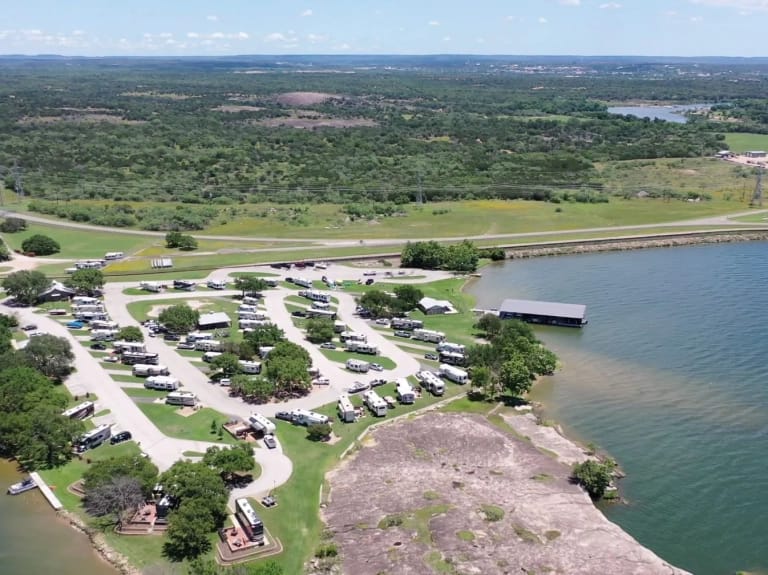 Enjoy magnificent sunsets in the Texas Hill Country on the shores of beautiful Lake LBJ. Sunset Park RV Resort is close to Austin, Fredericksburg and San Antonio yet in a quiet, lakefront setting. Marble Falls and the surrounding area offer many restaurants, shopping, golf courses, watersports, and outdoor recreation.
Must-See Attractions and Activities in Austin
Exploring Austin's music scene
Austin is well known for its vibrant music scene, and there are several ways to experience it. Check out the Continental Club, a legendary music venue that has hosted many famous musicians over the years. You can also visit the Austin City Limits Live at the Moody Theater, where they film the popular television series Austin City Limits.
Discovering Austin's food culture
Austin is a foodie's paradise, and there are plenty of spots to indulge in the local cuisine. Head to Franklin Barbecue to taste some of the best brisket in Texas. For a unique and unforgettable dining experience, try Uchi, a Japanese restaurant that serves sushi with a Texas twist.
Exploring Austin's museums and galleries
Austin has a thriving arts scene, and there are several museums and galleries worth visiting. The Blanton Museum of Art features an impressive collection of art from around the world. The Mexic-Arte Museum showcases the rich cultural heritage of Mexican and Latinx art.
Beyond Austin: RV Camping in the Texas Hill Country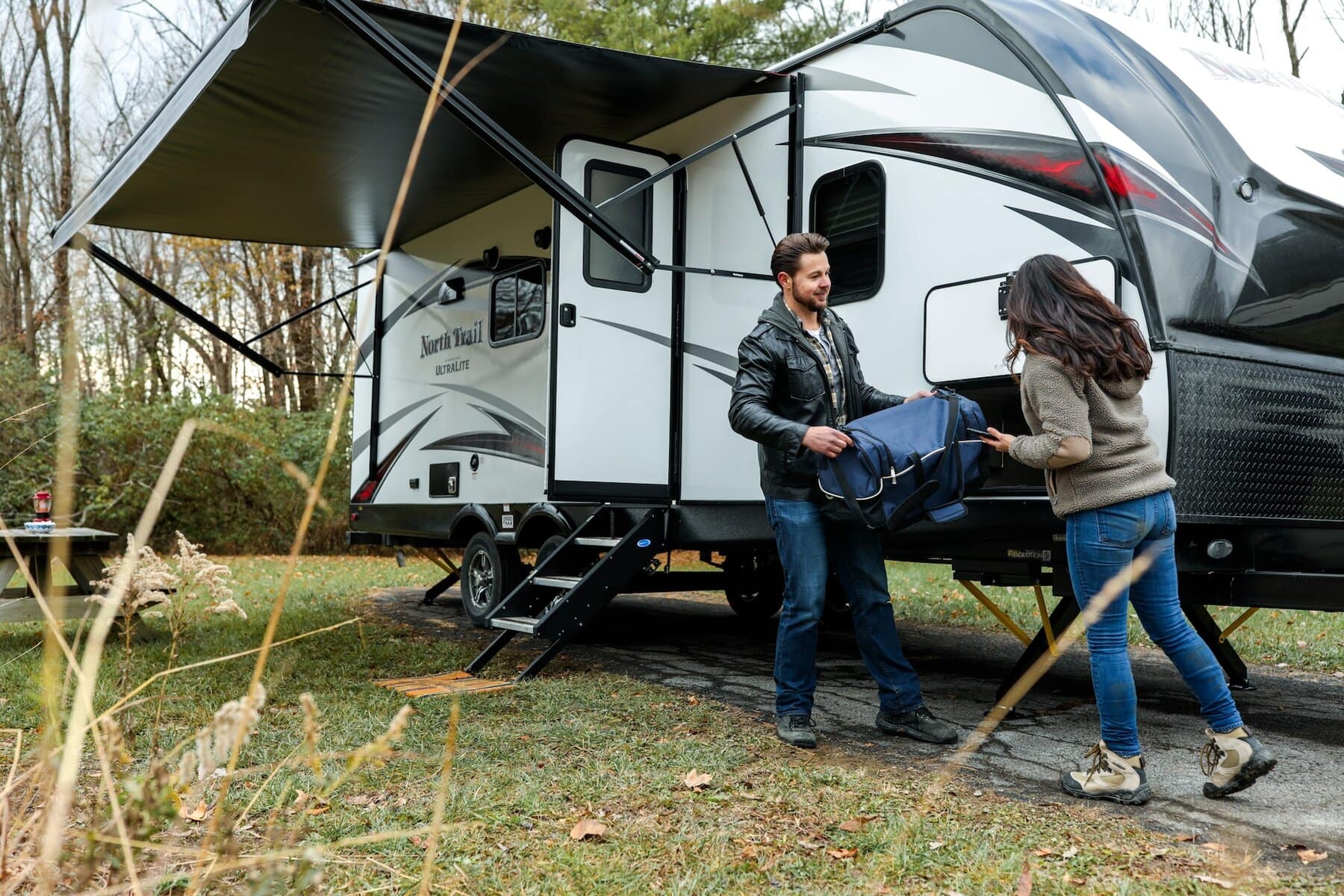 Exploring the Texas Hill Country
The Texas Hill Country is a beautiful region filled with rolling hills, scenic rivers, and quaint towns. Known for its vineyards and wineries, you'll find plenty of opportunities to sample some of the state's finest wines. Take a drive down the scenic route 290 and visit the charming town of Fredericksburg.
Top RV parks in the Hill Country
One of the top RV parks in the Hill Country is the Buckhorn Lake Resort, located in Kerrville. It offers a peaceful setting, full hookups, and great amenities such as a swimming pool and hot tub. Another excellent option is the Blanco State Park, which offers beautiful campsites along the Blanco River.
Best places for hiking and biking in the Hill Country
Hiking and biking are popular activities in the Texas Hill Country, and there are plenty of trails to explore. One of the best trails is the Guadalupe River State Park. The park offers several trails with stunning views of the river and the surrounding hills. For a more leisurely experience, try the scenic Llano River Trail in Llano.
Discovering Natural Wonders: State Parks and Recreation Areas
If you're an outdoor enthusiast, Texas is the perfect place for RV camping. With over 80 state parks and recreation areas, there's no shortage of natural wonders to explore. The best state parks for RV camping include Garner State Park, Pedernales Falls State Park, and Enchanted Rock State Natural Area. These parks offer stunning scenery, hiking trails, and water activities. Make sure to book your campsite early, since these parks tend to fill up quickly during peak season.
Exploring Texas' natural wonders is a must-do activity while RV camping. One of the most iconic natural wonders in Texas is the Guadalupe Mountains National Park, home to the highest peak in Texas. The park boasts diverse wildlife, an extensive trail system, and offers a unique camping experience. Another natural wonder worth exploring is the Big Bend National Park, with its rugged landscape and diverse wildlife. The park is perfect for outdoor activities such as hiking, mountain biking, and river rafting.
Don't forget to keep an eye out for the wildlife while exploring. Texas is home to a diverse range of wildlife, including armadillos, white-tailed deer, and coyotes. Keep your camera handy, as you may spot some of the state's more elusive creatures, such as the black bear and the mountain lion.
Essential Tips for RV Camping in Texas
Whether you're a seasoned RVer or a first-timer, there are a few essential tips to keep in mind for RV camping in Texas. First and foremost, consider renting an RV. Renting an RV is a great option for those who don't own one or want to try out a larger or more luxurious model. There are many reputable RV rental companies in Texas that offer a variety of RV types and sizes.
When it comes to campsite reservations, plan ahead and book early. Popular campsites in Texas, especially during peak season, can fill up quickly. To avoid disappointment, book your campsite as far in advance as possible. And don't forget to pack for the Texas weather – it can get pretty hot, so make sure to bring plenty of sunscreen, hats, and lightweight clothing.
Enjoying the Food, Music, and Culture of Texas
No RV camping trip to Texas would be complete without sampling some of the state's famous barbecue. From brisket to ribs, Texas has some of the best barbecue in the country. Don't forget to try out some of the local hot spots like Franklin Barbecue in Austin or Kreuz Market in Lockhart.
When it comes to cowboy culture, there's no shortage of it in Texas. Explore the small towns and historic sites to discover the real cowboy lifestyle. Check out the Fort Worth Stockyards, where you'll feel like you've stepped back in time with its daily cattle drive and rodeo shows. And don't forget to explore some of Texas' hidden gems, such as Marfa, a small town known for its art scene and desert landscapes.
Conclusion and Final Thoughts on RV Camping in Texas
Texas truly has something for everyone, from its natural wonders to its cowboy culture and mouth-watering barbecue. Some of the top RV camping destinations in Texas include Garner State Park, Big Bend National Park, and Guadalupe Mountains National Park. Keep in mind essential tips such as renting an RV, booking campsites early, and packing for the weather. And lastly, don't forget to explore the rich food, music, and culture of Texas – you never know what hidden gems you might discover.In conclusion, RV camping in Texas is an unforgettable experience that combines natural beauty, cultural attractions, and friendly locals. 
With its warm climate and excellent RV parks and campgrounds, Texas is a destination that every traveler should consider. Whether you're looking to explore the vibrant city of Austin or the rugged beauty of the Texas Hill Country, there is something for every type of traveler. So pack your bags, rent an RV, and hit the open road for an adventure you'll never forget