Out in far west Texas sits over 800,000 acres of pristine wild canyonlands. Wooded forests give way to rocky outcrops at seemingly every turn, and there is a vast openness not found in many other places. Over half a million visitors each year come to Big Bend National Park to experience the beauty of the western frontier in its undeveloped form.
Because the park is so big, it can be difficult to plan a trip to this natural icon. But we've created a guide that will make your Big Bend National Park RV camping trip one of the easiest ones to book. Let's dive in and discover where to camp, things to do, and tips for visiting Big Bend!
Find your perfect Big Bend campsite when you book with BookOutdoors!
Planning Your Visit to Big Bend National Park
The first thing you'll want to do before anything else is to decide when you want to take your Big Bend National Park RV camping trip. There are two unofficial seasons at the park, tourist season and summer, and for a good reason. November through April at Big Bend is the busy season, with over 75% of the park's guests coming during this time.
Finding a Campsite
Booking and finding a campsite at one of the campgrounds will be difficult unless you reserve your site well in advance, which is recommended. RV sites fill up quicker than tent sites, so you'll want to keep that in mind when choosing a site for your equipment.
Summer is considered the off-season at Big Bend, which is exclusively due to the weather. West Texas is extremely hot in the summer months from May until October, and the heat consistently reaches dangerous levels. This is not to discourage you from visiting in the summer, but you'll want to prepare much differently in the summer compared to the cooler months. 
Permits and Licenses
There are many great places to drop a line and fish in Big Bend National Park. Visitors to the park do not need a state permit to fish within the park boundaries. However, a special fishing permit is required. You can get this, free of charge, at the park entrance. 
Backcountry Use Permits
Due to the overwhelming amount of visitors during peak season, Big Bend encourages RVers to use roadside parking for camping. The park requires everyone that is using roadside parking for their RVs to obtain a backcountry use permit. There are designated sites located along the road in the parks, and permits are $10 per day. River sites are an additional fee. Backcountry permits can be purchased online or at a park entrance.
Where to Camp in Big Bend National Park
Due to the overwhelming influx of visitors since 2016, Big Bend National Park RV camping has been difficult to find and book. Much of the time, the designated campgrounds for RVs have been at full capacity. Guests are encouraged to make reservations in advance, but even then, the park can still be full.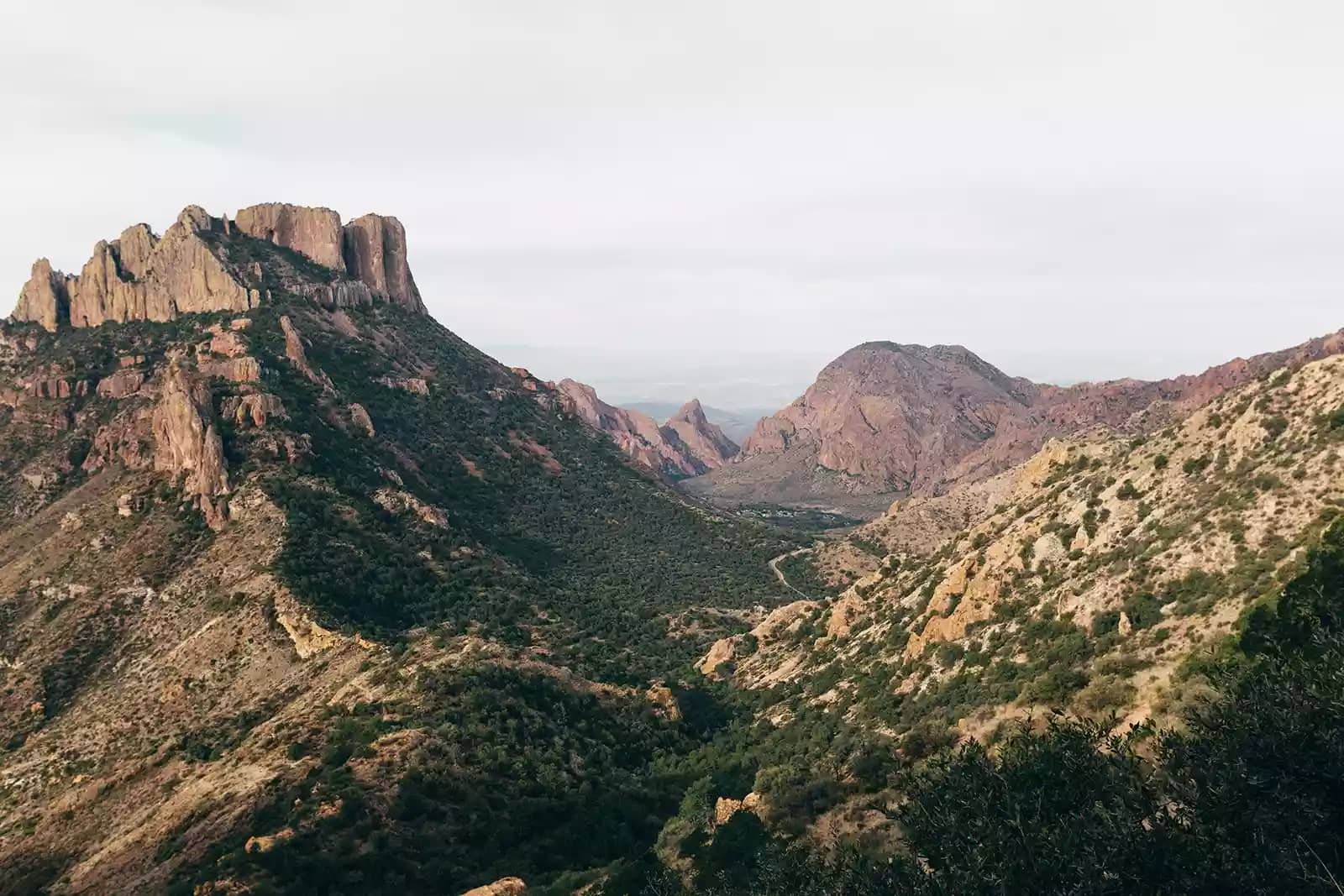 Big Bend has created additional space outside of developed campgrounds along the roadside for backcountry RVers who forgo the campground amenities in favor of a more boondocking experience.
The park has four campgrounds with amenities like centrally located bathhouses and dump stations, full hookups for RVs, a picnic table, grill, and a lantern pole. Fire rings are not available, and there are no fires allowed anywhere in the park. There are many options available for backcountry camping, so long as you can get your equipment in and out of the space.
Plan your next Big Bend RV trip with BookOutdoors!
Things to Do in Big Bend
With hundreds of thousands of acres of desert wilderness, there is no shortage of things to do once you're inside Big Bend National Park. From water activities to hiking trails, the park provides something for every type of adventurer. 
River Trips
Float down the Rio Grande on a river trip to explore the park. The famous rivers cuts through the park, and visitors can take a day trip on the water. A special permit is required to float and can be picked up at the visitors center. The park does not rent floats, kayaks, or canoes but can be arranged from a nearby private vendor. 
Take a Scenic Drive
If viewing the surrounding beauty through your windows is your preference for your Big Bend National Park RV camping trip, then you'll love the many scenic drives you can take through the park. The Ross Maxwell Scenic Drive is the most popular drive through the park and gives visitors a stunning view of the Mexican Chihuahuan Desert. The drive is winding and slow and does get busy, so be prepared for traffic.
Hiking
Big Bend is home to miles of easy to hard hiking trails that are perfect for every visitor's comfort level. Choose from a guided trail with one of the many park rangers, or take your own explore desert terrain, vast canyons, and steep rockfaces. The Window trail and Lost Mine trail are two of the park's most popular, so if you plan to hike these, choose an early morning time to avoid the big crowds. 
Tips for Visiting Big Bend
With so much to do in such harsh and unforgiving terrain, it's easy to have a single misstep ruin an entire Big Bend National Park RV camping trip. Here are a few tips to ensure your next Big Bend RV trip is amazing!
Reserve your campsite well in advance. Big Bend is busy!

Be sure your AC is in good working condition. 

Bring plenty of water! The weather is very hot and changes rapidly. 

No fires are allowed in the park.

Pets are not allowed in the campgrounds.

Permits are required for backcountry camping, fishing, and floating the Rio Grande.
Plan Your Next Big Bend Trip With BookOutdoors
Plan and book your next trip to Big Bend National Park when you join the waiting list for BookOutdoors, your all-in-one stop for finding and booking your perfect RV campsite. BookOutdoors has access to tons of campsites for whatever your needs are. With no membership or booking fees, you can book now and pay later once you find your site. You can also earn points towards future bookings on BookOutdoors.com.