Hey, fellow wanderers and nature enthusiasts! Are you ready to embark on an unforgettable journey where the open road meets the calming embrace of Mother Nature? You've come to the right place! This blog post will not only take you through some fantastic meditation techniques to elevate your outdoor experience but will also back it up with some cool science stuff. Plus, we'll share some of the most serene RVing and camping spots perfect for reconnecting with yourself and nature. Let's dive in!
Meditation Techniques for the Great Outdoors
Mindful Walking
When you think of meditation, sitting still with your eyes closed might be the first image that comes to mind. But what if we told you that you could meditate while exploring the great outdoors? Mindful walking is a simple yet powerful practice that combines movement with focused attention. As you walk through a beautiful forest or along a tranquil lakeshore, bring your awareness to each step and the sensations in your body.
*The Science Stuff: Research shows that walking in nature can significantly reduce stress and anxiety levels, with one study finding a 12.4% decrease in cortisol levels after just 20 minutes of mindful walking (1).
Deep Breathing Exercises
Elevate your outdoor meditation experience by incorporating deep breathing exercises into your routine. Whether you're sitting by a crackling campfire or enjoying a peaceful sunset from your RV, consciously inhaling and exhaling can help you relax, boost your mood, and increase your focus.
*The Science Stuff: Deep breathing has been shown to activate the parasympathetic nervous system, which helps reduce stress and promote relaxation (2).
Guided Meditation
If you're new to meditation or simply enjoy having some guidance, try incorporating guided meditations into your outdoor adventures. There are countless apps and websites, such as Headspace or Calm, offering nature-themed guided sessions that can enhance your connection to the natural world.
*The Science Stuff: A study published in JAMA Internal Medicine found that participants who practiced guided meditation experienced reduced anxiety, depression, and pain (3).
Yoga Nidra
Yoga Nidra, also known as yogic sleep, is a powerful meditation technique that can be practiced while lying down (perfect for a cozy RV or tent!). It involves guiding your awareness through various parts of your body, helping you to deeply relax and recharge. You can learn more about the Yoga Nidra practice HERE.
*The Science Stuff: Research suggests that Yoga Nidra can improve sleep quality and reduce anxiety and depression (4).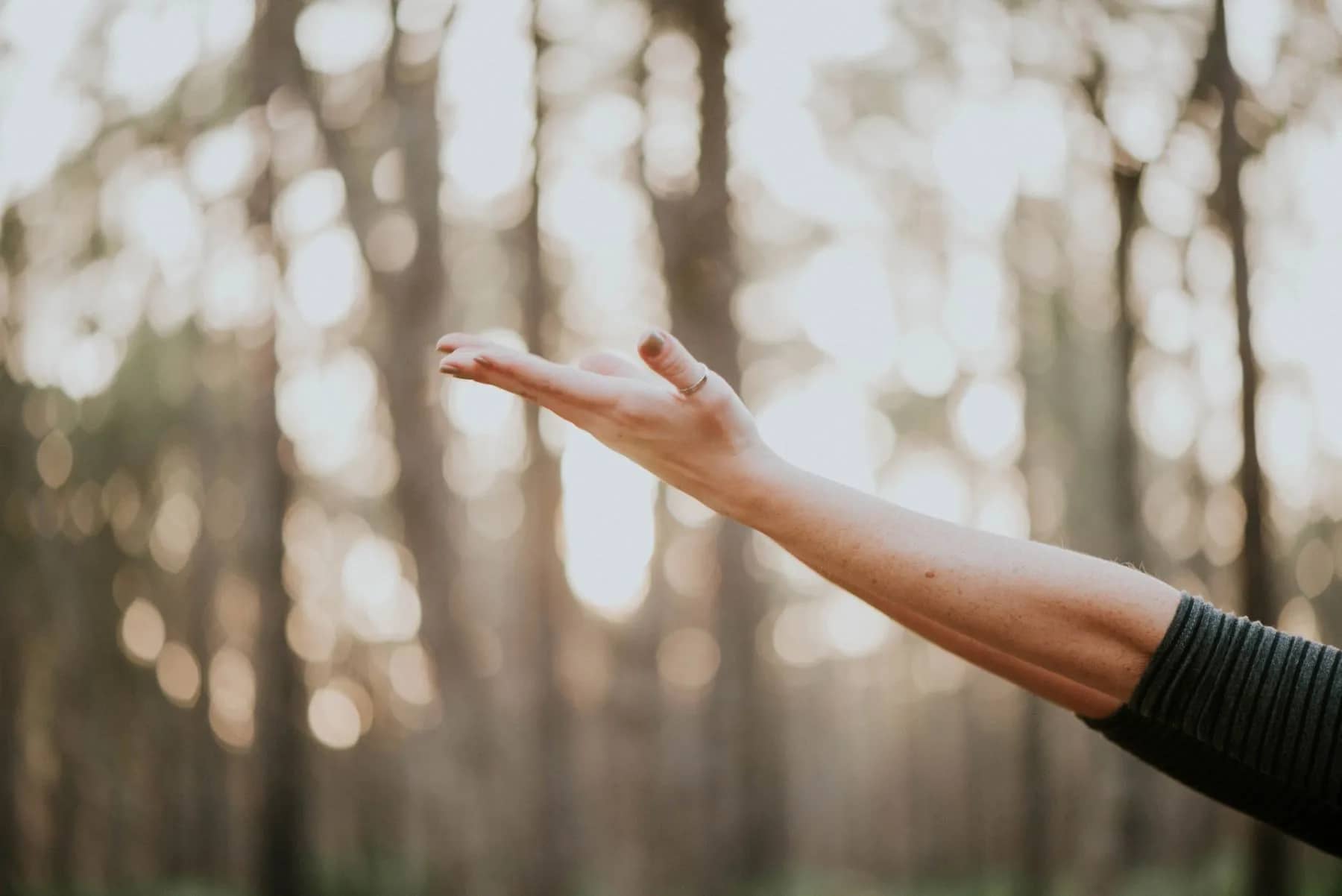 Top RVing and Camp Spots for Meditation and Mental Health Recover
Arches National Park, Utah
The otherworldly landscape of Arches National Park, with its dramatic red rock formations and delicate arches, creates a unique setting for meditation and reflection. Seek serenity among the sandstone sculptures or under a star-filled sky. Book campsites near Arches National Park.
Great Smoky Mountains National Park, Tennessee/North Carolina
Immerse yourself in the lush, ancient forests of the Great Smoky Mountains. With over 800 miles of trails, you're sure to find the perfect secluded spot for meditation and self-reflection. Book campsites near Great Smoky Mountains National Park.
Yosemite National Park, California
With its majestic waterfalls, towering granite cliffs, and serene meadows, Yosemite is an outdoor lover's paradise. Find your perfect meditation spot among the giant sequoias or beside the peaceful Merced River. Book campsites near Yosemite National Park.
Acadia National Park, Maine
Acadia offers a breathtaking blend of rocky coastline, lush forests, and serene ponds, making it an ideal location for mindfulness practices. Enjoy a sunrise meditation atop Cadillac Mountain or find solace along the many tranquil trails. Book campsites near Acadia National Park.
Glacier National Park, Montana
The crystal-clear lakes, snow-capped peaks, and vibrant wildflower meadows of Glacier National Park provide an awe-inspiring backdrop for your outdoor meditation practice. Find a quiet spot beside a glacial lake or high up in an alpine meadow to connect with nature and yourself. Book campsites near Glacier National Park.
Nature has an incredible ability to heal and rejuvenate our minds and bodies. By combining the mental health benefits of meditation with the natural splendor of RVing and camping, you'll create an unforgettable experience that fosters relaxation, self-discovery, and personal growth. So, grab your hiking boots and hit the road, ready to explore these awe-inspiring destinations while practicing mindfulness and soaking up all the positive vibes Mother Nature has to offer!
References:
Li, Q., Kobayashi, M., Inagaki, H., Hirata, Y., Li, Y. J., Hirata, K., … & Krensky, A. M. (2011). A forest bathing trip increases human natural killer activity and expression of anti-cancer proteins in female subjects. Journal of Biological Regulators and Homeostatic Agents, 25(2), 187-196.
Ma, X., Yue, Z. Q., Gong, Z. Q., Zhang, H., Duan, N. Y., Shi, Y. T., … & Li, Y. F. (2017). The effect of diaphragmatic breathing on attention, negative affect and stress in healthy adults. Frontiers in psychology, 8, 874.
Goyal, M., Singh, S., Sibinga, E. M., Gould, N. F., Rowland-Seymour, A., Sharma, R., … & Ranasinghe, P. D. (2014). Meditation programs for psychological stress and well-being: a systematic review and meta-analysis. JAMA Internal Medicine, 174(3), 357-368.
Amihai, I., & Kozhevnikov, M. (2014). Arousal vs. relaxation: A comparison of the neurophysiological and cognitive correlates of Vajrayana and Theravada meditative practices. PloS one, 9(7), e102990.