With fewer people than New York City and over 60% of the state covered in public land, Idaho is the perfect host for your next outdoor adventure. It boasts 4.5 million acres of protected wilderness and is one of only 20 designated Dark Sky Reserves worldwide, with 1,416 square miles of the highest-quality night sky. This untouched land and sky are ripe for enjoyment — and camping. From yurts to Yellowstone, we've nailed down some of Idaho's best spots to pitch your tent or park your RV. 
Best Time of the Year for Camping in Idaho
The weather is an essential factor when it comes to camping. Idaho's climate is generally semi-arid, with hot summers and cold winters. 
The peak season for camping in Idaho is from June to August, during which campgrounds can be crowded, and reservations may be required. If the campsite is at a high elevation, it may be more suitable to visit during the late spring or summer months when the snow has melted. 
In conclusion, the best time to go camping in Idaho is during the summer months, preferably in May or September for a more peaceful experience. 
Best Camping & RV Parks in Idaho 
Found throughout Idaho's vast landscape, RV parks in Idaho aren't your grandmother's vacation spot. Instead, they feature full hookups, WiFi, hot springs, and the occasional beer garden, making RV parks in Idaho the perfect pad for one night or many more. From volcanic remains to dark sky reserves and dunes, Idaho has a campsite for everyone. Camping purists can go off the grid or stake out in state parks with amenities and activities. Take your pick from these camping in Idaho options.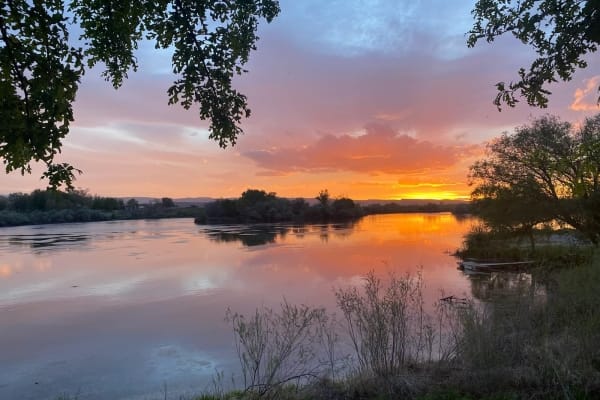 Welcome to Our Little Piece of Heaven! Located on the beautiful Snake River in Wilder, Idaho, Rivers Edge RV Park provides campers with stunning views and easy access to the river for fishing, swimming, and other water activities.
Enjoy the serenity and beauty of Clearwater Crossing RV Park. You are sure to enjoy the beautiful view of the river as well as the surrounding mountains.
We are in the center of the beautiful Greater Yellowstone Area right off of Highway 20 in Island Park, Idaho. Yellowstone National Park is only 25 minutes northeast of our park.
National Parks and Forests in Idaho 
Idaho has seven national parks, with Yellowstone National Park among its ranks. This state also has 40% of its land covered in national forests. Stay at one of these campgrounds in Idaho to experience the great outdoors. 
Craters of the Moon National Park
Unlike science projects made of paper mache, the remains at Craters of the Moon National Park developed from a weak spot in the earth's crust called the Great Rift. Adventurous campers can hike into the campground for snow camping in the winter. 
Boise National Forest
Boise National Forest has over 70 campgrounds ripe for picking (or camping). Book a night at the Deadwood Lookout Recreation Cabin for an unforgettable experience. At this former fire lookout on Deadwood Mountain, you can hike one of the nearby trails or soak in the surroundings.
Sawtooth National Forest
For optimum stargazing, head to Sawtooth National Forest. Set inside a portion of the Central Idaho Dark Sky Reserve, Sawtooth National Forest provides the perfect vantage point to observe the first and only Gold-Tier dark sky reserve in the United States. Fishermen and women should head to Sunny Gulch Campground for easy access to the Salmon River and rainbow trout. Cook your catch in the shelter equipped with a grill and other cooking and dining amenities. 
Yellowstone National Park
Some might not associate Yellowstone National Park with Idaho. However, 1% of this iconic site is found in the state. Although you can't camp in Idaho's portion of Yellowstone, you can head to one of the 83 serviced sites at Henrys Lake State Park for camping and fishing 15 miles west of Yellowstone. 
Tips for Camping in Idaho
When it comes to camping in Idaho, there are some tips that can help you make the most of your experience.
Here are a few things to keep in mind:
Research your camping options: Idaho offers a wide range of camping options, from primitive campsites to RV parks. Research your options ahead of time to find a spot that fits your needs and preferences.
Plan for the weather: Idaho's weather can be unpredictable, so make sure you pack accordingly. Bring warm clothing for chilly nights and rain gear in case of storms.
Prepare for wildlife encounters: Idaho is home to a variety of wildlife, including bears and mountain lions. Make sure you know how to store your food and garbage properly to avoid attracting unwanted visitors.
Follow Leave No Trace principles: When camping in Idaho (or anywhere else), it's important to follow the Leave No Trace principles. This means packing out all of your trash, staying on established trails, and leaving natural features undisturbed.
Respect other campers: Finally, be respectful of other campers in the area. Keep noise levels down, and avoid wandering into other campsites uninvited.
By keeping these tips in mind, you can make the most of your camping trip in Idaho and enjoy all that this beautiful state has to offer.
Get Ready for Idaho With BookOutdoors 
Whether going off the grid or cozying up in a cabin, you'll have everything you need with BookOutdoors. Book your trip on BookOutdoors without booking fees.