Aloha, adventurers! With its captivating landscapes, lush rainforests, pristine beaches, and awe-inspiring volcanic peaks, Hawaii beckons you to experience the magic of camping in the Aloha State. This tropical paradise boasts an incredible diversity of ecosystems and natural wonders that provide a unique and unforgettable camping experience. From cozy cabins nestled in verdant valleys to luxurious RV parks perched on oceanfront cliffs, we've gathered the best spots for camping in Hawaii, ensuring that your next island adventure will be nothing short of extraordinary.
Did you know Hawaii is home to 10 of the world's 14 climate zones, ranging from tropical rainforests to snow-capped mountains? This incredible diversity means that you can explore vastly different landscapes within a single day. Immerse yourself in a vibrant, fragrant jungle, trek across moon-like volcanic terrain, and finally, end your day basking on sun-kissed sands.
So, pack your bags, grab the sunscreen, and prepare to embark on your next unforgettable Hawaiian camping adventure!
Best Time of the Year for Camping in Hawaii
In the enchanting paradise of Hawaii, the tropical climate ensures warm temperatures all year long, but savvy outdoor enthusiasts know when the islands are truly at their best.
The prime window for unparalleled camping experiences in Hawaii extends from April to October, as campgrounds hum with the energy of enthusiastic visitors reveling in these sun-drenched months. During this time, Hawaii's natural splendor is showcased in all its glory, with radiant, sun-filled days tailor-made for traversing the islands' diverse and awe-inspiring landscapes.
On the other hand, if your heart yearns for a more serene encounter with Hawaii's wonders, the shoulder months of May or September may be the ideal choice. Nestled between the bustling peak seasons, these months deliver a more peaceful ambiance, allowing you to fully immerse yourself in the mesmerizing vistas of Hawaii without the crowds of tourists. Additionally, you'll still be graced with exceptional weather, ensuring the perfect conditions for venturing through the islands' myriad of marvels and embarking on a truly unforgettable Hawaiian camping odyssey at your leisurely pace.
Best Camping & RV Parks in Hawaii
Hawaii's picturesque landscape offers a diverse array of campgrounds and RV parks that provide a range of experiences for campers. From beachside retreats with golden sands and azure waves to rainforest hideaways surrounded by lush greenery and tropical melodies, these Hawaiian havens cater to every taste and preference. 
Discover the hidden gems of Hawaii's campgrounds and RV parks as you venture off the beaten path, exploring secluded spots that allow you to reconnect with nature. Take in the breathtaking vistas from mountainous retreats and savor the vibrant sunsets that paint the sky in a symphony of colors. With so many incredible options available, your perfect Hawaiian camping experience awaits.
Take your pick from these camping in Hawaii options:
Camp Pālehua's mission is to create unforgettable experiences in a unique mauka environment for the local community and visitors from around the world. We offer educational programs and activities in an effort to foster the next generation of stewards; events to network and expand collaboration opportunities in our community.
You don't have to be in the middle of nowhere to find that reprieve from the hustle and bustle of a busy life. Longhorn RV Resort is located just 15 minutes from San Marcos, where you'll find live music, exquisite Texas Hill Country wine, dancing, rodeos and everything that makes central Texas great.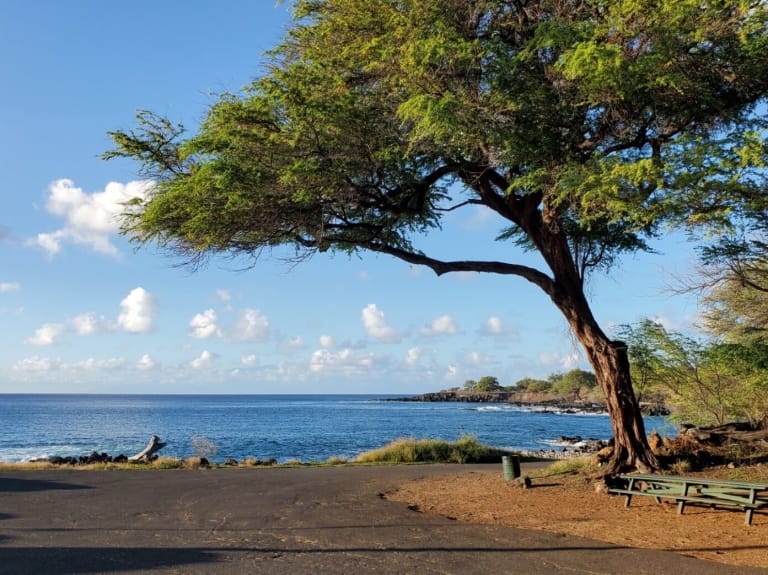 Mahukona Beach Park is on the site of an old sugar company property on the northwest shore of the Big Island. It's a popular place for swimming as the harbor is usually protected from wind and waves. Some of the old sugar mill buildings still remain and visitors can swim, snorkel, and scuba dive.
National Parks and Forests in Hawaii
From the depths of volcanic craters to the towering heights of lush rainforests, these enchanting sanctuaries provide a world of exploration, discovery, and awe. Blessed with abundant natural resources and breathtaking landscapes, these protected areas serve as crucial habitats for countless endemic species and provide endless opportunities for outdoor enthusiasts to explore and connect with the stunning Hawaiian wilderness.
Step back in time and immerse yourself in ancient Hawaiian culture at Pu'uhonua o Hōnaunau National Historical Park. This sacred site, once a place of refuge for those who broke the sacred laws (kapu), now offers visitors the opportunity to explore well-preserved temple platforms, royal fishponds, and coastal village sites. The park also features educational programs, guided tours, and cultural demonstrations, providing visitors a rich and engaging experience.
Kalaupapa National Historical Park on the island of Molokai tells the story of the isolated leprosy settlement that was established in the 19th century. The park preserves the unique history and stories of the patients who lived there and the community they built, while also protecting the area's natural beauty and biodiversity. Access to the park is limited, and visitors must arrange a guided tour through authorized tour operators, which includes mule rides, hiking, and flying tours.
Nestled within the verdant slopes of Maui's Haleakala volcano, Polipoli Spring State Recreation Area offers visitors the opportunity to explore a lush, high-elevation forest that spans over 10 acres. Situated at an altitude of 6,200 feet, the park features a diverse array of native plants, including conifers, eucalyptus, and the endangered native Hawaiian tree, the koa. The area is also home to a variety of wildlife, including native birds such as the apapane and amakihi.
Hiking trails within the park, such as the Polipoli Trail and the Plum Trail, provide breathtaking views of the surrounding landscape, as well as access to unique native flora and fauna. These trails vary in length and difficulty, catering to hikers of all skill levels. Visitors can also enjoy hunting and camping opportunities within the park, making it a perfect destination for outdoor enthusiasts seeking a tranquil escape amidst the beauty of Maui's upcountry.
Located on the Big Island's Hamakua Coast, Akaka Falls State Park is home to the stunning Akaka Falls, which plunges 442 feet into a lush gorge below. The park encompasses 65 acres of tropical rainforest filled with exotic plants, such as bamboo groves, wild orchids, and ferns. The area is also a haven for native bird species, including the 'o'o, 'i'iwi, and the nene, Hawaii's state bird.
The park features a short, paved 0.4-mile loop trail called the Akaka Falls Loop Trail that leads visitors through the vibrant, tropical rainforest and offers awe-inspiring views of the waterfall, as well as the nearby Kahuna Falls. The trail is accessible and suitable for visitors of all ages and fitness levels, making it an excellent destination for families, nature lovers, and photographers seeking the perfect shot of these majestic waterfalls. The park also offers picnic facilities, restrooms, and parking, ensuring a comfortable and convenient experience for all visitors.
Tips for Camping in Hawaii
Maximize your Hawaiian camping experience with these helpful tips:
Brace for capricious weather: As Hawaii's climate can be whimsical, it's vital to pack thoughtfully. Equip yourself with layers and reliable rain gear to ensure comfort and dryness as you navigate the islands' unpredictable conditions. Understanding the nuances of each area's weather will allow you to pack accordingly and adapt to any sudden changes in conditions.

Be prepared for off-grid scenarios: As you venture into Hawaii's captivating wilderness, you may find yourself in areas with limited connectivity or resources. Equip yourself with essential off-grid tools, such as a reliable map, a solar charger, or a portable water purifier, to ensure self-sufficiency and safety throughout your journey. Embrace the opportunity to unplug, immerse yourself in nature, and forge a connection with the enchanting landscapes of Hawaii.

Prepare yourself for wildlife encounters: Take the time to familiarize yourself with proper food storage and waste management techniques. This knowledge is essential to deter attracting uninvited guests and maintaining a secure, harmonious campsite.

Uphold Leave No Trace principles: Commit to preserving Hawaii's awe-inspiring landscapes by diligently adhering to Leave No Trace principles. Your conscientious actions contribute to safeguarding the islands' pristine beauty for generations to come.

Cultivate a respectful camping atmosphere: Embrace the importance of fostering a congenial environment by keeping noise levels in check and respecting the boundaries of fellow campers. A harmonious atmosphere enriches the overall experience for all who embark on the enchanting Hawaiian camping journey. Research and adopt additional low-impact camping techniques, such as using biodegradable products or solar-powered devices, to minimize your ecological footprint and contribute to the conservation of Hawaii's pristine beauty.
Get Ready for Hawaii with BookOutdoors
Whether you're seeking an off-the-grid adventure or a cozy cabin retreat, BookOutdoors has everything you need. Book your trip without booking fees and set sail for the ultimate Hawaiian camping experience.
Embrace the spirit of Aloha and explore the wonders of camping in Hawaii. With our wealth of resources and your adventurous spirit, you're set for a breathtaking journey through the enchanting Hawaiian islands. Happy camping!