Virginia may be for lovers, but it is also an outstanding destination for some of the best camping sites for comfort, convenience, stunning views, and activities. Choose from public and private camping in Virginia, fully equipped RV sites, and luxury glamping destinations that feel like home.
Best Time of Year for Camping in Virginia
For the best time to visit Virginia, consider autumn when the temperature drops and there are plenty of cool breezes. The autumn atmosphere allows pleasant conditions for hiking a trail, canoeing, kayaking, exploring a forest setting, or casting a fishing line in a lake. Autumn is also when the leaves change and produce a canopy of orange, reg, gold, brown, and yellow leaves. Spring is also a good time for hiking and camping in Virginia.
June and July are considered peak seasons. Expect crowded sites, and campsites may be limited in availability. Winter camping is a viable option since the climate is mild, and travelers can enjoy winter activities, such as birdwatching, wildlife observation, and photography, without the crowds. 
Best Camping and RV Parks in Virginia
Virginia's camping and RV parks offer many camping environments, amenities, and activities. Whether camping in a yurt, RV, cabin, or tent, consider how peaceful it would be to wake up each morning from your campsite with the sun rising over the mountains, birds chirping in the forest, and serene lakes nearby.
Best RV Parks in Virginia
Park your RV in a national park, RV resort, or family-operated RV campground as your base of operation for an exciting time exploring Virginia. 
Choosing one of the best RV parks in Virginia provides travelers with the amenities and features ideal for the different types of RVs. 
Choose parks with the convenience of pull-through sites for easy parking and access to full hookups, a dump station, water, and electricity. Amenities and activities may include hot water showers, laundry facilities, park programs, and guided tours. 
Americamps RV Resort in Ashland, VA has 184 full hook-up sites, including 105 pull-thru sites and 79 easy access back-in sites. There is a large, fenced canine Park for our four-legged friends. We have 2 bath houses and 2 laundry facilities, free cable TV & Wi-Fi, and a fun pool area for your summer enjoyment. Please come tour our spacious resort, as we are available year round.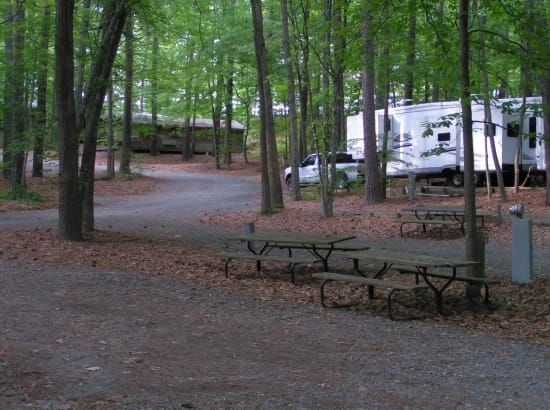 There's much to see here. So, take your time, look around, and plan on exploring Fredericksburg, Quantico and Washington, D.C. Choose a large site in the open, or a smaller site in the woods. We offer 30 amp, 50 amp, full (water, electric, sewer) or partial hook up, and Wi-Fi. Many sites are pull through and some can accommodate large RVs without need to unhook your tow. Pets welcome and we offer a fenced dog park.
Follow the River is one of the best Indiana RV parks to help you map out a fun vacation, with a number of different things to keep you and your family having fun throughout your entire trip. Spend a day fishing, relaxing in the pool, exploring a hiking or bicycling trail, or trying out the jumping pillow, something that kids will love! There is also a free shuttle to the Belterra Casino Resort and Spa.
Best Tent Camping in Virginia
Travelers interested in traditional tent camping won't have any problems finding a place to stay with the many national and state parks plus private campgrounds. Set up your base in a campground with assorted amenities, or choose camping off-the-beaten paths with backcountry or primitive campsites. 
Campgrounds offer a variety of conveniences, such as utilities and laundry facilities, showers, a fire ring, and a grill. Add those conveniences to available activities, such as mountain biking, canoeing, swimming, and hiking a portion of the Appalachian Trail, for a full day of fun.
Glamping Virginia
Camp in style with all the comforts of home with a glamping camping destination. At Virginia glampgrounds, travelers have choice of the level of comfort and conveniences they prefer. 
Select a traditional yurt, canvas tent, or domed tent glamping providing queen beds and quality linens, or the accommodation may have a bunk bed. Glamping options include a cabin, a fully-outfitted RV, or a romantic cottage that may be furnished with modern appliances, a heating and cooling system, a sitting area, and a kitchenette.
State and National Parks in Virginia
Virginia's landscapes are diverse. Mountain ranges, extensive forests, and secluded lakes provide travelers with numerous activities. The state has 22 national parks and 41 state parks, and an estimated 1,800 campsites. With so many choices, you will have no problem finding the perfect fit for your camping expectations.
Shenandoah National Park
A visit to Shenandoah National Park is a complete vacation experience when it comes to visual beauty and things to do. The park has an extensive trail system, Old Rag and Hawksbill Mountains, bubbling waterfalls, many species of wildlife and birds, and a section of the infamous Appalachian Trail. The scenic 105-mile Skyline Drive runs through the park along the Blue Ridge Mountains.
Within the park, campers have a choice of five campgrounds. Each is open from spring until late fall. The park offers first-come, first-served sites and reservation-only sites.
George Washington and Jefferson National Forests
Within the boundaries of the George Washington and Jefferson National Forests, campers have over 40 campgrounds to choose from. Some sites include electricity, tables, and a fire ring. Travelers also have access to bathhouses. There are also primitive sites with limited amenities. 
Cabin rentals are also available. Primitive camping is an option for those who want to get up close to nature in a remote area. There are also eight RV camping sites in four of the designated ranger districts and 15 group camping areas in six of the ranger districts. 
There are plenty of activities within the forest. Hiking, fishing, picnicking, nature observation to include wildlife, plants, and scenery, mountain biking, and off-highway vehicle riding in designated areas are just a few. In winter, there are cross-country skiing and snowshoeing areas at Elk Garden Trailhead and Whitetop Mountain Observation Site.
Douthat State Park
Created in the 1930s by the Civilian Conservation Corps, the park spans 4,545 acres and features a 50-acre lake. It is the second-largest state park. Pocahontas State Park ranks in the first place. Campsites are spacious and shady and have grills and picnic tables. RVers have a dump site and access to flush toilets, showers, electric hookups, and water. Park activities include hiking, fishing, swimming, paddleboard, and hydro bike rentals.
Pocahontas State Park
Named the largest state park in Virginia, it offers many activities suitable for all ages. Campers have miles of hiking and biking trails at Pocahontas State Park. There's also swimming at the Aquatic Recreation Center, canoeing, fishing, and picnicking. If traveling with horses, the park has over 13 miles of scenic trails and nearby full-service equine facilities.
For camping options, travelers can book their choice of recreational yurts with a deck, fire ring, cooking grate, and picnic table. There are also camping cabins with bunk beds, a table and chairs, electrical outlets, ceiling fans, and access to the campground's bathhouse. Campers can park their RV, use the water and electric hookups, and access the bathhouse.
Pro Tips for Camping in Virginia
Add safety tips to your camping itinerary for good times and a memorable vacation. Whatever time of year you plan to camp, keep a checklist of things to do to ensure your vacation time goal is to have a good time safely.

Pack according to the time of year and bring alternate clothing due to a change in the weather. 

Dress for the anticipated weather for the day, which could include rain, hotter temperatures, or cooler temperatures.

Have a fully-stocked first aid kit in your tent or RV, and keep a smaller emergency kit in your backpack when hiking, biking, or exploring.

Stay hydrated with plenty of water. Keep a refillable water bottle handy and refill it frequently. If traveling with pets, the same water rules apply to keep them hydrated.

Bring your cell phone, a whistle, or another noise-making device for emergencies when hiking or biking. Before heading to remote trails, write the emergency number of the park or campsite and bring it with you.

Do not take to the trails without a map. You will need this if you get off track. 

Watch out for snakes, ticks, and resident wildlife when hiking.

Keep pets on a short leash and never allow them to roam off the trail or leave them unattended outside. 

Use sunscreen, wear a hat, do not wear sandals or flip-flops to hike, and place a flashlight, glow sticks, water, the map, and snacks in your backpack. If hiking in winter, pack a blanket in case of an emergency.

Do not leave food or trash available to wildlife. Keep these items secure in containers and coolers. Lock them in your vehicle or inside your RV if necessary.

Always provide your travel itinerary to a family member or friend and check in with them frequently.
Let BookOutdoors Help With Planning Your Next Camping Vacation
When you want to make your camping experience stress-free from the get-go, reserve your space with help from BookOutdoors. 
Choose your camping-style accommodation, check pricing and availability, then make your reservation quickly and easily with no hidden hoops or looks using the convenience of the BookOutdoors website.