With over 46,000 miles spanning the Northeast, Mid-Atlantic, Appalachian and Great Lakes regions of the United States, Pennsylvania features a diverse landscape ripe for enjoyment for every outdoor enthusiast. With easy access from New York, Maryland, and Ohio, city dwellers can exchange concrete jungles for lush forests and serene shorelines. For the best tips, tricks, and recommendations, check out our ultimate guide to the best camping in Pennsylvania. 
Best Time of The Year for Camping in Pennsylvania 
Although Pennsylvania offers year-round camping, Memorial Day to Labor Day is undoubtedly the high season with the warmest temperatures for outdoor activities. However, don't overlook camping in the off-season. While the summer boasts higher temperatures, consider autumn for vibrant fall foliage and fewer crowds. Travelers can also book longer reservations in state parks in the off-season. Unlock the key to camping in the Keystone State with these camping options! 
Best Camping and RV Parks in Pennsylvania
Whether you want to pitch a tent in the Alleghenies or make a splash at Lake Erie, Pennsylvania has it all. History buffs can likewise stake out near one of the many historical monuments throughout the state. Families can even park at their favorite chocolate-themed theme park in Hershey and gain free resort benefits. Whether a camping purist or traveler looking for creature comforts, you'll find your perfect match at one of these sites. 
Best RV Parks in Pennsylvania 
RV Parks in Pennsylvania offers a wide range of facilities whether you're heading to the Pocono mountains or exploring the countryside of Lancaster County. Private RV parks feature various amenities, from full hookups to WiFi and cable. Many even feature outdoor pools and recreational activities, from mini golf to Ferris wheels and carousels. You can even find some parks located on working farms! 
State-run parks won't have as many amenities but still provide a comfortable stay with several sites available. This includes sites with full hookups and sewage, water, and electric capabilities. Restrooms with nearby flush toilets and warm showers are also public. 
If you travel with pets, check pet policies in advance, as some sites may have pet restrictions. 
Check out some of these sites for your next trip.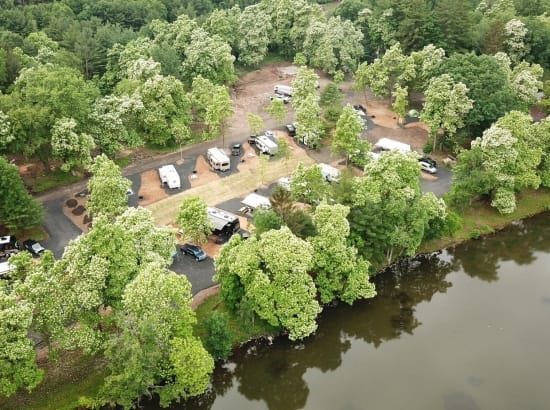 Our family campground opened in 2020 and we continue to expand every year! Our luxury cabin rentals and family cabin are available year-round and we have nearly a hundred RV full hookup sites available! Come and enjoy a getaway while enjoying our 54 acres, 10-acre lake, great fishing, and kayaking/paddle boating! We have two state parks, both with lakes, only 15 minutes away.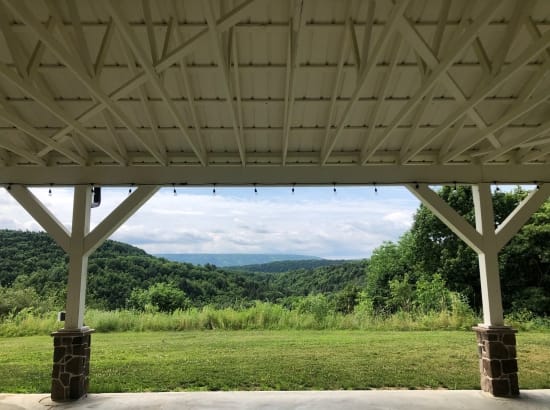 Pocono Point RV & Campground offers a truly unforgettable vacation experience, where you can enjoy the culture of historic Jim Thorpe any time of year. Our camping near Pocono Mountains offers an array of stay types like full-hookup RV sites, cozy cabins, as well as the authentic experience of rustic tent camping. We also have, one-of-a-kind views over the Delaware Water Gap. Pocono Point RV features accommodations for every family to enjoy; whether you're camping for the first time or take the family out for an adventure every year, we have the site, tent, or cabin for you.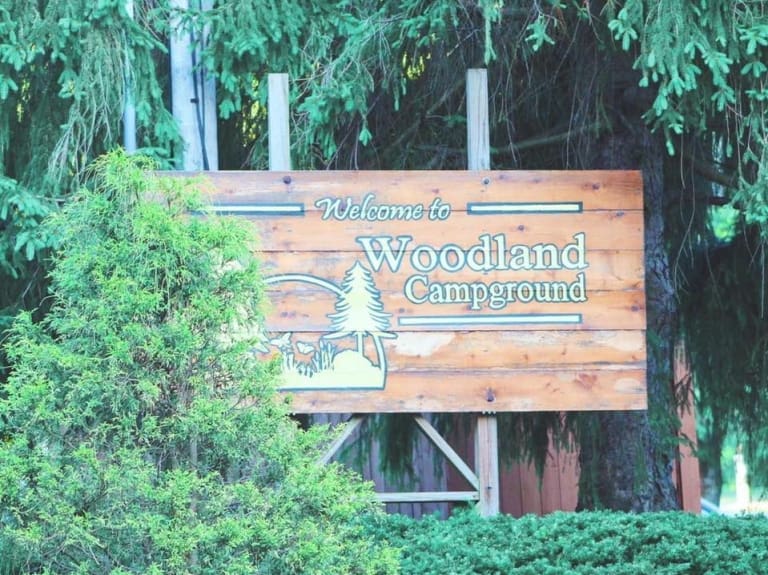 A beautiful family campground in the PA mountains. Relax and fish in our lake, or take out one of our kayaks or peddle boats. Enjoy our playground, a game of horseshoes or volleyball or hike or bike our woodland trails. We offer daily, weekly, seasonal and full time sites. We have full hook-up drive thru sites that can handle the largest RVs; shaded and open sites; cozy family cabin rental. Nearby we have PA elk viewing and Visitors' Center, the west branch of the Susquehanna River, antiques and unique shopping, Penn State football and creamery, Denny's Beer Barrel Pub, local wineries and golf courses, beautiful hiking trails and state lands, snow shoe ATV trails.
Best Tent Camping in Pennsylvania  
Pennsylvania offers various tent camping options, from resort-style campgrounds to sleeping under the stars on an open field. Choose from the tranquil countryside of Pennsylvania Dutch Country or the exciting rapids of the Delaware Water Gap. Whether you're seeking family-friendly activities and nearby attractions or want to get away from it all, there's an option for you. From building your campsite in a forest to having theme park access and water slides, you'll find the best chance at one of these sites if traveling solo or with a crew. Campsite amenities vary from fire rings and picnic tables to more robust facilities, so plan accordingly. 
Best Glamping in Pennsylvania  
Glamping is an excellent way to explore the diverse landscape of Pennsylvania. From tiny houses to treehouses, Pennsylvania has a range of options for outdoor enthusiasts who still yearn for home comforts. Sleep under the stars on a romantic glamping site or spend the night in a yurt with modern amenities. You'll surely enjoy all the benefits of the outdoors without sacrificing comfort. Whether you seek a luxurious stay or need a comfortable bed for the night, BookOutdoors has you covered with the best glamping options from the Poconos to the Alleghenies.
State and National Parks in Pennsylvania 
Pennsylvania hosts 19 sites run by the National Park Service. This includes historic sites such as the National Military Park in Gettysburg and National Historical Park in Valley Forge. Although camping and RVing aren't allowed at these parks, privately owned campgrounds are available nearby to explore these historic areas. 
In addition to these federally-managed sites, Pennsylvania has 124 state parks with over 300,000 acres of recreational activities. You can find a range of accommodations within Pennsylvania's state parks, from state park inns and deluxe cottages to primitive settings in a state forest. Multi-site camping is also available at select sites for those traveling in groups. 
Reservations can be made at almost all campsites, and most state park campsites can be booked 11 months in advance. Other sites are available on a first-come, first-served basis. 
For your next trip, consider one of these state parks or forests! 
State Parks In Pennsylvania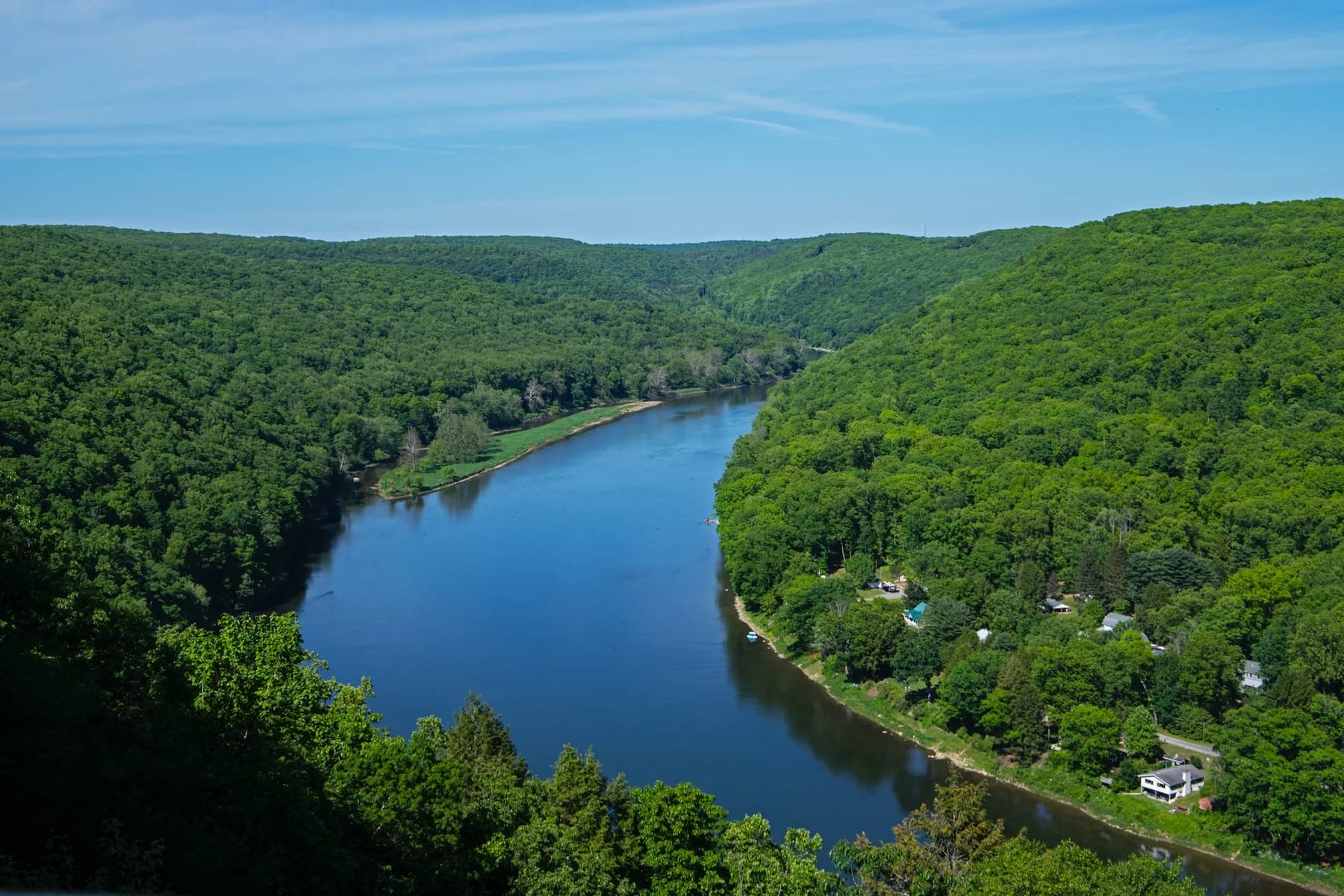 Allegheny National Forest 
Travel to western Pennsylvania to experience Pennsylvania's only national forest in the foothills of the Appalachian mountains. Explore over 500,000 acres of woodland with activities for everyone. Canoe the Allegheny River or ride an OHV trail for off-road action. 
Campsites range from RV spots with electrical hookups to building your campsite in the forest. Check out Buzzard Swamp or another smaller campground for unplugged bliss with little interaction. Reservations can be made at least seven days in advance, while other sites are first-come-first-served. 
Cherry Springs State Park 
Situated atop a 2,300-foot mountain, the astronomy field at Cherry Springs State Park offers some of the darkest skies on the eastern seaboard. Spend a night at one of 30 sites at the rustic campground for overnight stargazing. Sites are non-electric, and pets are prohibited. Red light filters are also recommended for optimal viewing. 
Serious astronomers with their own equipment should reserve a spot on the observation field for 360-degree views of the night sky. Permits and fees apply, but viewing is optimal. For unlimited access to the astronomy observation field for the year, consider a galaxy pass for a one-time fee. Galaxy passes are only available after January 1st and can be obtained through the Lyman Run State Park office. 
Make sure to plan ahead as the park is only open from the second Friday in April until the last weekend in October. For even more excitement, plan a visit in early August to catch the yearly Woodsmen show. Catch competitions in ax throwing, two-man cross-cut, and two-man log roll.
Ricketts Glen State Park
Hiking enthusiasts should head to Ricketts Glen State Park. Explore the 7.2-mile Falls Trail to view a series of free-flowing waterfalls including the 94-foot Gango Falls waterfall. Winter sports such as cross-country skiing and snowshoeing are also available. Camping is available year-round although the majority of sites are only open from April to December. Choose from 120 tent and trailer campsites, or consider one of 10 cabin rentals available in the park. 
Pro Tips for Camping in Pennsylvania 
Determine your camping style before deciding on your campground. Are you seeking a tranquil stay or an adventure-seeker wanting access to outdoor activities?

Consider an off-season stay if heading to a state park to reserve your campsite for up to a week longer than during the high season. 

Do a backyard campout before venturing on the open land to test your equipment and ensure you've packed appropriately. 

Check pet policies before booking if traveling with your furry friends, as these policies vary by site.   

Campsites can be reserved up to 11 months in advance at most Pennsylvania state parks.

Don't wait to book if traveling in the high season, as sites fill up fast. 

Pack for multiple seasons, as weather can fluctuate. 

Use BookOutdoors for your next outdoor vacation to Pennsylvania!
Plan Your Next Pennsylvania Camping Trip With BookOutdoors
BookOutdoors has made planning your next camping, glamping, or RV trip to Pennsylvania easy. Find your perfect vacation with the easy-to-use booking tool and search engine while earning points. Book Now with flexible cancellation and payment options!