North Dakota campers, glampers, and RVers can expect an unforgettable experience traveling through the state. With the expanse of the Great Plains, towering mountain ranges, and scenic highways dotting the horizon, the road to your camping destinations along the way ensures there is never a dull moment. 
The state offers travelers a menu of activities throughout the year. Camping opportunities are nearly endless, with more than a dozen state parks plus a national park. From summer fishing to winter skiing, North Dakota has something of interest to everyone. 
Best Campgrounds in North Dakota
Campgrounds throughout North Dakota offer numerous opportunities to get close to nature and take advantage of the many activities available to campers. Campers have choices in campsites from traditional tent setups with access to facilities, picnic areas, a fire ring, and access to hiking, fishing, and canoeing. There are also campgrounds with backcountry camping where amenities are limited, but those choosing this option offer more privacy, no crowds, backpacking along miles of trails, and unlimited wildlife viewing.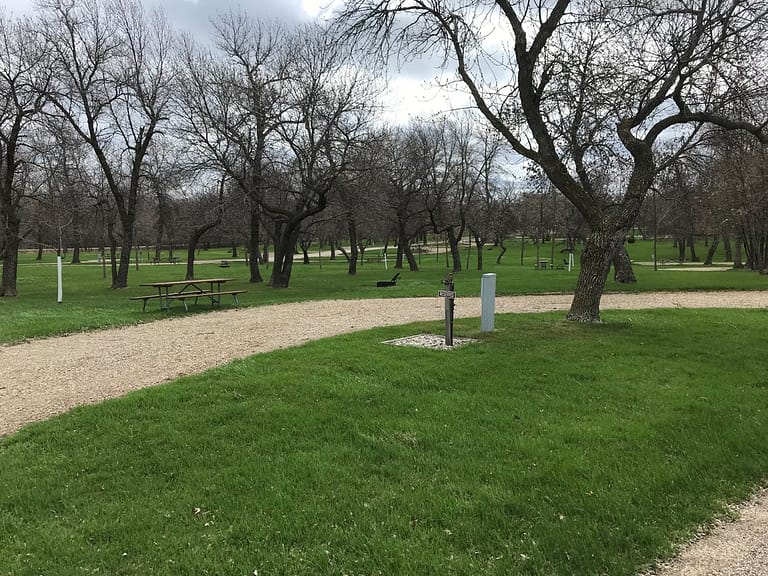 Grahams Island State Park is located on the ever-changing shores of Devils Lake. This hidden treasure is heavily wooded and surrounded by miles of lakeshore.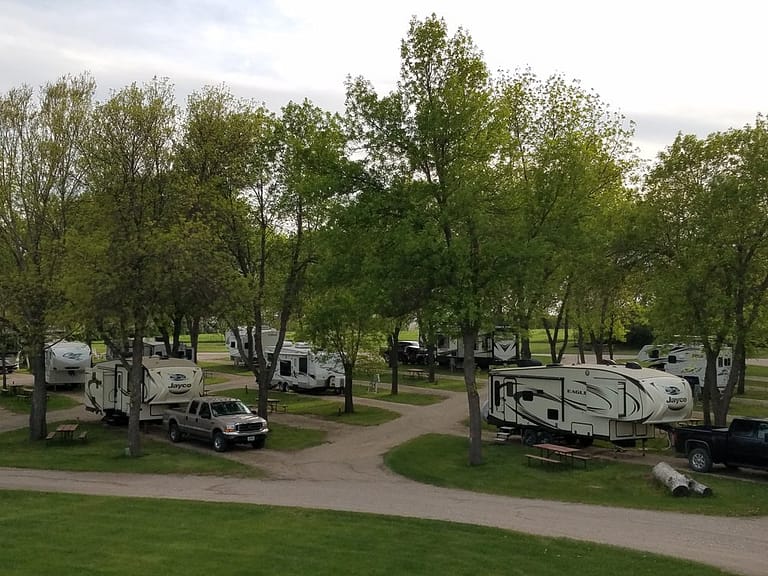 Jamestown's Best RV Park. We have long pull-through sites with full hook-ups (30 & 50 amp), water and electric (30 & 50 amp), or just electric (30 amp).
Riverside Campground is located in the Walhalla city park. With a swimming pool, playground and picnic shelter, it offers a great camping option for families.
Glamping in North Dakota
Think glamour and camping, and it equals glamping, which is another way to say travelers are camping in style. Glamping provides extra luxuries that travelers don't have access to when staying at standard campgrounds, cabins, or RV parks. 
Glampers can expect a camping experience that allows getting back to nature but in total comfort. Accommodations include yurts, canvas huts, pods, cabins, and bell tents fitted with exceptionally comfortable bedding, television, electricity, bathrooms with showers, coffeemakers, and in some places, a full kitchen, sofas, and lofts.
RV Parks in North Dakota
RV travelers have the best of both worlds. They are exploring and taking in the sights at their own pace and having a place to stay at all times at quality RV parks throughout the state. The parks offer a great place to interact and socialize with other RVers and enjoy various amenities. RV parks have access to sites with full hookups, including water, sewer, and electricity. A park may also offer a dining area, general store, swimming pool, playground, laundry facilities, and scheduled events.
Cabin Camping in North Dakota
Campers have individual preferences when it comes to enjoying the "great outdoors." For some, setting up a campsite in the backcountry is their ideal vacation. For others, traveling from destination to destination in an RV is their preference. Cabin camping is the perfect solution for travelers who want to stay in a beautiful environment but prefer to be indoors versus a tent. 
Cabin camping offers a variety of sizes, from single cabins to those perfect for larger groups. Cabins are fully furnished and feature all the benefits of home, such as full kitchens, air conditioning and heating, fireplaces, TV, and wi-fi.
Pet-Friendly Campgrounds in North Dakota
Many travelers don't leave home without their pets. Whether a dog, cat, or other cuddly creature, North Dakota has campgrounds where pet friends are welcome. At pet-friendly campgrounds, pets may be allowed on hiking trails as long as they are safe and secure on a leash. Some campgrounds that welcome canines have the added convenience of a designated dog park for pet parents to exercise their pups.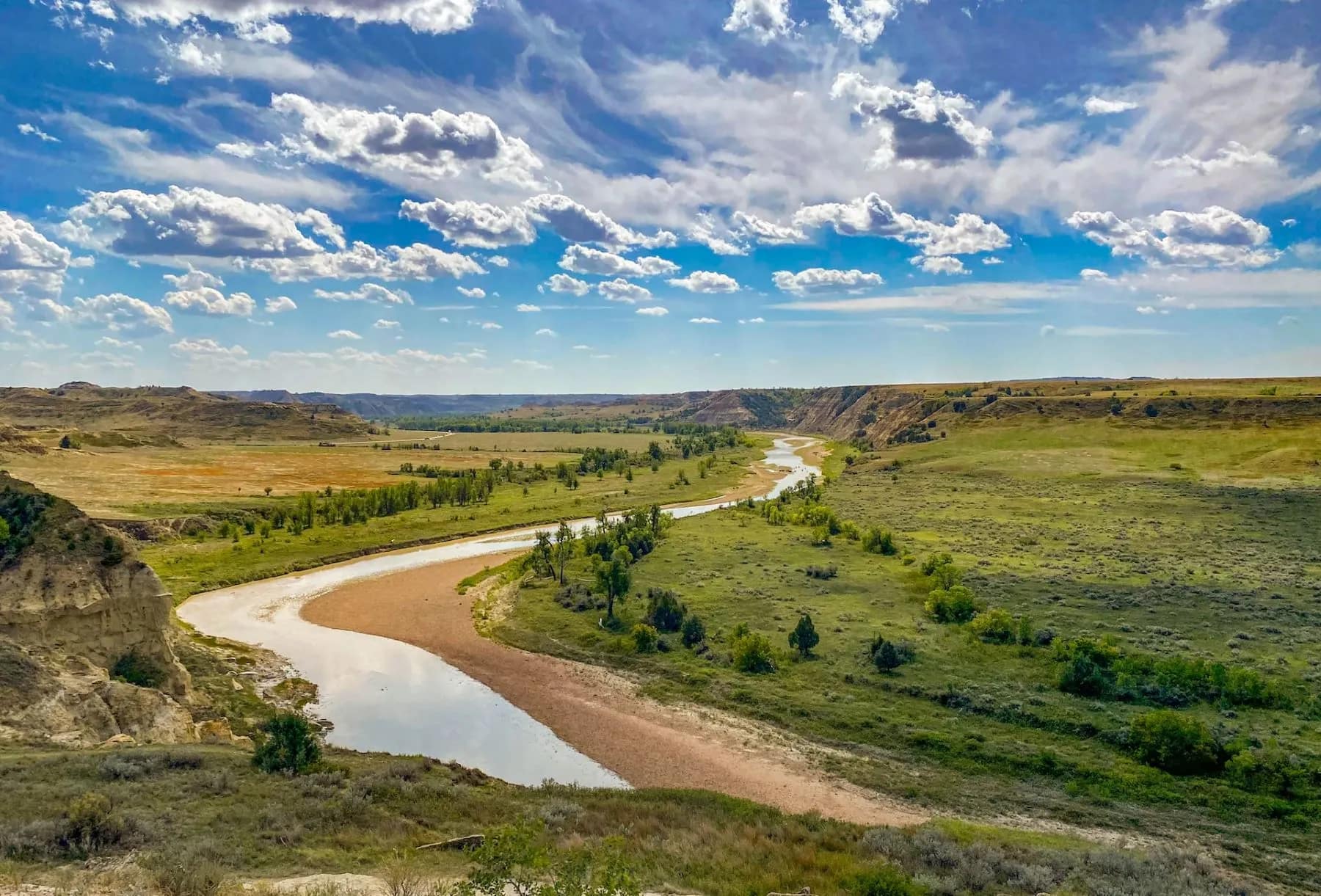 National Park Camping
North Dakota has many parks with camping options to capture travelers' attention while exploring the state. Whether having an outdoor adventure in a national park with historic sites or visiting one of the many state parks, activities abound, from hiking, biking, fishing, kayaking, and swimming, to snowshoeing and sledding, and cross-country skiing. 
Parks in North Dakota offer various camping options, whatever the season and reason for visiting the Peace Garden State.
Theodore Roosevelt National Park was given national park status on November 10, 1978. The park has over 70,000 acres and various plants and animals. Visitors to the park have over 100 miles of trails to explore by hiking or horseback. 
Within the park, Juniper Campground offers camping sites for traditional tent camping year-round. Group camping is available only from May through September. Potable water, flush toilets, and staff are available seasonally. There are no hookups. When cooking, there are restrictions for fires and stove usage. This campground is the perfect stop for those who want to experience a more primitive camping experience. While staying, campers can take advantage of many activities, including hiking, biking, fishing, kayaking, canoeing, snowshoeing, and cross-country skiing. 
North Dakota State Park Camping
Besides camping locations for tents, backcountry campers, and RVers, Fort Ransom State Park has several options to choose from as a home base. The park has two yurts near the trail system fitted with lofts and comfortable beds. The Percheron Wagon is reminiscent of an old-time wagon equipped with modern conveniences. The vintage Bjone House dates to 1879 and is ideal for larger groups. The house has three bedrooms, a full kitchen, private bathroom and offers scenic views of the river. 
At Cross Ranch State Park, yurt rentals and choices in cabin types provide multiple options in accommodations. To experience a Native American lifestyle from the past, choose the 18-foot teepee with access to the Missouri River. The park has the four-mile Old Village Trail to explore and a boat ramp for those traveling with watercraft. An added benefit is live music playing throughout the park at designated band shelters.
Open year-round, Lake Metigoshe State Park has a little something for everyone. Guests can stay near the lake or the peaceful backcountry in yurts, cabins, or a lodge that sleeps up to eight. The park features exciting trails, such as the canoe trail that winds for two miles through the wetlands. If glamping during the winter, the park is open for snowshoeing and skiing.
Grahams Island State Park is located on the banks of Devils Lake. Campers are immersed in the lush landscape and heavily treed areas where cool shade, peace, and quiet prevail. Campers have a choice of group, modern, or modern plus campsites. The park provides a variety of activities, including regular fishing and ice fishing, hiking the trails, and exploring the park's well-maintained trails on a cross-country ski or snowshoe excursion in winter.
Icelandic State Park has 912 acres with a list of activities for travelers staying at the campground. While visiting, campers can fish, swim, go boating, enjoy a picnic, kids can play at the playground, and visit historic buildings with exhibits in the summer months. During the winter, campers can take on the challenge of cross-country skiing and snowshoeing or tackle the sledding hill. Modern campsites offer a comfortable stay as each site has water and electricity. For those who prefer traditional camping, primitive sites are available. Pets are welcome, but keeping them on a leash is required. 
BookOutdoors Can Help
When you're ready to plan your vacation itinerary to include the best campgrounds in North Dakota, BookOutdoors is your destination vacation guide. From campgrounds and luxury glamping destinations to RV parks, we help plan your travel time quickly and stress-free. Start planning your North Dakota trip today!