Suppose you're into stargazing, beautiful night skies, and calm and soothing forest breezes. In that case, you should go camping in Michigan. Also known as The Great Lakes State due to the four of the five great lakes surrounding it, Michigan is also an ideal destination for campers and glampers who enjoy water-related activities.
Camping in Michigan has many other options, such as wild mountains, rolling orchards, and wineries. So, if you're a wine lover, you can 'grape' your way through Michigan's camping experience and toast to a wild adventure in the great outdoors. RV lovers are also included among those who should visit Michigan, as many RV-friendly campgrounds and scenic routes cater to their needs and preferences.
So, let's jump in and explore the best times and methods for camping across Michigan.
Best Time for Camping in Michigan
Michigan's climate can be described as mild to moderate summers, thanks to the cooling effect of the Great Lakes, and cold, snowy winters, particularly in the northern regions. If you have a high heat tolerance, consider camping there in late June and early July. The nights are usually so warm throughout August that even sleeping bags aren't necessary. 
If you love snow, winter camping in Michigan will delight you. Despite the temperatures dropping below-freezing point, with the bravery to face the elements and the right gear, you'll discover that camping during this period provides an unforgettable experience. The beauty of the night skies is at its peak during this period, and nature offers peaceful solitude. You could also engage with wildlife like white-tailed deer and snowy owls. Moreover, the campsites usually sold out during the high season will be less populated. If you are introverted, this might be the best time to camp in Michigan.
Best Camping and RV Parks in Michigan
Now that you know when to plan your next camping trip, whether during summer or winter, it's time to look at where you'll stay. With the numerous campgrounds and parks surrounded by beautiful lakes and forests, you are assured of a scenic getaway. Whether you prefer waterfront camping, access to hiking and biking trails, or family-friendly activities, the camping and RV parks here provide an ideal opportunity to connect with nature and enjoy the state's natural beauty.
Moreover, the campsites and amenities are well-maintained, and the recreational facilities here have activities suitable for everyone. So there's a high probability there's a campsite there, which is perfect for you in the Great Lakes State.
Best RV Parks in Michigan
When traveling with an RV, a tiny home on wheels, you'll need to prepare before your journey to avoid minor inconveniences, such as the RV breaking down. Ensure your RV has undergone its routine maintenance and is roadworthy. Moreover, pack enough kitchen essentials, clothing, and food enough for the duration of your stay.
RV parks in Michigan offer travelers a memorable experience. From state parks to private campgrounds, there are numerous options. Many parks here provide picnic areas, playgrounds, swimming pools, and laundry facilities. The scenic beauty, combined with the convenience and comfort of these RV parks, ensures a delightful vacation in the great outdoors of Michigan.
Take a look at these fantastic RV parks in Michigan!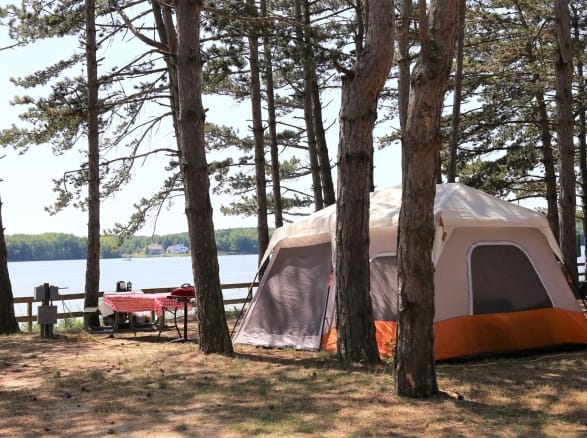 When you need to get away from it all, there's no place quite like Wolverine Campground. Nestled on the north shore of the Holloway Reservoir, Wolverine offers the serenity, natural splendor and family-friendly fun you'd expect to travel hundreds of miles to find. Whether you'd rather rough it or bring along a few modern conveniences, you'll find great camping just the way you like it. Getting away doesn't have to mean going far away, not when mid-Michigan's best camping is just around the corner at your Genesee County Parks.
Acres of woodlands and a pristine lake bring you a whole new world of relaxation right here in West Michigan. We feature 813 wooded acres with a 262 acre lake, sandy beach, two ice cream shops, pizza shop, breakfast café, indoor/outdoor pools, 13 heated restrooms with hot showers, laundry, 18 hole golf close by, mini golf, volleyball, playground, paved roads, 24 hour security, a chapel with Sunday services. Our campsite features paved roads to large sites with water, electricity and cable tv hook ups. Non camping guests can enjoy cabin or RV/Park Trailer rentals at our resort.
Sturgeon Valley Campground is located on 111 acres in Wolverine, Michigan. Leave Sturgeon Valley Campground on your canoe, kayak, or tube for some of the finest river floating in Northern Michigan. We are also close to the Pigeon River. We have tubes for rent and will gladly take you up stream to enjoy floating back to our campground. We feature 30 amp hookup sites along with restrooms, playground, laundry facilities and an on site store. Whether it's for a short or long term stay, we hope to see you soon!
Best Camping in Michigan
Michigan offers a wide range of options for tent campers, with over 100 state parks and recreation areas that provide designated tent camping areas. The camping areas are either public or private. The government owns the public ones, such as state parks and national forests. These campgrounds often provide amenities like picnic tables, fire pits, and access to water sources. Moreover, they usually have regulations and permit systems to ensure responsible use and protect the natural environment.
Private ones are owned and operated by individuals or private companies. They generally require reservations and offer a range of amenities and facilities, such as electrical hookups, water connections, and modern bathhouses with showers and toilets. So whether you visit a public or private camp spot, you are assured of a comfortable stay. The amenities provided are guaranteed to enhance your camping experience. Plan your next tent camping adventure in Michigan and experience nature's beauty while creating unforgettable memories.
Glamping in Michigan
Suppose camping or RVing isn't your cup of tea. In that case, you'll love glamping, as it provides a unique blend of luxury and nature, providing a more comfortable and glamorous camping experience. The many natural attractions like Lake Superior, Lake Michigan, and the Northwords provide fantastic sceneries when glamping in Michigan.
The glamping sites provide beautifully designed and furnished accommodations, such as safari tents, yurts, cabins, or treehouses. This allows guests to immerse themselves in nature without sacrificing luxury. The campgrounds also provide comfortable beds, private bathrooms, stylish interiors, and other amenities like hot tubs or private decks. A perfect balance between indulgence and the tranquility of the natural surroundings is created with the availability of these options. Luxury glamping is, therefore, the ideal option for you if you are seeking a unique and pampering outdoor retreat in the breathtaking landscapes of Michigan.
State and National Parks in Michigan
Michigan has so many state and national parks that each county has one of its own. It is home to five national parks offering outdoor recreation, wildlife viewing, and exploring unique ecosystems. Moreover, it has 74 state parks meaning you'll have numerous camping options. Here are some of them;
Isle Royal National Park
If you are a nature lover and wilderness-seeker, look no further than the Isle Royal National Park. This park sits on a 207-acre island and is Michigan's only remote national park. Its remoteness makes it a hidden gem for those seeking an immersive natural experience. Moreover, the park has no roads and limited visitor access; this creates a sense of peacefulness rarely found elsewhere. If you are a wildlife lover, you can spot elusive moose, wolves, and foxes – roaming freely in their natural habitat.
Tahquamenon Falls State Park
Known for having the 2nd most wide waterfall in the Easter US, Tahquamenon Falls State Park has captivated visitors for years. This park has many recreational options, is on 52,000 acres, and stretches over 13 miles. Whether you're a nature enthusiast or an adventure seeker, this park is a must-visit. The campgrounds offer overnight stays and well-maintained facilities, including tent and RV camping sites.
Pro Tips for Camping in Michigan
Now that you know where and when to go, it's time to learn some tips to enhance your outdoor ventures. After learning these tips and tricks, you'll be ready to vacation to Great Lake.
Plan and reserve your campsite in advance, as Michigan camping destinations usually fill up quickly, especially during peak seasons. Follow this rule to the letter to ensure you get all the benefits!

Take precautions when winter camping, and pack the right gear, as failure to do so will lead to extreme cases of hypothermia.

Leave your campsite as you find it to minimize your environmental impact. Moreover, respect the rules and regulations of the campsites you visit. Always ask about their pet policies and parking guidelines.

Be cautious of wildlife, as Michigan is home to diverse wildlife such as black bears and coyotes. As rare as dangerous wildlife encounters are, it is safer to be safe than sorry. So keep a safe distance and avoid approaching or feeding wildlife.
Embark on Your Next Camping Adventure With BookOutdoors
If you are planning a vacation to Michigan, then start with BookOutdoors. BookOutdoors simplifies the booking process, so you don't just show up at a campground hoping there's a spot for you. Whether you prefer tent camping, RV camping, or glamping, BookOutdoors provides ideal locations for every need. Membership or booking fees are also not required, and reward programs are available for regulars. If you want to favorite a desired site, the "book now, pay later" option simplifies this.
Start your Michigan vacation with BookOutdoors — the hassle-free way to book your perfect camping experience.