Massachusetts is perhaps most well-known for its sports teams, fresh seafood, and its infamous role in history (Would you like a spot of tea?). The best camping in Massachusetts is at your fingertips when planning a getaway. This article details why we think you should visit this New England state for your next outdoor adventure.
Introduction to Massachusetts Camping
The Old Colony State has so much more to offer than the bright lights of its most notable city, Boston. For those who love the outdoors or just want a break from the normal annual vacation destination, New England's most populated state offers several amazing camping opportunities, such as:
Oceanfront Cape Cod campgrounds

Woodland escapes in the Berkshires

RV parks not far from Boston

Glamping it up in the islands of Boston Harbor
Whether you consider camping a serious, no-amenities affair or enjoy glamming it up in the creature comforts of five-star accommodation, Massachusetts camping has a spot for everyone.
Best Camping in Massachusetts
If you're entertaining the idea of camping out in Massachusetts, campsite accommodations might be the deciding factor. Knowing what types of camping are available might help you decide if a campground stay is in your future or if a luxury cabin with all the creature comforts of home is in the cards.
Tent camping
As old as camping itself, tent camping lets you get back to basics and fully immerse yourself in nature. While some campgrounds offer some of the amenities of home, such as WiFi or television station access, many Massachusetts campgrounds offer primitive campsites with no amenities whatsoever—aside from gorgeous views—or rustic cabins that may or may not be equipped with electricity. These types of accommodations are the perfect answer if you need to disconnect—from work, city life, social media, or all the above.
RV
RVing in Massachusetts provides diverse and scenic options, from coastal escapes to forest retreats. Campgrounds range from state and national parks to private resorts, offering a variety of experiences. Whether you're drawn to beaches, fall foliage, or historical sites, Massachusetts has something for all RV enthusiasts. Plan ahead and make reservations, especially during peak times, to fully enjoy the state's natural beauty and cultural attractions on your RV adventure.
Glamping
Glamping in Massachusetts offers luxurious camping experiences in scenic natural settings, featuring options like waterfront yurts and cozy cabins. If the mere mention of rustic accommodations sends a shiver up your spine, conjuring images of spiders, bears, and a lack of internet connectivity, glamping in Massachusetts might be the option for you.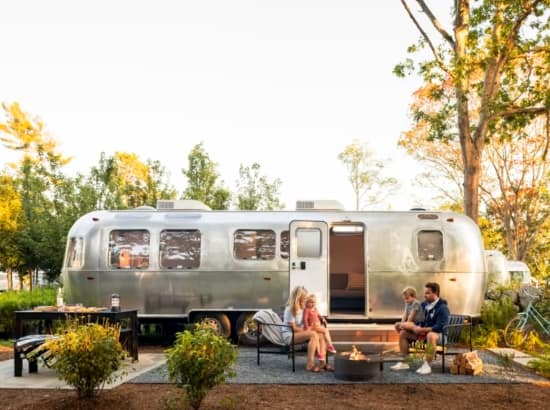 AutoCamp Cape Cod is a picturesque glamping destination located in the charming coastal town of Falmouth, Massachusetts. The property offers a range of beautifully-designed accommodations, including luxurious tents, sleek Airstream trailers, and spacious cabins.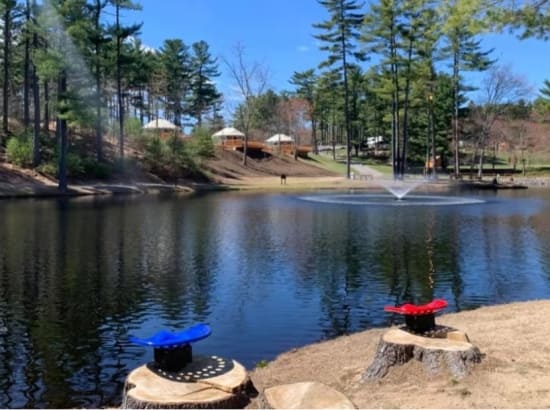 Normandy Farms Campground is nestled deep in the woods between Boston and Cape Cod in Foxboro, Massachusetts. Normandy Farms is a luxury camping destination that has been a family tradition since 1971 and has been widely recognized as one of the premier resorts in the world.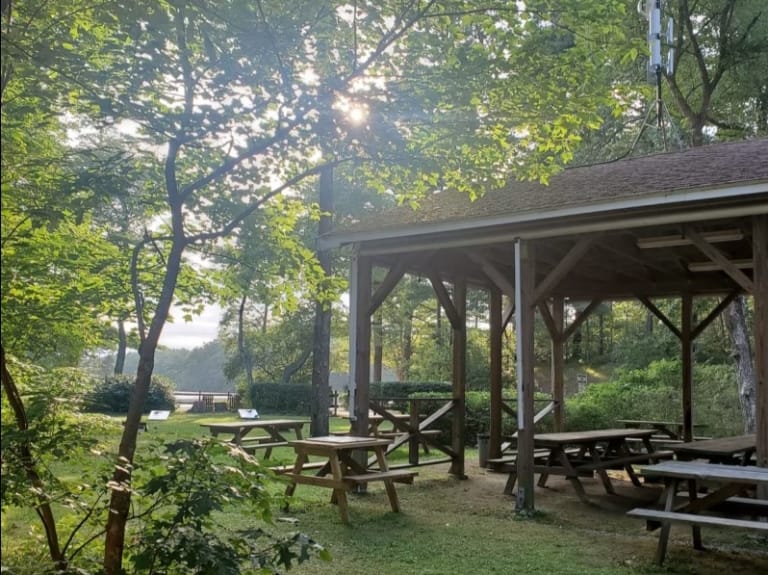 Pinewood Lodge Campground is nestled in 200 acres of white pine forest. There are 300 beautifully shaded sites, some in secluded tenting areas and others with full facilities for almost any size rig. We are located on a 50-acre freshwater lake that encircles a six-acre island.
What Are Some Popular Parks in Massachusetts?
Massachusetts is home to several exceptional state and national parks, each offering unique natural beauty, recreational opportunities, and historical significance. Popular camping destinations in Massachusetts include:
Located on Cape Cod, Nickerson State Park is known for its pristine kettle ponds, hiking trails, and camping facilities. It's a great place for swimming, fishing, and exploring the Cape's natural beauty.
This park celebrates the birth of the American Industrial Revolution and features historic sites and trails along the Blackstone River in Massachusetts and Rhode Island.
This unique park features a dramatic, chasm-like rock formation that's ideal for hiking and exploring. There are also picnic areas and a visitor center.
Stretching along the Cape Cod shoreline, this national park offers pristine beaches, scenic dunes, historic lighthouses, and extensive hiking and biking trails. It's a haven for nature enthusiasts.
Best Time of the Year for Camping in Massachusetts
The best time for camping and RVing in Massachusetts largely depends on your preferences and what activities you'd like to enjoy during your trip. Massachusetts experiences all four seasons, so the timing can significantly impact your experience. Here's a breakdown of the camping and RVing seasons in Massachusetts:
Spring (April to June)
Spring is a great time for camping and RVing in Massachusetts when the weather starts to warm up.

The trees and flowers begin to bloom, making for beautiful scenery.

It's an excellent time for hiking and enjoying outdoor activities without the summer crowds.

Be prepared for some rain and potentially cooler temperatures, especially in April.
Summer (June to August)
Summer is the most popular time for camping and RVing in Massachusetts due to warm weather and longer daylight hours.

This season is perfect for swimming, boating, and water activities at parks with lakes or coastal access.

Many campgrounds and RV parks can be busy, so reservations are often necessary, especially for popular destinations.

Be prepared for occasional hot and humid weather, especially in July and August.
Fall (September to November)
Fall is a favorite season for many campers in Massachusetts due to the stunning foliage as leaves change color.

It's ideal for hiking, photography, and enjoying the crisp, cool air.

Fall is less crowded than summer, offering a quieter and more peaceful camping experience.

Be prepared for chilly nights, especially in October and November.
Winter camping and RVing are possible in Massachusetts, but it's not as popular due to cold temperatures and snow.  
Ultimately, the best time to go camping and RVing in Massachusetts depends on your preferences. If you enjoy warm weather and water activities, summer is the prime season. If you prefer cooler temperatures and colorful foliage, consider a fall trip. Spring and early summer offer pleasant weather with fewer crowds. Winter camping is an option for those who enjoy winter sports and don't mind the cold. Just be sure to plan and pack accordingly for the season you choose.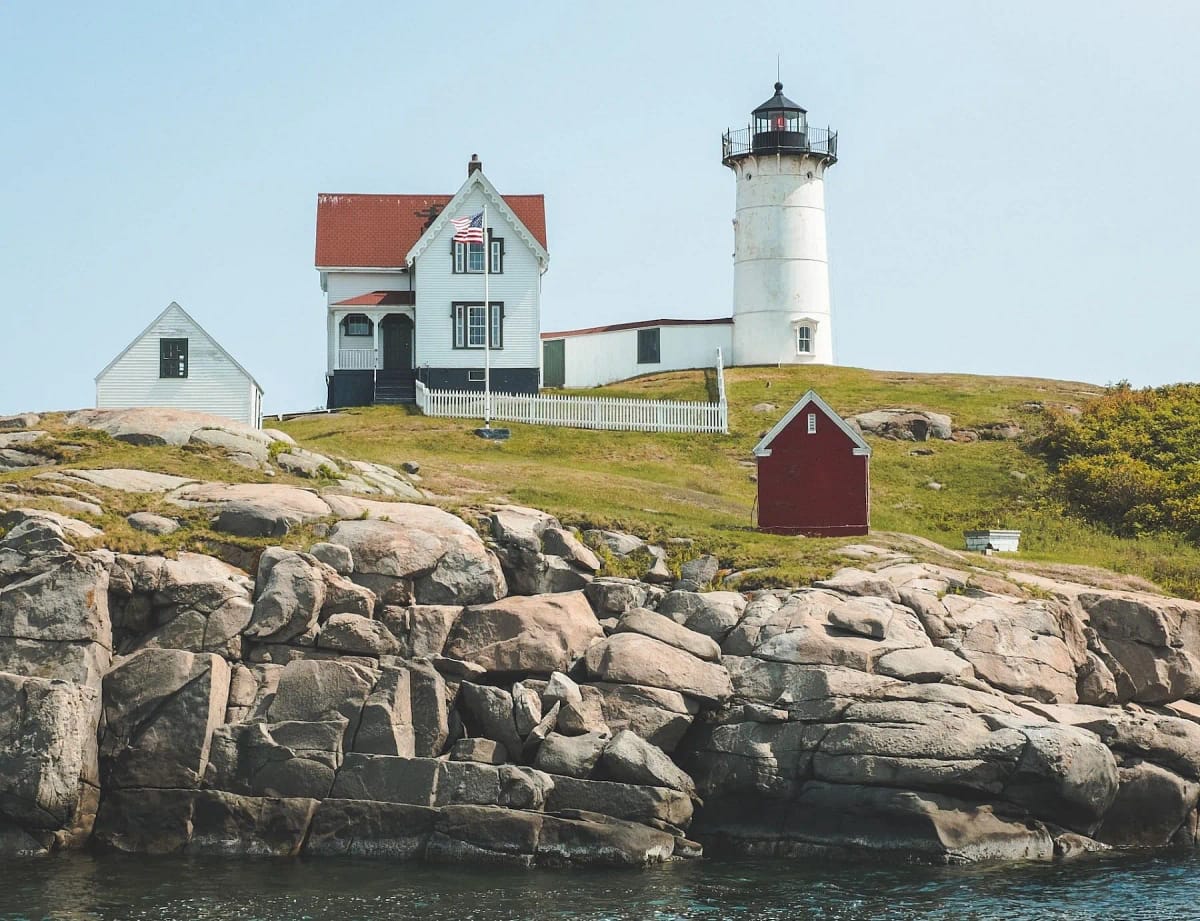 Plan Your Next Massachusetts Camping Adventure with BookOutdoors
What makes Massachusetts a great destination for camping? Aside from some of the best baseball and seafood, camping in Massachusetts means reconnecting with Mother Nature. Outdoor activities in Massachusetts abound and do not disappoint. Hiking, biking the trails, or spending time on or near the waters of Cape Cod Canal, the Charles River, or Henry David Thoreau's famous Walden Pond are just a few activities nature lovers will adore.
Book your next adventure now or contact us with any questions or concerns.