Affectionately referred to as "America in Miniature," Maryland is home to significant American history, including the birthplace of the national anthem and the gateway to the Harriet Tubman Underground Railroad Scenic Byway. It's also home to a diverse landscape, from bays and beaches to forests a short distance from Washington, D.C. To plan the ultimate outdoor adventure, check out this guide to camping, glamping, and RVing in Maryland. 
Best Time of The Year for Camping in Maryland
Maryland has a four-season climate with cold, snowy winters and rainy springs with plenty of sunshine and warmth in between chilly days. Summer weather frequently features high humidity, and the warmest months are June, July, and August. September remains quite warm, while October and November are often sunny, with gradually cooling temperatures and frosty nights. If you prefer mild weather for camping, consider the spring or fall, as most campsites are open from late April through October. In the fall, temperatures drop, but you'll enjoy brilliant fall colors. 
Best Camping and RV Parks in Maryland 
From family-owned farms and privately-operated campgrounds to state and national parks, you'll find an array of camping and RV parks in Maryland. Head to the Chesapeake Bay shorelines, stroll the boardwalks of Ocean City, or experience the serenity of a forest. Sites range from primitive settings without drinking water to full hookups and cozy cabins. Retreat centers are also available for larger groups seeking a getaway. Check out some of these wonderful options. 
Best RV Parks in Maryland
Your RV is a great way to explore the diverse landscape of Maryland. Park right outside of Washington, D.C. or drive the scenic byways of the Chesapeake Bay. You can even park your RV at a local winery!  
RV parks throughout Maryland range in amenities, although most sites have full hookups available. Experience resort-style living in privately-owned parks with pools, miniature golf, and even outdoor theaters and on-site cafes, or opt for a simpler setup. Whatever your preference, consider one of these RV parks for your next trip. 
Best Tent Camping in Maryland
Throughout Maryland, you'll find both private camping offerings and public options run by state and national park services. Tent camping is a great way to explore the outdoors, whether it's the salty ocean air or the scents of a quiet forest. Unplug with no cell service or set up near Ocean City's famous boardwalk and beach. 
Weather can be unpredictable in Maryland, and rain can appear suddenly throughout the region. With that in mind, be sure to plan ahead and pack rain gear if you're tent camping. For further recommendations, check out one of these sites.
Our family campground opened in 2020 and we continue to expand every year! Our luxury cabin rentals and family cabin are available year-round and we have nearly a hundred RV full hookup sites available! Come and enjoy a getaway while enjoying our 54 acres, 10-acre lake, great fishing, and kayaking/paddle boating! We have two state parks, both with lakes, only 15 minutes away.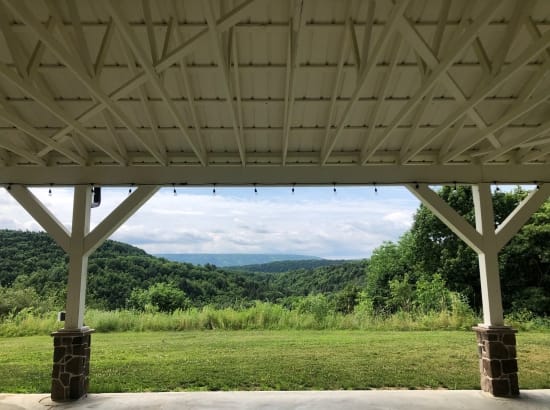 Pocono Point RV & Campground offers a truly unforgettable vacation experience, where you can enjoy the culture of historic Jim Thorpe any time of year. Our camping near Pocono Mountains offers an array of stay types like full-hookup RV sites, cozy cabins, as well as the authentic experience of rustic tent camping.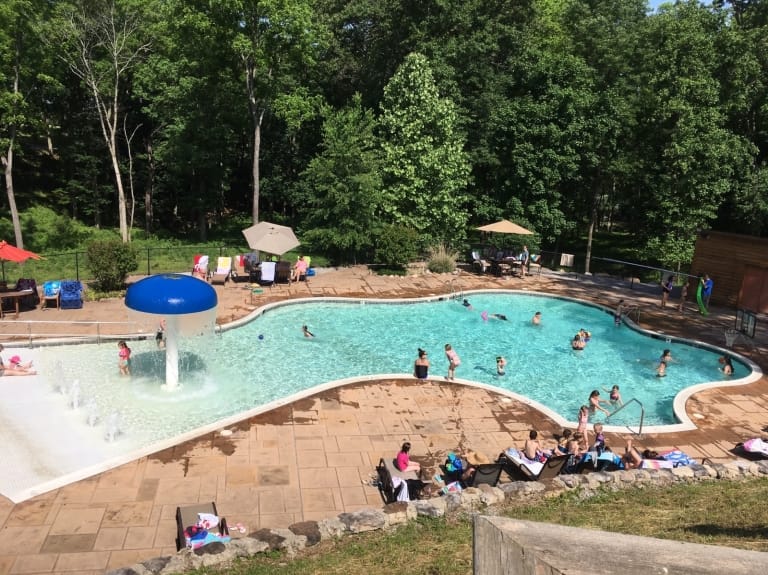 Discover our beautiful mountainside campground situated on 265 acres in the Shenandoah Valley. Adventure awaits on this vacation as you experience a subterranean tour of our "Endless Caverns" or stay above ground to traverse plenty of breathtaking hiking trails. Soak up the sun while relaxing or splashing at the pool and cap it off with what guests often describe as the best night of sleep ever.
Best Glamping in Maryland 
If you're craving the great outdoors with the comforts of home, glamping might be your answer to connecting with nature. Most glamping sites throughout Maryland offer a comfortable bed in private quarters, while others may feature additional creature comforts and amenities. Consider one of these sites for your next stay. 
State and National Parks in Maryland
In addition to the private camping, glamping, and RV options Maryland has to offer, Maryland is also home to 18 National Parks and 60 State Parks with historical significance and rich landscapes. Whether you're craving beachfront camping or a quick weekend out of the city, these parks are the perfect site for your next Maryland vacation. Although amenities are not as extensive as privately-owned facilities, the connection to nature is unparalleled. Consider one of these when planning your trip. 
National Parks 
Maryland is steeped in American history and home to historic battlefields, parks, and ancient trails. Although not all of these sites offer camping, countless acres are up for grabs. For the best camping options in Maryland's National Parks, check out these parks. 
Catoctin Mountain Park 
After the Great Depression, emergency relief agencies such as the Works Progress Administration and the Civilian Conservation Corps were created in an effort to help people rebuild. Through these program's efforts, parks such as Catoctin Mountain Park were given a second life and made into recreation areas still used today. Today, it is a 5,770-acre park with stunning vistas, fabulous hiking, and camping options for all. Choose from campground sites, Adirondack shelters, or three-cabin rental camps, including Camp Greentop for larger groups.  
Greenbelt Park 
Pitch your tent just 10 miles outside of Washington, D.C., in Greenbelt Park. Choose from 172 campground sites, nine miles of trails, and three picnic areas just miles from city life. Enjoy a campfire program or explore the trail system. Year-round camping is available, but be mindful of cool temperatures if traveling outside of June, July, and August. 
State Parks 
Choose from 2,000 campsites or 120 full-service and camper cabins throughout the Maryland parks system. You can select a site with electric, sewer, and water hookups or go off-grid in a state forest. Reservations can be made up to 12 months in advance of the date of arrival. A minimum of a two-night stay is required from Memorial Day weekend through Labor Day, while holiday weekends require a three-night visit. Consider one of these parks for your next trip to Maryland.  
Assateague State Park
Venture to Assateague State Park for Maryland's only oceanfront State Park. Located on Assateague Island, this park offers both ocean and bay access with its position between the Atlantic Ocean and Sinepuxent Bay. Ride the ocean waves or enjoy a canoe or kayak ride on the bayside. The marsh areas also offer varied wildlife viewing, such as Assateague's resident wild ponies. For camping, choose from 342 sites equipped with fire rings and picnic tables. Electric hookups are also available, and reservations can be made the last week of April through the last weekend of October.
Big Run State Park
To get back to basics, head to Big Run State Park. With no cell service or drinking water, Big Run is for hearty campers seeking primitive conditions and seclusion. What the park lacks in modern amenities, it makes up for in outdoor activities with easy access to fishing, kayaking, and hunting. It's also a great site to enjoy fall foliage in autumn. Reservations are required, but same-day reservations are not available, so plan ahead. 
Pro Tips for Camping in Maryland
Now that you've chosen your camping, glamping, or RV destination, here are some tips to keep in mind! 
Reservations at state parks require a two-night minimum stay in the high season and must include either a Thursday/Friday, Friday/Saturday, or Saturday/Sunday stay.

Check pet policies before booking if traveling with your furry friends.  

Come prepared for humidity in the warmer months with bug spray in tow. 

Rain storms may occur, so pack and plan accordingly. 

Book your next trip with BookOutdoors for the best tips and tricks! 
Plan Your Next Maryland Camping Trip With BookOutdoors
Whether you're cozying up in a cabin or sidling up to the shoreline, BookOutdoors can help you plan your next outdoor adventure to Maryland. With flexible payment options and cancellation policies, BookOutdoors is the best choice for planning your next trip. Book now and earn rewards along the way!