Known as The Lighthouse State due to its historic lighthouses, a Maine vacation is an exceptional experience any time of the year. From colorful fall foliage and fresh seafood to whale watching and more than 60 lighthouses to explore, travelers can expect a memorable vacation.
Visitors heading towards the East Coast and the state of Maine can unwind, relax, explore, and discover all that the state has to offer when staying at campgrounds in Maine. Choose the type of accommodation you prefer with choices, such as glamping sites and RV parks in Maine to public and private campgrounds. Camping options are plentiful, and there are a variety of attractions and things to do wherever your RV may go.
Best Time of Year for Camping in Maine
The summer is Maine's peak season providing mild and traveler-friendly weather for activities at the parks, offshore islands, and coastal beaches. From September to November, Maine produces cooler temperatures and a colorful palette of fall leaves. Winter is lovely and transforms Maine into a desired destination for snow skiing. 
Best Camping and RV Parks in Maine
Enjoy the scenery and the cool sea breezes when booking a campsite in Maine. Whether pitching a tent, rolling into a pull-through RV site, or pampering yourself with a luxury yurt, treehouse, or tent, Maine camping sites offer travelers a menu of amenities and features to ensure they have what you need when they need it. 
Best RV Parks in Maine
RV parks in Maine offer travelers a variety of camping environments, such as staying at a secluded campsite in the forest and quiet sites near a lake to camping areas overlooking the Atlantic Ocean and the beach. Whether you are looking for a family resort or an adults-only destination, RV camping in Maine has something for everyone.
Some of the best RV parks in Maine provide amenities, such as heated pools, modern bathhouses, a private boat launch, hot tubs, children's playgrounds, onsite cafes, laundry facilities, and a game and recreation area. Pull-through sites in scenic spaces provide full hookups, electricity, water, and dump stations, so travelers have everything needed all in one place.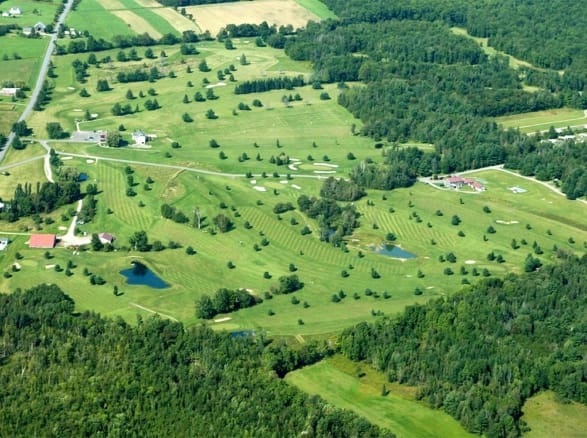 Just minutes from I-95 and Moosehead Trail, we are the perfect hub for a variety of Maine vacations. Enjoy the peace and quiet of a beautiful campground while venturing out to area attractions like Acadia & Bar Harbor, Bangor Waterfront, Waterville Opera House, Skowhegan State Fair, and Moosehead Lake. Come home to well-appointed RV spots or cozy wooded campsites, acres of outdoor recreation, and plenty of family fun!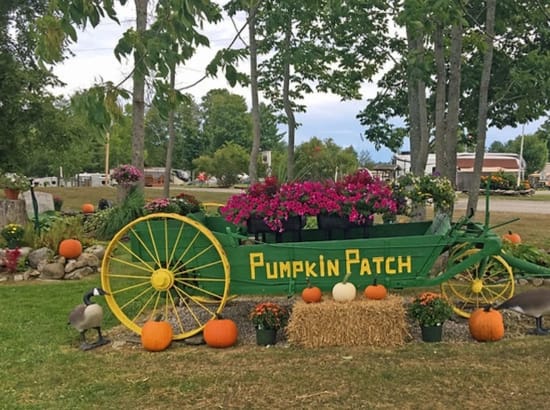 The Pumpkin Patch RV Resort, "The friendliest RV resort in New England" provides a quiet and relaxing country atmosphere. We are within driving distance to many coastal areas including Rockland, Camden, Castine and Bar Harbor. Maine boasts of many more than 60 lighthouses, many of which can be accessed by car. Historical attractions, sporting stops, and shopping outlets are available nearby.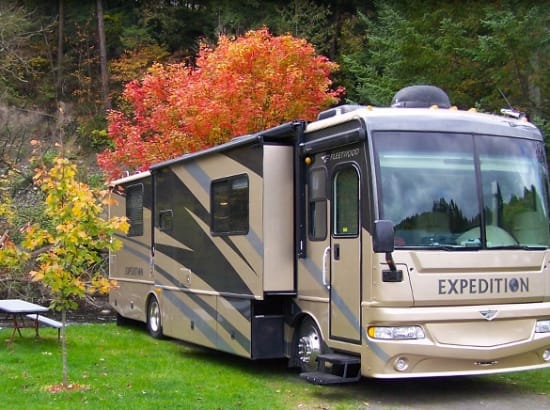 Moose River Campground, located in the Saint Johnsbury, Vermont maple country, is here to cater to your camping comfort and enjoyment. Our spacious campsites are nestled along a curve of the Moose River, a rocky, scenic river originating high in the hills of East Haven, Vermont. We are the perfect place to base yourselves while touring the many attractions in our area.
Glamping in Maine 
There's tent camping, backcountry camping, and RV camping, and then there's glamping: a combination of camping and home comforts with elegance, style, and an assortment of amenities. Glamping Maine offers several destinations to consider that allow you to enjoy your stay your way. 
Set up your campsite where serenity rules, surrounded by lush landscapes and tall trees. For luxury accommodation, choose beautifully designed and accessorized glamping tents. Other options include a glass hut, a cozy cottage, a treehouse, or an Airstream.
Booking a glamping site offers many amenities, such as a heated swimming pool, a general store, a kid's playground, laundry facilities, rental kayaks, and canoes. Some glamping destinations include scheduled events, games, and onsite dining. 
State and National Parks in Maine
If visiting national parks is part of your vacation itinerary, Maine has four, each with something interesting to offer its visitors. Along with Acadia and Katahdin there's Saint Croix Island International Historic Site, and Waters National Monument. State parks are plentiful in Maine. Explore the scenery, hike the trails, swim, fish in the lakes, and discover the fun of snowmobiling in winter. The state has 32 parks and over 500,000 acres preserved for fun-filled activities, excitement, and relaxation.
Acadia National Park
Acadia National Park has just what an outdoor enthusiast is looking for when camping in Maine. Within its 50,000 acres, visitors can enjoy 33 miles of scenic highways, another 45 miles of carriage roads prepared in winter for cross-country skiing, 60 miles of coastline, and 150 miles of trails for hiking. Snugly situated along the Atlantic Coastline, travelers can access scenic outer islands, where campers can choose among four campsites. Schoodic Peninsula has one campground, Mount Desert Island has two campgrounds, and on the Isle au Haut, a traveler can reserve one of the lean-to shelters. 
Katahdin Woods and Waters National Monument
When visiting Katahdin Woods and Waters National Monument, it's also possible to camp within the area. There are 18 campsites, several three-sided lean-tos, and one of two huts. Depending on the season, campers can enjoy a full day of biking on logging roads, hiking, relaxing on a paddleboard excursion on the Penobscot River or Seboeis River, snowshoeing, snowmobiling, or skiing. Amenities are limited, with most sites equipped with a fire ring, a picnic table, and a pit or vault toilet. Campers also have access to the famous Appalachian Trail.
Cobscook Bay State Park
Cobscook Bay State Park is the place for camping in Maine to enjoy oceanside vistas. Listen as the waves roll in, creating a relaxed atmosphere amid the park's 888 acres. The park offers sites for tents and RVs. While staying, travelers can hike the 1.7-mile trail, go clamming, and visit local attractions, such as the Cobscook Shores parklands and the 191-acre Reversing Falls Preserve.
Sebago Lake State Park
Established in 1938, Sebago Lake State Park is an oasis along Maine's second-largest and deepest lake. The 1,400-acre park has something of interest for everyone of all ages, from hiking the woodlands to relaxing on the sandy beach. Choose from among the park's 250 campsites centrally located so you can enjoy fishing, boating, swimming, and canoeing. 
Pro Tips for Camping in Maine
Staying safe is at the top of the agenda of things to do when going on a camping trip. From hiking trails and rock climbing to water activities and snow skiing, keeping safety in mind goes a long way in supporting safe and happy camping in Maine.
When camping outdoors, use precautions when dealing with a campfire to ensure nothing catches fire. Never leave a campfire unattended.

Always have water available to avoid dehydration when hiking, biking, horseback riding, or other activities. 

Pack a first-aid kit.

If you take prescribed medication, have more than enough to last the entire trip and longer, if necessary.

Wear appropriate clothing, including sturdy shoes and a hat. Both provide excellent protection and stability.

Anytime you are in the sun, wear quality sunscreen to protect your skin and sunglasses to protect your eyes.
Plan Your Next Adventure Trip with BookOutdoors
Don't wait to book accommodations at one of the many popular campgrounds in Maine. Get your itinerary ready and your bags packed, then let BookOutdoors reserve your time and space at your designated place for camping adventures. Be ready to roll to your next travel adventure with a secure reservation with help from BookOutdoors.