Visitors making their way to or through Kentucky are in for a pleasant surprise with the picturesque landscape as a traveling companion. Campgrounds in Kentucky are plentiful whether you plan to pitch a tent, stay at a glamping accommodation, or travel in your RV. Each destination offers a variety of amenities, so you can choose the campground with all the features you need.
Best Time of the Year for Camping in Kentucky
Some of the best time for camping is from April to June, when temperatures are mild and enjoyable for outdoor adventures. From August to September, travelers enjoy nice weather heading into fall. The changing of the leaves can start in September and go through to early November. The winter months have temperatures ranging from the 20s to the 40s, along with chances of rain, but, there's also the possibility of snow for skiing enthusiasts.
Best Camping and RV Parks in Kentucky
Tent camping, primitive camping, RV camping, or glamping, whatever your choice for enjoying the great outdoors, Kentucky has more than a few destination locations to fit your needs.
Best RV Parks in Kentucky
Some of the best RV parks in Kentucky cater to all types of travelers needing pull-through sites and full hookups. The best RV parks in Kentucky also provide assorted amenities, such as fire pits, swimming pools, a dog park, Wi-Fi, cable TV, a playground, laundry facilities, mini golf, and much more. 
Parks are often conveniently located to lakes for fishing, rafting, canoeing, and kayaking, trails for horseback riding and hiking, and near attractions, such as Mammoth Cave, Big South Fork Scenic Railway, Cumberland Gap National Park, and the National Corvette Museum, to name just a few.
Best Tent Camping in Kentucky
Kentucky has plenty of places to pitch a tent nestled among towering trees, expressive rock formations, sandstone arches, and winding trails amid lush landscapes. From spacious tent sites to private and primitive camping areas, Kentucky campgrounds offer experiences for all camping styles. 
You'll find campgrounds next to lakes for easy access to water activities and sites with picnic tables, fire pits, and grills. Some campgrounds have utilities, a pool, laundry facilities, a kid's playground, restrooms, and showers.
Quiet, peaceful campground. Family oriented. Friendly owners who specialize in genuine hospitality. Two miles from the entrance to Mammoth Cave National Park. We are 2.5 miles from I-65 at exit 53. Gorgeous scenery on the way to Singing Hills. Small pond for catch & release fishing. No license required.
The two forks of central Kentucky's Elkhorn Creek join at Elkhorn Creek RV Park to form one of the state's best-known streams for its beauty and fishing, canoeing and kayaking. From the Forks of Elkhorn to its end at the Kentucky River, Elkhorn Creek provides 17 miles of nature and adventure.
Follow the River is one of the best Indiana RV parks to help you map out a fun vacation, with a number of different things to keep you and your family having fun throughout your entire trip. Spend a day fishing, relaxing in the pool, exploring a hiking or bicycling trail, or trying out the jumping pillow, something that kids will love! There is also a free shuttle to the Belterra Casino Resort and Spa.
When looking for camping-in-style locations while traveling in Kentucky that offer all the qualities of home, consider glamping for your next vacation. Whether you're interested in a cozy yurt, luxury cabin, or perched in a treehouse, Kentucky glamping sites provide comfort, convenience, and style.
Glamping is becoming a popular way to travel in style while enjoying the camping experience. Glamping styles vary with small to large domed tents with a kitchenette, modernized Airstreams equipped with everything you need, cottages, bunk houses, tiny houses, and yurts. Travelers can even stay in tipis. Whether you need a small accommodation for two or connected dome tents for a large group, glamping Kentucky sites are available throughout the state.
State and National Parks in Kentucky
Kentucky's state and national parks offer an array of amenities to accommodate different camping options. From tent and backcountry camping with access to restrooms, a fire ring, and trail access to RV sites with water and electric hookups, parks offer comfort and convenience in beautiful settings while exploring area attractions and activities.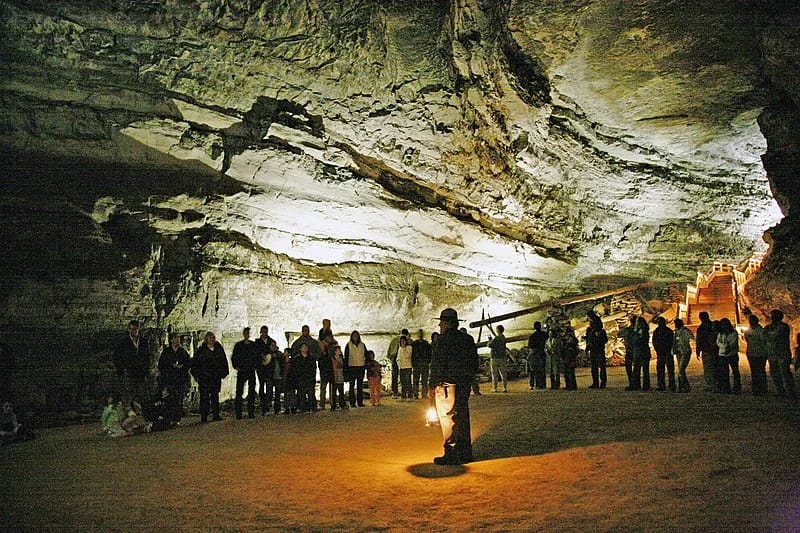 Mammoth Cave National Park
Mammoth Cave National Park is a UNESCO World Heritage Site and the title of International Biosphere Reserve and International Dark Sky Park. The park is 53,000 acres of scenic hills, hardwood forests, and winding rivers. The underground cave system offers 425 miles of mapped trails to explore, and above ground, campers can go hiking, biking, horseback riding, fishing, canoeing, and observing wildlife. Campers can choose backcountry campsites and three campgrounds with designated tent and RV sites. Historic cottages are also available.
Big South Fork National River and Recreation Area
Big South Fork National River and Recreation Area has something for everyone looking for a place to camp. Within South Fork, there are a total of five campgrounds. These include a primitive camping site and two campgrounds with grills, tables, showers, and a restroom. There are also two campgrounds dedicated to equestrians.
Cumberland Gap National Historic Park
Established in 1940, Cumberland Gap National Historic Park is on the National Register of Historic Places. The gap was once a route taken through the Cumberland Mountains by westward-bound pioneers. The park encompasses 14,000 acres, borders three states, and has 85 miles of scenic trails, lush forests, and impressive waterfalls to explore, observe, and experience. Camping options include remote backcountry camping, pull-through and backing-in sites, and tent camping with or without electricity."
Cumberland Falls State Resort Park
Located within Cumberland Falls State Resort Park, the Cumberland Campground offers multiple options for tent camping. Some of the tent locations come with electricity. Cumberland Campground is also pet friendly. Within the park, also known as the "Niagara of the South," you'll see the 125-foot waterfall that casts a beautiful lunar rainbow on a clear night. Within the park, campers have access to 17 miles of scenic hiking and backpacking trails, picnic areas, and fishing in the Cumberland River. You will also enjoy a visit to Cumberland Falls State Park Nature Preserve.
Fort Boonesborough State Park
Fort Boonesborough State Park is a "must-see" for history enthusiasts. The park is named after Daniel Boone, who, along with others, established the settlement in 1775. While visiting, visitors can explore the original site, listen to the historians, and find a souvenir at the gift shop. Activities, when available, include swimming, boating, fishing, birdwatching, walking trails, miniature golf, and picnicking at one of the shelters. There are also fort tours, craft demonstrations, and a look at history at the Kentucky River Museum. Camping is available at 166 sites year-round. Sites have electricity and water hookups, and some have full hookups. Campers can access to showers, laundry facilities, a small grocery store, and restrooms.
Audubon State Park
Audubon State Park in Henderson, Kentucky, pays tribute to artist, naturalist, and ornithologist John James Audubon. Outdoor and wildlife enthusiasts, especially anyone interested in birdwatching, the park is a beautiful oasis. Enjoy miles of scenic hiking trails, fishing, birding, and a trek across the 750-foot boardwalk crossing the Audubon wetlands. There is also the museum with over 200 artifacts and Audubon's original works on display and the Nature Center. There's also a 9-hole golf course for those who wish to play, a tennis court, and four playgrounds.
Choose to book one of the five cozy cottages equipped with a full kitchen and a bathroom, king-size beds, and all linens. If you prefer, the park has 69 campsites with access to showers, restrooms, picnic tables, and grills. 
Pro Tips for Camping in Kentucky
Whenever you plan to travel, taking precautions before you go means a safer trip from start to finish.
Choose the type of camping site that offers the amenities you, or others in your group, may need or require. 

Know what the extended weather forecast is before leaving home. Pack accordingly for situations such as rain or snow or if the state is anticipating unusual weather conditions, such as flooring or tornadoes.

If tent camping, pack and store food once you've finished eating. Do not leave food outside, as it will lure wildlife looking for a meal. 

Stay hydrated whenever you're exploring trails and other remote areas. Also, wear sunscreen to protect against UV rays, sunglasses, and headgear.

If traveling with pets, know if pets are allowed at the sites you've chosen as your camping base. Pets must be up-to-date on vaccinations before being allowed into parks and campgrounds. While camping, always keep your pet on a leash and never leave it unattended outside where it is susceptible to an attack by wildlife.

Bring a first-aid kit, insect repellent, and medication if you are prone to allergies.

If camping solo, always provide a friend or family member with your travel itinerary. Check in periodically, especially if your travel route changes from your original plan.
BookOutdoors for Your Next Camping Adventure
Take your next camping trip to the next level of excitement, adventure, and exploration with a trip to the "Blue Grass State." Book now and secure your space in a state that understands what Southern hospitality is all about. From tours along the Kentucky Bourbon Trail to the mysterious recesses of the Mammoth Caves, we're here to help turn your vacation itinerary into a reality.