Kansas camping provides a unique experience for outdoor enthusiasts, offering prairies, historic towns, and diverse wildlife areas to explore. The Sunflower State boasts picturesque prairies, small towns rich with history, and diverse wildlife areas perfect for tent camping or RVing.
In this blog post, we'll explore the best time of the year to enjoy camping and glamping in Kansas and delve into some favorite campgrounds across the state. We will also highlight national parks and forests within Kansas' borders and provide valuable tips to make your trip unforgettable.
Finally, learn how to reserve your ideal spot at one of the many beautiful Kansas state parks to fully immerse yourself in all these incredible destination offers. Get ready for an adventure through western Kansas, tallgrass prairie preserves, and beyond!
Best Time of the Year for Camping in Kansas
Kansas offers a delightful atmosphere and pleasing climate, making it an ideal destination for camping all year round.
Spring: A Season of Rebirth
Spring is an excellent time for camping enthusiasts who want to witness nature coming back to life after a long winter slumber. From late March through May, temperatures are mild, with daytime highs ranging from 60-75°F (15-24°C), making it perfect weather for hiking and exploring state parks. However, spring also brings unpredictable weather conditions, such as thunderstorms and tornadoes. Therefore, campers should always stay informed about local forecasts before heading out on their adventure.
Summer: Warm Days and Starry Nights
If you're looking forward to warm days filled with outdoor activities like swimming or fishing followed by starry nights around a campfire, sharing stories with friends or family, then summer is the right season. June through August offer hot sunny days averaging 80-90°F (27-32°C), which makes it a great time to visit popular destinations like Milford State Park, where visitors can enjoy water sports at Milford Lake, the largest artificial lake in Kansas.
Fall: A Kaleidoscope of Colors
Autumn is arguably the most picturesque time to go camping in Kansas, as the landscape transforms into a vibrant tapestry of reds, oranges, and yellows. With daytime temperatures ranging from 60-70°F (15-21°C) during September and October, fall offers comfortable weather for exploring miles of untouched prairie land. Remember that nights can get chilly during this season, so pack accordingly.
Winter: A Wonderland for Adventurous Campers
While winter may not be everyone's first choice when it comes to camping due to its cold temperatures averaging 30-40°F (-1 – 4°C), some adventurous souls still find beauty in snow-covered landscapes and quiet solitude offered by off-season campgrounds like Fort Scott National Historic Site. If you brave the elements and venture out on a wintertime excursion, bring plenty of warm clothing gear to stay safe and cozy throughout your trip.
Creek Side Resort is a newly built, beautiful RV Park on the edge of Hays, Kansas. With brand new facilities and 36, 132' long pull through, full hookup sites, there is no reason to go anywhere else!
Our comfortable accommodations and amenities will have your stress melting away. Our onsite restaurant will keep you well-fed and fueled for days of fun and adventure. Bring your RV or stay in one of our cabins.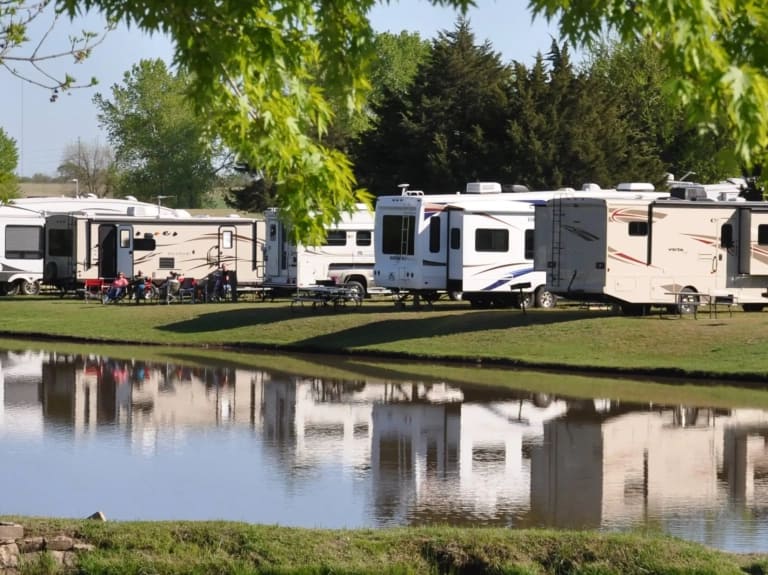 Take a break from the digital world and unplug from your worries. There is a magical nature trail, exciting mini golf, fast-paced pickleball, a children's playground, and acres of open spaces to play your own games!
National Parks and Forests in Kansas
While Kansas may not be home to a vast number of national parks or forests, the state still offers some fantastic options for outdoor enthusiasts. With their unique landscapes and natural beauty, these sites provide campers with unforgettable experiences.
Tallgrass Prairie National Preserve
The Tallgrass Prairie National Preserve is a stunning example of the once-vast tallgrass prairie ecosystem that covered much of North America. Today, only 4% remains, making this preserve an essential destination for nature lovers. Visitors can enjoy hiking trails through rolling hills and wildflower meadows while keeping an eye out for bison herds that roam freely within the park.
Cimarron National Grassland
Tucked away in the southwest corner of Kansas, near the Colorado state line, lies Cimarron National Grassland, a great place to take in nature's splendor. For outdoor recreation, Cimarron National Grassland offers over 100 miles of trails suitable for hiking, horseback riding, and mountain biking. Wildlife enthusiasts will appreciate spotting deer, turkey, quail, and various bird species throughout their visit.
Kansas State Parks System
In addition to the national preserves and grasslands mentioned above, numerous state parks are scattered across Kansas, offering camping opportunities amidst breathtaking scenery. Some popular choices include:
To explore more options for state parks in Kansas, visit the official Kansas Department of Wildlife, Parks & Tourism website.
The natural beauty of Kansas is evident in its many national parks and forests, providing an idyllic backdrop for camping. With its vast open spaces, rolling hills, lush prairies, lakes, rivers and streams, it's no wonder that camping here can be so enjoyable.
Tips for Camping in Kansas
Before setting out on your camping excursion in Kansas, it is critical to be equipped with the correct information and adequately prepared. Here are some valuable tips that will help you make the most of your outdoor experience:
Check Weather Conditions
Kansas weather can be unpredictable at times, so it's crucial to check the local forecast before setting out on your trip. Be prepared for sudden changes in temperature and pack appropriate clothing layers.
Choose a Suitable Campsite
Selecting the right campsite is critical to enjoying a comfortable stay outdoors. Look for level ground with good drainage and avoid low-lying areas prone to flooding during heavy rainfalls.
Observe Fire Safety Rules
Fires are integral to camping but must be handled responsibly to prevent wildfires or accidents. Always follow campground fire regulations, use designated fire rings or grills, and never leave fires unattended.
Bring the Essentials
Make sure to bring all the necessary items for your stay.
This includes:
Tent (with stakes)

Sleeping bag and pad/mattress

Cooking equipment (stove/pot/utensils)

Cooler with food and drinks

First aid kit

Headlamp or flashlight

Insect repellent

Extra clothing layers and rain gear
Leave No Trace Principles
To preserve the natural beauty of Kansas, always follow the principles of the Leave No Trace Center for Outdoor Ethics.
These are:
Plan ahead and prepare.

 Research the area before you go and make sure you are aware of any restrictions or regulations.

Travel and camp on durable surfaces.

 This means avoiding places where vegetation is present and not crossing barriers, such as fences or creeks.

Dispose of waste properly.

 Be sure to bring a trash bag and pack everything you brought in.

Leave what you find.

 Avoid collecting souvenirs from the area.

Minimize campfire impact.

 Make sure to avoid building a fire where it is not allowed, and completely extinguish your fire when leaving the area.

Respect wildlife.

 Refrain from feeding or approaching animals, as this can cause them to become dependent on humans and could endanger their lives.

Be considerate of other visitors.

 Yield to hikers on trails and do not reduce their enjoyment of the outdoors with excessive noise or littering.
Reserve Your Kansas Camping Spot
Finding the best camping in Kansas has never been easier, thanks to BookOutdoors. Discover a plethora of camping and RV parks in Kansas to select from when seeking your perfect outdoor escape. Here are some steps to help you reserve the best campgrounds in Kansas:
Choose your destination: Start by browsing through our extensive list of Kansas campgrounds and RV parks. Consider factors such as proximity to attractions, amenities offered, and the type of camping experience you're looking for.
Select dates: Once you've chosen a campground or RV park that meets your needs, pick the dates for your stay. Keep in mind that popular destinations may fill up quickly during peak seasons, so it's best to book early.
Review site options: Many campgrounds offer different types of sites (for example, tent-only, full hook-up RV sites). Review each option carefully before making a reservation.
Create an account and book online: To make reservations with ease, create an account, then follow the simple booking process on our website. You'll receive instant confirmation once payment is complete.
Kansas offers a variety of excellent camping options, including state parks, national forests, and private campgrounds. With diverse landscapes such as the Flint Hills and Tallgrass Prairie National Preserve, there are plenty of opportunities for outdoor enthusiasts to enjoy hiking, fishing, wildlife watching, and more. 
With BookOutdoors, you'll enjoy a seamless booking process to make your camping trip in Kansas even more memorable. Start planning your outdoor adventure today.