Alaska is at the top of many nature enthusiasts' bucket lists, and for great reason. It's home to 57 million acres of designated wilderness, accounting for nearly 30% of the total wilderness acreage in the United States. Alaska's title, the "Last Frontier," accurately describes the reality of much of this wondrous outdoor haven: rugged and untouched. From glaciers and mountains to fjords and volcanoes, it offers unparalleled outdoor exploration and adventure opportunities you won't want to miss.
Best Time of the Year for Camping in Alaska
Camping is the ideal way to experience Alaska's natural beauty in its most remote areas, many of which are only accessible by foot or boat. While some campgrounds remain open all year round, many are only available seasonally. Generally, Alaska's camping season is from late May and mid-September (exact dates are weather dependent). June through August are peak tourist seasons, usually when the weather is the warmest and driest and when wildlife is most active. If you want to avoid the crowds, visit in May or September.
The Northern Lights are most visible between late August and mid-April. Depending on several factors, such as weather, moon phase, and solar activity, peak viewing season occurs from December to March when the nights are the longest and the skies are the clearest.
Best Tent Camping in Alaska
Are you looking to get up close and personal with the most beautiful and remote landscapes in the world? Fully immerse yourself in Alaska's wilderness through tent camping. Fall asleep under the stars to peaceful wildlife sounds (always remaining at a safe distance) and wake up to the picture-perfect scenic views of your dreams. Whether you're looking for a traditional campground or a backcountry adventure, or whether you're an experienced or first-time camper, there is something for everyone. Here are our top recommendations:
The Nenana RV Park & Campground is located in the beautiful Alaska town of Nenana and is a great spot for an easy-going northern escape. Campers can look forward to a breathtaking natural landscape filled with vibrant colors and thriving flora and fauna. Amenities include full hookups, WIFI, showers, restrooms and water.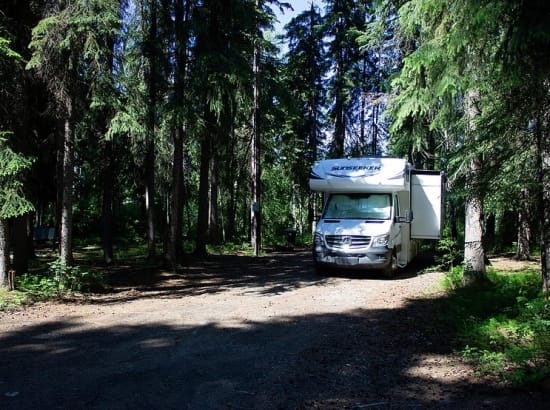 Conveniently located approximately ten minutes from downtown Fairbanks, the Tanana Valley Campground and RV Park is an ideal location for visitors looking for a place to camp and take in the scenic beauty of Alaska. The Tanana Valley Campground and RV Park features a range of camping areas, including electric and non-electric sites.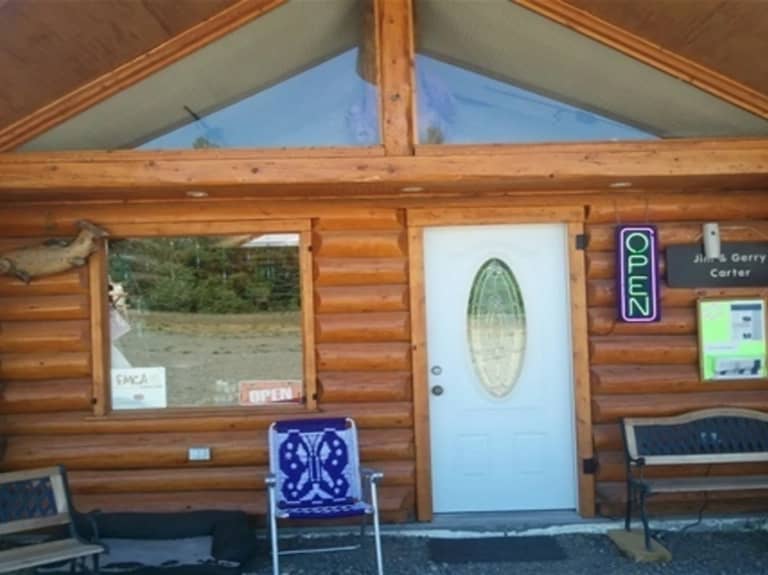 We are an Alaska experience park come enjoy the great out doors. The Park is full service and 9 pull through sites 28 sites in all. Laundry room and bathrooms with showers.Community fire pit with firewood.We are on the banks of the Tanana River. The Lazy Moose is a beautiful campground located in Salcha, Alaska, and is a great spot for an authentic outdoor escape. Campers can look forward to a number of nearby attractions including Harding-Birch Lakes, Healy Lake and the Chena River State Recreation Area.
Best Glamping in Alaska
Are you still looking to get up close and personal with the most beautiful and remote landscapes in the world yet maintain comfort and access to modern amenities? Glamping in Alaska provides the best of both worlds. From the addition of simple amenities to more luxurious services, book your perfect glamping experience at one of the top sites below:
Best RV Camping in Alaska
RVing in Alaska is a great way to reap the benefits of scenic drives, wildlife spotting, and access to nature while maintaining the comforts of your own home and not worrying about packing and unpacking your belongings at each stop. You can find various RV camping options across the state, many of which have multiple options to suit your travel preference, style, and budget. Below are our top recommendations for your consideration.
Best National Park Camping in Alaska
Alaska has eight national parks with unique landscapes, conditions, and adventures. Denali National Park — home to North America's tallest peak, Mount Denali, at 20,310 feet tall — is among the most popular. Other popular options include Glacier Bay National Park and Wrangell-St. Elias National Park.
You do not need a reservation to enter the parks, but we recommend you make them for camping, especially during peak season (May to September).
Denali National Park is in central Alaska and stretches over six million acres. Vehicles are allowed in the park until mile 15, after which a bus tour is available for visitors. The Riley Creek Campground is the largest developed campground and offers easy access to the park's shuttle bus system. Savage River Campground is also highly recommended.
With over 13 million acres, this national park in southeastern Alaska is the largest national park in the United States. It gets its name from the Wrangell and St. Elias mountain ranges visible from many areas of the park, co-existing with glaciers, icefields, tundra, dense forests, and of course, a wide variety of wildlife. Check out Kennicott Ghost Town, a former mining town, for a historical experience. 
The Nabesna Campground in the north is a great tent camping option. If you are looking for something other than a tent experience, there are also several rustic cabins for rent.
This National Park in southeastern Alaska's name comes from the fjord Glacier Bay (surprise!) and covers over three million acres across the state. It's accessible by plane or ferry only. In addition to its glaciers, the park's coastline, rainforest, and lakes provide ample opportunity for hiking, kayaking, and boat tours and to see grizzly bears, wolves, moose, bald eagles, and whales. The Margerie and Grand Pacific Glaciers are not to be missed.
Bartlett Cove Campground is the only designated campsite with the national park, where you can check out its incredible sunsets. However, if you want a more upscale option, Glacier Bay Lodge is for you.
Best State Park Camping in Alaska
Outside the eight national parks are 84 state parks and numerous recreational areas across the state waiting for you to explore. Chugach State Park and Kachemak Bay State Park are notable options.
With over 495,000 acres, Chugach State Park is one of the largest in Alaska and the United States. It's known for diverse mountains, lakes, glaciers, forests, and wildlife, including grizzly bears, moose, caribou, Dall sheep, and many bird species. Enjoy over 200 miles of hiking trails in the summer, including Crow Pass Trail, and advanced skiing and snowboarding at Alyeska Resort in the winter.
For camping, check out Bird Creek Campground or Eagle Creek Campground, each with dozens of scenic sites and offerings.
Located on the Kenai Peninsula, Kachemak Bay State Park boasts over 400,000 acres of wilderness and jaw-dropping coastal scenery. It's a stunning place to find unlimited trails for hiking, beaches to relax, and fjords to spot marine life. 
Camping in Kachemak Bay State Park is known to be more difficult than in other locations, so extra preparation is required. Recommended camping options include the Glacier Spit Campground and Halibut Cove Lagoon State Marine Park.
Tips for Camping in Alaska
While camping in Alaska can make for a unique and memorable experience, its extreme and unpredictable weather, limited transportation and connectivity, and unique wildlife require careful planning and preparation.
Here are a few things to keep in mind as you plan your epic experience safely and efficiently:
Pack the right gear.

Due to the unpredictability of the weather, you'll want to be prepared for any climate you may encounter. Extra layers, including rain gear such as a water-resistant jacket, pants, and shoes are a good idea. Bring a hat with a brim and a net to protect yourself from strong sunshine and pesky bugs. It's also important to bring plenty of food and water, including filter or purification tables, as you may be in extremely remote areas. Lastly, campsites are often dimly lit, so bring illumination, such as flashlights, headlamps, and lanterns.

Protect yourself from bears.

Be sure to note extra gear needed for bear protection, such as a bear bin for your food, toiletries, and bear spray.

Ensure you have the right permits and regulations.

Double-check that you are following local laws and have all the paperwork required before embarking.

Follow Leave No Trace principles.

Leave the environment as undisturbed as possible. Leave what you find, pack out your trash, don't stray from established trails, and respect others, especially wildlife.
Book Your Camping Trip to Alaska With BookOutdoors
Are you ready to explore the great state of Alaska? Now is the time to book your ultimate Alaska adventure. BookOutdoors is here to help you! We'll streamline your planning process, offering perks like rewards programs, so you can skip all the hassle and get outdoors sooner.