Fall is a season of crisp air, vibrant foliage, and warm, comforting flavors. As the temperatures drop and the leaves change color, what better way to enjoy the beauty of this season than by embarking on a camping adventure? Imagine sitting around a crackling campfire, savoring the aroma of pumpkin spice and indulging in delicious fall-inspired dishes. Let's explore a collection of recipes you can easily make on a campfire, allowing you to fully embrace the cozy vibes of fall while enjoying the great outdoors. From breakfast delights to hearty meals, fireside snacks, and delectable warm beverages, get ready to elevate your camping experience with these pumpkin spice-infused creations. 
Choosing the Right Cooking Equipment
Having the right tools can make all the difference when it comes to campfire cooking. A sturdy cast-iron skillet is a must-have for any outdoor cooking adventure. Its ability to distribute heat evenly and its durability make it perfect for cooking over an open flame. Don't forget to pack long-handled tongs and a spatula for easy flipping and handling of your delicious creations. And let's not overlook the importance of a good set of oven mitts – you don't want to end up with burnt fingers while trying to enjoy your meal!
Campfire Breakfast Delights: Pumpkin Spice Pancakes and More
What's a fall camping trip without pancakes? And when pumpkin spice is involved, it takes these breakfast classics to a new level. Simply combine your favorite pancake mix with generous pumpkin spice seasoning. Add milk, eggs, and melted butter, mix it all, and voila! You've got yourself a stack of fluffy, spiced pancakes. Cook them over the campfire until golden brown, and don't forget to drizzle some maple syrup for the ultimate fall breakfast experience.
Savory Breakfast Skillet with Pumpkin Spice Flair
A savory breakfast skillet will hit the spot if you're craving something heartier. Start by cooking bacon in your trusty cast-iron skillet until crispy. Remove the bacon and set it aside, then sauté diced potatoes, bell peppers, and onions in the bacon fat. Add a sprinkle of pumpkin spice seasoning for that extra fall flavor. Once the veggies are cooked, crumble the bacon back into the skillet, crack a few eggs, cover, and let them cook until the yolks are perfectly runny. Serve it hot and enjoy a hearty breakfast that will keep you fuelled for outdoor adventures.
Hearty Lunch and Dinner Recipes: From Pumpkin Chili to Campfire Stuffed Sweet Potatoes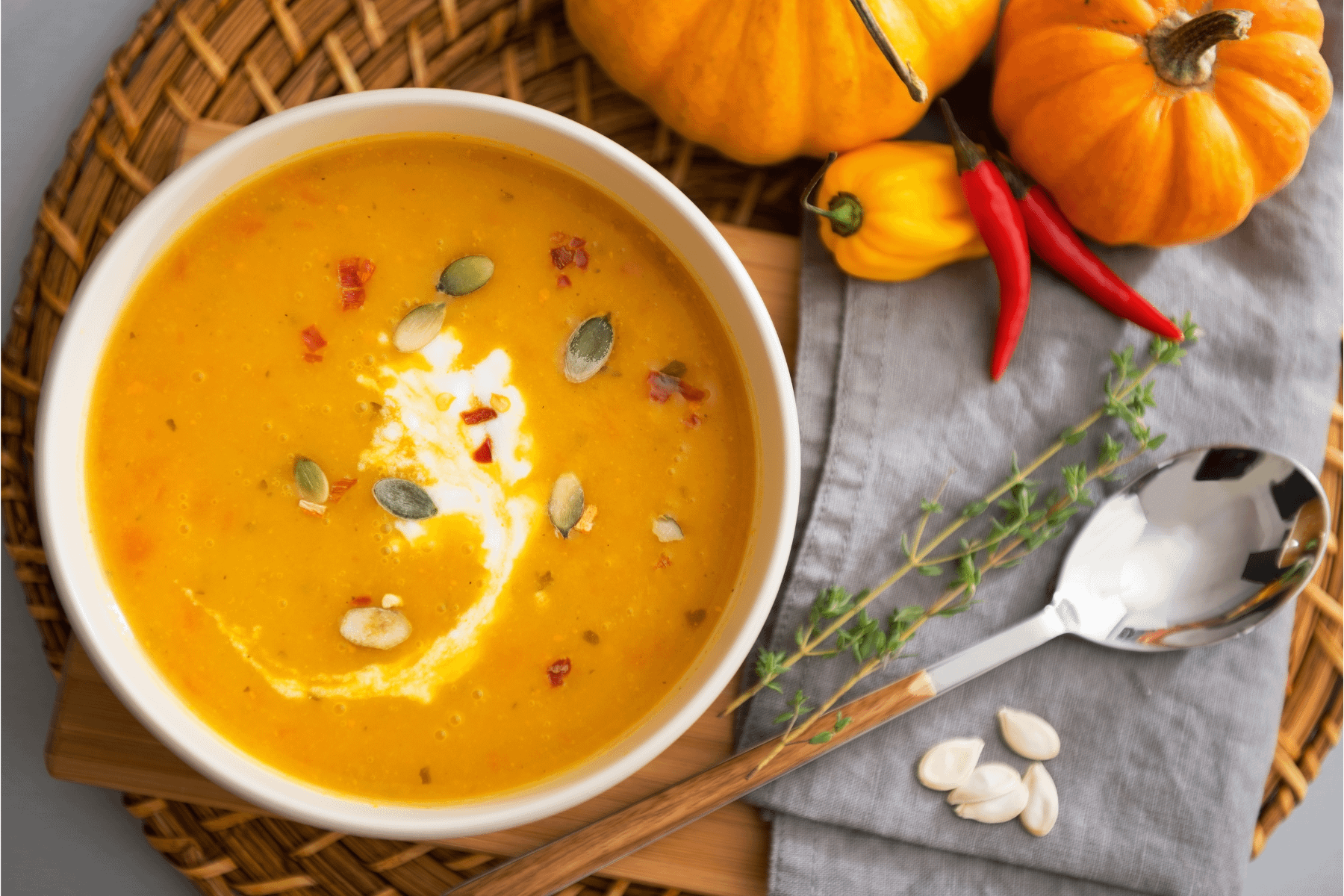 Hearty Pumpkin Chili with Campfire Twist
When the sun starts to set and the temperature drops, there's nothing quite like a warm bowl of chili to satisfy your hunger. This campfire twist on a classic chili recipe incorporates the flavors of fall with the addition of pumpkin. Simply brown some ground beef and onions in your skillet, add canned pumpkin, diced tomatoes, kidney beans, and your favorite spices. Let it simmer over the campfire for a few hours, stirring occasionally, and you'll be rewarded with a rich, flavorful chili that will warm your soul.

Try making stuffed sweet potatoes with a fall flair for a hearty and delicious campfire dinner. Start by wrapping whole sweet potatoes in foil and placing them in the hot coals of your campfire. Let them cook until tender, then carefully remove them from the fire. Cut an opening in each sweet potato and mash the insides with a fork. Then, stuff them with a mixture of cooked sausage, sautéed onions, apples, and a sprinkle of cinnamon. Place the stuffed sweet potatoes back in the campfire for a few minutes to get everything nice and warm. The result? It is a sweet and savory meal that captures the essence of autumn.
Fireside Snacks and Treats: Roasted Pumpkin Seeds and S'mores with a Twist
Roasted Pumpkin Seeds with Various Seasonings
Crunchy and packed with flavor, roasted pumpkin seeds are the perfect fireside snack. Don't throw away those pumpkin seeds after carving your Jack-o-lanterns! Instead, rinse, season, and pop them onto your campfire grill for a delicious treat. You can get creative with the seasonings, whether classic salt and pepper, a spicy kick with chili powder, or a savory blend of garlic and herbs. Roasted pumpkin seeds are tasty and a great source of fiber and healthy fats.
S'mores are a campfire classic, but why stick to the same old recipe when you can add a pumpkin spice twist? Trade your regular chocolate bar for a pumpkin spice-flavored one, and sandwich it between graham crackers and gooey marshmallows. The warmth of the fire will melt the chocolate and create a heavenly autumn treat. It's the perfect combination of flavors to satisfy your sweet tooth while embracing the cozy vibes of fall. Just be ready for everyone around the campfire to ask for seconds.
Warm and Comforting Beverages: Spiced Cider and Pumpkin Spice Hot Chocolate
Spiced Cider with Campfire Twist
There's nothing like sipping warm, spiced cider around a crackling campfire. Add a campfire twist to your traditional apple cider by heating it in a pot over the fire and infusing it with aromatic spices like cinnamon, cloves, and nutmeg. The result is a soul-warming drink that instantly transports you to autumn bliss. Don't forget to bring some mugs and garnish with a slice of fresh apple for an extra touch of rustic charm.
Creamy Pumpkin Spice Hot Chocolate
A steaming mug of hot chocolate is a cozy indulgence, and when you add pumpkin spice flavors, it reaches a whole new level of deliciousness. Mix hot milk, cocoa powder, sugar, pumpkin puree, and pumpkin spice seasoning. Stir until smooth, and then sit back, relax, and enjoy the creamy goodness. This comforting beverage is like a hug in a mug, perfect for warming up on chilly fall evenings under a starry sky.
Outdoor Baking: Campfire Apple Crisp and Pumpkin Spice Campfire Cake
Delicious Campfire Apple Crisp
Baking in the great outdoors? Yes, please! Campfire apple crisp is a delightful dessert that combines the sweetness of caramelized apples with a crispy, buttery topping. Simply wrap diced apples in foil with butter, brown sugar, cinnamon, and a squeeze of lemon juice. Place the foil packet on the grill or in the hot coals of your campfire, and let the magic happen. The result is a warm, gooey, and fragrant treat that will make you feel like the ultimate outdoor baking champion.

Indulgent Pumpkin Spice Campfire Cake
Who says you can't have cake while camping? Embrace the pumpkin spice trend with a mouthwatering campfire cake. Combine your favorite boxed cake mix with pumpkin puree, eggs, oil, and spice seasoning. Pour the batter into an aluminum foil-lined pan, cover it, and place it over the campfire for some slow, steady baking. Before you know it, you'll have a fluffy, moist pumpkin spice cake that will have your fellow campers begging for the recipe. The only challenge? Trying not to eat it all in one sitting.
Enjoying the Flavors of Fall in the Great Outdoors
Fall is the perfect season to gather around a campfire and savor the flavors that epitomize the cozy spirit of autumn. From roasted pumpkin seeds and gourmet s'mores to warm spiced cider and creamy pumpkin spice hot chocolate, these campfire recipes will take your outdoor experience to a new level of deliciousness. And if you're feeling adventurous, don't forget to try your hand at outdoor baking with campfire apple crisp and pumpkin spice campfire cake. So grab your flannel, gather your loved ones, and get ready to enjoy the best of fall in the great outdoors.