The best thing about planning an RV vacation is imagining all the possibilities. You can go anywhere the open road can take you, and bring your bed, kitchen, and all your gear right along with you. 
(You could go to a city, but … why?)
Outstanding natural beauty, plenty of campground choices, and immediate access to open space, or if you prefer, doing absolutely nothing, are the major benefits of both RV beach camping and mountain camping.
So how do you decide where to go? The good news is there's no bad choice when comparing beach vs. mountains for an RV trip. So gather your travel mates and conduct a good old-fashioned assessment of the pros and cons.
The Best Things About Beach Camping
Humans are drawn to beaches, probably for some deep and complex psychological reasons. On the lighter side, beaches are beautiful, the sound of the waves is soothing, and there's usually lots of fun on the water and on land. RV beach camping offers unrivaled access to beachfront real estate for a fraction of the cost of a hotel room.
Beach Camping Activities
Activities available when you choose RV beach camping vary quite a bit by destination. You might go snorkeling or scuba diving in the tropical waters of Florida. Beachcombing for agates and other treasures is a highlight of Oregon's beaches, while some Northern California beaches offer whale watching from rugged headlands and hikes through the redwood forest.
Universal beach fun includes surfing, swimming, boat trips, fishing, renting personal watercraft or kayaks, or riding bikes along coastal trails. You might choose busy beachfront campgrounds near bustling boardwalks, with tours and rental options galore. Or find a remote stretch of coast for uninterrupted beach time.

Amazing Beach Camping Destinations
In the U.S., RV beach camping spots are easily divided into Atlantic, Pacific, and Gulf Coast destinations, but within each of those are enormously diverse options. Driving distance is the most obvious consideration, along with the season and style of vacation. Here are just a few exemplary U.S. destinations for RV beach camping:
Fort De Soto County Park in Pinellas County, Florida: A string of five keys at the entrance to Tampa Bay, this park has gorgeous sunny beaches plus mangrove and wetland habitats visited by loggerhead sea turtles. The family-friendly beach camping destination offers fishing piers, swim centers, a multipurpose trail, and ferry service to nearby keys. 
Rincon Parkway in Ventura, California: You can book RV spots right next to the sand in Southern California at the county-run Rincon Parkway. It's within driving distance of Malibu and close to the ferry service to Channel Islands National Park.
Smith Point County Park in New York: New York might not be the first destination you have in mind for RV beach camping, but Smith Point County Park on Fire Island barrier beach has oodles of appeal. Some beach-based attractions here are white sands, rolling surf, abundant bird life, and even scuba options.
Cons of Beach Camping
A few downsides of RV beach camping include seasonal limitations for desired activities. Popular destinations during peak season also get super busy. If your ideal RV beach camping trip involves guaranteed sunshine or warm waters, only certain seasons and coasts will do.
Further, beach camping isn't for everyone. Sand can end up in an RV's every nook and cranny, and a lack of shade at most beaches can also be a downside for campers who want to keep their RV on the cooler side.
The Best Things About Mountain Camping
Humans are drawn to mountains, probably for some deep and complex … OK, you've heard this one before. The United States boasts some of the best rugged landscapes and breathtaking views in the world. Consider the U.S. mountain destinations designated as UNESCO World Heritage Sites: Yosemite, Great Smoky Mountains, Yellowstone and Olympic National Parks are among them. 
Fresh alpine air, serene pine forests, pristine lakes, and remarkably dark night skies are just a few advantages of RV mountain camping. Further, RV campgrounds are sometimes more plentiful and offer better access to the outdoors than alternative accommodations in mountain regions.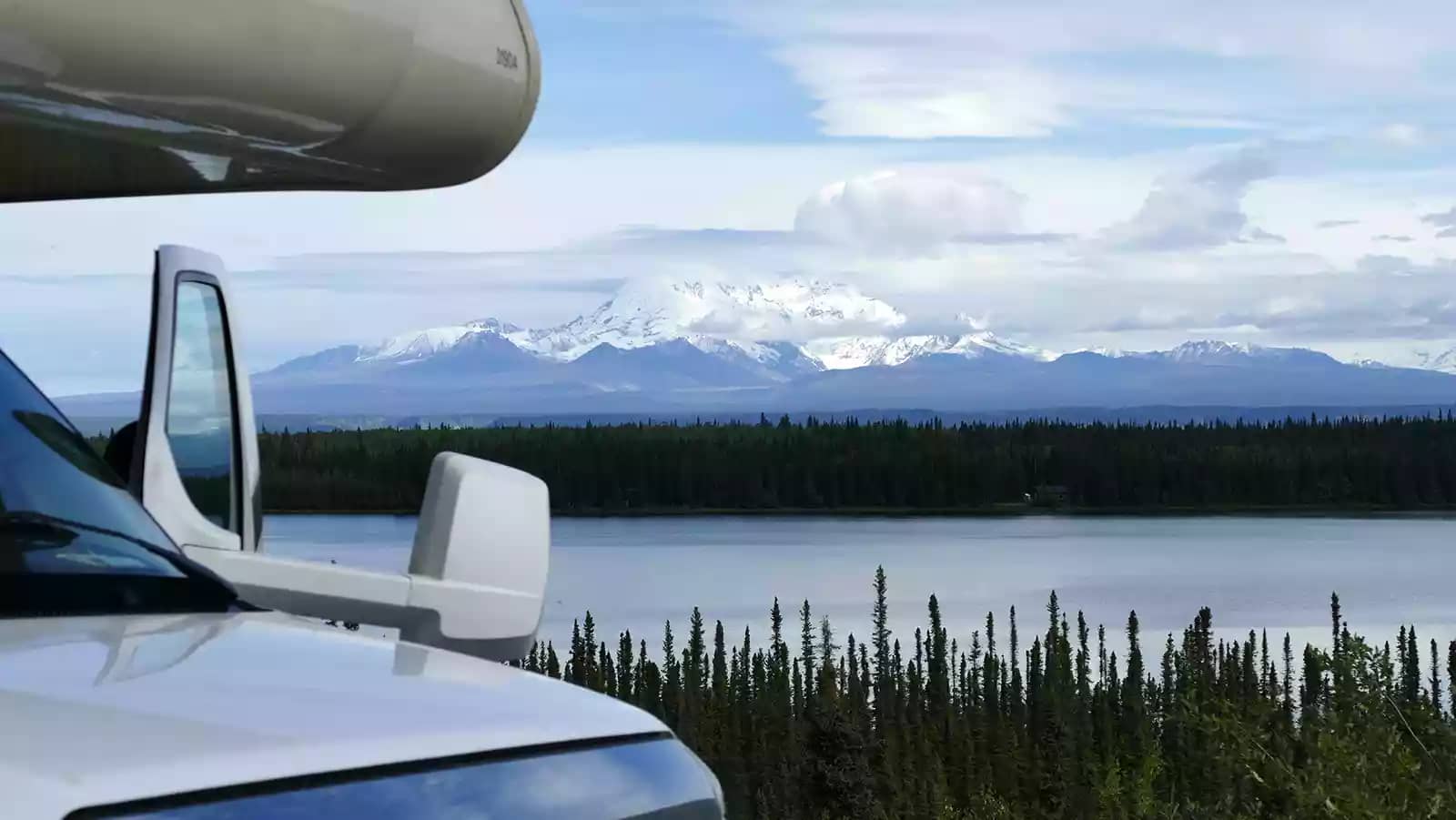 Mountain Camping Activities
For avid hikers, mountain camping quickly resolves the beach vs. mountain debate. Many ski resorts offer four-season activity options, using ski lifts to access high peaks for mountain biking and most snow sports (for those hardier winter RV warriors), along with lake and stream fishing. 
Amazing Mountain Camping Destinations
National and state parks in mountain destinations are excellent choices for camping, and they're available all over the United States. Here are just a few that stand out as fantastic mountain camping destinations:
Great Smoky Mountains National Park: Nine front-country campgrounds in this majestic national park welcome RVs, and all are incredible choices for a mountain camping trip. 
Pike-San Isabel National Forest in Colorado: Head to this national forest for developed or dispersed camping and spend your vacation straddling the highest peaks along the Continental Divide.
Fishing Bridge RV Park, Yellowstone National Park: Yellowstone's only RV campground with full hookups is super popular (for good reason), so book early to score a site during the peak summer season. Its spectacular setting is at 7,800 feet, right at the spot where the Yellowstone River exits Yellowstone Lake.
Cons of Mountain Camping
Mountain RV camping comes with major seasonal changes, making it a summer-only pursuit for most. Driving conditions in the mountains are not for the faint of heart in any season, especially when driving larger RVs. Many mountain roads are totally off-limits to RVs during winter, and others are ill-advised at any time of year. Detours can add considerable driving time to your vacation.
Still Stuck on Beach vs. Mountains?
Some campers find it easy to solve the beaches vs. mountains dilemma, depending on personal interests and desired experiences. If you're finding it especially difficult, may we suggest … both? Some destinations feature beaches and mountains close enough together to fit both in a single itinerary — most of the West Coast, the Carolinas, and Georgia are examples. Also, look into mountain destinations with lakefront beaches, some of which can rival coastal sands.