Camping in Iowa offers a unique experience for those seeking to explore the great outdoors. Iowa offers a range of natural settings, from gentle hills and verdant woodlands to tranquil lakes and meandering streams, providing something for all campers to relish.
This blog post will delve into the best time of year for camping in Iowa, ensuring you make the most of your outdoor adventure. We'll also discuss some of the top camping and RV parks throughout the state, providing options for tent campers, those traveling with an RV, and those who want to experience glamping in Iowa.
Additionally, we will explore national parks and forests within Iowa's borders and provide guidance to help organize a safe, enjoyable, and unforgettable adventure.
Best Time of the Year for Camping in Iowa
Choosing the best time of year for your camping adventure is essential to maximize your outdoor getaway. However, with its mild climate and diverse landscapes, Iowa is an excellent destination for camping in most seasons. Plan your trip between April and November to avoid the harsh winter weather.
Spring: A Season Filled with Natural Beauty
Iowa's spring season typically lasts from April through June. This is an excellent time to enjoy Iowa's beautiful wildflowers and witness migrating birds returning north after spending winter in warmer climates. Temperatures during spring range from cool to warm, making it comfortable for hiking and exploring nature trails throughout the state.
Summer: Peak Season for Outdoor Activities
The summer months (end of June through September) bring warmer temperatures, perfect for water-based activities, such as swimming or fishing at Iowa's many lakes and rivers. Additionally, numerous campgrounds offer amenities like swimming pools or splash pads to help beat the heat while enjoying some family fun outdoors.
Keep in mind this is peak camping season. Book early with Book Outdoors to secure a spot at your preferred campground.
Festivals Galore
RAGBRAI, Register™s Annual Great Bicycle Ride Across Iowa: Held annually since 1973 during late July, RAGBRAI is a week-long bicycle ride that attracts thousands of riders from all over the world.
Iowa State Fair: Taking place in August, this iconic event showcases Iowa's agricultural heritage with livestock shows, live music, and delicious food. Campers can take in the fair atmosphere by reserving a spot to stay on-site.
Fall: A Colorful Season for Outdoor Enthusiasts
As temperatures cool down between September and November, Iowa's fall foliage becomes a sight to behold. With vibrant colors painting the landscape, it's an ideal time for hiking or scenic drives through state parks like Pikes Peak State Park. Fall also brings harvest season celebrations, such as apple picking at local orchards and pumpkin patches — perfect activities to enjoy while camping.
Best Camping and RV Parks in Iowa
Iowa offers diverse camping experiences, from picturesque state parks to well-equipped RV resorts and action-packed adventures, Iowa has something for every camper. Here are some of the best camping and RV parks in Iowa that cater to various preferences: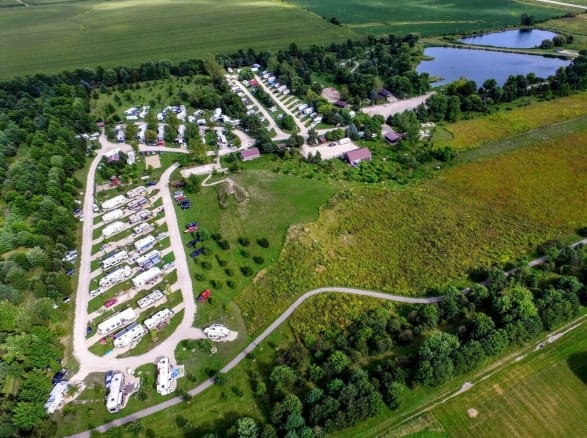 Wilder Park is 88 acres of camping, picnicking, walking, biking, or playtime! Located 1/4 mile east of Allison on Highway 3. Open Dates: April 1 to October 31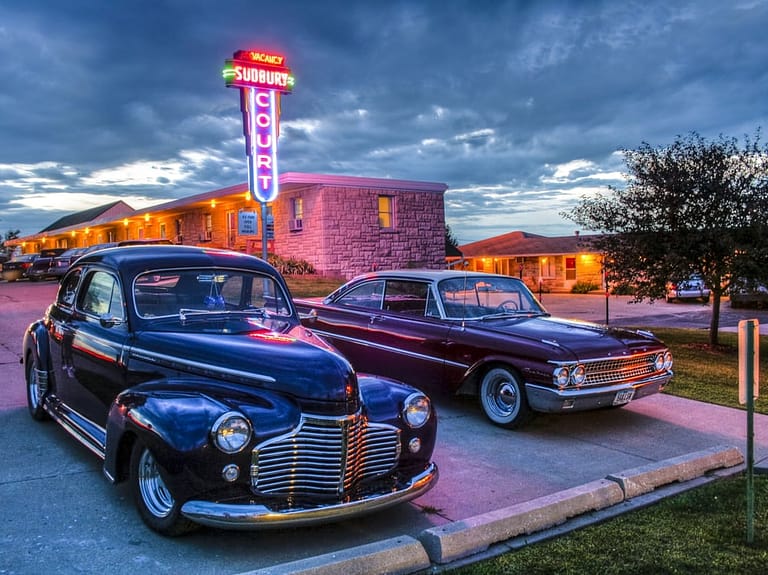 Welcome to our little corner of paradise, surrounded by mature green trees, abundant wildlife and beautiful views. Located near Marengo, Iowa.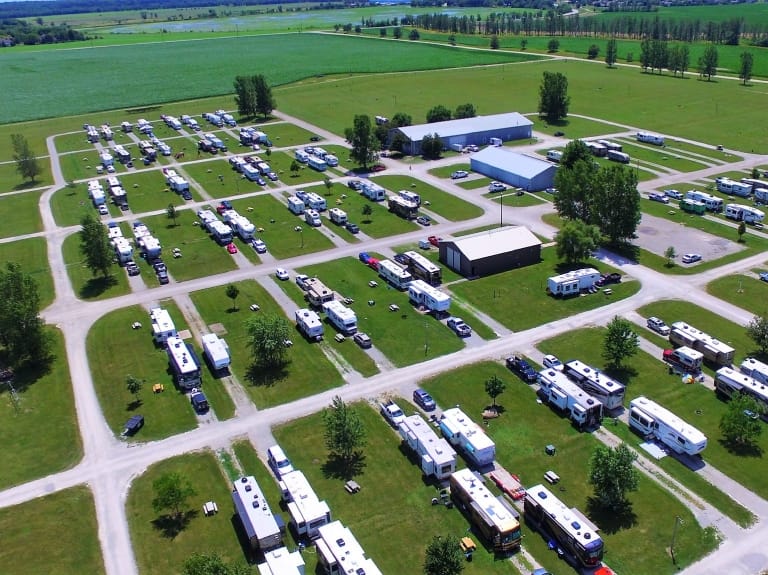 The Amana RV Park & Event Center sits on 80 acres. Here you'll find over 450 campsites, 50 amp accommodations on 75-foot campsites.
National Parks and Forests in Iowa
Iowa features beautiful national parks that offer fantastic camping experiences. These natural gems provide campers with diverse landscapes, wildlife sightings, and outdoor activities.
Effigy Mounds National Monument
Effigy Mounds National Monument is a unique historic site located along the Mississippi River in northeastern Iowa. The park preserves over 200 prehistoric Native American mounds shaped like animals, such as bears and birds. Camping isn't allowed within the monument itself. However, the nearby Yellow River State Forest offers excellent camping opportunities for those who want to explore this fascinating area.
Yellow River State Forest
Yellow River State Forest covers more than 8,500 acres of lush woodland teeming with wildlife. It features numerous campsites for both tent campers and RV enthusiasts alike. With miles of hiking trails winding through dense forests, fishing spots on Paint Creek or Little Paint Creek, horseback riding paths, and hunting areas during designated seasons, there's no shortage of activities for nature lovers here.
Iowa State Parks
In addition to the national forest, Iowa has an extensive network of state parks that offer fantastic camping experiences. Here are some popular options:
No matter which outdoor getaway you pick in Iowa, you'll experience stunning natural sights while having a fun-filled escapade.
Tips for Camping in Iowa
When planning a camping trip to Iowa, being well-prepared and informed about the state's unique features is essential. Here are some helpful tips to make your outdoor adventure in Iowa more enjoyable and safe.
Pack for the Weather
Iowa's climate can be unpredictable, with hot summers and chilly winters. Before traveling, review the local weather report and dress appropriately in layered clothing to account for any temperature changes or rain showers. In general, layers are key as temperatures can fluctuate significantly day and night.
Be Aware of Wildlife
Iowa is home to various wildlife species, such as deer, raccoons, coyotes, foxes, and even black bears. It's essential to maintain a safe distance from these animals while camping or hiking. Keep food securely away from your sleeping area using bear-resistant containers or hanging it high between trees when possible.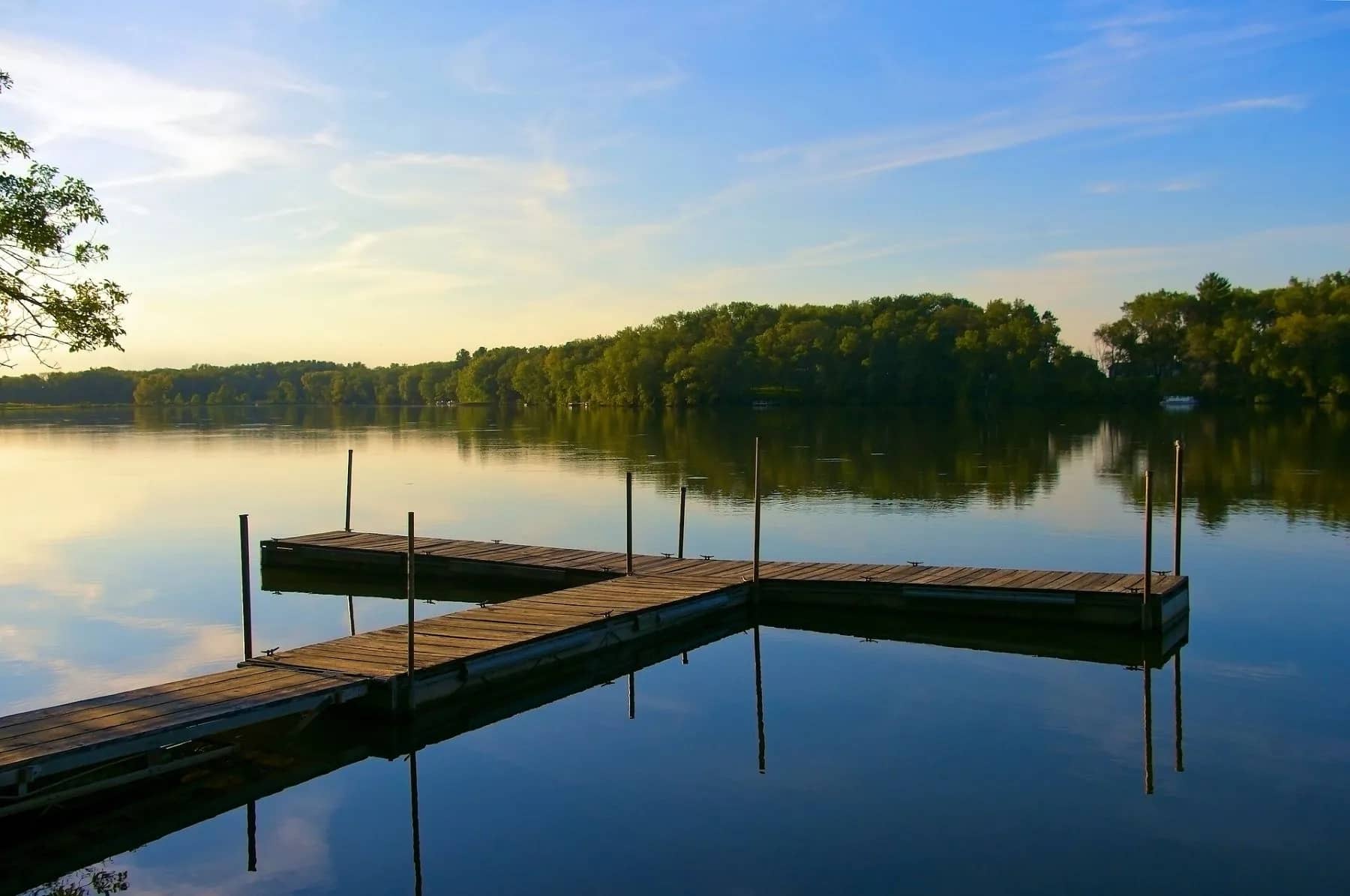 Familiarize Yourself with Local Regulations
Campfires: Some campgrounds may have specific rules regarding campfires due to fire safety concerns or local regulations. Before starting a fire at your campsite, check for any restrictions.
Fishing and Hunting: If you plan on fishing or hunting during your stay in Iowa, obtain proper licenses through the Iowa Department of Natural Resources (DNR) beforehand.
Pets: Many campsites allow pets but may require them to be leashed or use only specific pet-friendly areas. Check the rules at campgrounds before bringing your furry friend along.
Leave No Trace Principles
To preserve Iowa's natural beauty for future generations, it's essential to follow Leave No Trace principles. These guidelines include disposing of waste properly, minimizing campfire impact, respecting wildlife and other visitors, and leaving what you find undisturbed.
Stay Safe on the Trails
Iowa offers a variety of hiking trails with varying levels of difficulty. Before setting out on a hike, make sure you're prepared by:
Selecting an appropriate trail based on your fitness level and experience;
Telling someone about your plans and expected return time;
Packing essentials such as water, snacks, sunscreen, insect repellent, map and compass or GPS device;
Wearing sturdy footwear suitable for uneven terrain.
Following these tips and being well-prepared for camping in Iowa will ensure an enjoyable outdoor adventure while exploring this beautiful state.
Get Ready for Iowa with BookOutdoors
Camping in Iowa is an unforgettable experience that offers a unique blend of outdoor activities and stunning natural beauty. Every expedition promises an extraordinary journey with its myriad options and spectacular scenery.
Looking for a silent retreat in the wilderness or a stay at one of the best RV parks in Iowa? Visit BookOutdoors for a seamless way to search, book, and review campgrounds in Iowa. From the best camping in Iowa to RV parks you'll never want to leave, you'll find everything you need to prepare for your next outdoor adventure.
Happy camping!