Georgia is home to many state, national, and private camping areas where campers can explore miles of shorelines, hiking trails, and plenty of lakeside retreats. From rustic campsites to RV parks and fully developed glamping resorts, this sweet southern state boasts amazing views and almost 360 days of perfect camping weather. 
About Camping in Georgia
Georgia is home to 11 national parks and 50 state parks, 46 of which have developed campgrounds. From tent sites to fully furnished yurts, Georgia's state and national parks are some of the best you'll find in the southeastern U.S.
Aside from state and national park campgrounds, there are many privately owned RV parks, campgrounds, and glamping resorts located throughout the state, catering to all types of individuals. From kid-friendly camping to oceanfront sites, Georgia has tons of camping options to fit everyone's taste. 
Search Georgia Campgrounds and RV Parks on BookOutdoors.
Where Can You Camp in Georgia?
There are four main ways to camp in Georgia. You can choose sites at either state or national parks, private campgrounds, or Bureau of Land Management (BLM) lands. Each type of camping offers different amenities to choose from, giving you the opportunity to glamp, camp or RV. 
National Park Camping
Though the Peach State is home to over 11 national parks, only four have developed campgrounds that are open year-round. Due to the subtropical climate of the state, campgrounds in Georgia are rarely closed, and camping season is pretty much year-round.
Rates for national park camping in Georgia range from $10 per night all the way to $150 per night, depending on your site and equipment. Yurts and furnished cabins are available at select sites, and well-behaved pets are also welcome. 
You'll find standard amenities at each national park campground in Georgia. These are fire rings, picnic tables, grills, and tent pads. Bathrooms, showers, and dump stations are all centrally located within each park. Some parks have other amenities such as kayak rentals, concession stands, camp stores, and excursion tours. Note that the concessions and excursion tours are normally run by outside vendors and are not included in the price of admission to the park.
Georgia State Park Camping
With over 46 state park campgrounds ranging from oceanside to mountain tops, Georgia has a state park for every type of scenery you could want. The state parks in Georgia feature primitive and developed single and group campsites, equestrian, RV, tent, and trailer sites. Nightly camping prices range from $22 per night up to $300 per night, depending on your choice of location and equipment. 
A park pass is required for all campers that stay in a Georgia State Park. The park pass is $5 per day, per vehicle for 1-12 passengers, and this is not included in the reservation fee. Pets are welcome at most state campgrounds, and each site features a fire ring, picnic table, and tent pad. Many tent sites are fully electric, and some even have on-site non-potable water access.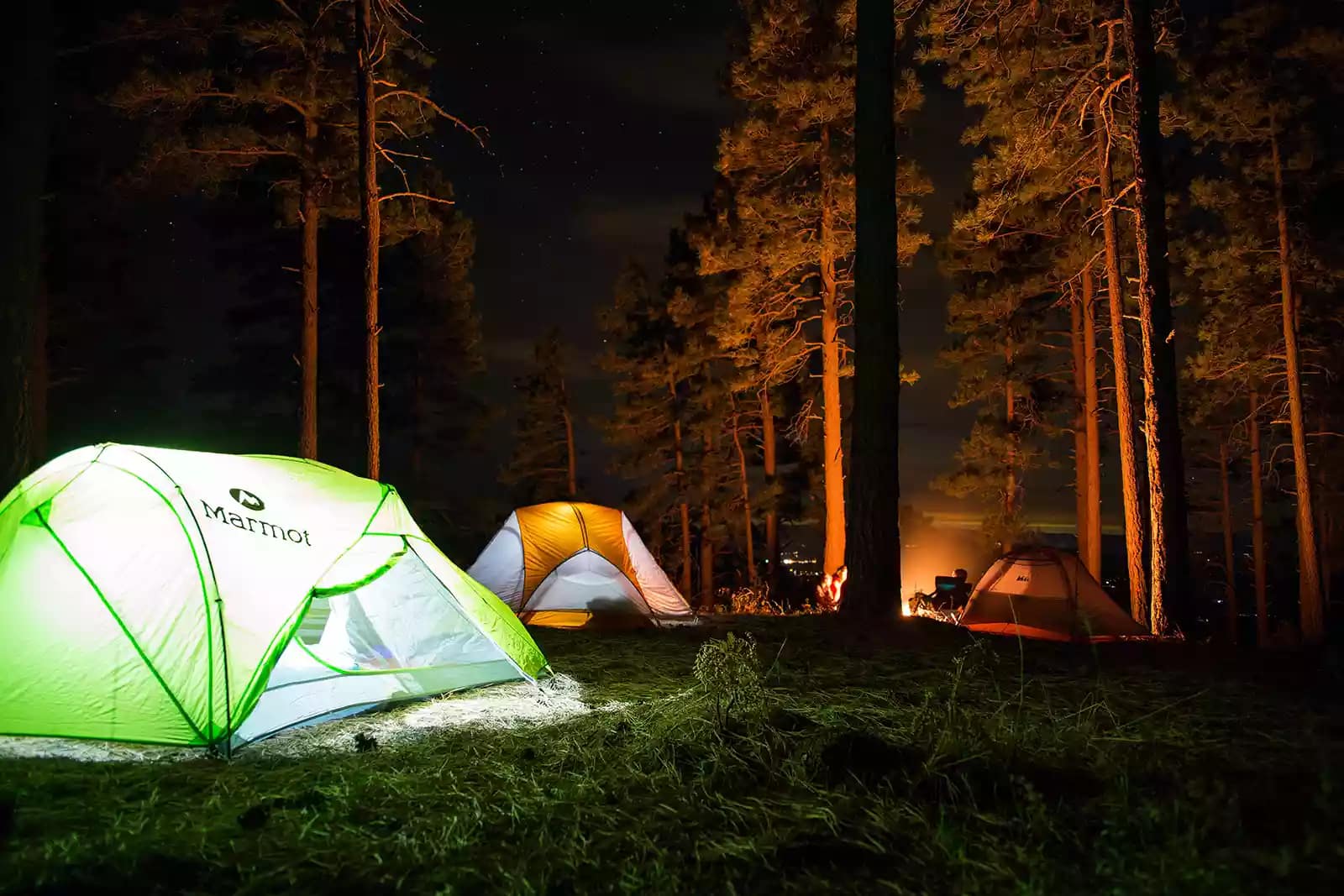 Private Campgrounds and RV Parks in Georgia
In the last decade, the number of private campgrounds in Georgia has almost doubled. From simple tent camping to glamping and RVing, there are tons of private campgrounds and RV resorts that cater to any crowd. You can find family-friendly campgrounds with lots of amenities for the whole crew, or adult-only glamping sites that cater to those who want a little added luxury with their outdoor adventure. 
Find and Book the Perfect Georgia Campground on BookOutdoors.
How to Find Amazing Campsites in Georgia
Finding the perfect campsite in Georgia is easy once you know where to look. Start off by searching BookOutdoors to snag a reservation at one of hundreds of private campgrounds and RV parks. You can even use BookOutdoors to find an enchanted glamping site for a weekend getaway.
Best Time to go Camping in Georgia
Georgia's camping season is longer than most areas of the country. If you are looking to camp in the northern part of the state, you'll want to seek out dates from May through November. This is because northern Georgia extends into the southern Appalachian mountain range, and the elevation can cause sleet, snow, and very cold temperatures during the winter.
Camping in southern Georgia offers a climate closer to that of its neighbor, Florida. February through November is a great time to camp in southern Georgia if you are seeking warmer weather and sunnier skies.
From June through November, Georgia's climate can be unpredictable. This is due to the Atlantic hurricane season during these months. If you are camping in Georgia during hurricane season, you'll want to be sure to monitor the weather closely, as it can change quickly. In northern Georiga, you may find that some campgrounds close completely under the threat of a hurricane.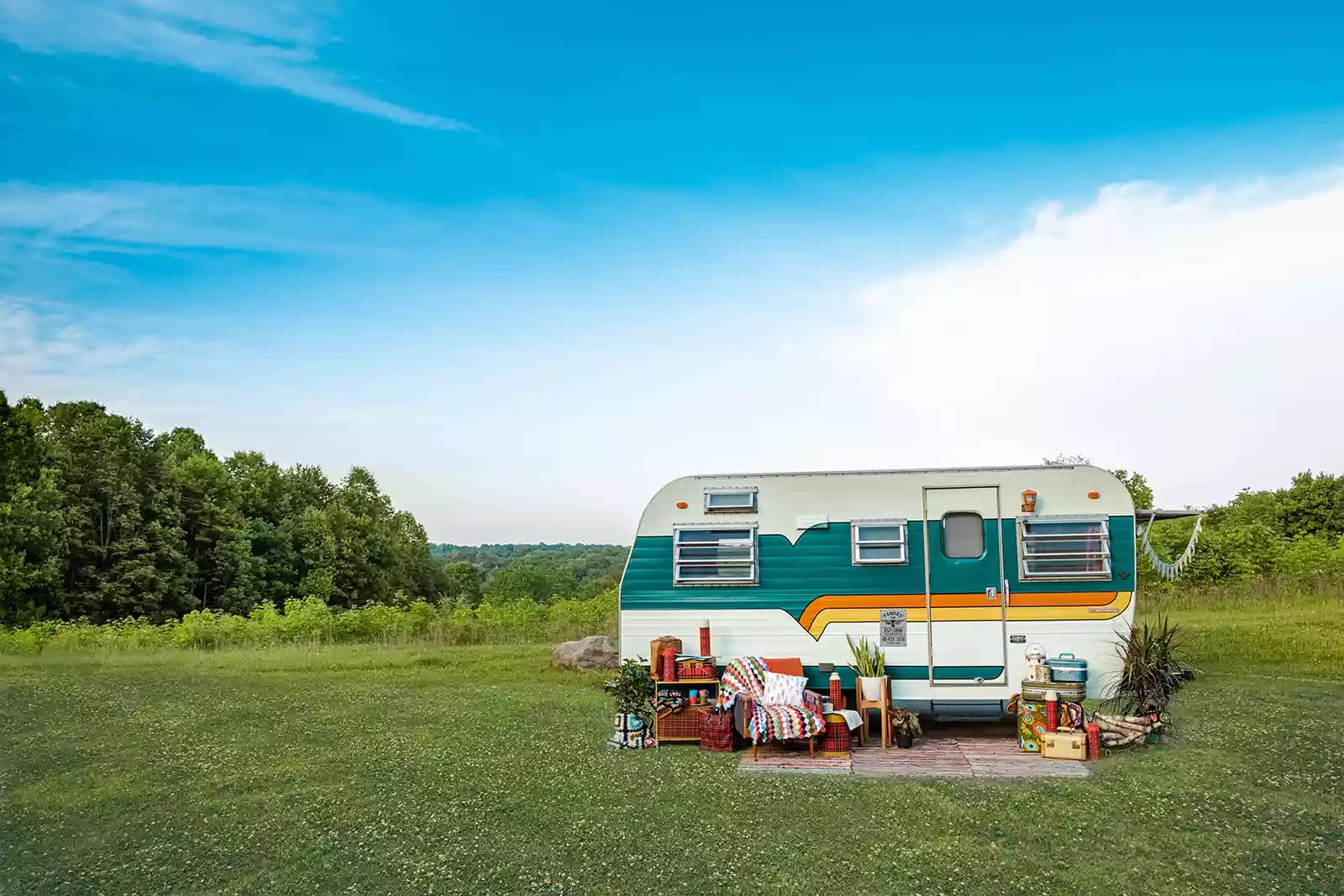 What to Pack on a Georgia Camping Trip
When camping in Georgia, you'll want to choose what to pack based on the location you are staying in and the equipment you're using. Aside from your standard camp setup, a few extra items you'll want to have on hand is plenty of bug spray and sunscreen. The southern Georgia sun can be brutal, especially during summer.
Bug spray is also crucial, especially during the summer. Southern summers are notoriously hot and muggy, which can bring the mosquitos, sand flies, and sand fleas out in droves. By using bug spray that contains Deet, you can prevent bug bites and protect yourself from harmful diseases they can carry.
Another essential item you'll want to bring with you camping in Georgia is a crank weather radio. As mentioned above, the weather can be unpredictable during hurricane season. Having an emergency, hand-crank weather radio will ensure that you can stay up to date on weather-related activity.
Pro Tips for Camping and RVing in Georgia
Here are a few tips to make your next Georgia camping trip one to remember.
Always book your campground or RV park well in advance to snag the best campsite. Campgrounds fill up fast, especially in the spring and summer, so you'll want to book your site as far in advance as possible. Be sure to book on BookOutdoors for included weather protection on eligible bookings and no booking fees.
Bring extra sunscreen and bug spray! This is especially important if you are camping in the hot summer months. You don't want a sunburn putting an early end to your camping trip.
Pets are allowed in some state and national parks. There is an additional pet fee and your pet should be well-behaved. Be sure to still check the individual campground rules for pets.
If you're camping in Georgia in the winter, bring your own drinkable water. Many campgrounds will turn off their water during the winter to keep the pipes from freezing. As such, drinkable water may not be available. It's recommended that you bring your own.
Bring a hand-crank weather radio to monitor for inclement weather.
Georgia state fishing licenses are required if you plan on fishing anywhere in the state. You can pick one up at almost any bait and tackle shop. They are $16 for a year and everyone over the age of 16 must have one to fish. The only exception to this is if you're fishing for mountain trout. This special license is required for anyone, regardless of age, and is $10 for daily use.
There is no hunting permitted in any state or national park in Georgia. Most private campgrounds do not allow hunting onsite, either.
There is no alcohol allowed in any state or national park in Georgia. Private campgrounds have their own rules pertaining to alcohol, so be sure to check before you go.
Entry to any Georgia state park requires an additional entry fee that is not included in the price of the campsite. Entry fees range from $5 to $20 daily, depending on how many people are in your group.
Firewood is available to purchase onsite in most campgrounds. Please, do not bring firewood from another state, and only burn firewood where you buy it. This is to prevent invasive insects and other tree blights from causing diseases in the area.
Find Amazing Georgia Campgrounds and RV Parks with BookOutdoors
If you're looking for sweet tea, sweet peaches, and sweet people, then the Georgia countryside is the perfect place for your next camping trip. You can find and book the best campsites, RV parks, cabins and glamping resorts when you use BookOutdoors. Just remember, take only memories, leave only footprints.