With beautiful beaches and weather that allows for outdoor activity year round, it's no wonder that camping in Florida is one of the most popular activities in the state.
About Camping in Florida
With 11 national parks and 191 state parks, Florida is one of the premier camping destinations in the country. It's easy to see why. 825 miles of pristine coastline and an average of 230 sunny days per year make the "Sunshine State" one of the best places to pitch a tent, park an RV, or glamp under the stars. While camping in Florida, you can trek miles of hiking trails, swim in crystal clear water, and immerse yourself in flora and fauna that can't be found anywhere else in the nation.
Where Can You Camp in Florida?
To start your perfect campsite search in Florida, you'll need to know where you can camp within the state. Fortunately, there are many state and national parks where you can set up camp. Whether you're RVing or tent camping, the state and national parks in Florida are perfect for any type of camper. 
Find and book your perfect Florida campsite on BookOutdoors!
Florida National Park Camping
Florida's 11 national parks offer plenty of standard and unique campsites to choose from. From beachside to wetlands, campsites in Florida are both expansive and variable. While most national parks in Florida have spots for tents, RVs, and trailers, some sites are only for hike-in and tent camping only. 
Each campsite available at the national parks in Florida includes a fire ring, tent pad or RV driveway, lantern post, picnic table, and accessible non-potable water spigots. RV sites have electrical hookups, and a few group sites have a covered picnic area to enjoy as well.
You can expect a daily camping fee in Florida's national parks to range from $10 per night, all the way up to $300 per night, depending on which park and which sites you're staying at. Tent sites are the least expensive, and RV sites are slightly more per night due to the electrical hookups they feature. Also, many of the national parks in Florida feature cabin rentals if you prefer glamping, though these tend to be on the more expensive side of the rental rates. 
Group campsites are also available at most national parks in Florida. Some group sites feature cabins, while others only allow tents. To date, there are no national parks in Florida with group RV sites.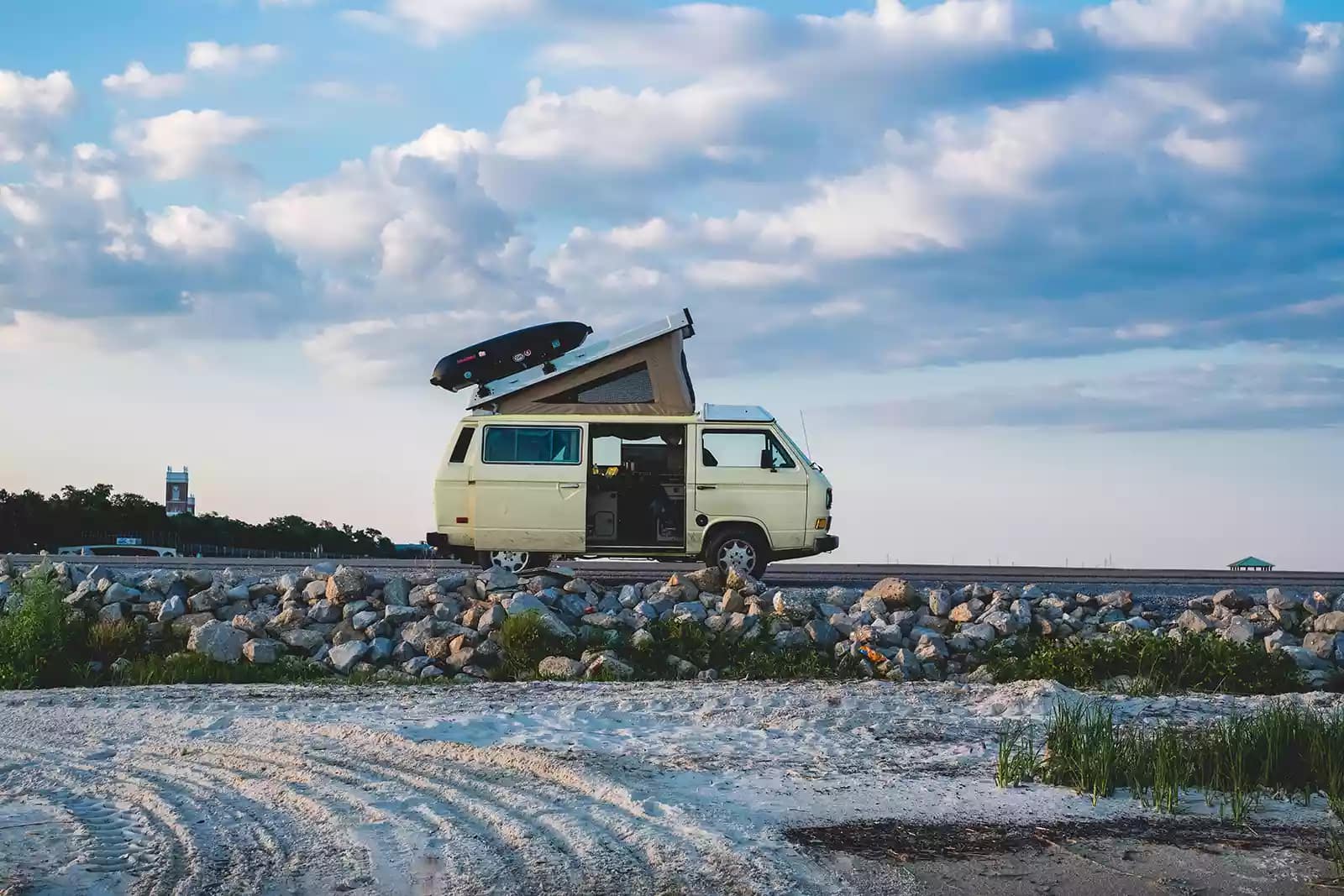 State Park Camping in Florida
Florida is home to 191 state parks, with a whopping 57 offering full-service camping and many offering a unique experience you can't find in any other state. Want to kayak with manatees or bird watch in tropical forests during your stay? The Sunshine State has you covered!
Each dedicated campground in the Florida state park system offers full facilities for both tent and RV campers. Sites provide a fire ring, tent pad, electricity, picnic tables, and a grill. State park campgrounds also have centralized showers, restrooms, and dump stations. RV sites are variable and can be selected according to your rig length. 
Fees to camp within Florida's state parks are a standard $22 for any developed site. Cabins are a flat $70 nightly, boat camping is $18 per night, and primitive campsites are $10 each. There is a $6 reservation fee for all campsites, no matter the type. This fee is non-refundable and goes to the maintenance of the campgrounds. Additionally, there is a per-car entrance fee to all Florida state parks.
Private Campgrounds in Florida
Aside from state and national park camping, there are a wide variety of privately owned campgrounds and RV parks in Florida that cater to all types of people. Whether you're looking for kid-friendly camping, adults only RV parks, or unique glamping in Florida, you can find all these and more in the Sunshine State.
Book the best Florida campgrounds, RV parks and glamping resorts on BookOutdoors!
Many private campgrounds also feature amenities that are not commonly found in state and national parks. You can enjoy amazing pools, on-site laundry, playgrounds, dog parks, kayak rentals, and camp stores at most private campgrounds or RV parks in Florida.
How to Find the Best Campgrounds and RV Parks in Florida
With so many styles and choices for camping in Florida, finding the perfect site can be overwhelming. We've made it easy to browse all different types of campgrounds in Florida, and easily book the one that fits your needs. Check it out at BookOutdoors.
When to Go Camping in Florida
Because Florida is warm and sunny most of the year, with an average temperature of 70 degrees, there isn't just one good time to visit the Sunshine State. 
Deciding when to camp in Florida comes down to personal preference. Do you live in a state with colder months and want to warm up in the winter? Camping in Florida would be perfect for you in December. Does cooling off in a natural spring on a hot sunny day sound nice? Then a mid-summer trip is calling your name. 
However, if you're considering a visit between June and November, you'll want to stay alert and check for weather updates frequently. Afternoon thunderstorms with lightning are common during these months. More importantly, this time of year is the Atlantic hurricane season, and Florida is home to more hurricanes than any other state. The weather during this time can change quickly, and campgrounds may close with little to no warning for those who aren't paying attention to weather forecasts.
What to Pack for Camping in Florida
Florida is a unique state in that during the day, the temperature can be a hot 85 degrees, but by nightfall, the temperature can drop significantly. In summer, the heat and humidity can often remain steady both day and night.
Some items are essential for a Florida camping trip, and both warm weather and cooler weather clothes are a must, depending on the season. At any time of year, UV protective clothing is always a good choice, as the UV index in Florida can consistently reach a level 10, the highest level on the index. Other UV protective items you'll want to have on hand are sunglasses to protect your eyes and plenty of sunscreen.
If you plan on fishing at any campground in Florida, unless privately owned, you'll need a Florida fishing license.
Another important item you'll want to keep with you, depending on where you're camping, is bear repellent spray and bear-proof food storage containers. Bears aren't the first thing you probably think of when you think about Florida, but the state is home to a black bear population that lives close to many state and national parks. 
Lastly, you'll want to bring bug spray that contains a good percentage of Deet. Due to Florida's climate, there is no reprieve from mosquitoes, no matter when you visit. Unfortunately, these menaces carry Zika, a virus that causes rashes, joint pain, and fever. Women should be extra liberal with bug spray, as this virus is known to cause microencephaly in newborns.
Tips for Camping in Florida
If Florida is your next camping destination, here are some pro tips for enjoying the outdoors in the Sunshine State.
Be overly cautious with small pets and children around bodies of water. Florida's waters are home to millions of alligators known to be aggressive when threatened, especially nesting females. 
Reserve your campsite well in advance, especially in state and national parks. These campgrounds usually fill up fast. You can also find many private campgrounds when you reserve your site with BookOutdoors.
Bring extra sunscreen, bug spray, and a wide-brimmed hat! The Florida sun can be scorching, especially if you're camping in summer. You don't want an unpleasant or even painful sunburn ruining a perfect vacation.
Be sure to check the rules and regulations of the individual parks. Some allow bikes, pets, equestrians, and boats, while others don't. Not all parks have the same rules.
Both state and national parks in Florida have an additional per-car entrance fee that is not included in the reservation pricing.
Florida encourages the use of paper or no straws throughout the state. Plastic straws are one of the biggest dangers to local wildlife. Be sure to pack paper or reusable straws when you camp.
Use BookOutdoors to Find and Book Florida Campsites and RV parks
From tropical waters to lush green forests, camping in Florida is an experience like no other. Find amazing campgrounds, RV parks, cabins and glamping resorts, and book them instantly at BookOutdoors. Just remember to leave no trace and watch for gators.