For some of the best camping in Connecticut, travelers have several choices, not only in location but in camping styles. Cities along the way offer plenty of places to stop and refresh, stock up on items, and experience local activities. From scenic waterfalls and pristine lakes to hiking trails through lush landscapes, your daily itinerary will be filled with a variety of outdoor activities.
While traveling through the state, take advantage of scenic highways and byways like the Litchfield Hills Scenic Drive and Merritt Parkway. Once you've researched glamping locations, RV parks, and the best campgrounds in Connecticut, you'll be set to enjoy all that the state has to offer.
RV Campgrounds in Connecticut
When traveling through Connecticut, there's no shortage of quality campgrounds to set up camp. Whether you're looking for a campground offering a full array of amenities or primitive camping in the backcountry, there are numerous choices available.
Depending on campground requirements, available choices abound to suit the preferences of couples, families, and groups during the seasons and at competitive prices.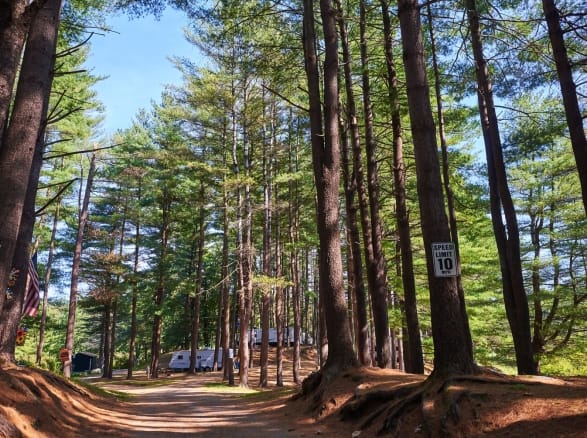 We are conveniently located in the beautiful Hudson Valley region of New York, only 90 miles north of New York City. Interlake is easily accessible from both the NY Thruway and the Taconic Parkway, and just minutes away from the natural splendor of the Hudson River and historic town of Rhinebeck. There is no shortage of nearby attractions to keep you busy!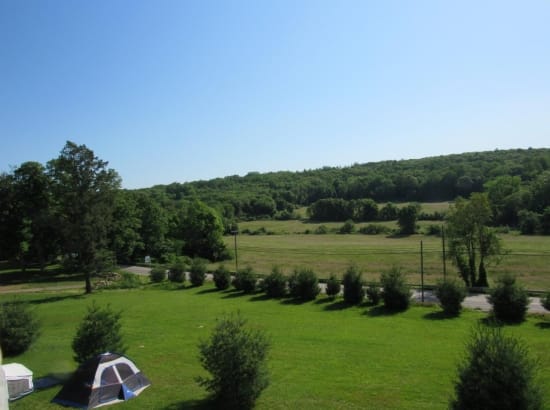 Whether it is your first time at GrandView or one more of many, we are looking forward offering you a wonderful camping experience! Located on 22.5 acres, our campground offers both full hookup and water and electric sites, as well as a few tent sites and charming cottages. All offer a grand view of the Connecticut countryside.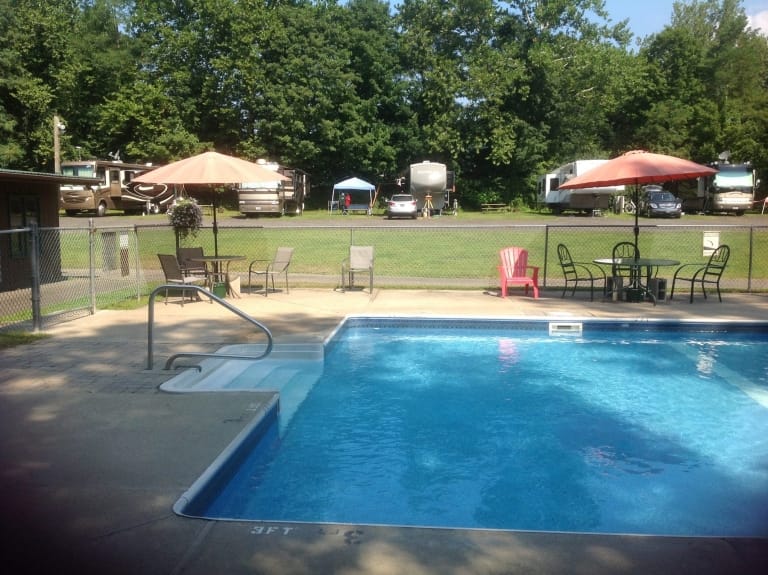 Branch Brook Campground is a full-service family destination in the rolling hills of Thomaston, CT. We are a top-rated campground and RV Park that offers a wide range of accommodations and amenities. Branch Brook Campground is designed to make your stay as effortless as possible all with the same philosophy in mind - our guests come first.
Glamping Connecticut
A camping adventure is always fun and exciting. When taking it to the next level of glamping, it adds the comfortable elements of home plus extras.
Travelers can enjoy the great outdoors throughout the year with an abundance of trails to hike. There are also canoeing and kayaking excursions, swimming, fishing, ziplining, and observing and photographing scenic landscapes and local wildlife.
Consider the following glamping destinations to satisfy your need for traveling in style.
At Bear Creek Campground in Lake Compounce, the focus is on family fun. From the comfort of a 1- or 2-bedroom cabin, Cub Hut, or Tepee, guests are just steps away from Lake Compounce Family Theme and Water Park. The campground and amusement park are located in Bristol.
Connecticut Glamping at the Odetah Camping Resort is set amid beautiful tall trees in a serene forest bordered by a lake. The resort caters to those who want to experience glamping Connecticut style. Select a lake-side cabin fitted with a kitchen and bathroom or listen to the birds chirping from inside a wood and canvas yurt. Each accommodation has outdoor seating and fire pits. Throughout the visit, there are numerous entertaining activities, such as mini-golf, fishing, basketball, and boating. Odetah is located in Bozrah. 
Strawberry Park Resort Campground in Preston is an all-in-one vacay destination for clampers. The 75-acre campground offers plenty to do to wile away the time when you're not out and about enjoying local attractions and the great outdoors. Glamping guests can choose a log cabin, or deluxe or premium trailer equipped with cable, TV, and kitchen. Entertainment is almost non-stop for adults and children. Relax in three outdoor pools, relax in hot tubs, and play volleyball, basketball, or tennis. There are special themed events on specified weekends plus more than 35 supervised activities for all ages scheduled during the summer. Adults who want to "take a chance" can visit Foxwoods Resort and Casino or the Mohegan Sun Casino, just a short drive from the campground.
Stateline Campresort and Cabins is located on the Connecticut-Rhode Island state line along a picturesque shoreline. The cabins are fitted with kitchens, bathrooms, available heating and air-conditioners, and cozy beds. Dine inside or use the barbeque grill and enjoy the outdoor picnic table. Activities are part of the fun at the outdoor swimming pool fitted with slides for the kids, boating, fishing, and kayaking. Camping/glamping is the way to have a memorable experience at the campresort in East Killingly.
National Parks in Connecticut
From a historical trail to a historical farm, Connecticut's national parks offer a glimpse into the past while enjoying the natural beauty the landscapes continue to provide today.
Appalachian National Scenic Trail
The Appalachian National Scenic Trail is part of the 2,180+ hiking trail that begins in Georgia at Springer Mountain and ends at Mount Katahdin, Maine. In between, the scenic trail traverses approximately 50 miles through Connecticut. The AT, completed in 1937, is part of the National Park System. For the outdoor enthusiast who is interested in hiking one of the most scenic trails in the U.S., camping is available along the route while in Connecticut. The designated tent campsites are located at Pine Swamp, Belter, and Limestone Spring.
Weir Farm National Historic Park
Weir Farm National Historic Park is a national reserve located in Wilton and was home to Impressionist artist J. Alden Weir, who dubbed the residence the "Great Good Place." When visiting, you'll see why the 60-acre farm is depicted in this way. While there's no camping at the farm, camping locations are nearby. Kettletown State Park is one of the closest at only 17.2 miles from Weir Farm. The park is expansive, with 605 acres shared between Southberry and Oxford, and offers 63 campsites. Kettletown State Park provides camping and activities, such as fishing, hiking, swimming, and picnicking, and is open year-round.
Coltsville National Historical Park
Coltsville National Historical Park, located in Hartford, is temporarily closed while undergoing specific projects to be completed in order to change it from an authorized to an established historic park. 
State Parks in Connecticut
Outdoor enthusiasts have unlimited opportunities on land and water to explore and experience the many activities Connecticut's state parks have to offer.
Hammonasset Beach State Park
Hammonasset Beach State Park is the place to go, especially during the summer. The park resides along two miles of shoreline featuring a soft-sand beach. Relax in the sun, bring a paddleboard or kayak, take to the refreshing water, or just splash in the waves. The park offers 558 campsites and cabins, bathrooms with showers, a camp store, a playground, an amphitheater, and a volleyball court. The open season runs from May 26 through October 9. 
Lake Waramaug State Park
Lake Waramaug State Park is a peaceful and picturesque setting, whether visiting during the summer or enjoying the changing of the leaves during the fall. The park offers 76 wooded sites, or guests can choose a site overlooking the lake. Campsites and rustic cabins are available during the season, which also runs from the end of May through the beginning of October. While staying, enjoy a leisure swim in the lake or drop a line and catch a fish or two for dinner. There are also showers, bathrooms, and a dumping station. 
Devil's Hopyard State Park
Devil's Hopyard State Park in East Haddam is 1,000 acres of pristine beauty with lush landscape and scenic views. Visitors can fish, hike, bicycle, picnic, and camp. Choose from 21 sites set in the woods near the sounds of a waterfall for a peaceful camping experience. Fishing enthusiasts are welcome. However, pets aren't allowed. 
Mashamoquet Brook State Park
Mashamoquet Brook State Park offers an interesting look back at history. The park, located in Pomfret, includes the Brayton Grist Mill, the Indian Chair and Table Rock stone formations, and the Wolf Den historic site. Camping is available at two locations within the park. There are 18 wooded sites at the Mashamoquet Brook Campground and 35 campsites at the Wolf Den Campground. Activities within the park include fishing, hiking, and swimming. 
Get Ready for Your Next Camping Adventure
Wherever the road takes you while traveling through Connecticut, make plans ahead of time and reserve your space to relax and unwind. With some of the best RV parks in Connecticut, along with campgrounds and glamping locations, your time on the road will be a memorable adventure.When you're ready to roll, contact BookOutdoors.com so we can help get you going in the right direction.