Once the summer fades into autumn, the leaves will change into vivid shades of yellow, orange, and red. These blazing colors turn the vast Colorado mountain ranges into stunning, fiery peaks. Many people take trips to see the leaves changing from summer to fall. It's one of the most popular types of camping trips!
Colorado is no stranger to gorgeous fall foliage. The large swaths of aspen trees, the Colorado state tree, throughout the Rocky Mountains put on a spectacular show each year beginning in September that has visitors flocking to see. 
Find and book your Colorado leaf-peeping trip on BookOutdoors.
Get a head start in planning your Colorado leaf-peeping trip this year, and check out our guide on the best places to stay and take in the changing seasons in the Centennial State. 
What is Leaf Peeping?
Leaf-peeping is watching the leaves turn from summer green to bright yellows and golds to orange and fire red during autumn. Many flock to national parks and forests to catch a glimpse of the stunning scenery. Leaf peeping roadtrips have gained popularity recently, with many people taking advantage of inexpensive vacations. 
Best Time to Go Leaf Peeping In Colorado
If you plan a trip to view the fall foliage in Colorado, you'll want to plan a mid-September trip. This time of year will give you the best views, but you must make your reservations in advance. Leaf peeping in Colorado is quite popular with many visitors, with many getting their last vacations in before the roads get impassable during winter. 
Fall Colors in Kenosha Pass
One of the most popular leaf-peeping locations in Colorado, Kenosha Pass features vast aspen forests that turn yellow and gold in the fall and deciduous evergreens like the Douglas Fir and Ponderosa pine trees which remain green year-round. The contrast between the trees makes for stunning views.
Take the trendy drive from Conifer to Kenosha Pass to experience the full effect of the scenery throughout the area. If you plan to camp, check out the primitive sites at the Kenosha Campground, which has the highest altitude of any public campground in the country. 
Find the best fall campsites in Colorado when you use BookOutdoors.
San Juan Skyway
If you've missed the mid-September deadline for northern Colorado, you can still catch a glimpse of breathtaking fall foliage in southern Colorado at the San Juan Skyway. A 230-mile loop through the San Juan Mountains offers impressive 360-degree views of massive aspen ranges. 
If you want to leaf peep without worrying about transportation, go for a ride on the Silverton Narrow Gauge Railroad, which runs the loop through the mountains. For even more adventure, check out the changing colors on the Soarin' Zip Line, which gives you an up-close look at the aspens from 27 zip lines. 
Independence Pass Leaf Peeping
If you're looking for a more adventurous leaf-peeping experience, you'll find the area around Independence Pass unforgettable. Nestled between Aspen and Twin Lakes, the drive around Independence Pass isn't for the faint of heart. With hairpin turns and steep drop-offs, this trip is recommended for more experienced travelers. 
Set in the middle of a lodgepole pine forest in Independence Pass, you'll find Lost Man Campground to spend the night. The sites have basic amenities such as a fire ring and a lantern pole but don't expect much more. Close to the campground is the Independence Ghost Town, a historical mining town with self-guided tours for extra fun. 
Leaf Peeping in Maroon Bells
If you've ever seen a photo of Colorado, you've most likely seen Maroon Bells. Located close to the town of Aspen, Maroon Bells is the most photographed landscape in the Centennial State. The peaks of the mountains rise into the sky as far as the eye can see. Maroon Bells should be on any leaf peeper's itinerary with mountain sides covered in aspen and evergreen trees. 
Camping is available at Maroon Bells Campground in White River National Park. However, you'll want to book your site well in advance. This campground is always fully booked as it provides the best views of the surrounding mountains.  
Autumn in Kebler Pass
Kebler Pass is a leaf peeper's dream. Here you'll find the largest aspen grove in North America, along with a few natural volcanic remnants. Camping in the Gunnison National Forest, where Kebler Pass is located, is plentiful, with national park camping and private campgrounds like Kebler Corner. 
Immerse yourself in fall foliage when you find and book your campsite with BookOutdoors!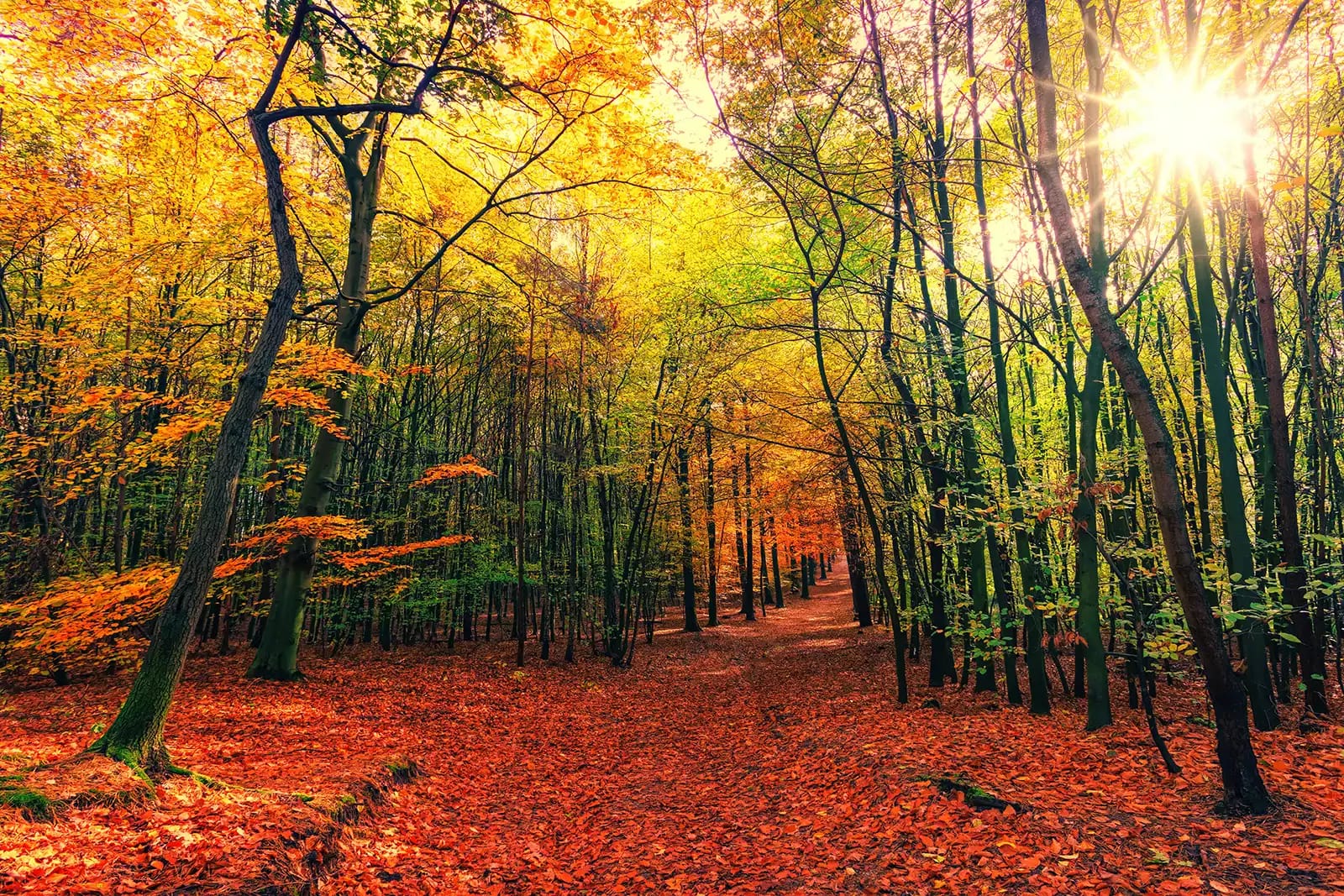 Tips for Leaf Peeping in Colorado
Leaf peeping trips are fantastic for all ages. With hundreds of thousands of forested acres, it's easy to see why Colorado is a popular spot for those wanting to catch a glimpse of the changing leaves. Here are a few tips to make your next leaf-peeping trip to Colorado unforgettable!
Book your site in advance! Leaf peeping season is congested, and campsites tend to sell out fast.
Bring an emergency weather radio. Colorado can have surprise blizzards, and you don't want to get snowed in!
Be sure to bring bear-proof containers, bear spray, and an airhorn. 
Stay on marked trails. Colorado mountain ranges are vast. Staying on the marked trails ensures your safety.
Do not touch, feed, or interact with wildlife.
Register and purchase applicable licenses you'll need, like hunting or fishing. 
Bring extra clothing layers and plan for many different types of weather patterns. 
Book Your Leaf Peeping Getaway to Colorado with BookOutdoors!
When you use BookOutdoors, you can easily find and book your next fall trip to Colorado. BookOutdoors partners with thousands of campsites to make it simple for you to find and book your favorite ones. With no membership or booking fees, it's easy to see why many campers use BookOutdoors to have the adventure of a lifetime. Use BookOutdoors today and get started on your next Colorado camping trip.