Ready to pack up the RV and head out from the Mile High City? If you're planning to RV around the Denver area, you might want to check out some activities and destinations close to this bustling city. Many day trips from Denver are available, and some are only a short drive from the city center.
Let's explore more of what Colorado offers close to its busy capital. From snowboarding and winter tubing to touring local breweries and hiking through Rocky Mountain National Park, there is something for everyone in the Centennial State.
Pikes Peak
Perhaps the most famous of Colorado's attractions, Pikes Peak is the highest summit in the Rocky Mountains. Pikes Peak stands at more than 14,000 feet in elevation, and it has been a favorite destination among locals and tourists since its opening as a national historic landmark in 1961. The nearby mountain museum, rich in gold mining history, offers a wealth of interesting facts for visitors on their way to the summit.
You can choose to hike the mountain or drive to the peak. Hot tip: Are you unfamiliar with driving on rugged mountain terrain? Play it safe by taking the shuttle to the summit.
Glenwood Springs
Head from the Mile High City and travel 2.5 hours to the gorgeous town of Glenwood Springs, Colorado. No matter what you like to do when you're on a camping trip, Glenwood Springs has entertainment for the entire family. You'll find fishing, biking, and hiking trails located throughout the city, although the many natural hot springs are by far the main area attractions.
Complete your day trip from Denver by reserving an overnight spot at the popular Hideout at Glenwood Springs Campground. A stunning private RV park adjacent to one of the largest hot springs, this full-service RV campground has plenty of room for tents and campervans, too!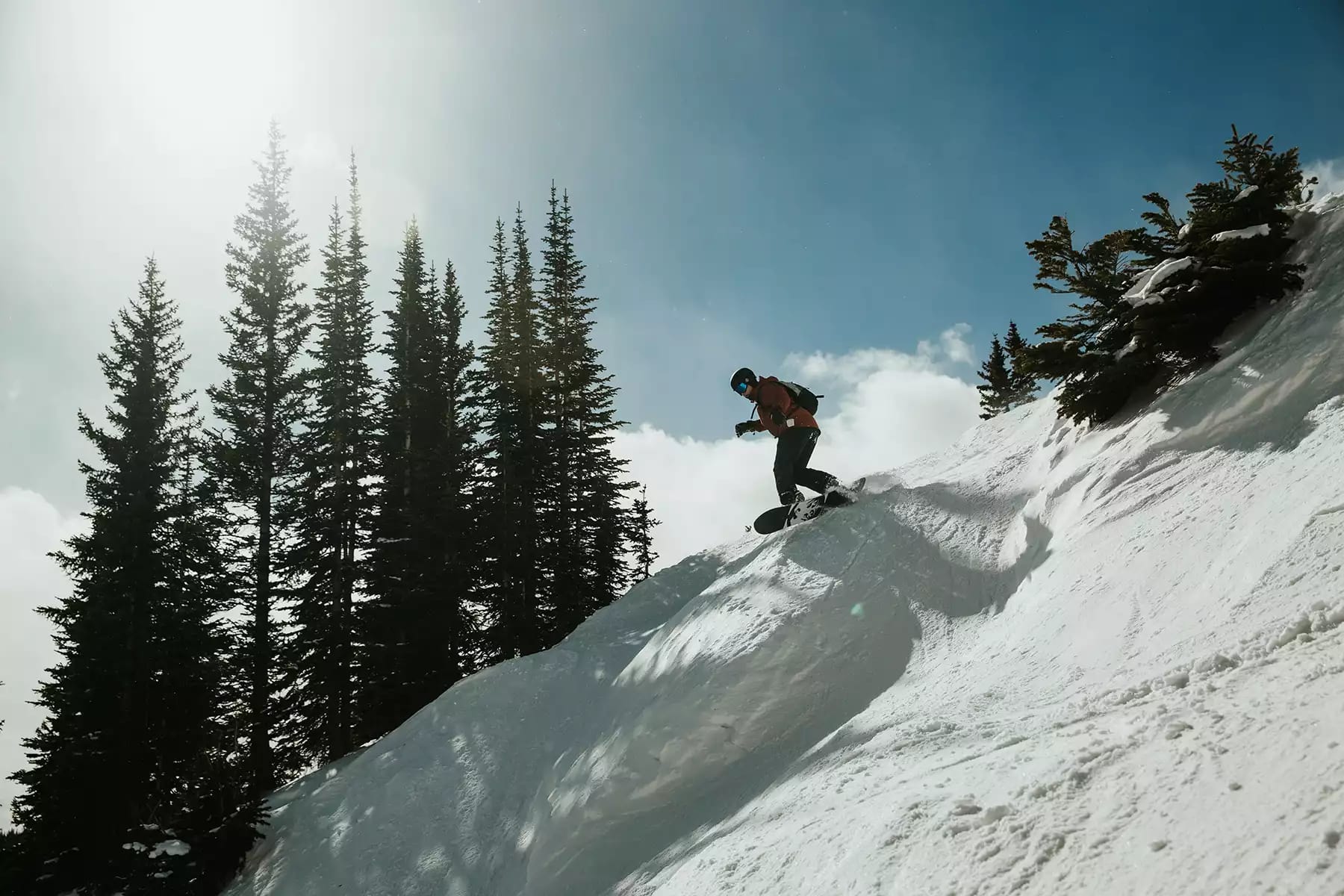 Breckenridge
If you're planning on a winter RV trip, make a day out of the fun at Breckenridge. The slopes here are world-famous for perfect snowboarding, tubing, and skiing. During the winter, the town is full of seasonal residents and tourists spending their days on the peaks. There are also many places to rent equipment, so you won't have to worry about bringing skis if you come on a day trip. After getting off the lifts, enjoy a stroll through the quaint downtown with its shops and restaurants before heading back to your RV.
Red Rocks Park
RVers can delight in the very short drive from Denver to Red Rocks Park, 30 minutes outside the capital. Home to the Red Rocks Amphitheatre, this park lets visitors enjoy fun events such as outdoor concerts and movies. Even when no events take place, Red Rocks features miles of pristine hiking trails winding through the natural landscape.
Rocky Mountain National Park
Are you short on time but still want to take a day trip from Denver? Then, make sure you put Rocky Mountain National Park on your to-do list. Not only is it the largest and most visited park in Colorado, but it's also one of the most visited in the country!
Plus, there's no wrong time to see the park. With miles upon miles of hiking, biking, and equestrian trails, Rocky Mountain National Park serves as a great way to relax and reconnect with nature. Don't feel like being active? Bring your RV and take a scenic drive through Bear Lake Corridor.
Fort Collins
A little over an hour from Denver sits the town of Fort Collins. Incorporated in 1883, the city is the fourth most populous in Colorado. It's also home to a surplus of delicious microbreweries, so don't pass up Fort Collins if you're looking for an adults-only day trip from Denver.
The city features more than 20 craft breweries, including the very popular New Belgium Brewing Company. Visitors can take brewery tours, walking tours in the historic district, and even bar hopping tours. Just be sure to bring plenty of water for this day trip!
Royal Gorge Suspension Bridge
For a daring adventure, you can't get a destination better than the Royal Gorge Suspension Bridge. The Royal Gorge Bridge hangs 950 feet above the Arkansas River and is supported by more than 4,000 steel cables. Visitors can walk across the bridge, ride on a gondola hanging on the wires above it, or cross the gorge via Colorado's longest and fastest zipline.
However, if heights aren't your thing, you may want to skip this day trip. Hot tip: Make sure you check that the bridge is open before heading out.
Estes Park
Movie fans will love the main attraction in Estes Park, just one and a half hours outside of Denver. That's because Estes Park is home to the iconic Stanley Hotel, which served as the inspiration for Stephen King's "The Shining." Guests can tour the hotel, see movie artifacts, and even learn more about the film's production.
Not a movie fan? Estes Park is also home to two other 14,000-foot mountain peaks for an outdoor adventure. Note that the peak access is only open on a ticketed reservation system, so if you plan to hike in or around Estes Park, you'll want to reserve a timeslot in advance.
Let's explore more of what Colorado offers close to its busy capital. From snowboarding and winter tubing to touring local breweries and hiking through Rocky Mountain National Park, there is something for everyone in the Centennial State.