Like the Sirens of Ancient Greek mythology or the antihero in your favorite trashy vampire novel (hey, we're not judging your vacation literature), the roads of Colorado are beautiful, yet dangerous. Few RV enthusiasts can resist their allure, but beware! Those snow-capped peaks might appear within reach, beckoning you to voyage onward in your trusty RV.  But take the wrong road without prior research, and you might end up in an unnerving situation. 
Preparing for an RV road trip in Colorado means brushing up on your mountain driving skills. Driving an RV in winter and at high elevations takes some serious extra preparation, too. One of the key steps is researching your driving routes in advance. Identify any potentially hazardous roads, especially Colorado's most dangerous roads, and come up with alternatives before you get behind the wheel. 
Just a Little Disclaimer…
This is a non-exhaustive list of Colorado's most dangerous roads. We repeat – non-exhaustive! There are many additional scary roads in the state – Colorado's just hardcore like that. So consult an RV-specific GPS, maps, or guide when planning your RV routes. 
Any road in Colorado can be hazardous, especially in winter. Don't forget to worry about wildlife, potential rockslides, and avalanches as well. Always check the weather forecast before hitting the road, and sign up for the Colorado Dept. of Transportation's travel alerts. 
The Million Dollar Highway
We're pretty sure the name of this highway refers to amazing views and not pricey life insurance settlements, but don't take our word for it. This 25-mile section of the 236-mile San Juan Skyway links Ouray and Silverton. It was completed in 1924, following an old wagon route carved out around 1880. RVs didn't exist in either of those eras and accordingly, no one thought to make the road very wide. Or safe.
Here are the known hazards to definitely worry about should you make the foolish decision to use this RV route: The road is very narrow, with no guardrails, sheer drop-offs inches from your wheels, and tight hairpin turns. Here are some additional what-ifs to add to those worries: changeable weather, including snow even in summer, potential rockslides, and… does Colorado have earthquakes? Probably.
Alternatives:
The upside of driving the Million Dollar Highway in your RV is the incredible scenery. But it's Colorado, there's gorgeous scenery everywhere, so it's probably best to skip this RV route. 
There's no other direct link between Ouray and Silverton, but you can do a biiiig (like, 4 hours-plus) loop around via Placerville and Cortez. This route uses less-scary sections of US-550 and Highway 62.
Old Fall River Road
Old Fall River Road is a popular attraction inside Rocky Mountain National Park but definitely not a good idea as an RV route. It's a 9-mile gravel road that goes one way only into the high country, taking you from 3,200 to over 11,000 feet via a series of extremely tight hairpin turns. There are no guardrails, the speed limit is 15 m.p.h., and apparently you can touch the trees from your vehicle. So good luck getting the deposit back for your scratched-up RV rental. 
The park service cheerfully promises "a taste of auto travel in days gone by" along this historic route completed in 1920. But there's a reason driving historic roads isn't really a thing. Oh, and the road was built by convicts who were only allowed to use hand tools, so it's probably haunted by angry ghosts, too. 
Alternative: 
Because Old Fall River Road is a one-way connection between Horseshoe Park and Fall River Pass, drivers have to take Trail Ridge Road back down. RV drivers wanting to skip Old Fall River Road might drive Trail Ridge Road instead, but know that it's also considered a scary route for RVs. Both routes are closed in winter. 
Planning a camping trip in Colorado? Book with BookOutdoors.
Mount Evans Scenic Byway
Mount Evans Scenic Byway, a 49-mile route between Idaho Springs and Bergen Park, is very popular with road-tripping tourists. Along with being truly spectacular, the route is one of few that peaks at over 14,000 feet. This gives you the chance to "bag a 14er" without any of that extreme hiking nonsense. Travelers along the byway do include RVers, but the state recommends that vehicles over 30 feet in length avoid the two-lane road. This is due to its many twists and turns, lack of guardrails (we're noticing a theme here), and sheer drop-offs. The road is closed to all traffic in winter.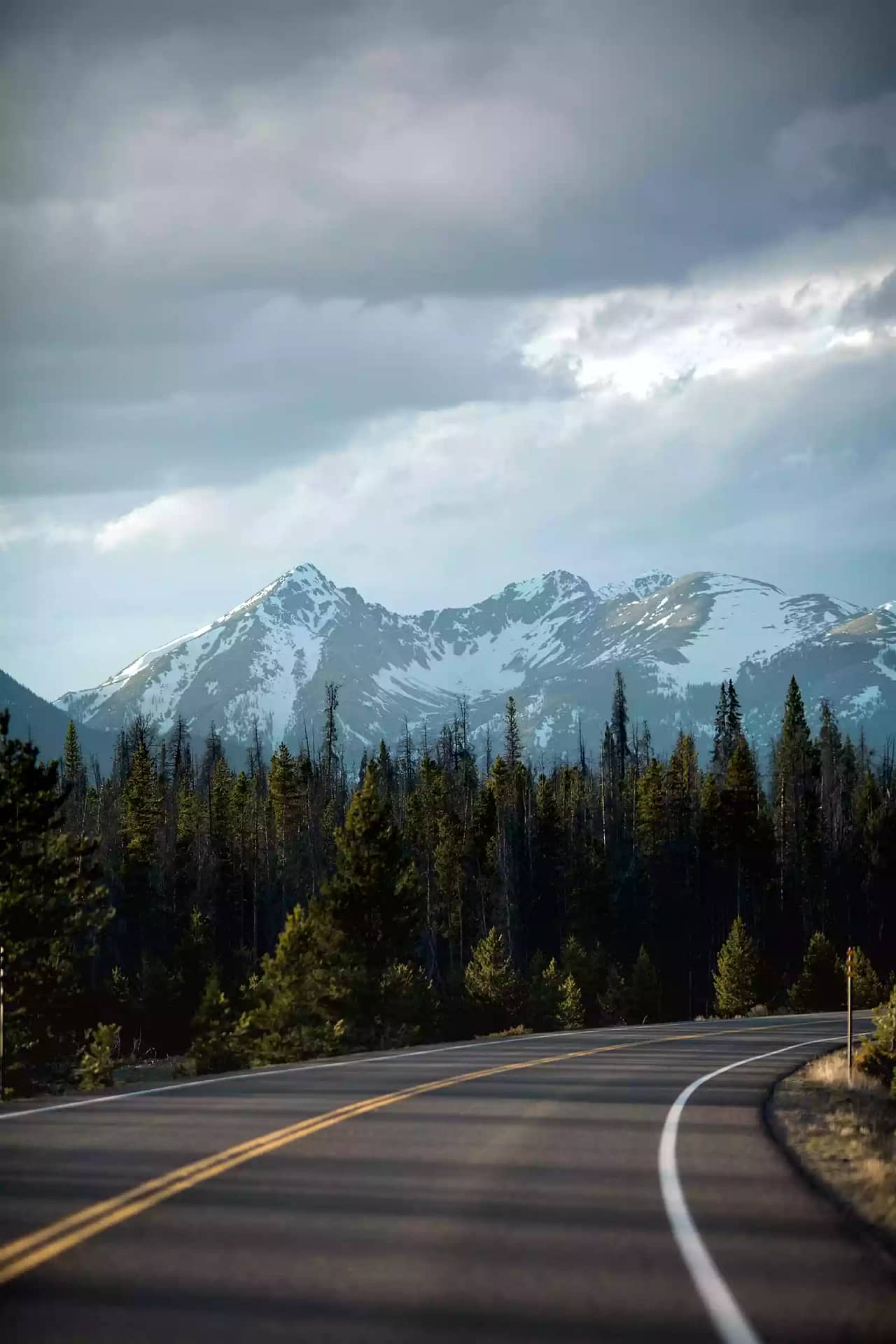 Alternatives:
Mount Evans Scenic Byway diverts from I-70 and ends at the top of the mountain, so there are no real alternatives except hiking. If your only vehicle is a big-rig RV, or you're too nervous to drive a smaller RV on this scary route, you'll just have to skip it. 
Independence Pass
Independence Pass is another beautiful, high-elevation, summer-only mountain road in Colorado that's terrifying in the wrong vehicle. It's a narrow, winding, two-lane road with steep grades… are you noticing a theme here? This section of the Top of the Rockies Scenic and Historic Byway (State Highway 82) between Aspen and Leadville/Twin Lakes peaks at 12,095 feet. It closes for winter, and vehicles over 35 feet are banned all year around. Trailer folks – this means 35 feet is the maximum combined length of trailer and towing vehicle. Just in case you needed more hazards to make you wary of this RV route in Colorado, it's frequented by cyclists, and vehicles often dart on and off the pass from side routes. Oh, and rockfall is an ongoing issue, according to the Colorado Department of Transportation.
Alternative
I-70 runs roughly parallel to Highway 82 to the north. Driving between Aspen and Leadville/Twin Lakes in the off-season or at any time in an oversized vehicle means using safer, non-restricted parts of Highway 82 plus I-70. US-24 connects Highway 82 with I-70 on the eastern side.
Ready for an RV Road Trip?
Planning safe RV routes in Colorado is a key step in getting ready for an amazing road trip. Don't forget to research, compare and book campsites, too! Make this easy by booking with BookOutdoors.