Greetings again, celestial nomads! Are you ready to turn your RV adventures into an interstellar experience? For all the astronomy aficionados out there,  part 2 of our Astro-Tourism blog series is here to provide you with your roadmap to transforming your RV into a mobile observatory. (Read part 1 here.)
Let's dive into our ultimate guide for RV and camping gear essentials for astro-tourism, along with stellar modifications to elevate your starry escapades. Prepare for a thrilling journey through the cosmos!
Essential Astro-Tourism Gear
In Astro-tourism, having the right equipment can significantly enhance your stargazing experiences. So, here are five must-haves for every Astro-tourist.
1) Telescopes
A good telescope is the cornerstone of any astro-tourism adventure. It brings distant galaxies, stars, and planets within your reach, providing a breathtaking view of the cosmos. When choosing a telescope, consider factors such as portability, ease of use, and quality of optics.
Budget-friendly: Celestron AstroMaster 70AZ. Perfect for beginners, this easy-to-use telescope offers excellent value with its sturdy build and powerful optics.
Premium Pick: Meade Instruments LX90-ACF. For serious stargazers, this telescope combines superior optics with advanced features like GPS alignment to provide an unbeatable viewing experience.
2) Binoculars
Binoculars are a must-have for any Astro-tourist. They're portable, versatile, and ideal for casual stargazing and comet watching. Look for ones with a wide field of view and good light-gathering capabilities.
Budget-friendly: Celestron Cometron 7×50. These binoculars are lightweight, have a wide field of view and are excellent for beginners.
Premium Pick: Nikon Aculon A211 10-22×50. Offering a variable zoom and multicoated eco-glass lenses, these binoculars provide clear and detailed views of celestial objects.
3) Camping Chairs
Comfort is key when you're spending hours gazing at the night sky. A camping chair that's comfortable, durable, and portable will make your stargazing sessions much more enjoyable.
Budget-friendly: Magellan Outdoors Stargazer Reclining Chair. Kick back, relax and enjoy the view with this affordable and comfortable chair. The 600-denier polyester fabric provides a comfortable feel, while the steel frame offers support. The 4-position reclining back adjusts to your preferred angle, and the padded arms ensure stability.
Premium Pick: NEMO Stargaze Recliner. Offering a hammock-like experience with the easy setup of your favorite camp chair, the NEMO Stargaze reclining camp chair is made for clear evenings when stargazing—and s'mores—are on the menu.
4) Star Charts
Navigating the night sky can be a bit tricky for beginners. Star charts or apps can help you identify constellations, stars, and other celestial bodies.
Budget-friendly: Sky & Telescope's Pocket Sky Atlas. This compact and comprehensive star atlas is perfect for beginners and seasoned stargazers alike.
Premium Pick: SkySafari 6 Pro App. This app offers an interactive star chart with incredible detail, and even allows you to control your telescope!
Red Flashlights
Preserving your night vision is essential when stargazing. A red flashlight provides illumination without affecting your ability to see the stars.
Budget-friendly: AuKvi Deep Red Light Flashlight. This red beam flashlight is water-resistant, suitable for outdoor environments, adverse weather conditions, and perfect for camping, RVing, backpacking, and astronomical observations.
Premium Pick: Celestron Night Vision Flashlight. Designed specifically for stargazing, this flashlight offers adjustable brightness and a comfortable grip.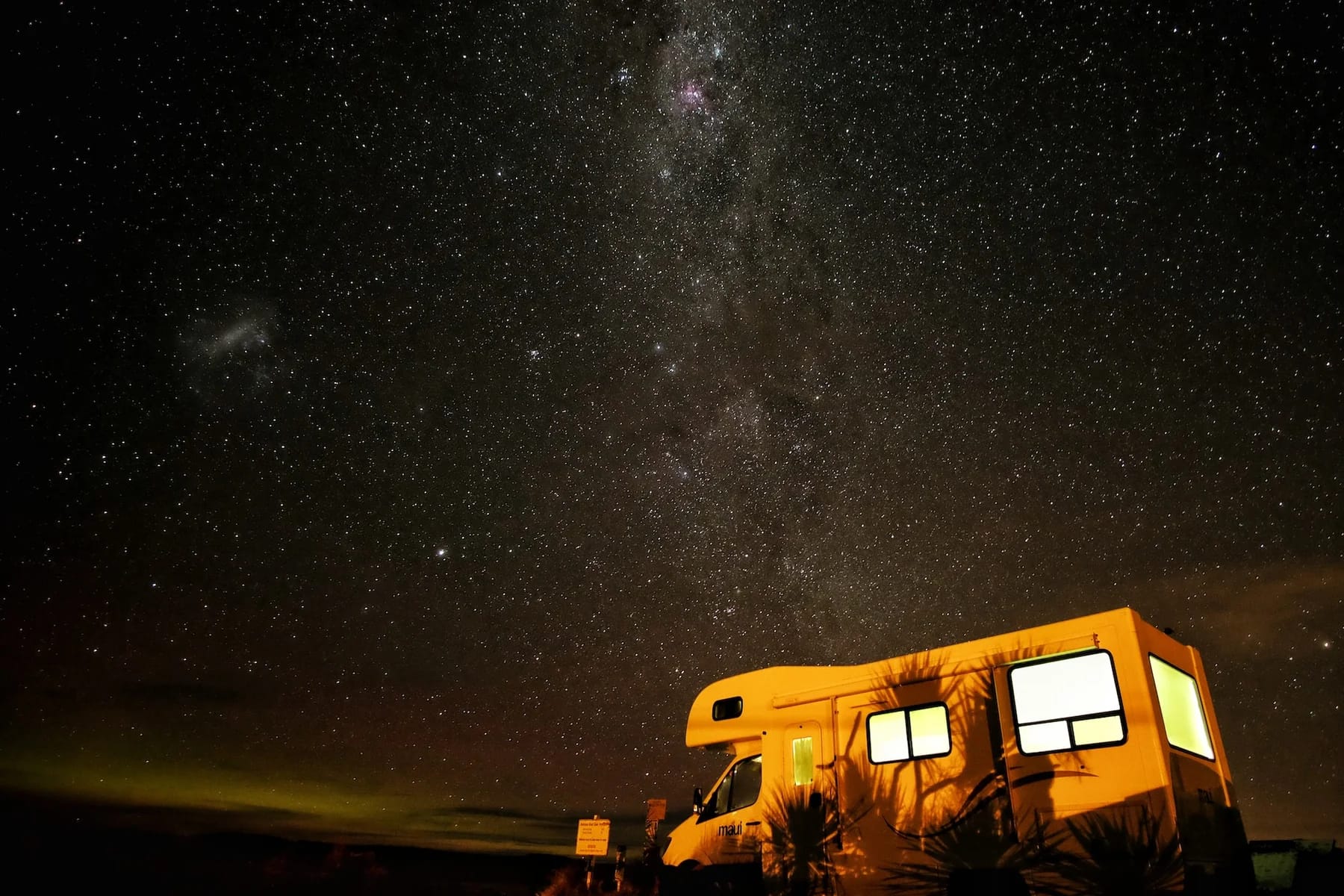 Stellar RV Modifications
If you're truly ready to go all in, in addition to the gear above, you can transform your RV into a mobile observatory! Here are some upgrades that can take your astro-tourism experience to the next level.
1) Observation Deck
An observation deck is your private balcony to the stars. Outfit it with a cozy blanket, some pillows, and low-intensity LED mood lighting to create the perfect stargazing spot. Not only does it offer a fantastic panoramic view of the night sky, but it also adds extra space to your RV.
2) Blackout Curtains
To appreciate the full beauty of the night sky, your surroundings need to be as dark as possible. Installing blackout curtains will block any interior light from leaking out and polluting the view. Plus, they can help regulate the temperature inside your RV.
3) Power Management System
Astro-tourism often requires power for equipment like telescopes and heating blankets. A power management system can help balance the energy usage in your RV, preventing blown fuses or drained batteries. A solar power system could be a sustainable and reliable solution.
4) Skyroof or Skylight
Imagine lying in your bed, gazing up at the Milky Way. Sounds dreamy, right? A skylight or skyroof in your RV can make this possible. It offers an unbeatable view and a unique perspective, all from the comfort of your RV.
5) Dedicated Storage Spaces
Telescopes, binoculars, star charts, flashlights – the list of astro-tourism gear can be quite long. Dedicated storage spaces or compartments in your RV can help organize your equipment, protect it from damage, and ensure everything is easily accessible when you're ready for some star-gazing.
We hope this guide helps you embark on your astro-tourism adventure, fully equipped and prepared for the stellar wonders that await you. Remember, the night sky is a universal canvas of celestial beauty, and with these tools and modifications, you'll have the best seat in the house (or RV) to enjoy it! Happy stargazing!