There's a lot to think about when you become an RV owner. The fun thoughts are about all the amazing places you're going to visit. Should you work on that national park checklist? Try to visit all 50 states in your RV? (Good luck figuring out Hawaii.) Take that motorhome to Canada, Mexico, or beyond? Then there are the boring logistical considerations. One that you definitely can't ignore is needing to store your RV somewhere when you're not using it.
Along with having a place to store your RV, you need to prepare the vehicle for storage. With improper preparation, the worst-case scenario is an RV with serious (i.e. expensive) maintenance issues, a shortened lifespan, rodents in the engine, and bats in the loft bed. RV owners who live in climates with real winters — any place where temperatures regularly drop below freezing — also need to winterize their vehicles before long-term storage for the season. 
As with most things in life, all this is easier if you have plenty of money, time, and experience with RV storage. For everyone else, here's some essential information about storing your RV when it's not in use.
One more bonus tip: Sign up for early access to BookOutdoors!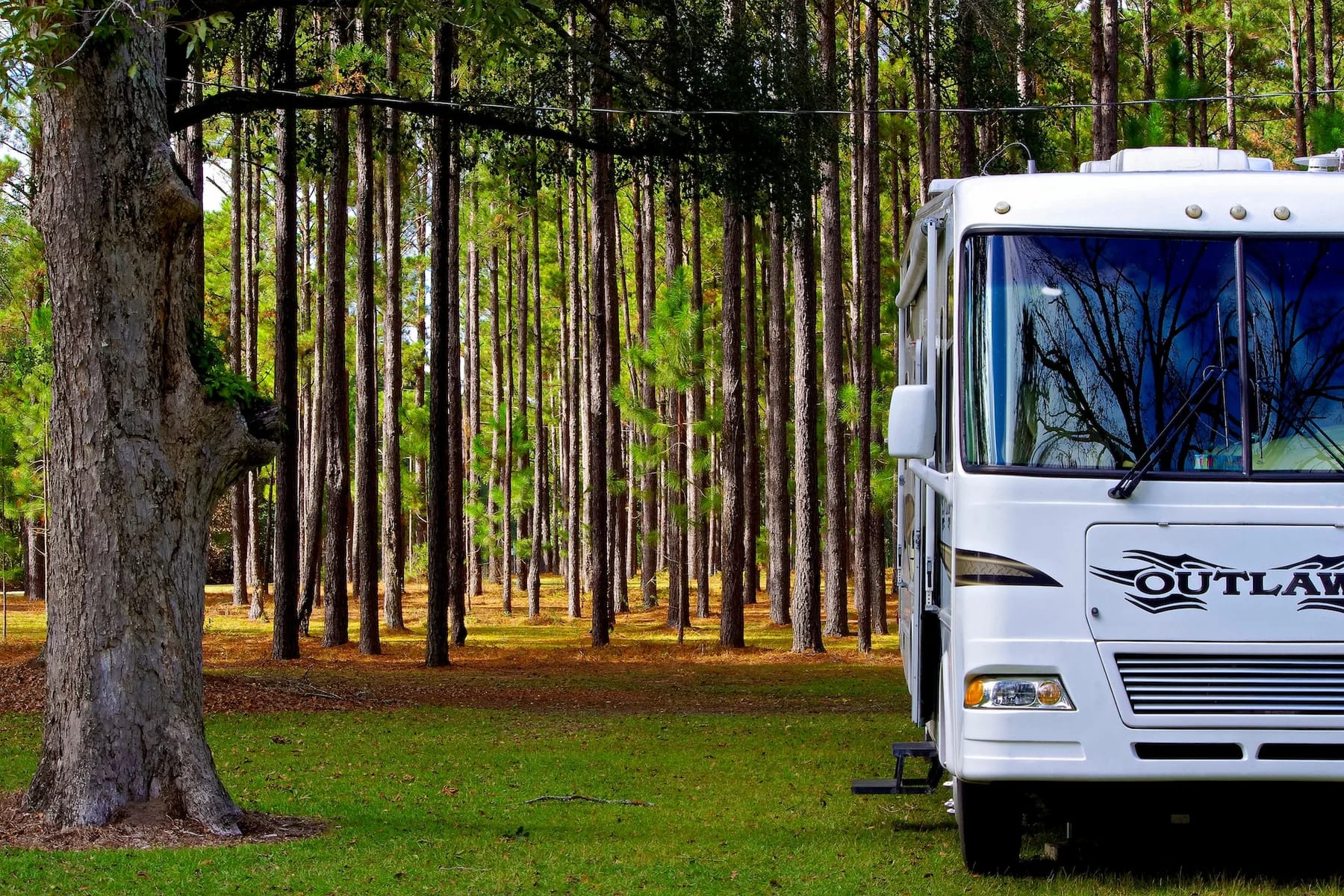 Storing Your RV at Home
If you have adequate space on your own property, whether it's a driveway, garage, carport, or another useable plot, this is the obvious place to store your RV. It's ideal because you always have immediate access to the vehicle for maintenance, peace of mind, and spontaneous trips. And of course, the price is right. 
However, there are some reasons to consider alternative storage options, even if you have space at home. Consider the following:
Is the space at home suitable? Is it covered or open? Uncovered spaces leave your RV exposed to the elements. Note that direct sunlight can be damaging as well as winter weather. 

Is the space flat? Parking your camper on a slope for long periods of time can cause issues with the axles and tires. Refrigerator problems are also a

common issue

caused by long-term parking on a slope.  

Do HOA regulations prevent you from parking your RV at home?

Can you handle the maintenance? Do you want to tackle all the RV's winterization and other maintenance needs? Storage facilities can provide these services, for a fee. For some RV owners, this is preferable to handling them yourself.

Will a parked RV be an eyesore and bother your neighbors? (Did you just grin at that thought? You monster!)
RV Storage Facilities
Specialist RV storage facilities are an excellent choice for RV owners who don't have space at home. They're also an excellent choice for RV owners who do have space at home but prefer a professional storage option elsewhere. RV storage facilities are widely available all over the United States. Prices vary depending on the size of the vehicle and the type of storage space you desire. You will generally have a choice of uncovered or covered outdoor spaces and indoor storage spaces. Some locations even have heated indoor options. 
Fees vary from $30 to over $100 per month for basic outdoor storage space, into the hundreds for protected spaces for larger RVs. Fees can also vary by peak and off-peak season. RV storage facilities usually offer service packages as well. These include winterizing, de-winterizing, detailing, and other maintenance services. While specialist RV storage facilities are the priciest option, many RVers consider them worth the cost. 
General Self-Storage Facilities
General self-storage facilities often have spaces available for long-term vehicle storage. Availability and prices vary, so call around for some quotes. This option is generally cheaper than specialist RV storage, but it doesn't come with any service options and you can't expect the staff to have any knowledge of proper RV storage — that's all on you. Don't forget to pay your bill, or you might see your RV get auctioned off on a reality TV show.
Check the storage place's policies about access to your vehicle. If you want to check on it, take it for occasional drives, or go on a spontaneous off-season road trip, it helps to know how easy it will be to take your RV out and return it to the storage place.
After waving goodbye to your RV for a while, go home and join the BookOutdoors waiting list. 
Preparing Your RV For Storage
The most time-consuming part of preparing your RV for long-term storage is cleaning it. Thoroughly cleaning it. Inside and out. Every square inch. It's not just about making the RV nice and tidy for your next RV trip. It's about keeping out the dreaded vermin!
From tiny ants to marauding raccoons, food scents attract unwanted creatures to your RV. Go beyond just removing all the trash and crumbs. Scrub every surface with your preferred cleaning products, and vacuum every vacuum-able nook and cranny, too. Wash the exterior, and splash on a protective wax treatment to prevent dirt and sun damage. 
The full preparation procedure will vary considerably depending on the type of RV and its range of amenities. It's a good idea to consult the manual or manufacturer for your specific model and create your own checklist. It should include:
Retract any slides.

Remove any removable items.  

Turn all the appliances and the circuit breaker off.

Power down electrical heating elements and empty the water heater.

Flush out the tanks.

Flip the battery disconnect switch.

Examine seals and any places where critters might get in. Seal cracks and holes with caulk, expanding foam, or steel wool. 

Optionally, place the vehicle on blocks or leveling jacks to keep pressure off the tires.

Ideally, cover the vehicle with an RV cover.

Lock it up! Did you remember to lock it up? Take a photo of yourself locking it up, so you can reassure yourself after you get home, that you did, in fact, lock it up.
Winterizing an RV
Research the winterizing and de-winterizing instructions for your specific RV. It's quite the process, especially for novices, and many RV owners prefer to pay a professional. With the DIY option, you'll need antifreeze and fuel stabilizer. Another step is removing the battery and properly storing it in a climate-controlled space. 
Ready to Camp Again?
When it's time for your RV to awake from its hibernation, you'll be glad you took the time to prepare it properly for storage. In the meantime, start thinking about your next RV road trip. Sign up for early access to BookOutdoors and make it easy to find, compare and book campsites