Best National Parks for Outdoor Photography
Perhaps you're an adventurous pro seeking unique perspectives and perfect lighting. Maybe you're a casual photography enthusiast with a decent phone camera and an eye for exquisite landscapes. No matter your outdoor photography style, you'll find national parks across the United States that are superb places to practice your craft. 
National park photography comes with a challenge, though: The most impressive and easy-to-reach vistas tend to attract many people. Therefore, choosing one of the best national parks for outdoor photography means finding a balance between readily accessible beauty and less-popular places, seasons or times of day. 
Yes, you might have to get up early, take a long hike, or plan an off-season visit to make the most of a national park photography trip. 
Combining your pursuit with camping can make that easier. Luckily, signing up for early access to BookOutdoors helps you find great campsites. 
Best for Fall Foliage: Acadia National Park
The world-famous fall foliage of New England is a photographer's dream, and there are few better places to capture it than Acadia National Park. Augmenting dense forests ablaze in vibrant, shifting shades of red and orange is the dramatic scenery of high rocky headlands along the Atlantic coastline. Steep mountains and glacier-carved valleys will also inspire your national park photography. 
The park service recommends half a dozen hiking paths for viewing fall colors, among them Jordan Pond Path, Beehive Loop, Jesup Path and Hemlock Path Loop. Peak fall foliage is usually around mid-October, but it varies from year to year. Check for up-to-date predictions before planning your national park photography expedition to Acadia.  
Best for Rock Formations: Canyonlands National Park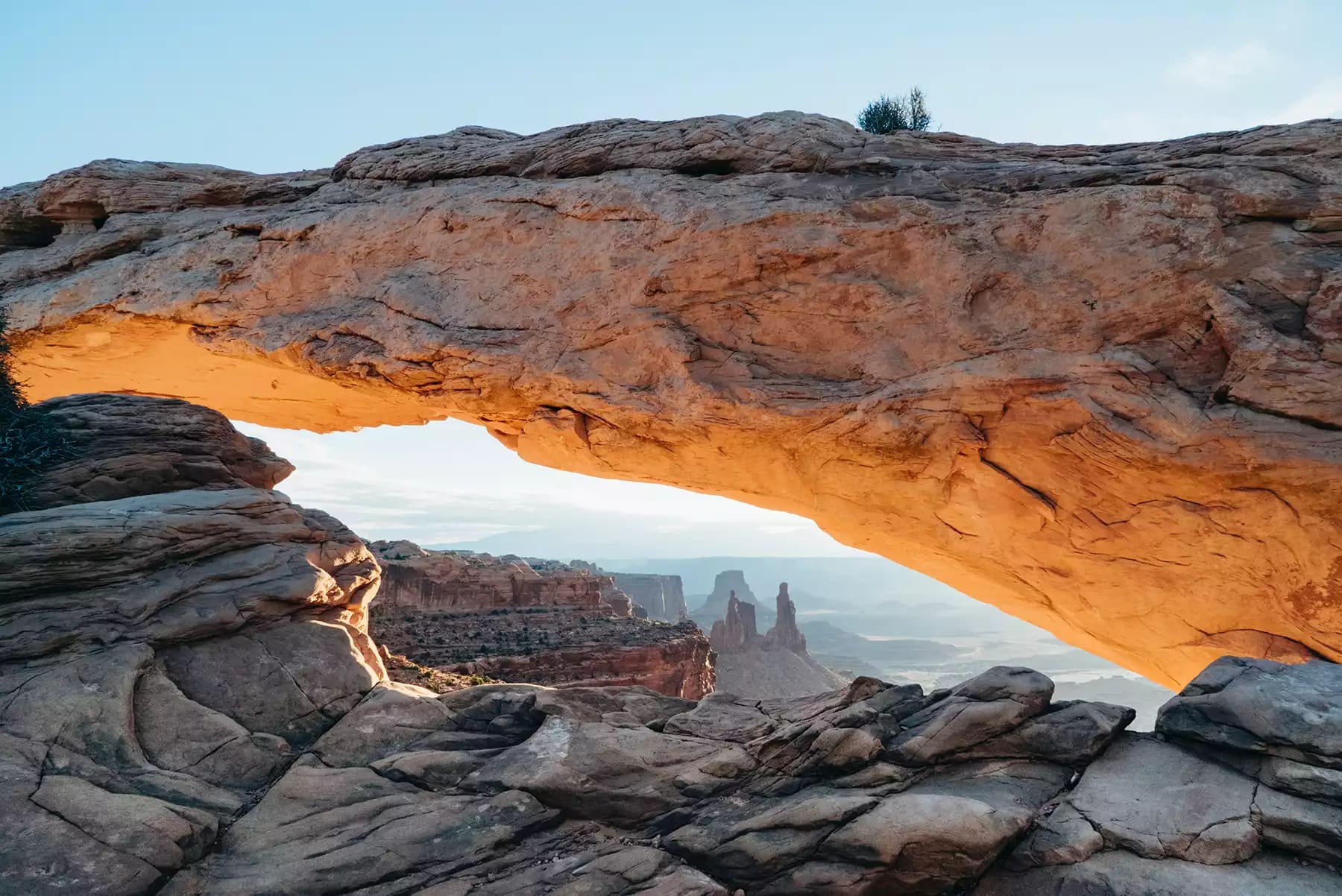 The remarkable red rock formations of eastern Utah's high desert include twisted canyons, buttes, spires and arches. Arches National Park is the most popular place to admire and photograph this stunning scenery, but we recommend nearby Canyonlands National Park instead. It's three times as big yet much less visited, making Canyonlands National Park ideal for photographs that truly capture the wild remoteness. 
The park has three distinct regions, all packed with amazing photo ops. The Needles has the largest number of trails, many leading to otherworldly red-and-white-striped rock pinnacles. The Island in the Sky section offers views above and below the mesa, while the more remote Maze section is known for its twisted sandstone formations. Canyonlands is also notable for its super-dark, star-filled skies, perfect for night sky photography. 
Best for Icy Effects: Yellowstone National Park
Yellowstone National Park covers 2.2 million acres and presents infinite opportunities for outdoor photography. Its rich wildlife, pristine mountain landscapes and unique geothermal features, among them geysers and multi-hued hot spring pools, are truly awe-inspiring. Without a doubt, Yellowstone is one of the best places in the world for national park photography. It's even more special in winter when temperatures drop unimaginably low and the whole park wears a blanket of snow and ice.
A winter visit to Yellowstone is an intense undertaking, but the potential for ice-themed photography is unmatched. Plus, the crowds are gone, leaving the scenery open and unspoiled. The microbe-created jewel tones of Grand Prismatic Spring shimmer against an all-white backdrop, and trees are bedazzled with rime ice. 
You might capture the swirls of steam rising from a hot spring or the ice-cloud vapor of a bison's breath. Of course, Old Faithful puts on a show no matter the weather. Consider booking a guided winter photography tour for an unmatched experience. 
Are you looking for campsites near national parks? Sign up for the BookOutdoors waiting list.
Best for Alpine Awesomeness: Glacier National Park
Montana's famous Big Skies draw many photographers, but those skies are all the more gorgeous when captured above the high-mountain scenery of Glacier National Park. This pristine 1 million-acre wilderness encompasses a fairytale-like landscape of dense forests, crystal-clear lakes, pretty meadows and snow-capped peaks. With more than 130 lakes and over 700 miles of trails, the options for national park photography here are endless. 
Photographing the park's namesake glaciers is tricky, but it's a worthy pursuit. You can catch a glimpse from the road or a short hike, but getting up close calls for a strenuous trek. Photographers up for the challenge will be preserving history as, sadly, Blackfoot and Jackson glaciers will soon be gone. Other prime photo spots that are easier to reach include Lake McDonald, Hidden Lake Overlook and countless viewpoints off the 50-mile Going-to-the-Sun Road. 
Best for Iconic Views: Yosemite National Park
Ansel Adams, one of the most celebrated American photographers, made his name photographing Yosemite National Park in black and white. Countless budding and pro photographers have followed in his footsteps, finding it equally impossible to put down the camera. 
There's a geological icon striking a pose around every corner of this California park. Must-snap icons include Half Dome, El Capitan, Yosemite Falls and Bridalveil Falls. If you visit in spring, you'll receive the reward of gorgeous wildflowers and fast-flowing falls shooting off rainbows. Head to Tunnel View and Glacier Point for incredible panoramas of Yosemite Valley, or make your way to Tuolumne Meadows for a more peaceful experience that's just as inspiring. 
Fans of Ansel Adams should visit his namesake gallery next door to the visitor center in Yosemite Village. It offers exhibits and hosts photography walks, classes and workshops. 
Best All-Year-Round: Great Smoky Mountains National Park
Great Smoky Mountains National Park in North Carolina and Tennessee is the most-visited national park in the United States. It's huge, though, so it's not difficult to find photo-worthy views away from any crowds. Also, the park's visitation is spread across all four seasons, as the mountains are accessible and stunning year-round. 
In spring, you might capture wildflowers and rushing streams, and in fall, you'll find that the foliage rivals New England. Expect snow in winter, although not enough to close most roads. 
All you need to do is log a few miles down any trail for the best photos. Some hot spots for national park photography include Cade's Cove, Clingman's Dome and many viewpoints along Newfound Gap Road. 
Plan Your Camping Trip Around National Park Photography With BookOutdoors
Camping and national park photography go hand in hand. When you want to capture sunrise, sunset or the night sky, or be ready for that shift to perfect natural lighting, it helps to have your campsite nearby. Join BookOutdoors to find your next great camping spot.