Camping with a group, large or small, can be an unforgettable experience. Scout camps, family reunions, work or social club retreats… these all bring up happy memories of s'mores and kumbayas, right? Nobody thinks of horror movies. Who said anything about horror movies?
Nope, it's all long days of wholesome activities in the great outdoors, sharing stories under the stars and communal feasting around a campfire. Think of all the wonderful ways group camping can bring people together! If you're planning a group camping trip in such a spectacular destination as Colorado, this type of positive experience really is possible.
What's not quite so pleasurable, though, is being in charge of all the logistics and camping arrangements for an entire group. If you're the designated camp coordinator — congratulations! Everyone trusts you to do a great job planning a group camping trip in Colorado, so you can put that feather in your cap. 
The good news is that Colorado is a trip planner's dream, a state bursting with spectacular outdoor destinations and countless campsites. Many public campgrounds have group sites available, and private campgrounds often provide custom arrangements for group camping too. 
Join the BookOutdoors waiting list.
Group Camping in Colorado's National Parks
Colorado's four national parks and nine other national park service properties are prime destinations for camping. Several of them provide group camping options, including: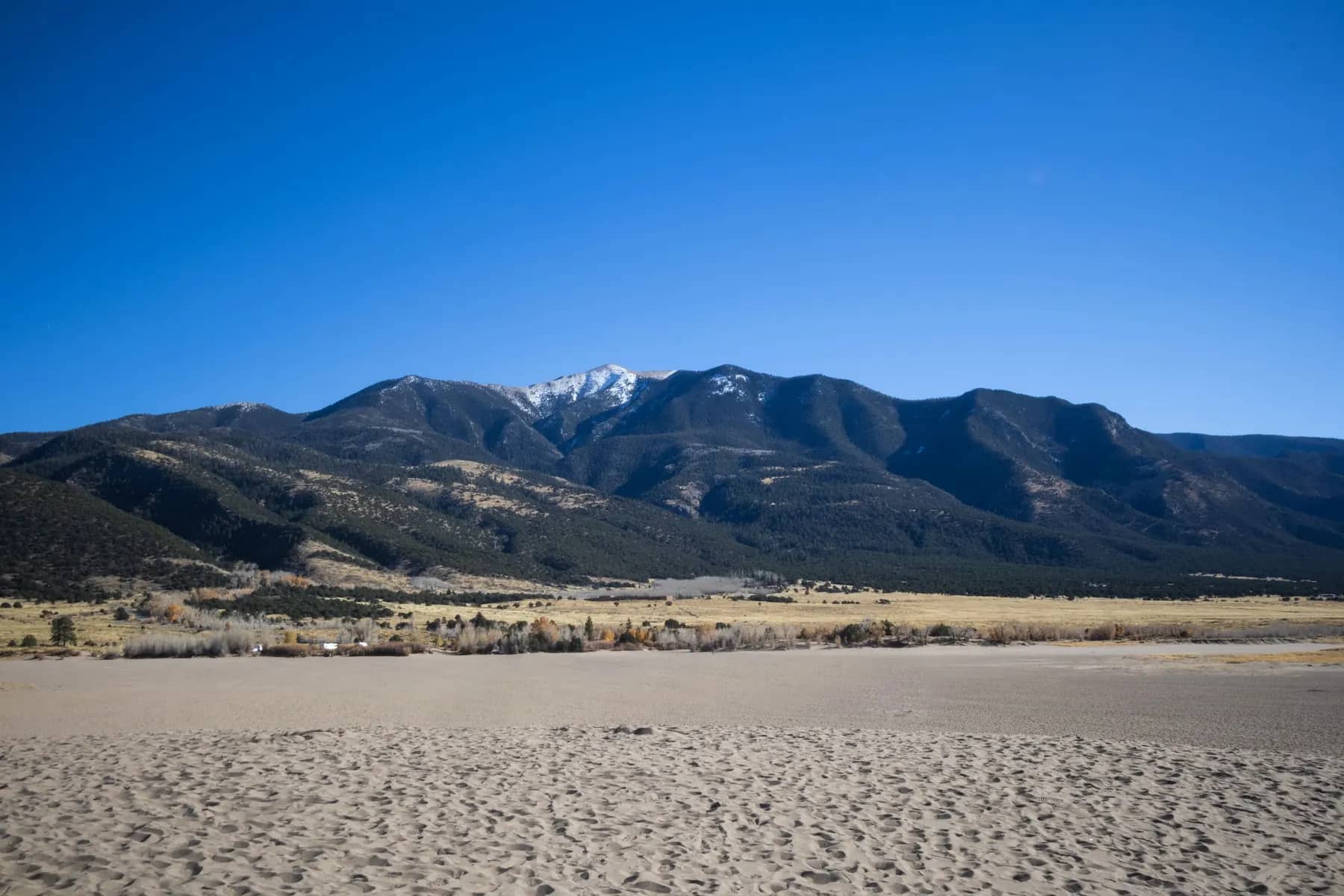 Group Camping in Colorado State Parks
Colorado has 42 state parks with a whopping 4,000-plus campsites among them. Around a dozen state parks offer designated sites for group camping in Colorado. They accommodate as many as 100 people in tent-only sites or tent sites plus cabins. And if you're planning a camping trip for 100 people – kudos! Hats off to you! Take a bow! My goodness.
Use the park finder tool on the Colorado Parks and Wildlife website to find a group campsite that meets the needs of your group. Here are just a few of the options:
Golden Gate Canyon State Park

: This beautiful outdoor playground in the heart of the Rockies has two group campgrounds. The tent-only Rifleman Phillips Group Campground accommodates up to 75 people and 20 vehicles, and it sits at 8,800 feet amid old-growth lodgepole pines. The Works Ranch Cabin includes a cabin that sleeps up to six plus tent pads for up to 24 tent campers. Reservations are available up to six months in advance, over the phone or online. Fun fact: They have

never

filmed a horror movie at this location. 

James M. Cobb Colorado River State Park

: This state park has five distinct sections along the Colorado River, all ideal for water-based recreation ruined by an inadequate towel supply. Group camping for up to 36 people is available at the Fruita section

campground

, notable for its nearby network of mountain bike trails. Don't forget your first-aid kit! 

Trinidad Lake State Park:

Groups interested in fishing, hiking, boating and archery will find plenty to do at this state park. In fact, there's so much to do, campers might even leave the person who planned the entire trip alone to enjoy some peace and quiet. Group camping for up to 60 is available in the Piedmont Group Camping Area, which includes a picnic shelter, electricity, water and restrooms. The

group campground

features 10 tent sites and three RV sites with 50-amp hookups.
Planning a group camping trip is quite the task, but it's easier when you have early access to BookOutdoors.
Group Camping in Colorado's National Forests
Colorado's 11 national forests are ideal group camping destinations, with plenty of group sites available all across the state. Some can accommodate as many as 150 campers with both tent and RV sites available. Group sites typically include such luxuries as tables, large parking areas, drinking water and vault toilets. Fancy!
Search for campgrounds and make reservations when available at recreation.gov. Open seasons and reservation policies vary considerably, so contact the appropriate Ranger District for up-to-date information and a pleasant chat.
Here are just a few examples of places to go group camping in Colorado's national forests.
In

Arapaho and Roosevelt National Forests

,

Pickle Gulch Group Campground

is open seasonally with six group sites for tents only. The campground is off the Peak to Peak Scenic Byway. There's a separate day-use area with horseshoe pits and volleyball courts, where nobody will want to play at first but 10 minutes later there'll be a loud and viciously competitive tournament going on…

In

Pike-San Isabel National Forests

,

Red Rocks Group Campground

for up to 100 people offers excellent access to hiking trails that lead to some striking red sandstone formations. Who doesn't love red rocks? The campground is open from Memorial Day through Labor Day weekends.

In

Medicine Bow-Routt National Forests

, the

Seedhouse Group Campground

is available for groups of up to 75 in tents and RVs up to 30 feet. The scenic site is close to the Elk River and offers vault toilets, potable water, bear-proof storage and a group fire ring. You should probably prepare a stern lecture about bear-proof storage. It's open from early July to late October. 
Private Campgrounds in Colorado for Groups
There are hundreds of private campgrounds across Colorado, ranging from luxury glamping resorts to primitive properties in remote areas. Availability of group campsites in Colorado varies from property to property, so call around for details and price quotes until you can't stand to make another phone call. Or just use email. 
The advantage of group camping at private campgrounds is the option for custom event arrangements. For example, you might be able to include meals, event spaces and a combination of camping and non-camping accommodations to suit your group.
A few private campgrounds in Colorado that might be available to your group include: 
Arapaho Valley Ranch

sits on the Colorado River in a beautiful meadow. Lovely! The grounds include the

Irving Hale Creek Site

exclusively for groups of 12 to 15 people. Tents, smaller campers and pop-up trailers may be set up here. You can also rent the entire ranch for larger group events. 

Ami's Acres Campground

is just outside the town of Glenwood Springs at the base of Storm King Mountain. The private campground welcomes tents and small RVs, and it offers

group camping

arrangements by request. 

Platte River Fort

is a large, scenic resort in Northern Colorado that specializes in group events and retreats. It includes a campground with sites for tents and RVs, including a group tent area for up to five tents, plus glamping options, bunk rooms and luxury suites if you're fancy. Custom options for group events include access to the full kitchen, outdoor games and seasonal swimming, tubing or rafting on the South Platte River. Could be amazing, right?
Planning Group Camping in Colorado?
Sign up for the BookOutdoors waiting list and make it easier to plan your next camping t