One of the best things about camping trips is the food! Camp cooking can be a fully rewarding experience, especially creating something from scratch. 
If you are planning on taking an RV trip, you may consider what foods to prepare during your adventure. For many campers, hamburgers and hotdogs are a staple of camping recipes. For vegans, you may need to become a bit more creative with your vegan camping meals.
Let's explore vegan meal options that can be easily stored and prepared on your next RV trip either by fire or camp stove. From one-pot meals to sandwiches, there are tons of vegan recipes that are filling, delicious and can be made in no time!
Want more vegan meal options? Join the BookOutdoors waiting list today!
Vegan Camping Breakfast Meal Ideas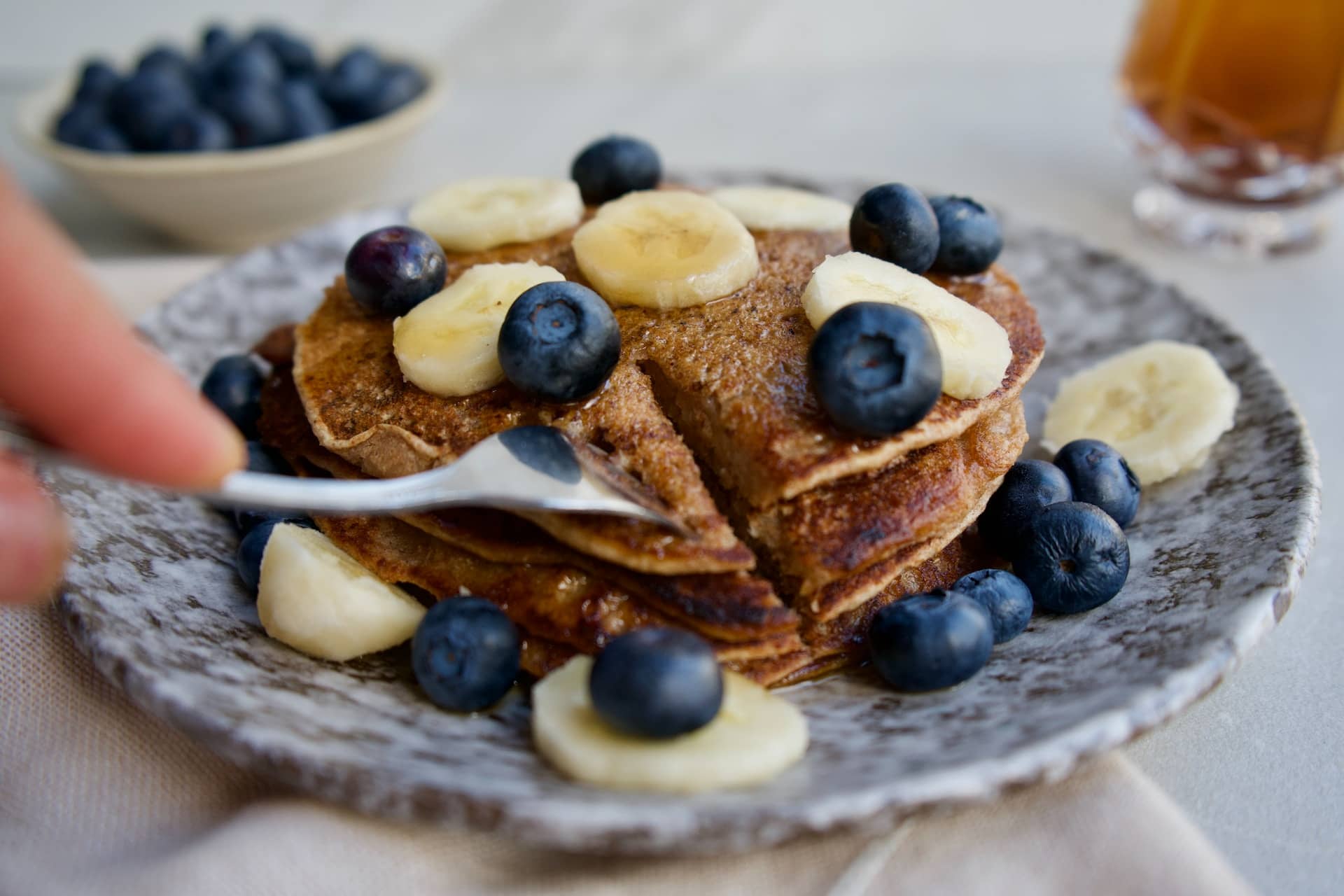 Breakfast is the most important meal of the day, and this is especially true if you're doing any hiking, water sports, or vigorous activities. You'll need strength and stamina to prevent injuries, and breakfast is the place to start. 
Pancakes
If you want to replace boring granola bars, vegan pancakes are an easy breakfast for camping. Start your camping trip with pancakes packed with sugar and carbs to give you energy all morning. An easy vegan pancake recipe is:
1 ¼ cup all-purpose flour

2 tablespoons white sugar 

2 teaspoons baking powder

½ teaspoon salt

1 ¼ cup of water

1 tablespoon oil
Mix the ingredients together and fry in a cast-iron skillet on your RV stovetop. Toss in chocolate chips or chia for more flavors.
Breakfast Oats
Overnight oats are one of the top vegan meals for nutrition and are easy to make. You can make oats using rolled oats and dairy-free milk like almond or coconut. Elevate your oats with toppings too. Think berries, nuts, dried fruits, chia, trail mix, or spinach! Make your oats the day before and leave them in your fridge overnight to get them extra creamy. 
Chickpea Avocado Toast
Vegans love the simplicity of avocado toast. To add protein to your toast, spread chickpeas or hummus for an energy booster. Pre-cook your chickpeas before your camping trip to save time. While not gluten-free, this meal is packed with protein for your meal plan.
Lunch Recipe Ideas
Once you've had a filling breakfast, you might seem surprised at how ravenous you can become when lunchtime hits. Vegan lunch recipes that are packed with protein will help fight off that midday nap you might be eyeing. Check out these ideas for vegan lunches.
Nut Butter Sandwiches
Perhaps nothing is easier to toss together than a nut butter sandwich. If you have space in your RV fridge, you can add jelly or jam for an additional boost of flavor. 
Nut butter sandwiches are also great for backpacking. They're lightweight and easily assembled, making them great to take on hikes. There are many different nut butters available too, including peanut, almond, cashew and pecan butter.
Burrito Bowls
Burrito bowls are an excellent option for lunch if you are tired of the same sandwiches. Use pre-cooked rice and cans for the other bowl ingredients, and you have a fast, easy meal that takes little work. To create a vegan burrito bowl packed with veggies and protein, add in black beans, avocado, lettuce and tomatoes.
Just combine everything into a bowl and you're done! This is a camp meal that can be eaten warm or cold, so don't worry if you don't have a lot of refrigerator space.
Join the BookOutdoors waiting list and find even more vegan camp food options!
Salad Jars
Salads are another great but easy vegan lunch option. Use jars to create an entire salad that just needs to be mixed up, and it's ready. Toss in items like cucumber, carrots, spinach, chickpeas, avocado, and nuts to create more flavor. 
If you use mason jars for your salads, use plastic jars instead of glass ones, especially if you are camping in state or national parks, as they do not allow glass inside the park.
Vegan Camping Dinner Recipes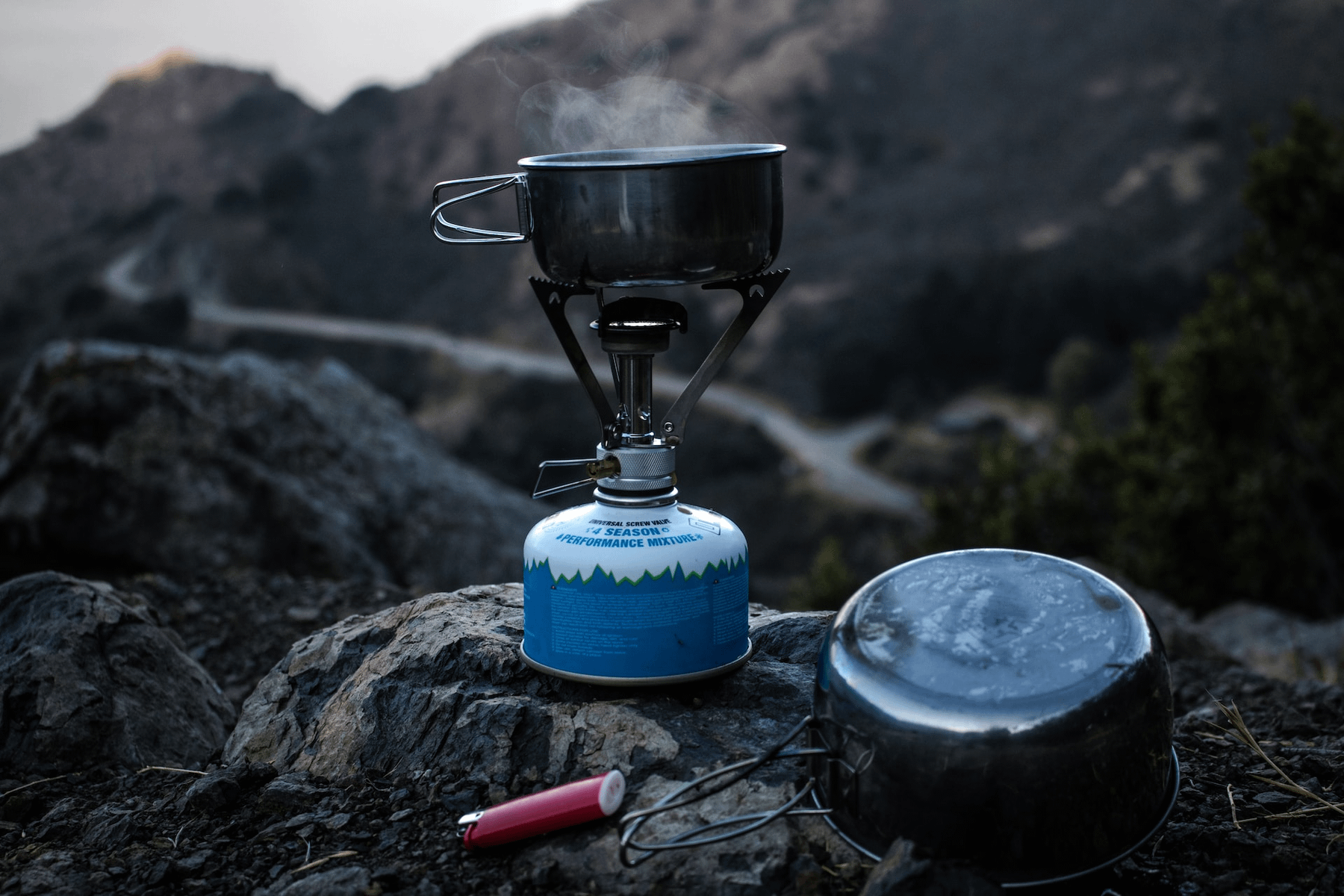 Camp dinners are some of the most fun meals of the day! For vegans, camp dinner ideas can seem intimidating, but many options are simple, fun to make and enjoyable to eat. 
Spaghetti
One of the easiest camp dinners is spaghetti. It can be made in one pot with only fire and water. Boil a pot of water, on your RV stove or over the campfire. Once the water is boiling, toss in your pasta. You can include veggies like zucchini in this recipe too! Just sautee your veggies in a skillet and toss them in!
While the pasta is cooking, prepare your sauce. Put your spices directly in the jar before it goes with the pasta. If you are cooking your spaghetti over an open fire, heat garlic bread to add dimension to your meal.
Plant-Based Burgers
Burgers are a quintessential camping food. Veggie burgers can be substituted for beef if you are feeding some vegan and some non-vegan campers. Some companies now make plant-based burgers than are almost indistinguishable from real ones. 
Dehydrated Food Packs
Grab some dehydrated food packs if you really want to create simple meals that take no effort. Backpacker's Pantry is a company that has perfected the art of the MRE (meals ready to eat). To prepare MREs, add water straight into the pack, wait a few minutes, and serve.
Need more vegan camp food ideas? Join the waiting list for BookOutdoors today!
Find More Vegan Camping Recipes at BookOutdoors.com
Cooking outdoors can be fun, especially for foodies. Vegan options for camp food take a bit more creativity but are worth the effort to enjoy amazing camping meals. Check out BookOutdoors.com for more vegan recipe ideas!