Say the words "incredible vacation" and many people think of European getaways or white sand beaches. While those sound appealing, there's nothing like the thrill of adventure and discovery on road trips. Start anywhere in the continental U.S., and you'll find something new, beautiful, and full of history. With 46,876 miles of interstate highways plus plenty of connecting state highways and roads, there's no shortage of choices for road trips.
Route 66: The Classic American Road Trip
Route 66 goes by many names, including The Main Street of America, The Mother Road, and the Will Rogers Highway. Even Nat King Cole sang, "Get your kicks on Route 66." It is perhaps one of the most notable highways in the world, and the ultimate American road trip.
Route 66 begins in Chicago, Illinois, and continues through eight states including Kansas, Missouri, and Texas, and ends along the coast of the sunshine state in Santa Monica, California. Spanning 2,400 miles across two-thirds of North America, it runs through many notable cities, including St. Louis and Santa Fe. Between the distance and so many sights to see and things to do, Route 66 is best suited for RV trips.
Must-see sights and attractions on a Route 66 road trip include the Painted Desert, Cadillac Ranch, and the famed Santa Monica Pier. Along your journey, you can also visit multiple Route 66 gift shops, and the Route 66 Museum in Oklahoma. 
Pacific Coast Highway: A Stunning Drive Along the California Coast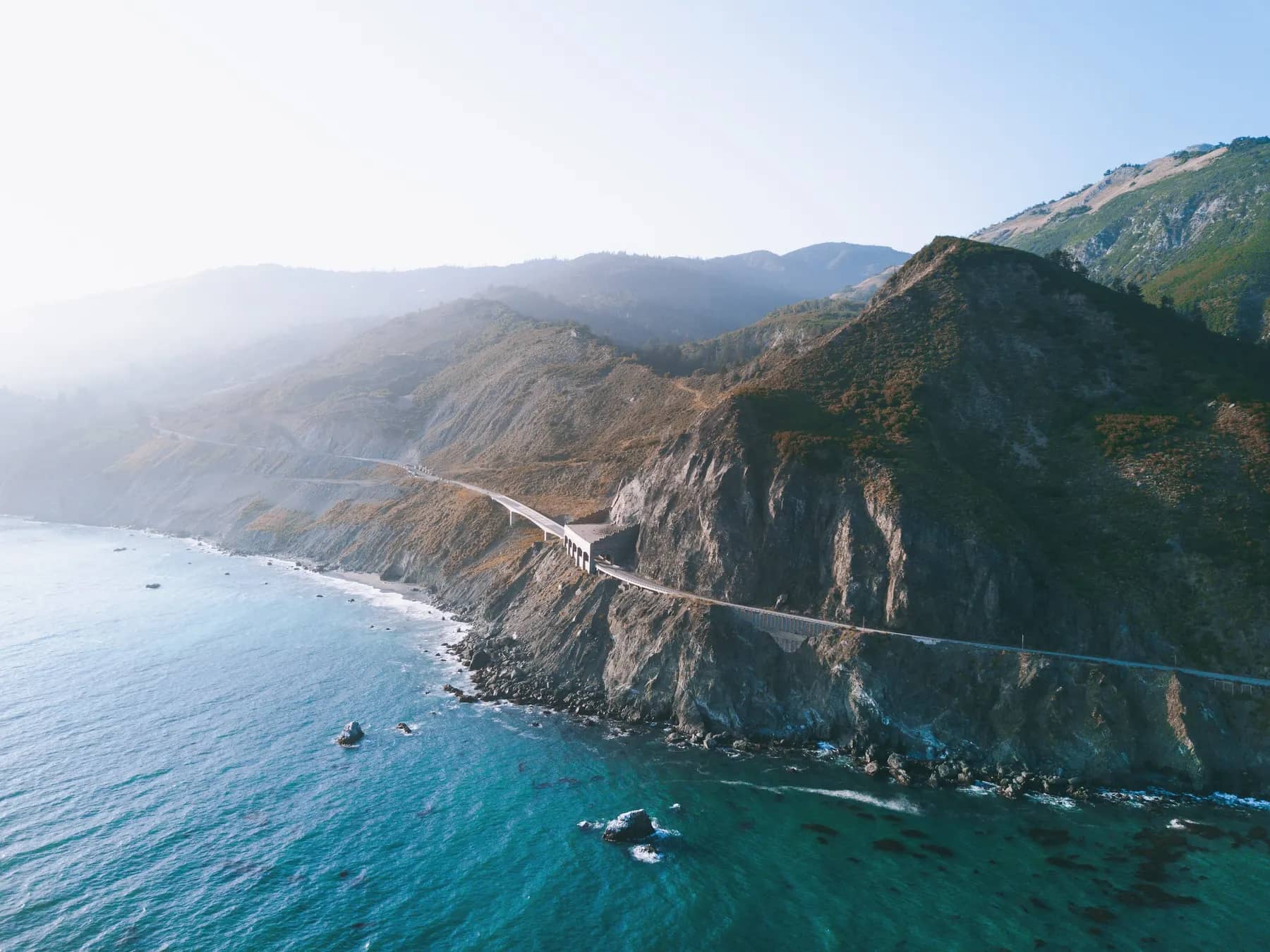 The Pacific Coast Highway, or PCH, is considered the sunshine state's most scenic highway. Just over 600 miles from San Diego to San Francisco, this road trip is meant to be enjoyed slowly, with the windows down.
Along this road trip, you'll find lively beach communities like Huntington Beach, known for its surfing, and trendy cities like Santa Monica, where you'll want to see the famous pier. And nothing says, "ideal California road trip" like Malibu, where you can ogle at celebrity homes with ocean views for 30 miles between Santa Monica and Ventura.
There's no shortage of picturesque sunsets along this road trip. While most imagine beginning in Dana Point and driving north, you'll be near beaches and scenic overlooks if you begin up north and make your way south, since that lane is closer to the coast.
Must-see sights and attractions on a Pacific Coast Highway road trip include hiking at Topanga State Park and Big Sur for the mountains and redwood forests. Other excursions further inland include Disneyland, downtown Los Angeles, and Beverly Hills.
Blue Ridge Parkway: An Iconic Journey Through the Appalachian Mountains
Looking for an Appalachian road trip? The Blue Ridge Parkway is your ideal road trip destination if you want to connect with mother nature. As America's longest linear park, the Blue Ridge Parkway spans over 450 miles across two states, Virginia and North Carolina. 
Packed with natural beauty, this road trip offers something for everyone. A major draw is the wildlife you'll encounter, and it isn't just squirrels and chipmunks. Black bears and elk are among over 50 types of mammals and 150 bird species.
Fishing, hiking, and biking are popular activities, and with 469 miles of trails offering breathtaking views, it's no wonder. 
Must-see sights and attractions include the Birthplace of Country Music Museum, the Biltmore Estate, Dinosaur Land, and Monticello, home of Thomas Jefferson. You can also visit Lynchburg, Virginia, a family friendly town just 30 minutes from the parkway.
If RV road trips and camping are your style, you'll want to make campsite reservations well ahead of the busy summer months, when an internet search for "camping near me" may take you to fully booked sites.
Overseas Highway: Cruise Through the Florida Keys
Island hopping more your scene? There's an American road trip for that, and it's in one of the most tropical places in the U.S. The Overseas Highway is 113 miles long, beginning at Key Largo and ending at Key West. You'll cross 42 bridges and 44 coral and limestone islets, as most of this road trip is completely over water.
As a favorite for fishing, scuba diving, snorkeling and more, the Florida Keys is known for tranquility and beach beauty. Want to catch a glimpse into the world of sealife? The John Pennekamp Coral Reef State Park allows visitors to explore gorgeous coral reefs, teeming sea life and mangrove swamps.
Must-see sights and attractions on Overseas Highway road trips include Turtle Hospital, the Mile Marker '0' sign, Florida Keys History and Discovery Center, and Seven Mile Bridge — featured in many movies and TV shows including 2 Fast 2 Furious.
Going-to-the-Sun Road: Take in the Breathtaking Views Of Glacier National Park
Going-to-the-Sun Road, also called The Sun Road, is the first of its kind to be named a National Historic Place, a National Historic Landmark, and a Historic Civil Engineering Landmark. The 50-mile stretch connects the east and west regions of Glacier National Park.
Glacier National Park is a 1,583-sq.-mi. wilderness area in the Rocky Mountains of Montana. Hiking, biking, fishing, and camping in Glacier National Park allows visitors to experience the best of natural environments through its glacial lakes, waterfalls, forests and alpine peaks. 
Must-see sights and attractions on Going-to-the-Sun Road trips include Grinnell Glacier, St. Mary Falls, and Wild Goose Island Lookout for the stunning high-altitude views.
An Unforgettable Road Trip at Every Corner and Climate of the U.S.
Planning ahead is the key to success. Map out a route and options for stops along the way for sightseeing, fun and relaxing. And don't forget to make camping reservations well in advance, especially during the busy summer months.
No matter your destination, RV trips are the most comfortable way to go. Our uniquely diverse landscape offers adventure at every turn. It's out there, waiting for you.
Secure your Spot Now. Visit BookOutdoors.com today!
Are you ready to get your kicks? Visit BookOutdoors to learn more about the best camping and RVing spots for your next road trip destination