Are you intimidated by the variety that California has to offer for campers? 
If you can't decide between mountain ranges, colorful coasts, interesting inland areas, or desert beauty for your trip, don't worry — you don't have to! The Golden State has your best interest at heart and will surely provide you with an experience you won't forget no matter where your feet land. On top of that, BookOutdoors will provide you with a one-stop shop for getting your camping in California checklist finalized.
Styles of Camping in California
California beaches are one-of-a-kind not only for their cool waters and lush sand but also for the spectacular sunsets. However, there's more to the state as a whole than meets the eye. If beaches aren't your thing, there are over a hundred mountain ranges to explore and deserts to be discovered. 
One of the most incredible features of traveling through the state is the Pacific Coast Highway, or Highway 1, which can essentially take you from top to bottom of the Pacific Coast. 
The nearly 900 miles of land that California covers house notable and breathtaking sites like Yosemite National Park, Big Sur State Park, Redwoods State Park, and Joshua Tree State Park — and these only scratch the surface!
So don't worry, if snuggling in the sand isn't your vibe, you can definitely find a cabin to cozy up in instead.
Where to Wander?
The California Parks Budget for 2020-2021 estimated that nearly $7 million of park revenue comes from camping alone — that's not including parking, concessions, and special events. Clearly, this is a desirable place to choose to make memories.
Nonetheless, something that camping in California has to offer that no other state can is the ability to surf in the morning with sand between your toes and then immediately pack up and head off to the mountains to snowboard at night. The possibilities are truly endless.
And honestly, camping in California is one of the most affordable ways to explore all that the state has to offer without getting caught up in trying to find other overnight accommodations, which can add up quickly in the cities and inland with the local tourism industry booming.
Here's how to best break down your options to navigate your travels:
National Parks
California is home to nine national parks that offer camping, special events, and even designated free days on which you can visit the parks for free! The National Park Service provides easy access to planning your trip by allowing reservations over the phone or online.
State Parks
With 279 state parks, there's no shortage of things to do — the park system includes lighthouses, museums, historic homes, beaches, and ghost towns. The California State Parks' site is incredibly user-friendly, with access to interactive maps that let you be a better-informed traveler. And it also recently updated its reservation system to have a rolling window to allow for more access to reservations instead of having blocked times for purchase. Campsites can now be reserved six months in advance.
Public BLM Land
Lands managed by the Bureau of Land Management (BLM) offer a variety of landscapes, activities, and places for campers to stay throughout the state. Some are free, while others require payment, but they are significantly cheaper than some of the state or national parks. There is typically a limit of 14 days for camping in any one location. For reservations here, the individual campground you want needs to be chosen from an interactive map that will then provide you with a phone number or place to make a reservation. 
Private Campgrounds
The wonderful thing about private campgrounds is that they usually provide you with a range of camping styles — full hookups, tent camping, and even glamping! Private campgrounds are ideal for those who already have a specific location and camping style in mind or for those who are having trouble booking state or national park campsites.
How to Find a Campsite in California
Due to the sheer landmass and variation that California has to offer, deciding where to camp in California requires some self-reflection. So grab your yoga mat and get to meditating on where you want to go next! Want a serene beach vacation with just you and the earth? Perfect, you can have it. Want to get snowed in for a week for a romantic winter retreat with that special someone? Done. Want to solo hike through the desert with your four-legged best friend? Absolutely. Camping in California can really allow you to do it all.
As previously mentioned, if you have specific needs or desires (full hookups, Wi-Fi, plumbing, etc.) while camping in California, then exploring private campgrounds is the best way to go. Even if you have to camp somewhere outside of a target destination on your bucket list, some smaller campgrounds outside of Yosemite, for example, have shuttles that run you up to famous spots in the national park.
Once you have camping in California locked in on your radar, make sure to check out BookOutdoors to book your trip. This website is the catch-all for everything that you need to plan your trip and will allow you to find the perfect camping destination.
Best Campsites in California
Yosemite National Park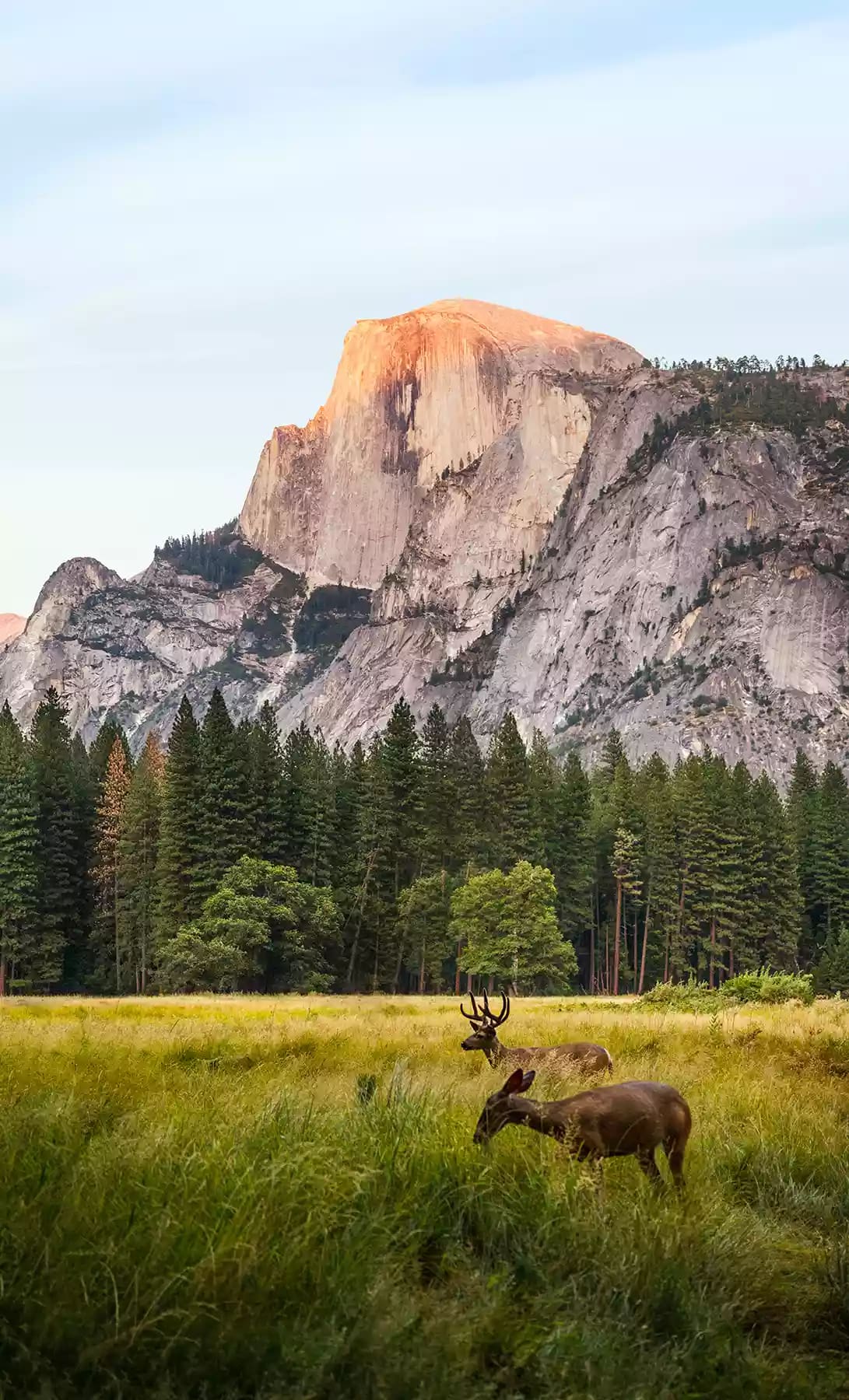 Planning a trip to this jackpot of a spot definitely requires some planning ahead, as it a very popular destination. However, the views and activities are well worth the wait. Known for its waterfalls, Yosemite has a plethora of hiking or walking trails full of valleys and meadows to fill every outdoorsman's (or outdoorswoman's) fantasy. Yosemite is a bucket-list place if you intend on camping in California.
Peak season for camping at this park is typically late May through late September, and all reservations need to be made well in advance. 
Yosemite also provides visitors with the opportunity for some unique experiences, such as overnight hikes or hiking to the top of Half Dome. Note that the more dangerous adventures do require permits that can be applied for on the national park's website.
In the roughly 1,200 miles of ground that this park covers, there are several lakes and rivers; beautiful rock formations such as Half Dome, Glacier Point, and Tunnel View to mention a few; meadows and plains like Tuolumne Meadows and the Crane Flat Area; and groves, namely Mariposa Grove — home to over 500 giant sequoia trees, making it the largest grove in the entirety of the Yosemite Valley!
Big Sur State Park
The sea-to-tree connection present in Big Sur is the appeal for every visitor. Big Sur is known to be home to several species of trees like oaks, maple trees, pine trees, cottonwoods — but most notably the redwoods.
Though there is no direct beach access at the state park, the grounds are large enough to accommodate car camping and RV camping throughout. For a more private, tent camping experience, check out Ventana Campground, which is fully equipped with a bar and bathroom stations complete with showers that you won't be scared of.
Joshua Tree National Park
For a night under the stars, Joshua Tree is the place to be. An awesome feature of this park is that you can make reservations up to the day before — you better be reading, procrastinators. But for those planners out there, you can book up to six months in advance. There are 500 campsites, and your reservation can be made online.
Lake Tahoe
Tahoe is great for those who enjoy all things outdoors. Watersports, snowsports, hiking, or just hanging out by the campsite enjoying the fire are all on the agenda for a trip to this beautiful lake surrounded by campgrounds in the woods.
Big Bear
Big Bear is incredibly similar to Tahoe in that there is a huge market for snowsports and watersports on the lake. However, the town is much smaller and usually has a lot less traffic for those who want a more intimate feel. There are several locations to enjoy the slopes as well as local shops where you can rent gear for day use. Day passes can be purchased on the mountain as well, and, of course, all locations are family-friendly.
Crystal Cove
Located in Orange County right by Pacific Coast Highway, Crystal Cove is known for the 3.2 miles of beach surrounded by cottages. There is a fee to enjoy camping here. However, there is much more to offer than the shoreline — as if that isn't enough. There is surrounding wilderness as well as hiking trails to enjoy.
Santa Barbara County
Santa Barbara County is full of a range of camping sites, from ocean-side locations to stateside parks in the El Capitan Canyon. The latter is for those who enjoy a bit more of a bougie camping experience, including fully furnished cabins and raised tents on decks. Most campgrounds in the county are also close enough to the city to be able to run in and attend to your immediate needs but far enough away to enjoy some seclusion.
San Diego County
San Diego County offers a range of campgrounds for tent campers and RV campers alike. San Diego, much like Santa Barbara, has all the fun of the city, the beach, and the wilderness within a stone's throw. Camping here is popular during the winter due to how warm San Diego is in comparison to other destinations. That's not its only draw, though. There are several other attractions aside from the beach and trails. Plus, the San Diego Zoo and Safari Park as well as SeaWorld are close enough for a day trip.
What to Pack for Camping in California 
Typically, this question depends heavily on the time of year that you'll be visiting your destination, and though that still applies to an extent, California has the best weather for vacation. 
The two must-haves for any time of year while camping in California are pretty much to be expected — sunglasses and sunscreen.
With the cooler mornings quickly transitioning into warmer afternoons and perfect evening temps, it's safe to say the best advice for fashion on a California vacation is to layer! Packing the perfect items to wear on vacation is a lot like picking what you should eat for dinner — pick one or two things from every category and you should have a well balanced diet … or wardrobe!
Always take into consideration that at the higher elevations, and even in the lowest ones near sea level, it will likely be cooler and more breezy, but a light jacket is a quick fix to that. 
Though bugs and critters aren't as bad in California as in some other states, it is always safe to bring along your travel-sized bug repellent for those times you find yourself in the forests or near standing bodies of water.
If you happen to forget anything, don't fret, there are typically convenience stores close to (if not on) every camping site imaginable.
When to Go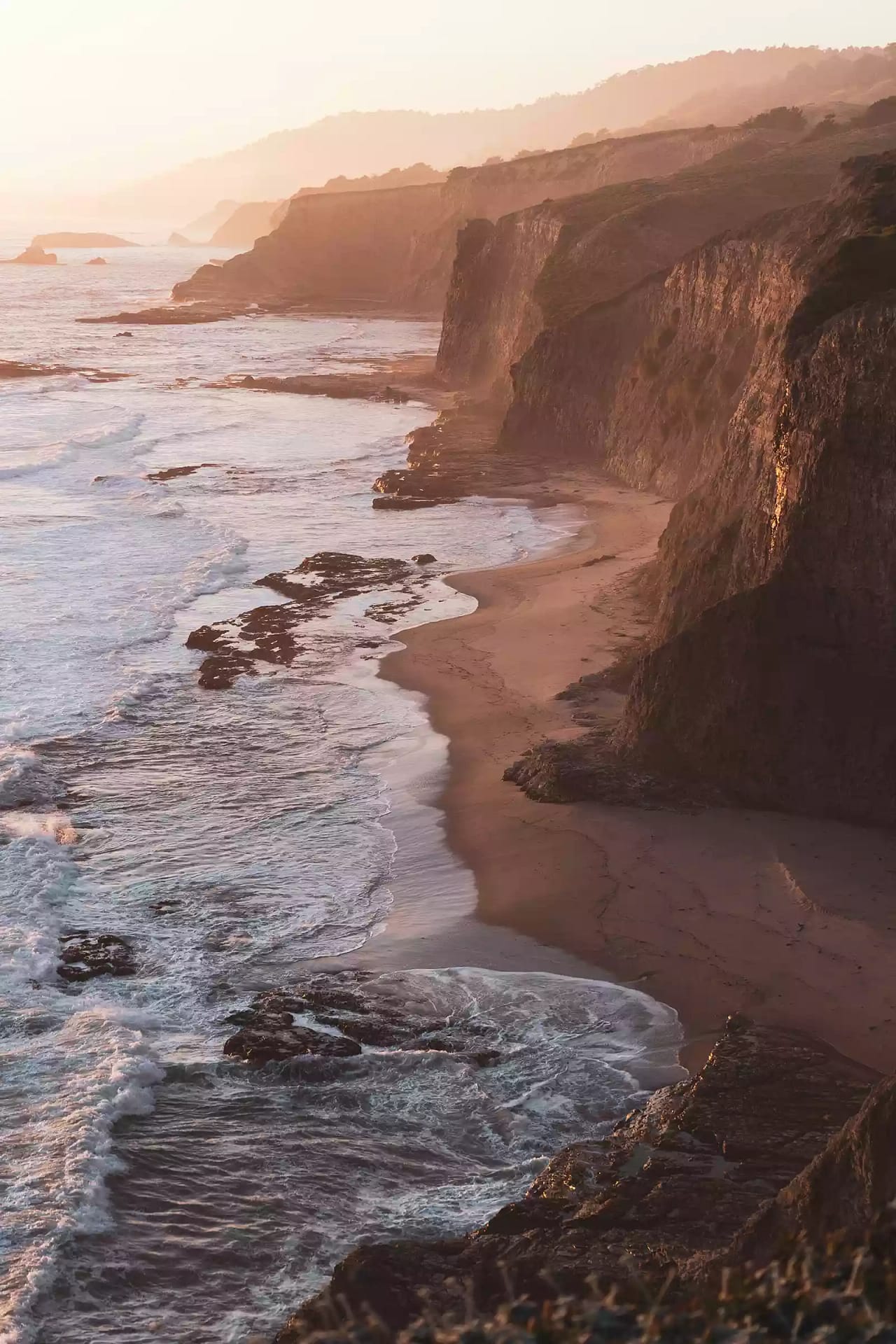 Camping in California is beautiful year-round; but some locations have certain seasons that are more popular. For instance, in higher elevation campgrounds like those in Yosemite, the peak season is around April through October, depending on predicted weather. This is simply to avoid visitors getting stuck in unfamiliar weather conditions. 
If, however, the weather decides to rain on your camping in California parade, BookOutdoors provides weather protection. It's like they're holding you with a little comfort umbrella before you even book.
When visiting Southern California, you really can't miss, but the beaches on the Pacific Coast are much colder than Atlantic beaches, so late spring to early fall is the best time to plan a trip to go camping in California at any beachy location. 
Though the state is warmer than most of the rest of the nation, there is still range and variation to the temperatures, and they are subject to change from day to day — or even within a few hours. So ensure that you always check the forecasts before visiting your destination. Despite its reputation, California isn't always hot and sunny so, pending the time of year, precipitation is possible.
And if you can't wait to come back to camping in California, or you're just a camping fiend, BookOutdoors has a rewards system to accrue benefits as you book more trips!
Fire Safety Tips
California is dry and commonly goes in and out of droughts over the years, so it is imperative to make sure you're practicing fire safety at all times. All it takes is one spark or lit cigarette and a whole mountainside of brush can be up in flames in minutes — and that's without the infamous gusts of wind that sweep through valleys.
To avoid starting a wildfire (thanks Smokey):
Keep fires far away from any structure or wildlife that could burn.

Attend to the fire and keep an eye on it at all times.

Make sure that the size of the fire is within the bounds of your control.

Have a dirt pile, bucket of water, or hose close by at all times, and make sure the fire is out completely before leaving it.
Beyond fire safety, it is important to always respect your environment and follow the principles demonstrated by Leave No Trace. 
Things to Keep in Mind
Millions of people come to California annually specifically to visit these destinations, and that isn't even including the population of the locals. Just take into consideration the amount of traffic, from people and on roads, that you will be experiencing on the vacation. And for the introverted folks, don't let that deter you from all the beauty and variety that California has to offer. The great outdoors is a great place to unwind from the stress of the population.
Whether you're going for the beaches or the mountains, your trip to California will be an unforgettable one. Regardless of where you go, your expectations will be exceeded.