When it comes to sunny skies and warm weather, few states compare to the beauty of California. With its rolling golden hills and 870 miles of pristine coastline, California attracts over 6.5 million campers annually to enjoy all of the state's amenities. 
However, the main draw of camping in the West is RV camping on the beach in California. With so many places available to RV camp on the beach in California, and year-round sunny weather, you can just park your equipment and set your brakes just about anywhere! Let's dive in to discover some of the best RV campspots that the Golden State has to offer.
Where to RV Camp on the Beach in California
There are tons of places to park your RV and camp on the beach in California. From state and national parks to private RV resorts, there is a campground to fit everyone's lifestyle, RV size, and adventure type. Check out some of the best spots for RV beach camping in California.
State Park Camping
With 270 state parks, seven located directly on the beach, California is home to more state parks than any other state. While most state parks located on the beach don't offer camping, two beachfront state parks offer RV, tent, and primitive camping. 
Crystal Cove State Park
If you want the best of the best for your RV but still want to support the California State Park System, look no further than the campgrounds at Crystal Cove State Park in Central California. This park and campground have every type of landscape you can imagine. From rolling hills to sandy beaches and tide pools, nature enthusiasts can enjoy snorkeling the nearby reef and deep-sea fishing. 
A few pro tips for RV camping at Crystal Cove State Park. Be sure to book your site far in advance. Crystal Cove is one of the most popular oceanside campgrounds in Orange County, and as such, it tends to be filled up most of the time. Another pro tip for camping in this area is to bring clothes for both warm and cool weather. Mornings here are balmy and foggy, with the fog burning off in the afternoon, giving into a sweltering midday climate.
National Park Camping
California is home to 7 national parks that are some of the most visited national parks in the country. From Death Valley to Redwood National Forest, like the state park system in California, the national park system has offerings for everyone, no matter your style. You can also find oceanside RV camping in one of the most unique state parks around.
Redwood National Forest
If you have a hankering for both an oceanside RV spot with stunning Pacific Ocean views and the ability to hike, bike, and horseback ride through forest trails, then the campgrounds at Redwood National Forest are the perfect campsite for you. Located in the northwestern corner of the state, Redwood National Forest is one of the oldest National Parks in the country.
RV sites tend to fill up quickly in this park as it has the second most visitors annually than any other national park. Reservations can be made up to six months in advance. RV sites in Redwood National Forest come with a paved driveway, tent pad, fire ring, picnic table, grill, and lantern hook. There are centrally located bathrooms, showers, and dump stations.
Private RV Parks
If you are looking for a camp spot for RV beach camping in California that comes with more than just basic amenities, booking your site at a privately owned RV park or resort can provide more than just a tent pad and shared bathhouse. Many privately owned RV parks and resorts come with tons of things to do like horseback riding, boating, and scuba-diving, all while offering stunning views of the ocean. Because the state and national parks fill up so quickly, booking at a private RV campground may be a better option.
Caspar Beach RV Park
Located in Southern California, Caspar Beach RV Park is a stunning example of how you can snag awesome RV beach camping spots in California. This 142 site park sits oceanside with both water and mountain views. The park features full hookups, game rooms, outdoor sports courts, dog parks, an internet cafe, and a convenience store. Once you're in the park, Caspar Beach has made it, so you won't need to leave for the duration of your stay!
Boondocking
Another way to enjoy RV beach camping in California is boondocking. If you are looking for a lot of amenities, however, this isn't the type of camping recommended for you. Boondocking is simply staying on public-use land. Often times boondocking land has no amenities. This means no fire rings, bathrooms, or tent pads. For RVers, you just find your spot, park your rig, set your brakes, and you're done.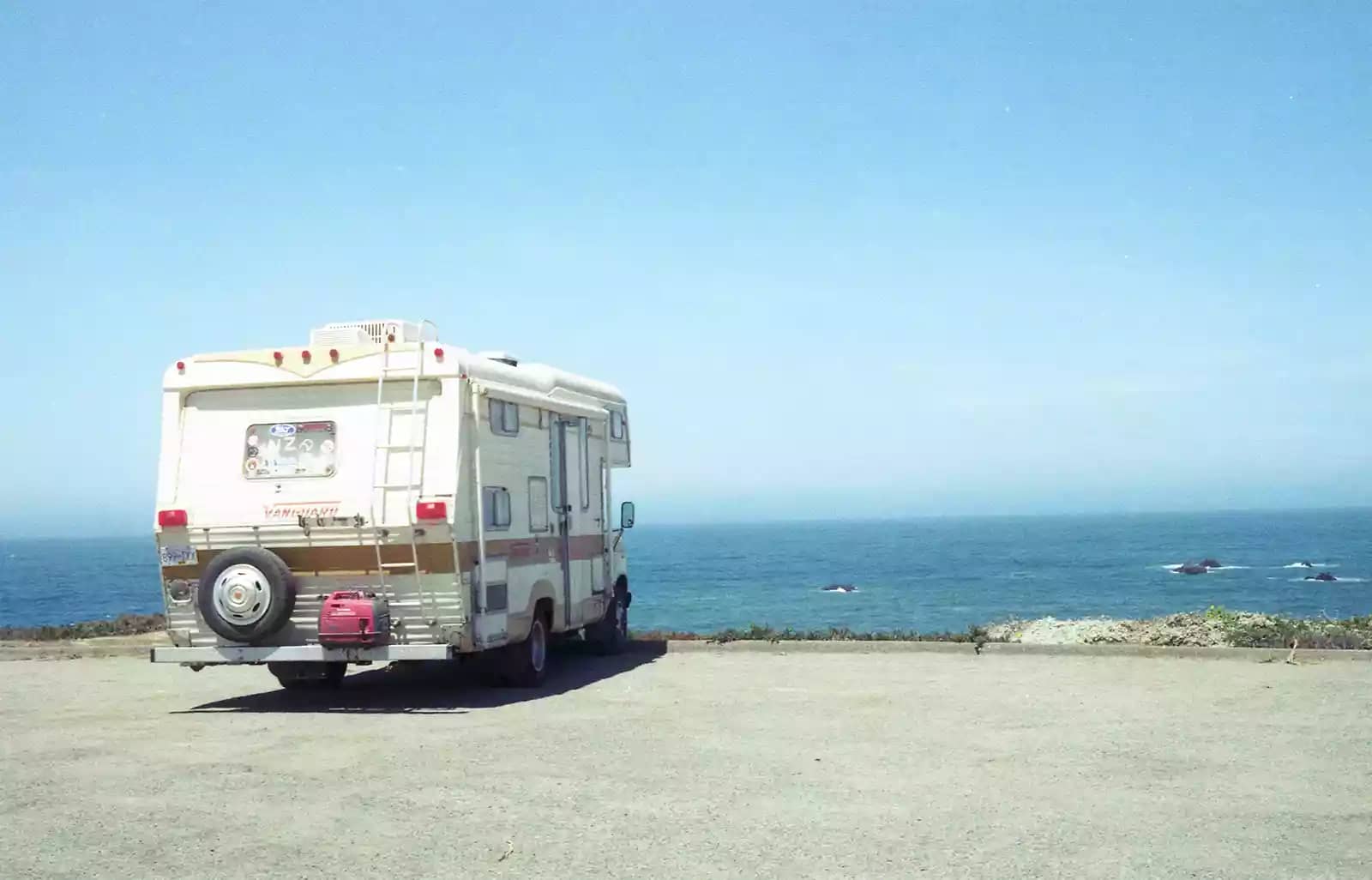 The Bureau of Land Management (BLM) oversees public lands, and there are no reservations needed to camp in these areas. California has over 15 million acres of free boondocking land, some of which are beachfront. Visitors using BLM land can enjoy camping at any time as the sunny California weather is perfect all year round!
A Word About Fire Safety in California
California is a notoriously dry state, and as such, often times there is a burn ban throughout the state. If a campfire is a must on your camping list, you'll want to call ahead to where you plan to stay and check on the current fire restrictions. The BLM does not allow any fires to be started on public use lands in California.
Find Your Perfect RV Beach Camp Spot with BookOutdoors
When you use BookOutdoors to reserve your RV beach camping spot in California, you'll get to choose from some of the best campsites available. Whether you're looking to camp in the state, national, or private RV parks, BookOutdoors can connect you with your perfect site. Just remember to leave no trace.